Archive for the 'Paneer' Category
Ingredients:
Spinach (palak): 1bunch 250gm
Onion: 1 no (small)
Tomato: 2 no (medium)
Garlic: 5 cloves
Ginger: 2 inch piece
Paneer/soya paneer/cottage cheese: 200gm
Butter: 20-30gm
Oil:2table spoon
Salt: half teaspoon
Bay leaf: 1no
Cumin seed(jeera): 1 teaspoon
Garam masala powder: half teaspoon
Red chilly powder: one teaspoon
Water: half cup (100ml)
Procedure:
Boil/microwave spinach/palak for 3 minutes and make fine paste.
Grind the onion, 1 tomato, ginger and garlic all together.
Cut the paneer in one inch cube. Soak it into hot water. (With half teaspoon turmeric powder) for about 5-10 minutes.
Heat oil in a pan. Put cumin seed and bay leaf in it. Sputter it for few seconds, add grinded onion, tomato, garlic and ginger paste. Fry these masala about 3-5 minutes on medium flame. Add half teaspoon  red chilly powder, and fry few seconds. Then add palak paste, half cup of water,  just boil it. Add paneer in it and again boil it. Remove it in serving bowl.
Making Tadaka:
Take a tomato cut it into 8 pieces.
Take a small fry pan. Heat the pan. Put butter in it. Add half  teaspoon cumin seed and pieces of tomato. Fry it for 2-3 minutes, put off the flame, and add red chilly powder.
Put this tadaka on the prepared recipe.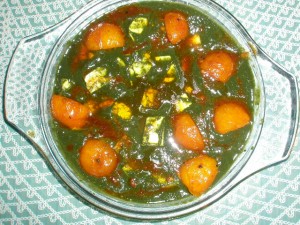 Now palak paneer is ready to serve.
Ingredients:
Mutter(fresh/frozen): 250gm
Paneer (cottage cheese ): 200gm
Onion:  1 no. (medium)
Tomato: 2no. (medium)
Ginger paste: 2 teaspoon
Garlic paste: half  teaspoon
Green chilly: 2 no. (chopped)
Chilly powder: half teaspoon
coriander powder: 1 teaspoon
Turmeric powder: 1 teaspoon
Salt: 2 teaspoon
Garam masala powder: half teaspoon
Black pepper powder: 1 teaspoon
Coriander leaf: 2 tablespoon (chopped)
Aniseed: 1 teaspoon
Water: half cup (100ml)
ghee/oil: 3-4tablespoon
Khoa: 50 gm (optional)
Procedure:
Cut paneer into 1 inch cubes. Soak it into hot water, with half teaspoon turmeric powder for 5 to 10 minutes.
Chop 1 tomato into 8 pieces.
Grind wet masala (onion and tomato).
Heat ghee/oil in a pan. Put aniseed. sputter it for few seconds, then add green chilly, garlic paste, ginger paste  and wet masala. Fry it for 3 -5 minutes till dark brown color appears. Add chilly powder  and  coriander powder, stir for few seconds.
Add peas and fry it for 2-4 minutes.
Add   khoa and mix it.  Fry  for  1 -2 minutes.Add chopped tomato mix it. Fry for 1 -2 minutes.
Add half cup of water slowly and  Boil it.
Add paneer and low the flame  for 5 minutes.
Add black pepper powder, Garam masala powder and one teaspoon coriander leaves. put off the flame.
Garnish with coriander leaves.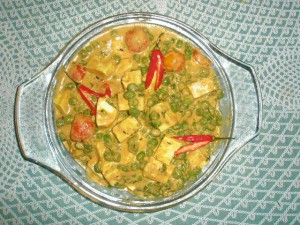 Serve hot or cold.