Ingredients:
Liver (Mutton liver): 300gm (chopped in small pieces)
Onion: 2 no. (Small)
Tomato: 1no. (Small)
Ginger paste: 1 teaspoon
Garlic paste: half teaspoon
Oil: 2 table spoon
Cumin seed: half teaspoon
Garlic: 2flake (chopped in three to four pieces each)
Bay leaf: 2 no.
Salt: 1teaspoon
Turmeric powder: 1teaspoon
Red chilly powder: 1 teaspoon
Coriander powder: 1teaspoon
Garam masala  powder: one forth teaspoon
Fresh coriander leaves: 2 table spoon (chopped)
Water:  half cup
Preparation:
Clean and wash kaleji (mutton liver).
Cut onion and tomatoes into small pieces.
Method:
Heat oil in a pan till smoke is coming.
Put bay leaf, cumin seed and chopped garlic, fry till garlic become light brown.
Add onion and brown on high flame. (About5- 7minutes)
Add chopped tomato, ginger paste, and fry it about 3 minutes.
Add kaleji (mutton liver), chilly, coriander powder. Reduce to low flame.
Fry till liquid dries up (about 5-10 minutes).
Add salt and continue to roast for another 2 minutes.
Add hot water. Close lid.
Reduce to lower heat and cook for 5 -7 minutes.
Add Garam masala powder and chopped coriander leaves.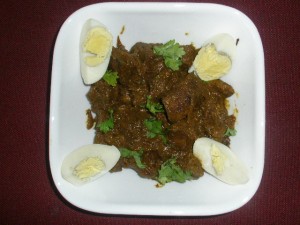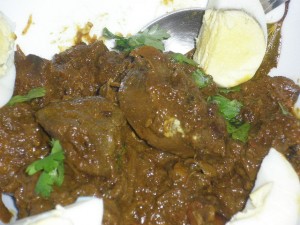 Serve hot with roti or paratha.