Ingredients:
Chicken: 400 gm
Vinegar: 2 tablespoon
Onion: 100 gm
Tomato: 1 (medium)
Ginger: 2 teaspoon (paste)
Garlic: 1 teaspoon (paste)
Cumin seed: half teaspoon
Bay leaf: 2 no.
Garlic: 4 flake
Clove: 4 no.
Salt: one and half teaspoon (as per taste)
Chilly powder: 1 teaspoon
Turmeric powder: 1 teaspoon
Coriander powder: 1 teaspoon
Garam masala powder: half teaspoon
Oil: 3 tablespoon
Procedure:
Clean and wash chicken. Soak with vinegar for 5-10 minutes. Wash with water.
Cut onion and tomato longitudinally.
Chop coriander leaves.
Heat oil in a kadhai. Put cumin seed, clove, bay leaf, garlic flake in it. Sputter it for few seconds.
Add onion and sauté till light brown.
Add tomato and continue to sauté for 3-5 minutes.
Add garlic and ginger paste. Stir it.
Add chicken piece, chilly, turmeric,salt  and coriander powder.
Reduce to low heat, and cover the lid. Fry till oil separates from masala (or liquid dries up).
Add 100 ml warm water and cover the lid.
Cook on medium flame till the chicken is done.
Garnish with coriander leaves.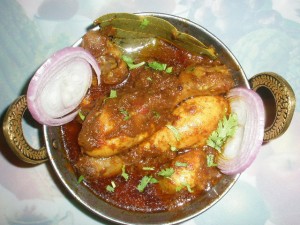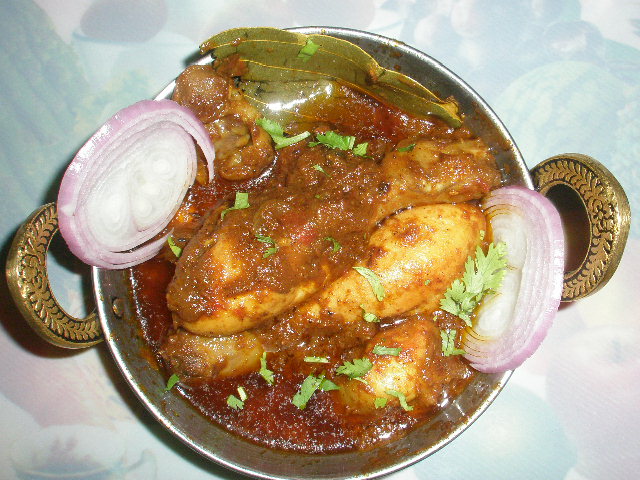 Serve hot.