Servings: 3-4
Soaking time: 6 hours.
Preparation time: 6 minutes.
Boiling time: 10 minutes
Frying time: 11 minutes.
Cooking time: 5 minutes.
Total time: 32 minutes.
Ghughani is originated from India and Afghanistan, Afghanistan was once a part of India.  'Dry white peas Ghughani" is fascinating and overwhelming as a breakfast or brunch, when it paired with Luchi (variation of Poori/Bengali deep fried bread).
When I was roaming outside of Victoria garden in Kolkata; I saw so many roadside tea stall, selling the Ghughani as evening snacks served with chopped onion and lemon juice. It is a versatile dish; which can be served in many ways… like chat, meal or side dish.
This recipe is compulsorily served as Bhog (Prasad) in the festival of Durga Pooja in every Bengali Pandal; it is something that everyone cherishes. I too used to cook every now and then…
Ingredients:
Dry peas: 150 gm.
Potatoes: 100 gm.
Green chili: 1 no.
Onion: 1 no. (Medium)
Tomato: 1 no. (Medium)
Ginger: 2" piece
Mustard oil: 4 tablespoon
Cumin: ½ teaspoon
Bay leaf: 1 no.
Chili powder: 1 teaspoon
Turmeric powder: ½ teaspoon
Salt: 1 teaspoon
Coconut: 2 tablespoon (grated)
Garam masala: ½ teaspoon
Preparation:
Soak pea minimum 6 hours or overnight.
Chop onion, ginger, green chili and tomato; grind to fine paste, keep aside.
Method:
Boil soaked peas with bay leaf and water in a pressure cooker on high flame; bring to full cooking pressure, reduce to low flame and cook for 4-5 minutes. Allow cooker to cool and open.
Take fry pan (wok) heat oil in it; when it smokes, add cumin. Sputter for few seconds, add chopped potatoes stir fry for 3-4 minutes on medium flame; add ground paste and continue to fry on medium low flame for couple of minutes.
Add chili powder, turmeric powder and salt; lower the flame and continue to cook for another couple of minutes or till oil separate from masala, add boiled pea and water for desired consistency.
Cover the lid; let it boil for about 4-5 minutes on lower flame, add Garam masala, put off the flame, transfer into serving bowl.
Garnish with onion rings, coconut and green chili.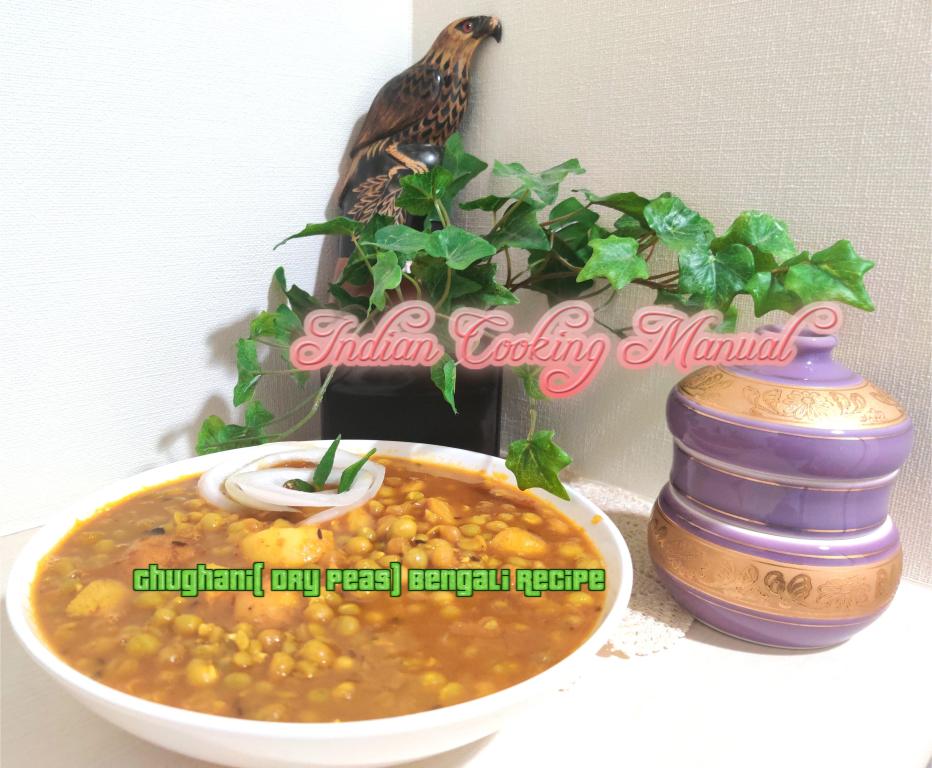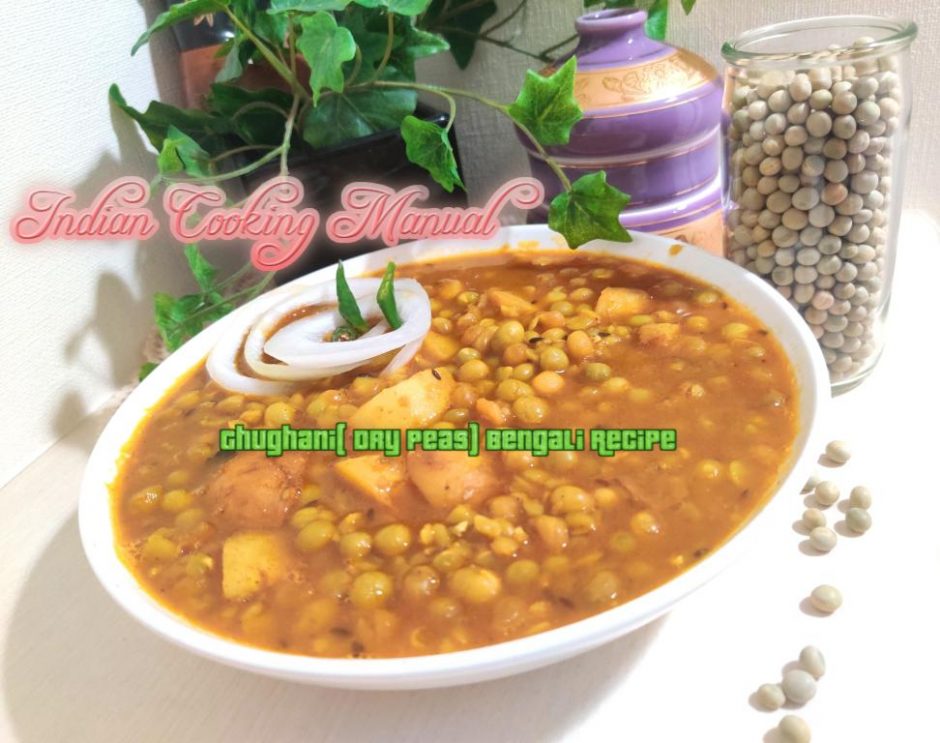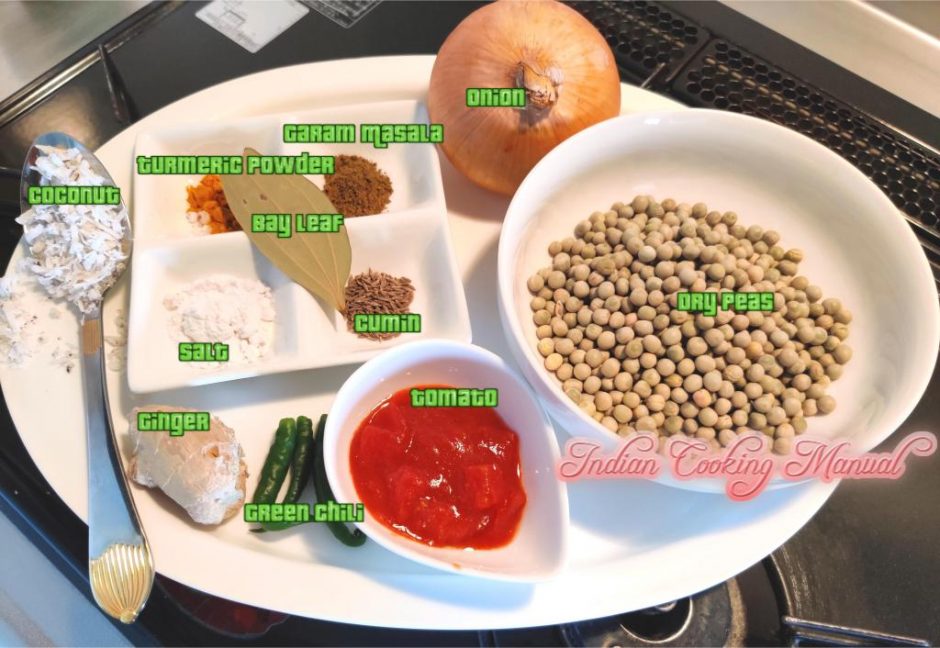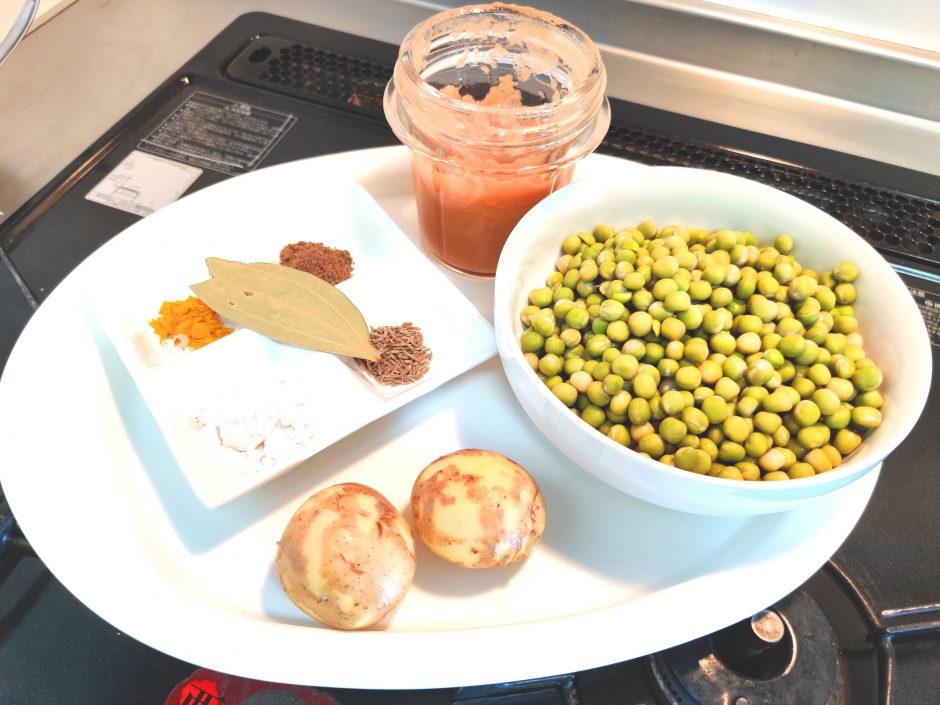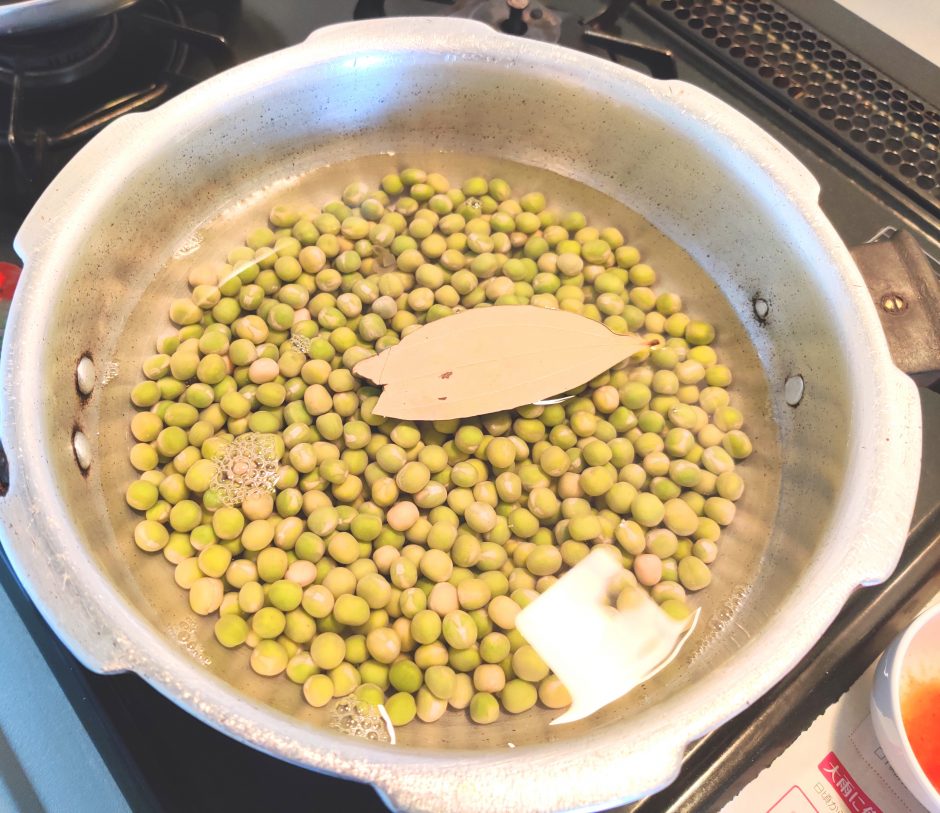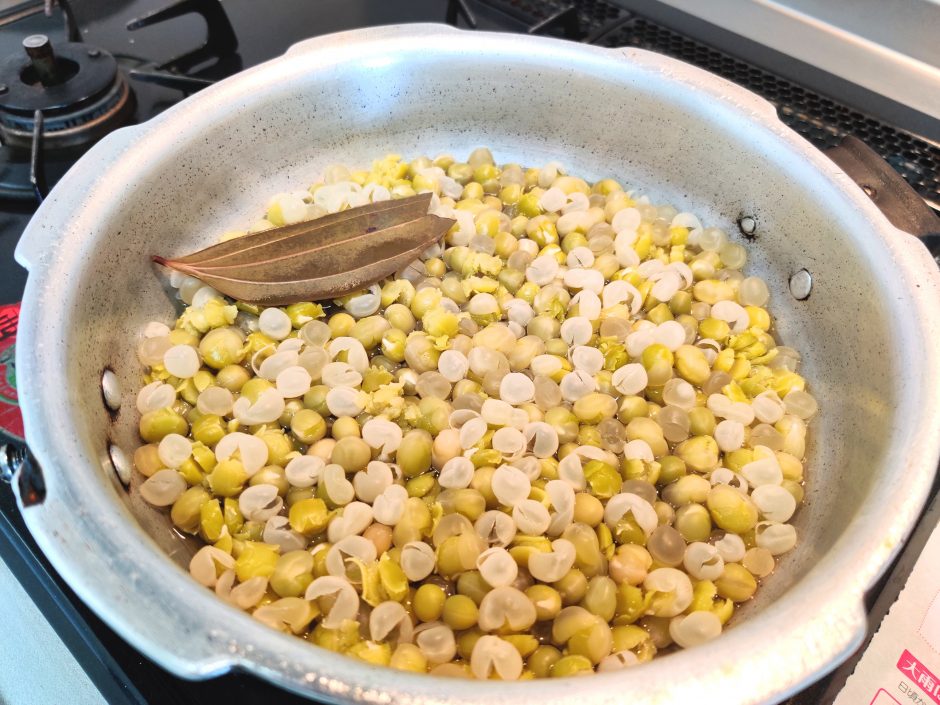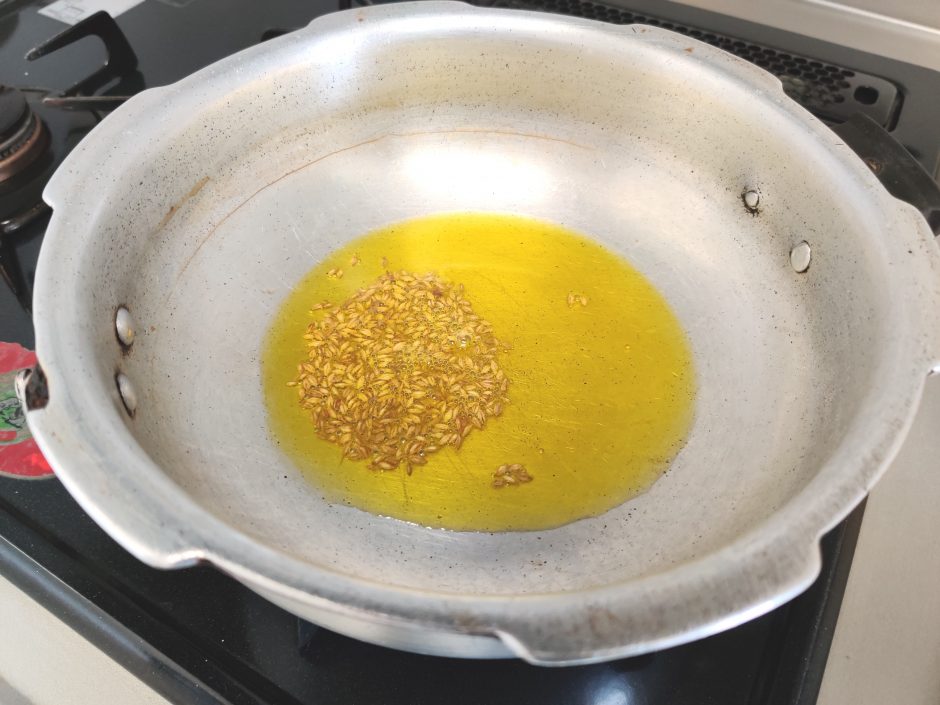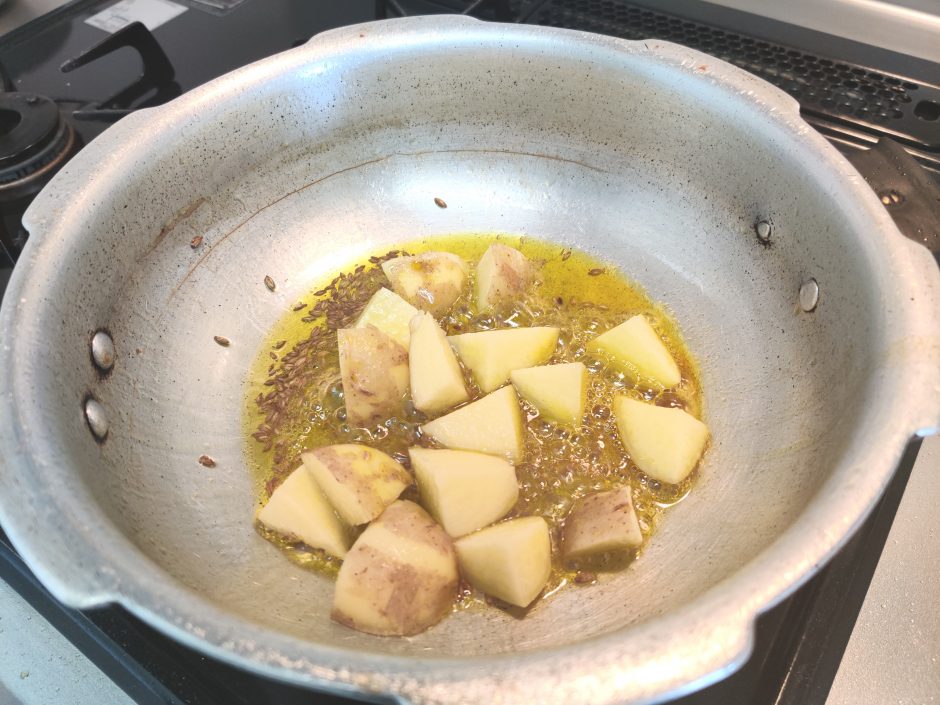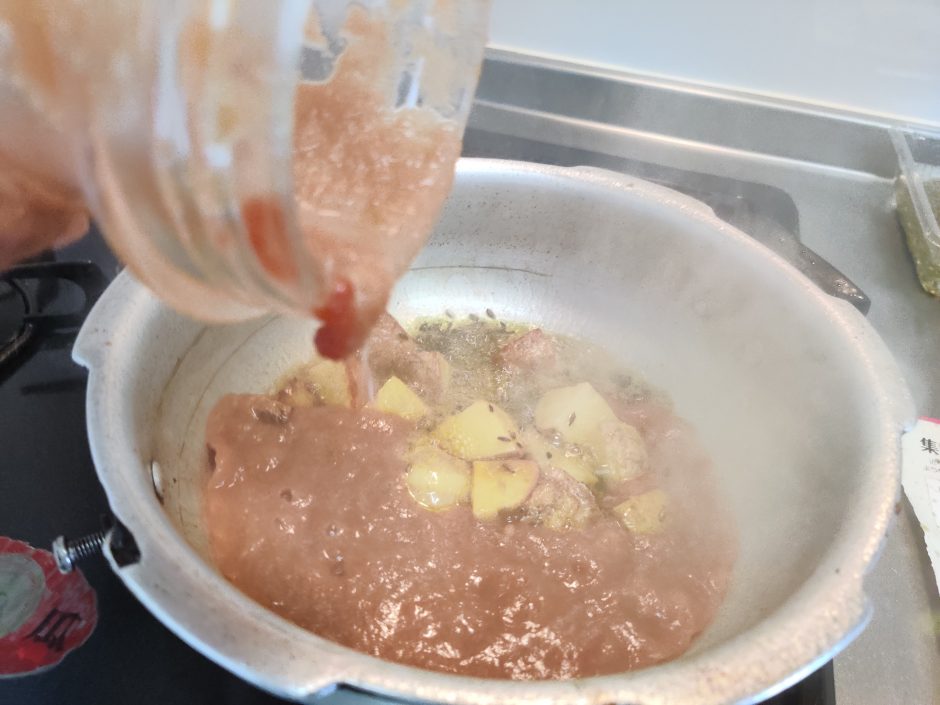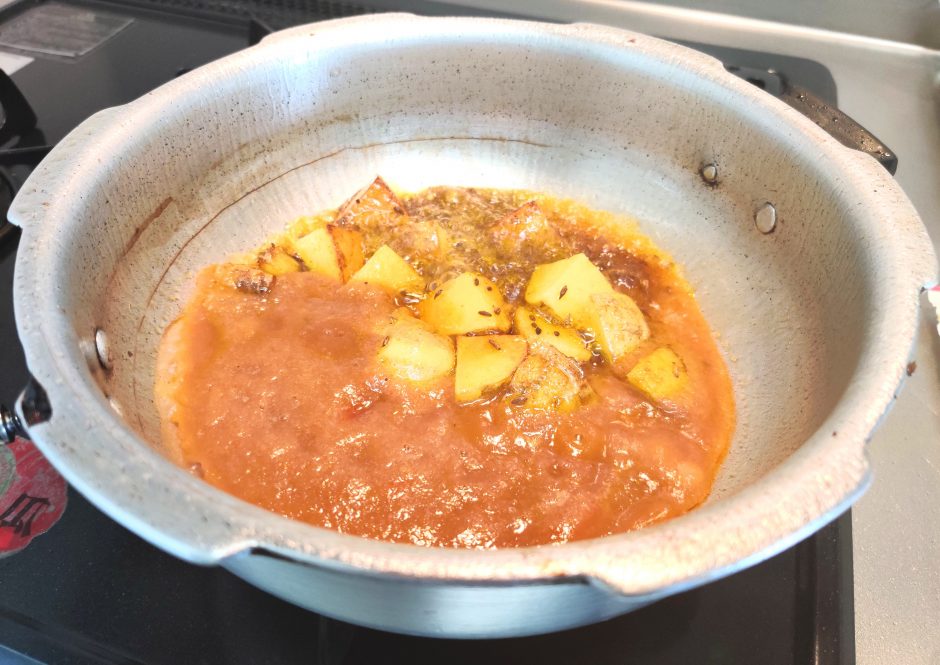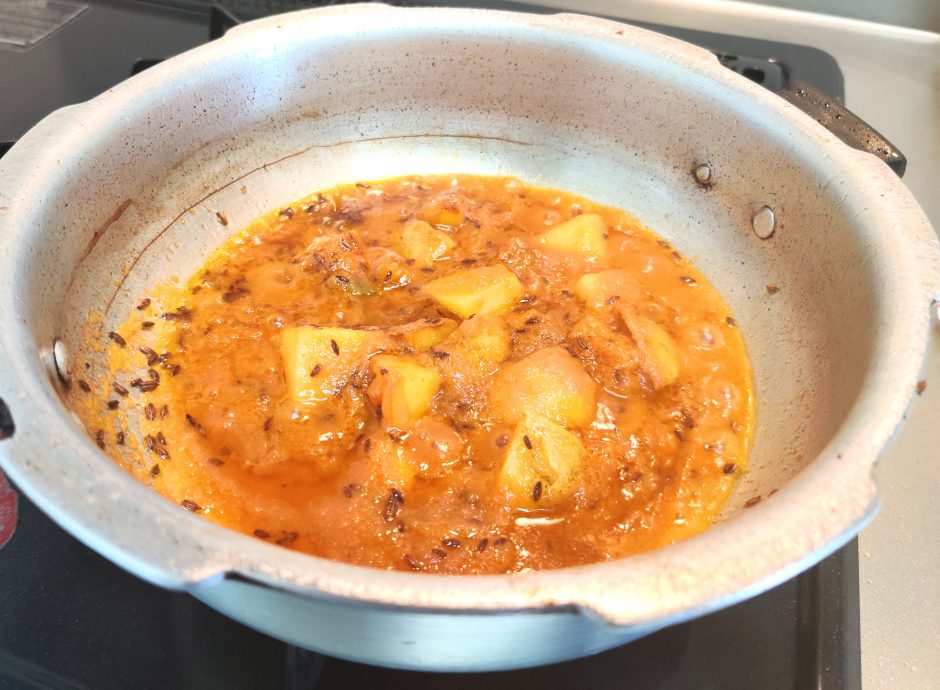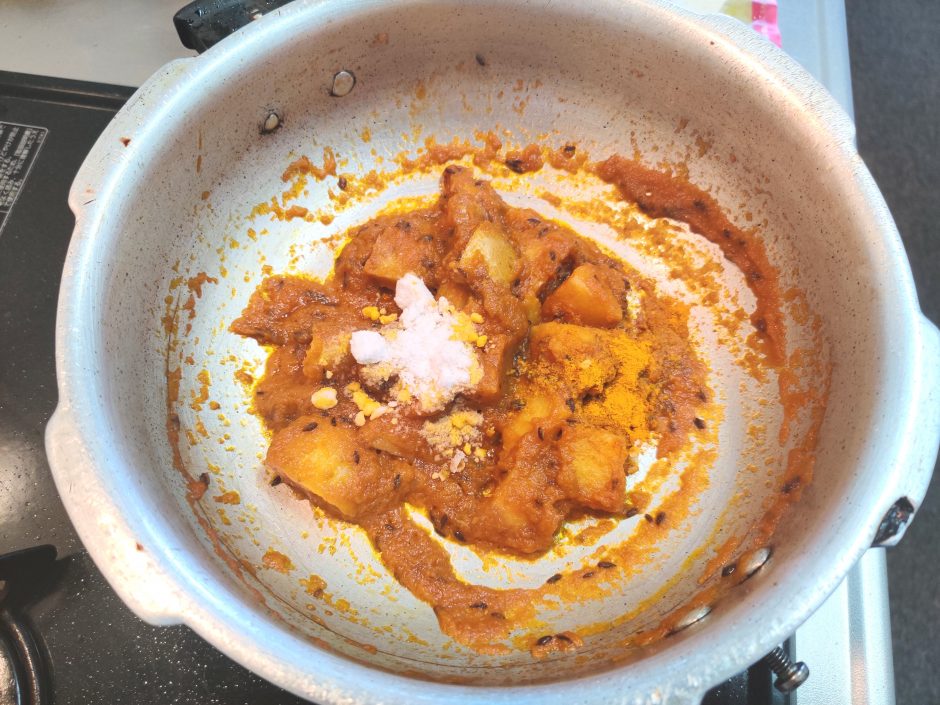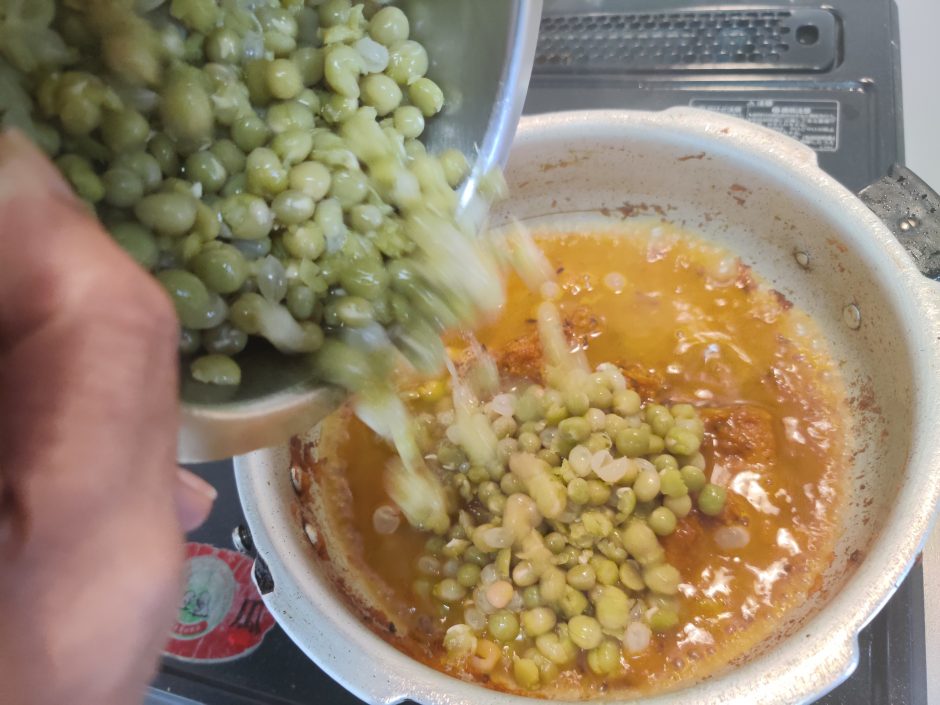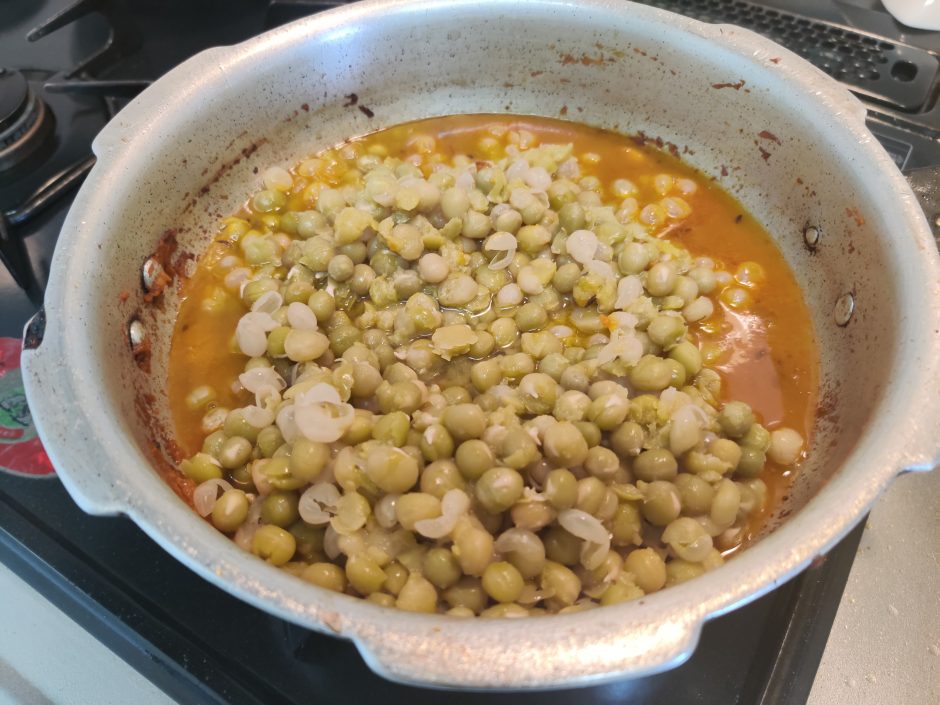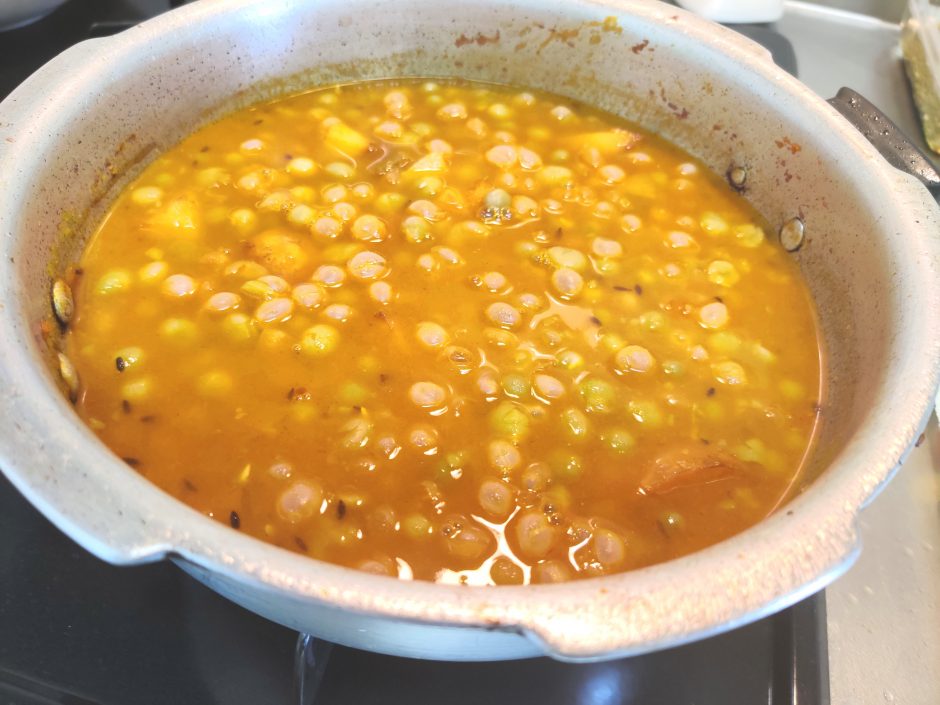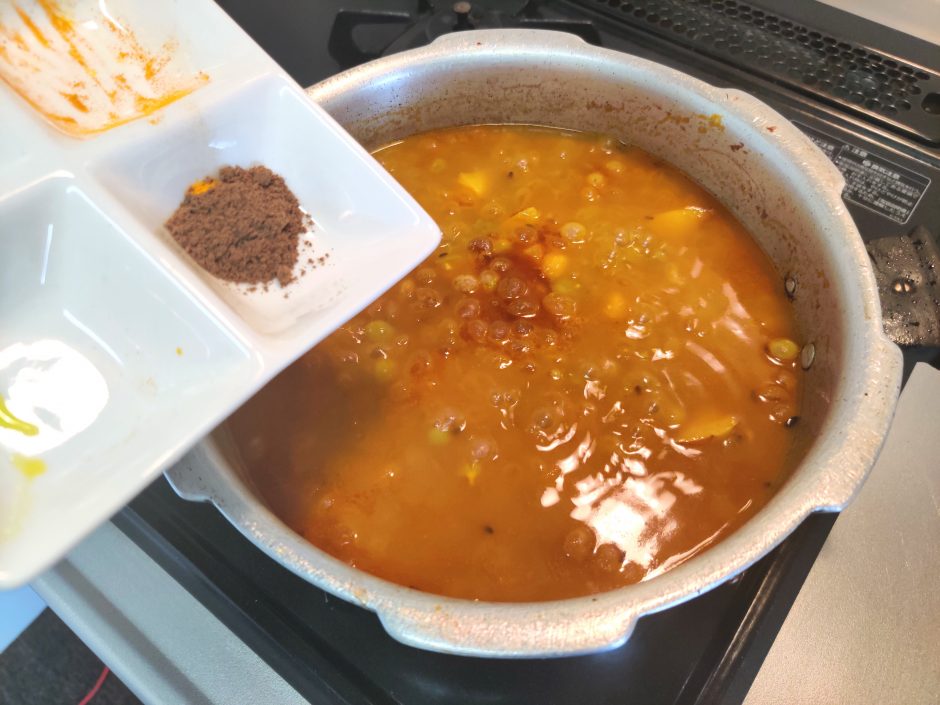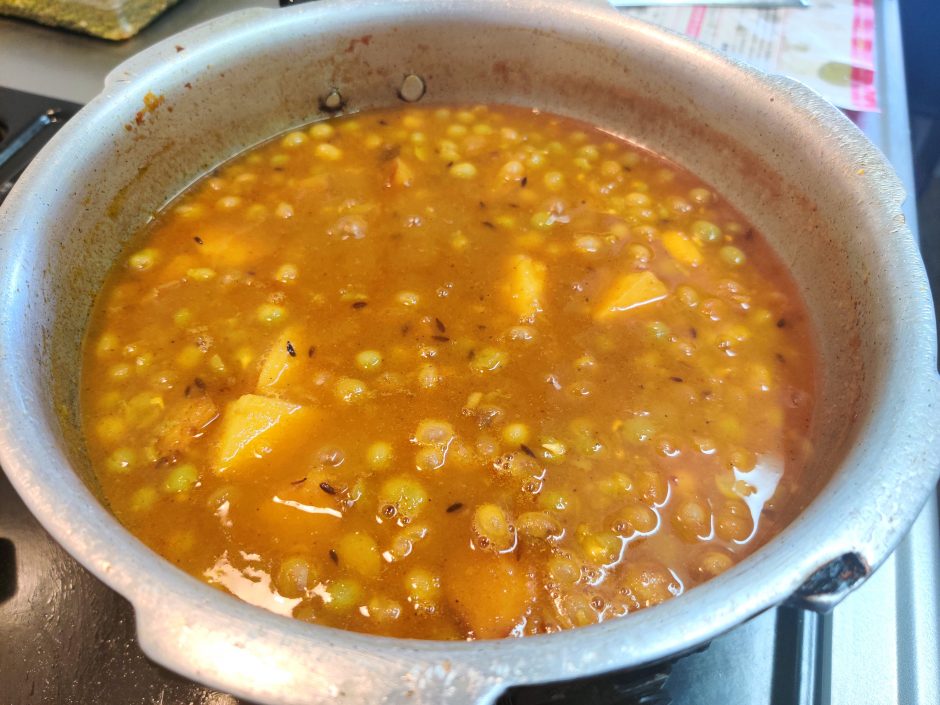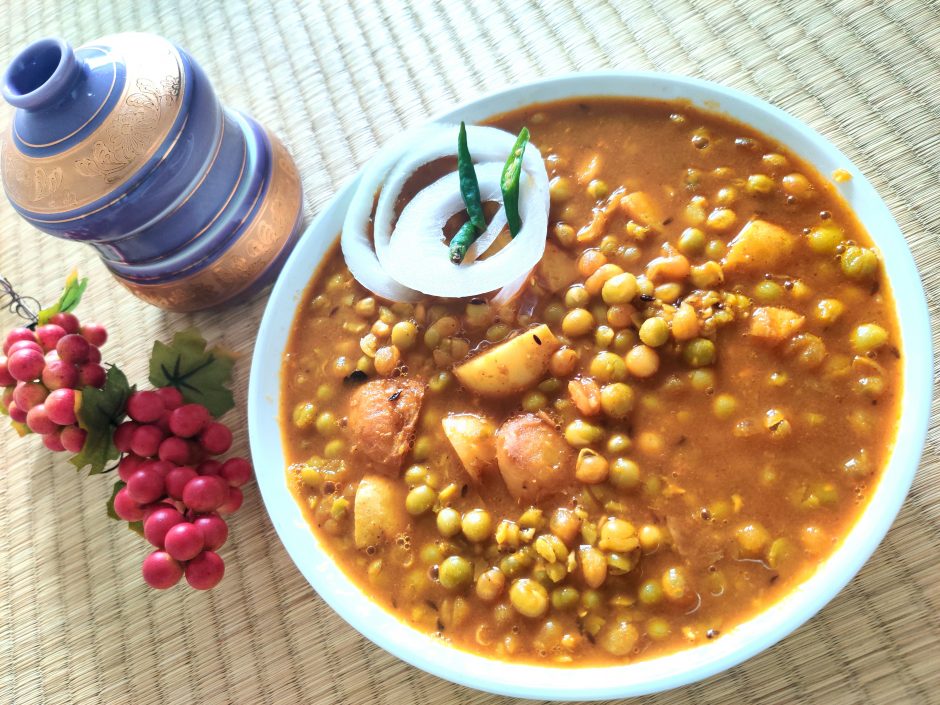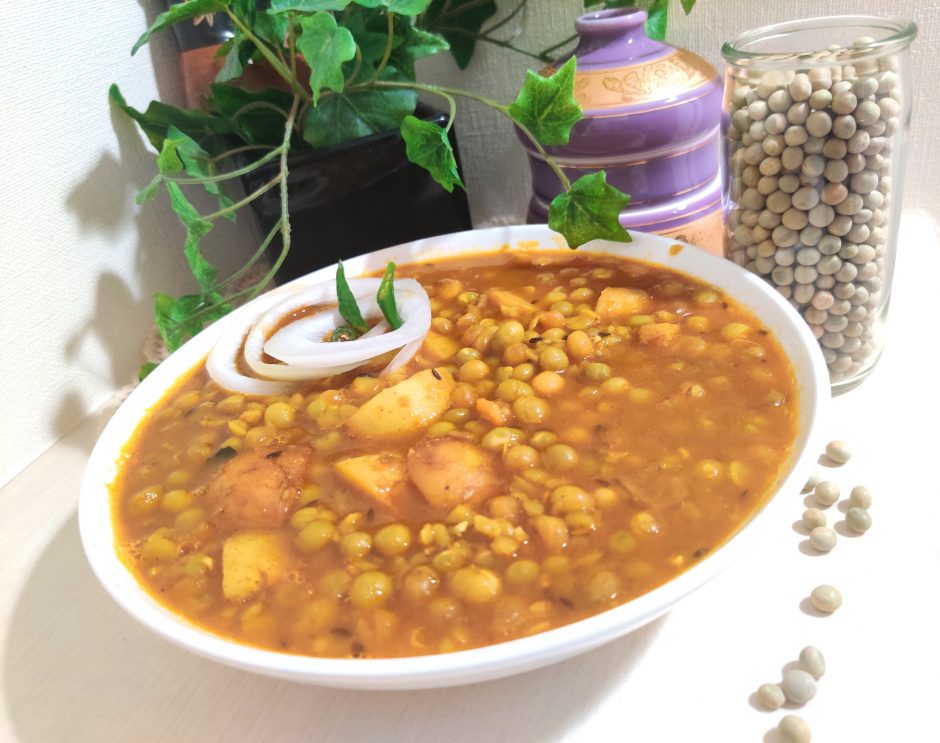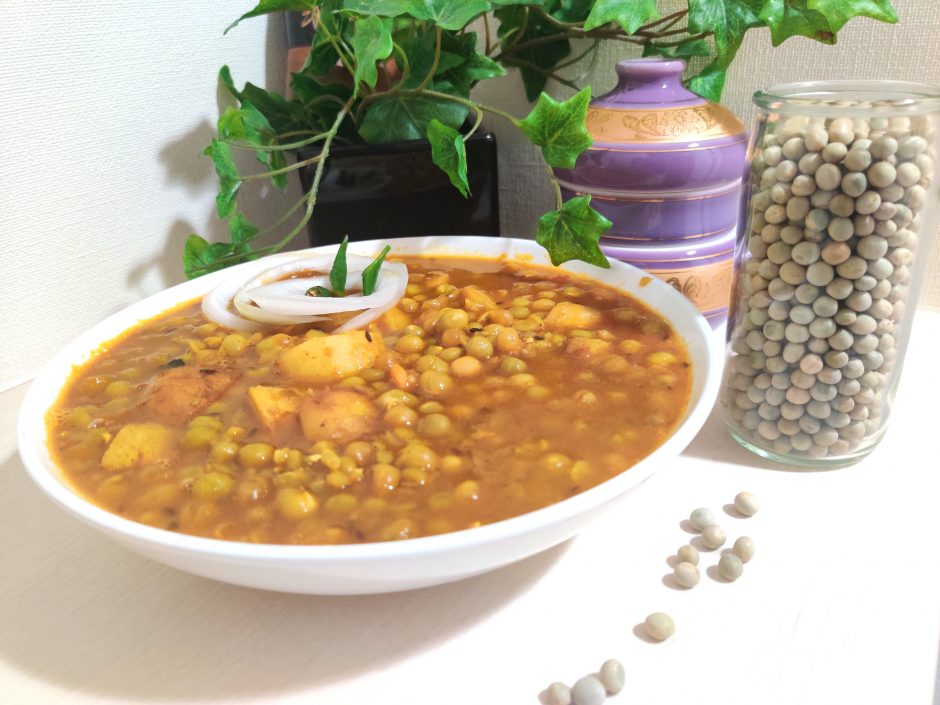 White peas Ghughani (Bengali Recipe) by Nag Ratna Sahu is licensed under a Creative Commons Attribution-NonCommercial-ShareAlike 4.0 International License.