Servings: 2-3
Preparation time: 2 minutes.
Cooking time: 5-6 minutes.
Tadka/seasoning time: 2 minutes.
Total time: 10 minutes.
Khichadi is basically one pot meal prepared with rice and dal (pulses); one of the most delectable and comfort recipes not only in Bihar but it is popular in eastern and northern part of India too. It is equally popular across the Bangladesh, Nepal and Pakistan as well.
Do you know customarily most houses cook Khichadi every Saturday in Bihar! The Khichadi is often cooked with red lentil (Masoor dal) or green gram lentil (Mung dal).
In this recipe to increase the nutritional value I used sprouted Mung, as we know sprouting process increases the nutrients level, a perfect way to balance protein & carb.
It is recommended to be served piping hot along with mashed potato (chokha), ghee (clarified butter), yogurt (curd), pickle (achar) and papad.
It is a saying "Khichadi ke char yaar, Ghee Papad Dahi Achar" but in Bihar Chokha is must.
Ingredients:
Basmati rice: 1 cup
Mung sprout: 1½ cup
Garlic/Garlic shoot: 2 no.
Bay leaf: 1 no.
Cumin: 1 teaspoon
Mustard seed: 1 teaspoon
Red chili: 2 no.
Ghee: 3 -4 tablespoon
Salt: 1 tablespoon
Turmeric powder: 1 teaspoon
Cooking oil: 2 tablespoon
Preparation:
Chop garlic stem into small pieces, keep aside.
Wash rice and Mung sprout, keep aside.
Method:
Take pressure cooker, add 5 cups of water, rice and Mung sprout along with salt turmeric and chopped garlic shoot, close the lid ; bring it to full cooking pressure, put off the flame. Let it cool.
After opening, check the consistency of khichadi if required adds hot water.
Tadka/ seasoning:
Take fry pan, heat ghee, when it starts smoking; add cumin, mustard seed, bay leaf and red chili, sputter it for few seconds. Put off the flame, add Tadka into Khichadi and stir well.
Transfer the Khichadi into serving bowl; decorate with fresh green coriander leaves.
"Mung (Green Gram) Sprout Khichadi" is ready to be served with ghee (clarified butter), Aaloo chokha, curd, pickle and papad.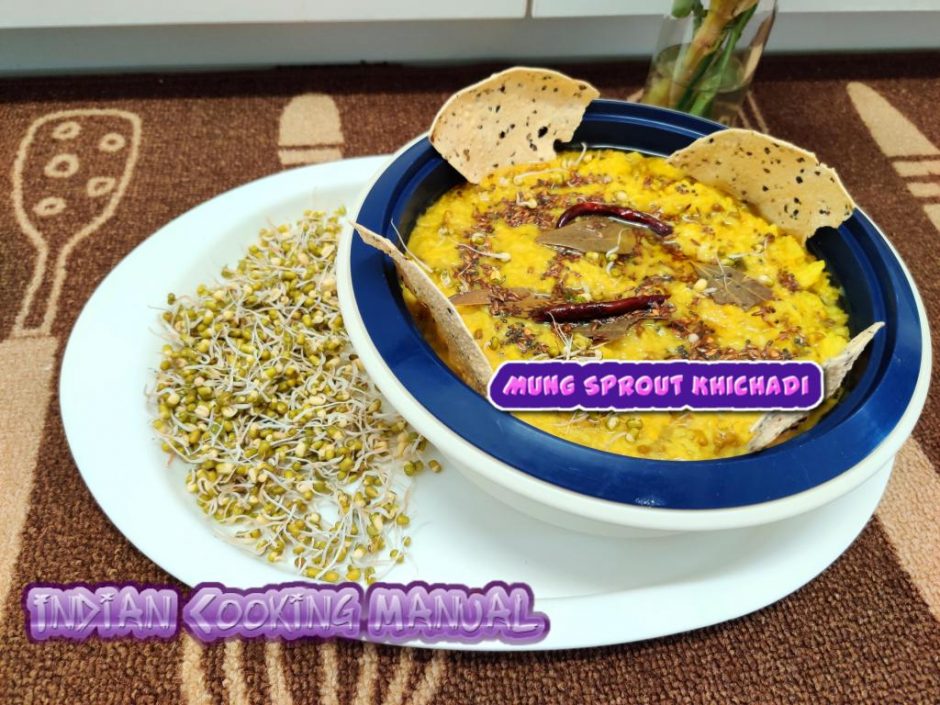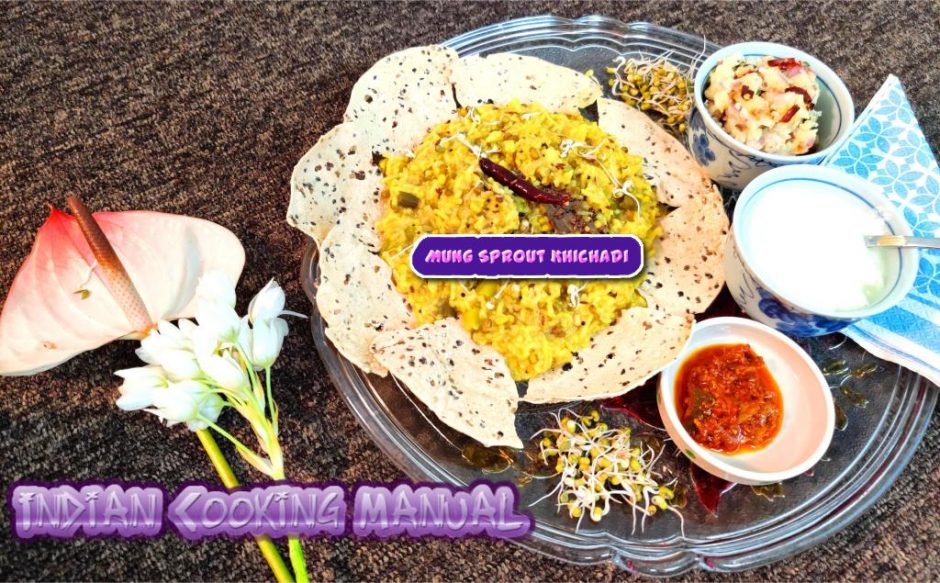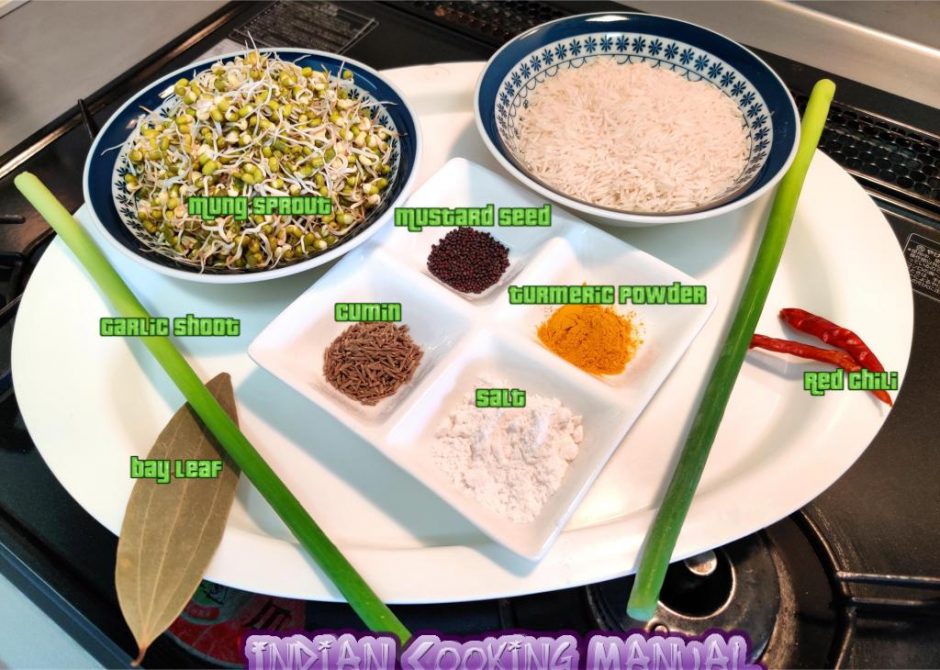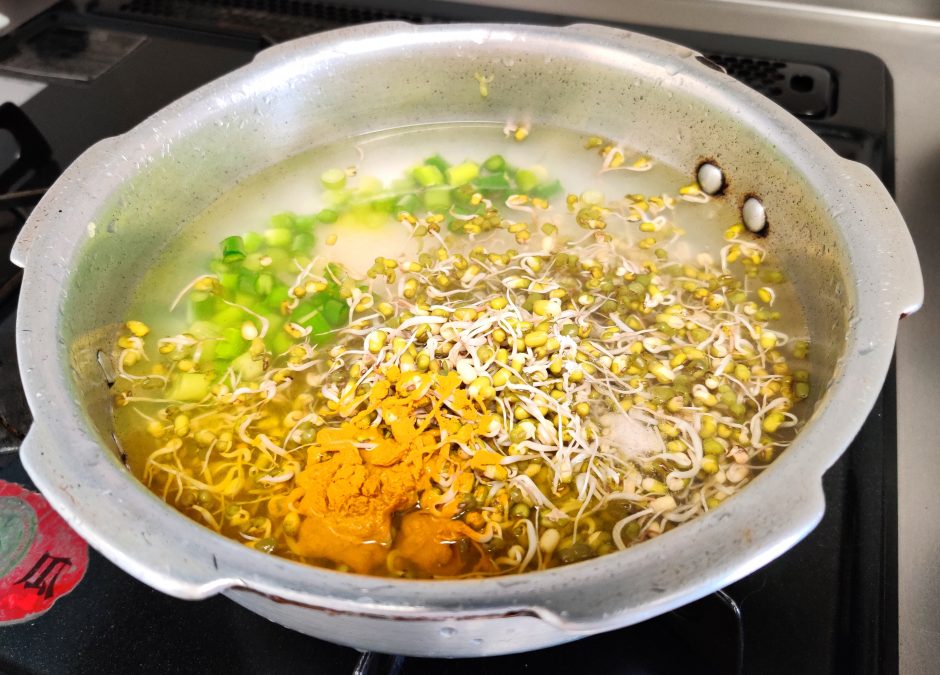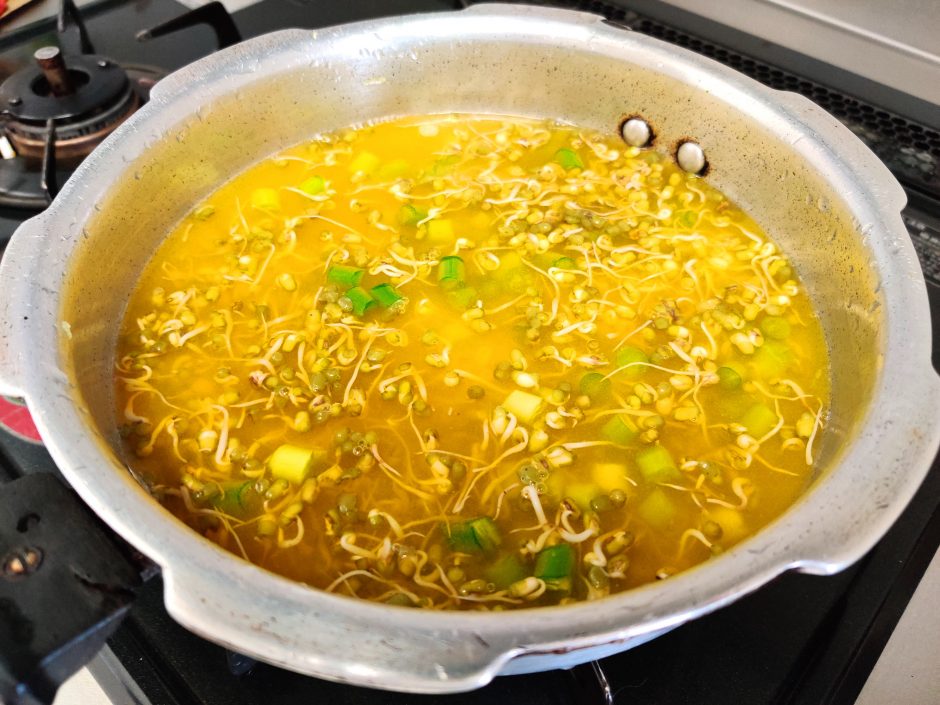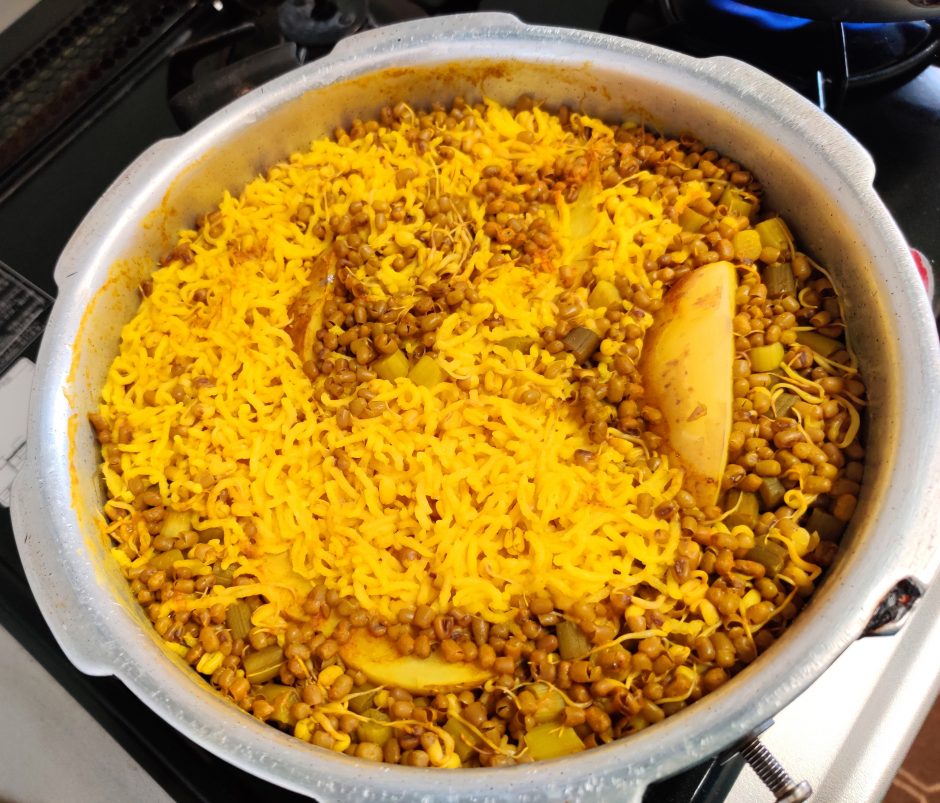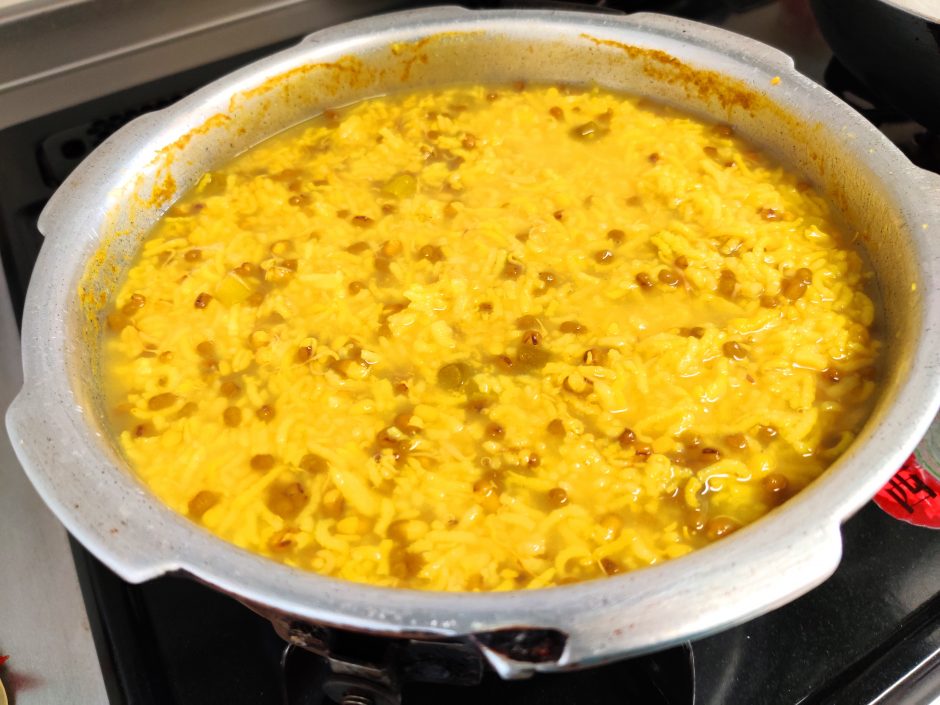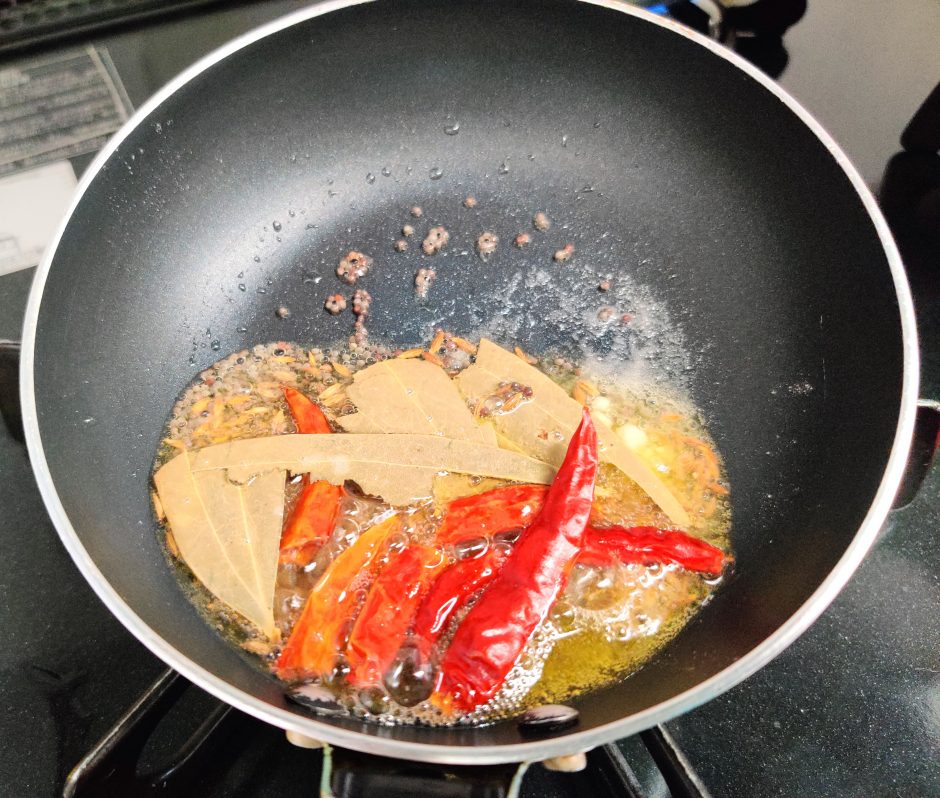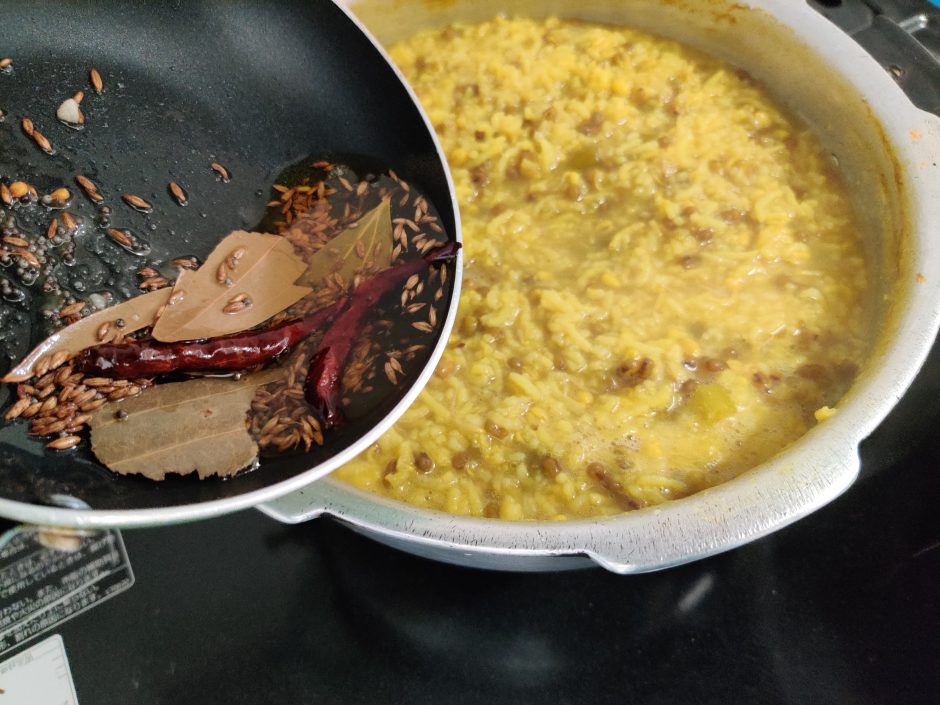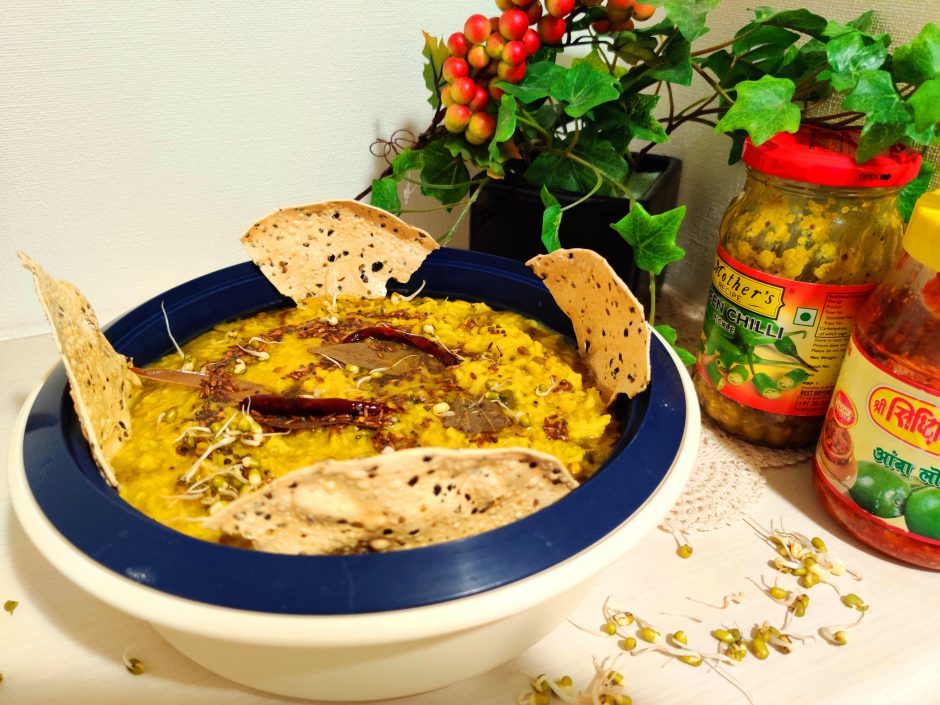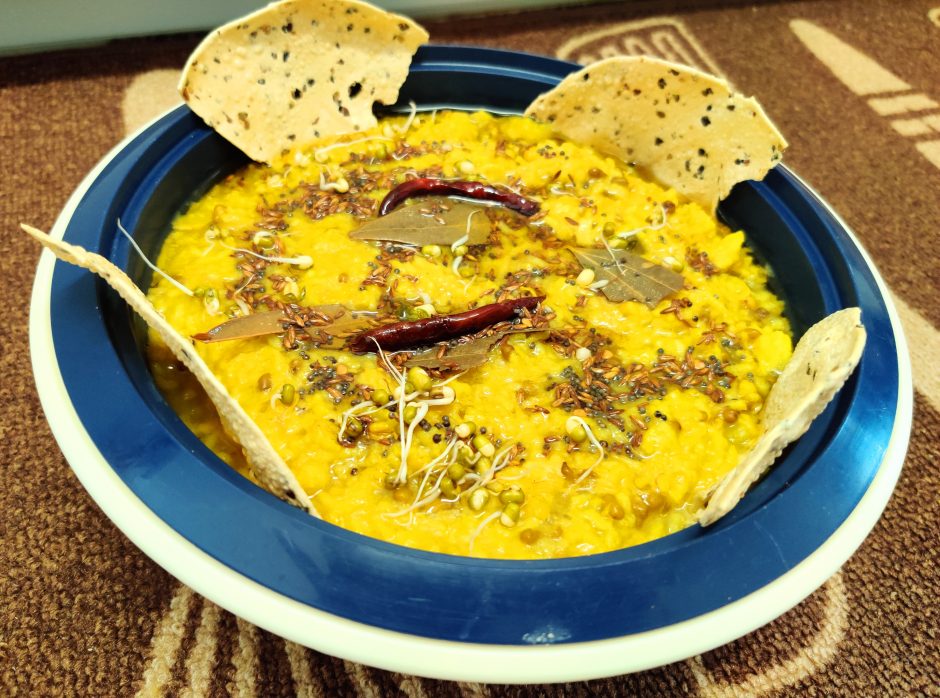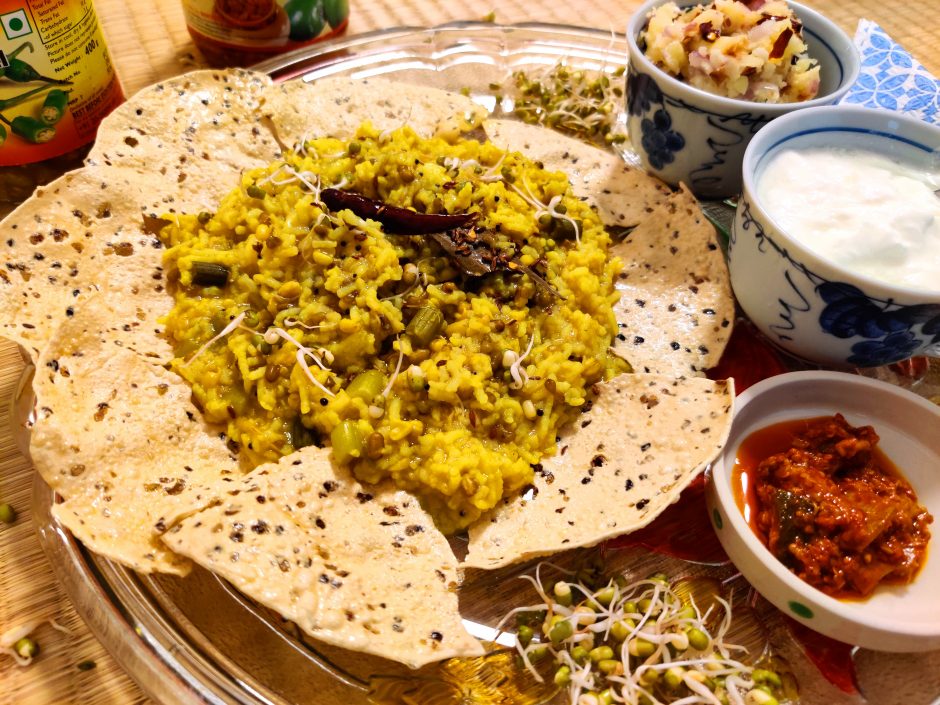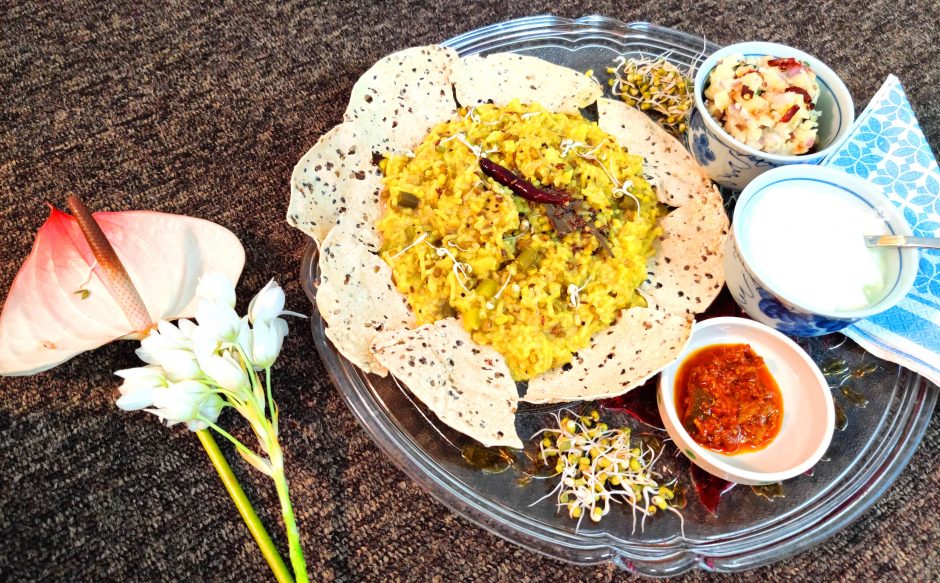 Mung (Green Gram) Sprout Khichadi by Nag Ratna Sahu is licensed under a Creative Commons Attribution-NonCommercial-ShareAlike 4.0 International License.