It was the day of 'Farmers and Kids'. The festival featured interactive events around the theme of agriculture and gastronomy. The Hibiya Park in Tokyo was so lively, enthusiastic children of different age group interacting with very knowledgeable and polite farmers.
There was lot to learn for elderly also. There was excitement in the air Professional farmers from Japan gathered to sell fresh produce and serve delicious regional dishes. Among the many attractions and activities we experience that how to operate tractors and other farm machinery. It was perfect for the entire family including small children.
I bought some 2-3 varieties of fresh vegetables; one of them was turnip with leaf. I prepared the recipe in which I used turnip leaf too. Turnip leaf is edible and highly nutritious and low in calorie.
Ingredients:
Shalazam (Turnip): 400gm (tender)
Red chili: 3-4no. (As per taste)
Coriander: 1 tablespoon
Cumin seed: 1 teaspoon
Black pepper: ½ teaspoon
Salt: 1 teaspoon (as per taste)
Turmeric powder: ½ teaspoon
Olive oil (cooking oil): 2 tablespoon
Clove: 3-4 no.
Ajwain (carom): ½ teaspoon
Asafoetida: 1 pinch
Preparation:
Peel off Shalazam, chops into slices, Keep aside.
Chop turnip green if you have, keep aside.
Dry roast chili, coriander, cumin and black pepper; grind it to powder, keep aside.
Method:
Take a fry pan. Heat oil on high flame until smoke starts coming; add ajwain and clove. Sputter it for few seconds add pinch of turmeric powder and chopped shalazam, stir properly cook on medium flame till half done.
Add shalazam green; continue to cook couple of minutes, add salt, turmeric powder and prepared powder masala along with asafoetida and continue to cook till done. Put off the flame.
Transfer the prepared vegetables into serving bowl; it is ready to eat with any meal or as a side dish.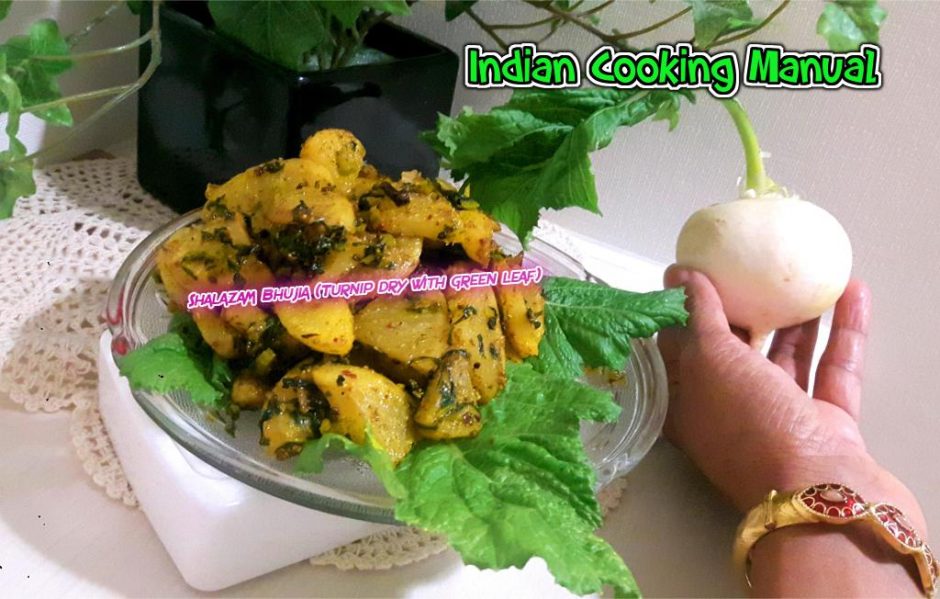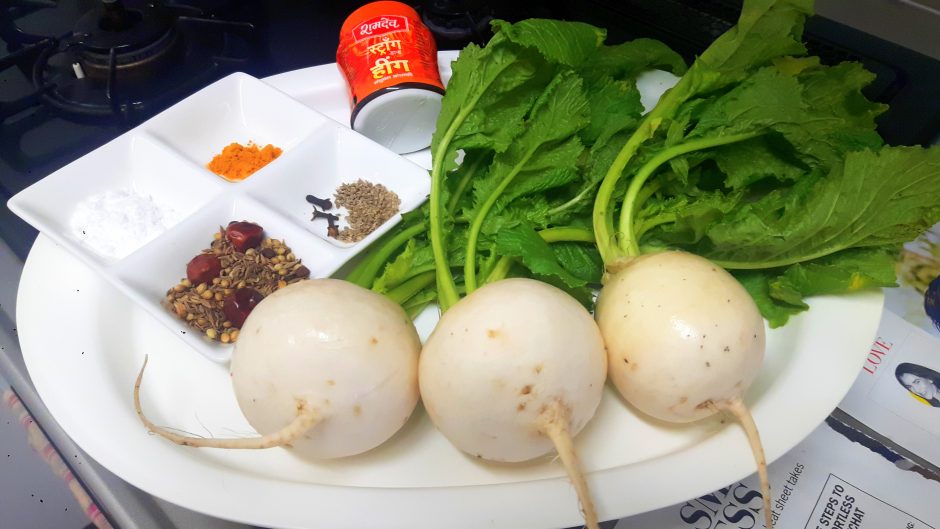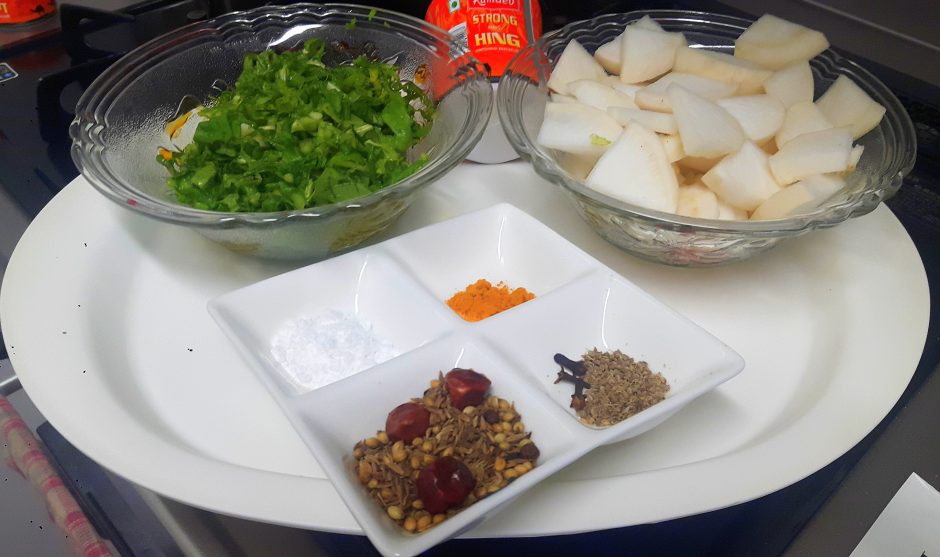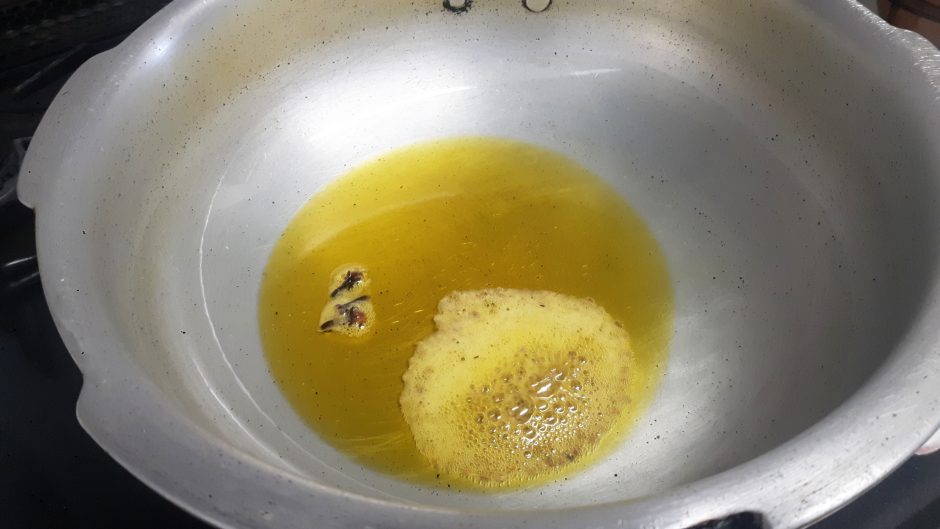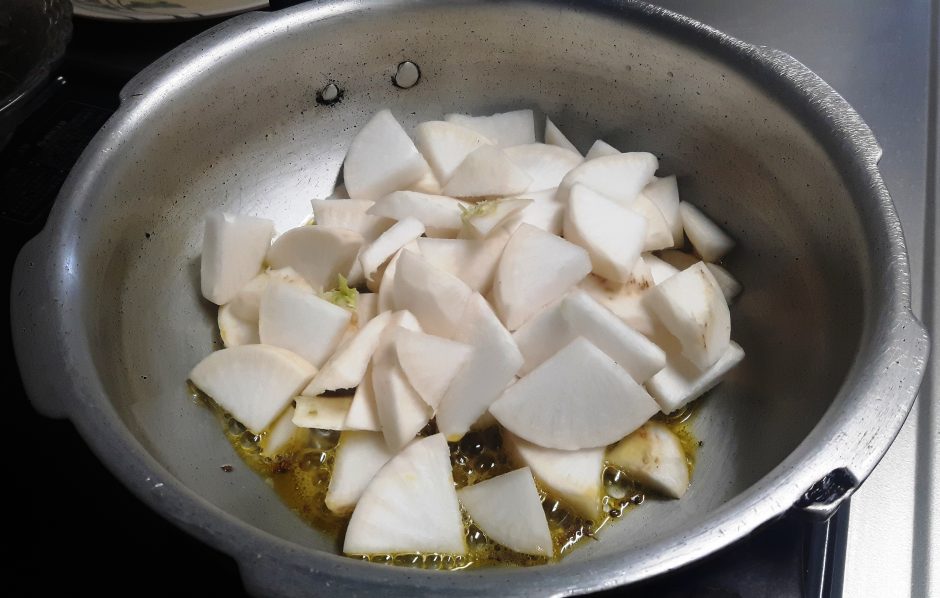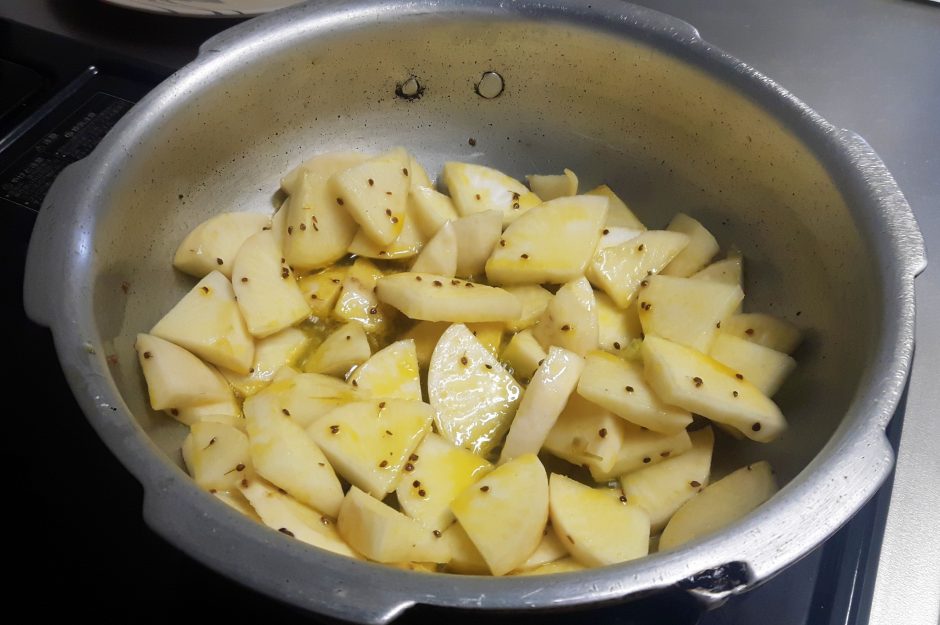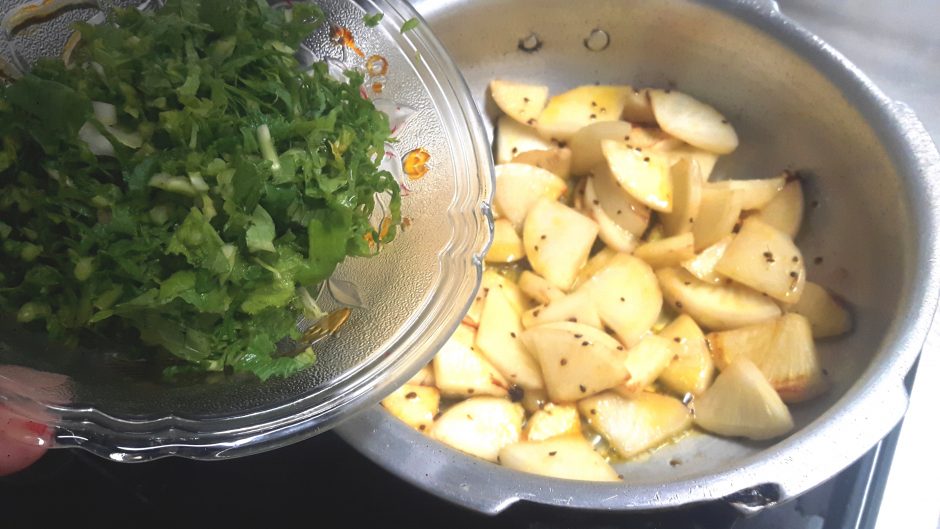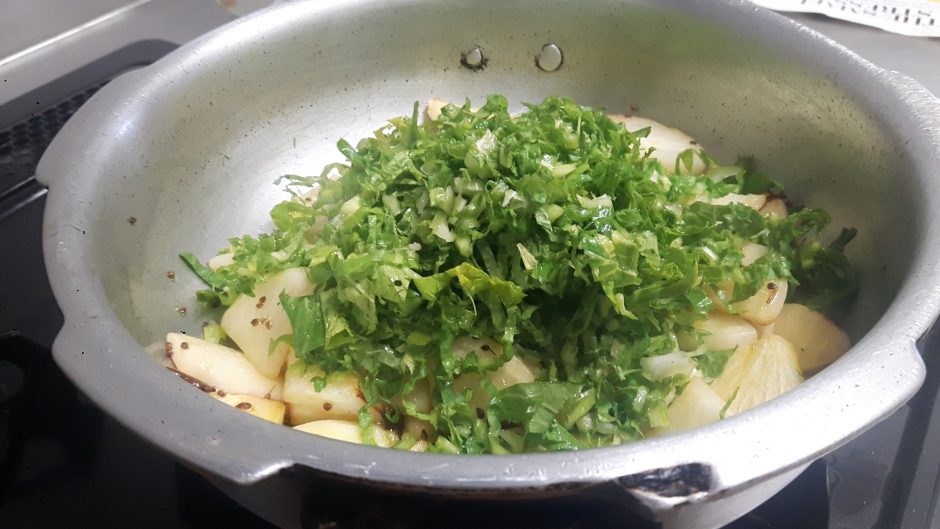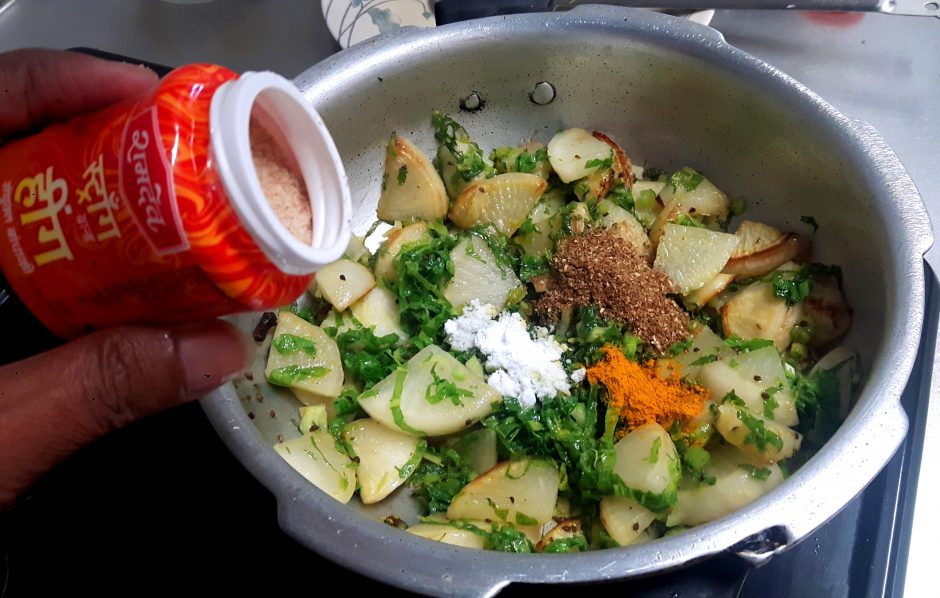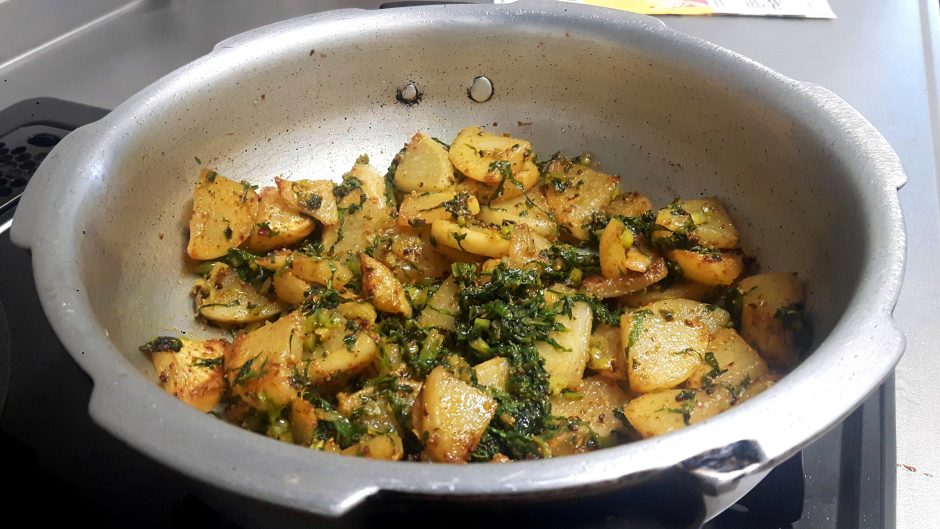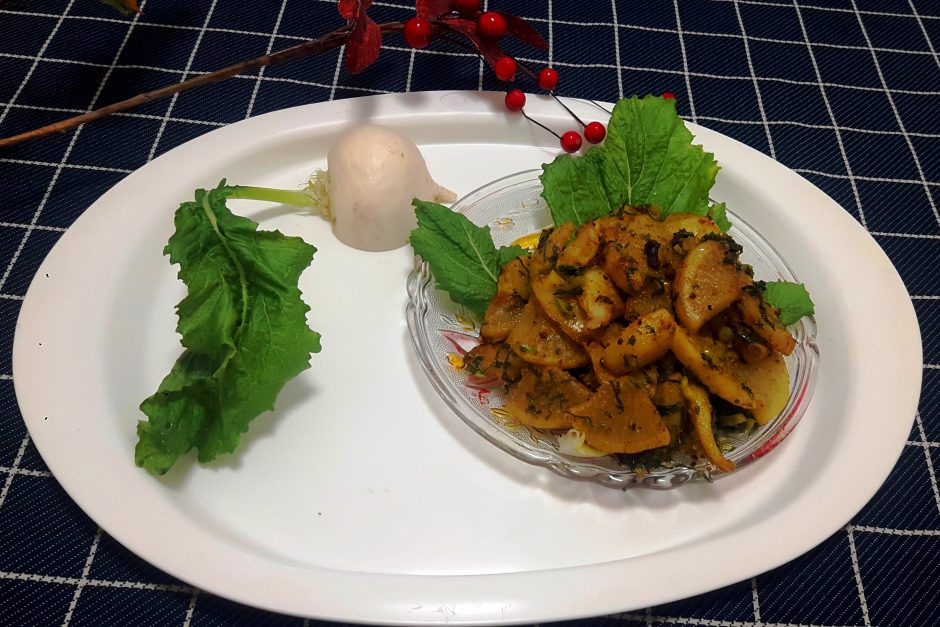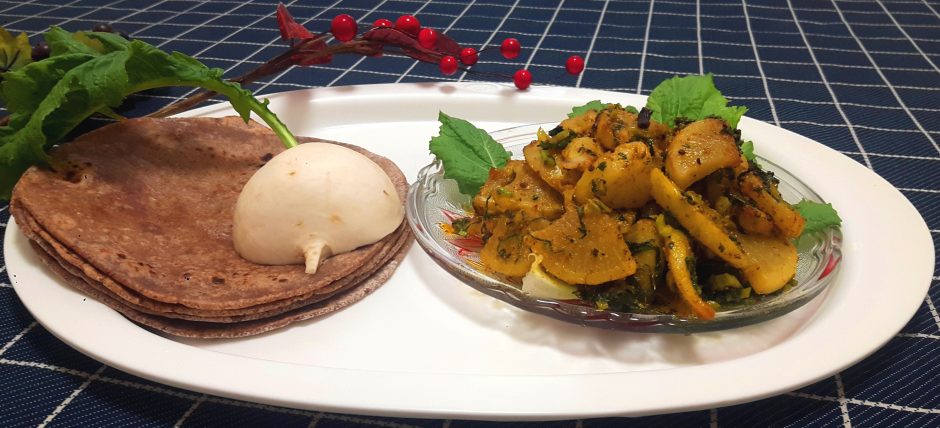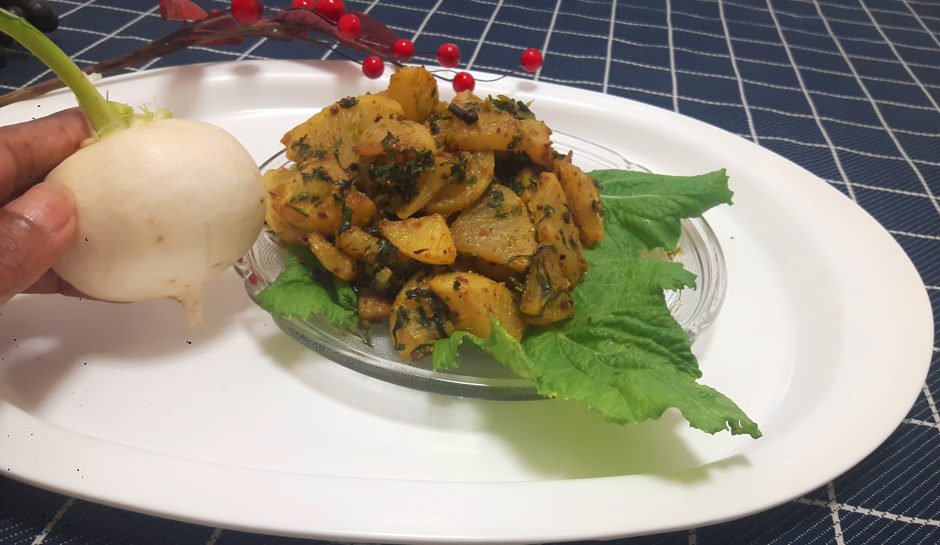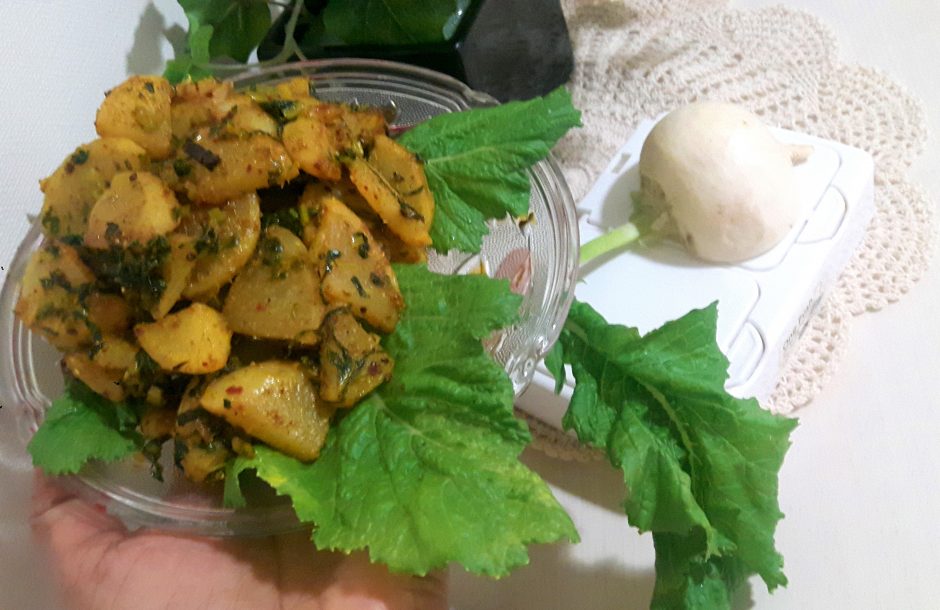 Shalazam Bhujia (Turnip dry with green leaf) by Nag Ratna Sahu is licensed under a Creative Commons Attribution-NonCommercial-ShareAlike 4.0 International License.