Thalipeeth is traditional Maharashtra multigrain flat bread; very popular in western India; which is thick bread made with multigrain and lentil flour dough.
The 'Phalahari Thalipeeth' which I made is the recipes which I learnt from Maharashtrian friend; she used to eat this during Monday fast along with some fruits and juices. I tasted this recipe at her place with 'strawberry shake' and 'potato raita', it was very yummy…And I prepared this recipe in my kitchen on the occasion of Navratri fast…Very delicious…perfect for any fasting…
Ingredients:
Boiled potato: 1 no. (Medium)
Kuttu ka Aata: 50 gm.
Singhare ka Aata: 50 gm.
Rock salt: ½ teaspoon
Green chili: 1 no. (Optional)
Ghee (Clarified butter): 50 gm. (for roasting)
Preparation:
Mash/grate the boiled potato, put into mixing bowl; add all ingredients except ghee; make dough as in photo.
Method:
Divide the dough into two parts and provide it ball shape; grease the nonstick griddle/Tawa with ghee. Take a ball of dough and start patting over oiled Tawa till it become 6 to 7 inch in diameter (you can prepare this on butter paper also instead of making it directly on Tawa/ griddle, in this case gently drop the sheet upside down over the hot griddle as shown in photo).
Make some holes (notch with your pinch) on the Thalipeeth; add some ghee at the notched place, so that it will absorb ghee and get cooked faster and better.
Additionally, smear some ghee over the Thalipeeth, cover and cook both sides on medium low flame. (About 3-4 minutes each side)
Now Thalipeeth is ready to be served.
Serve this Thalipeeth along with pineapple Raita and date chutney.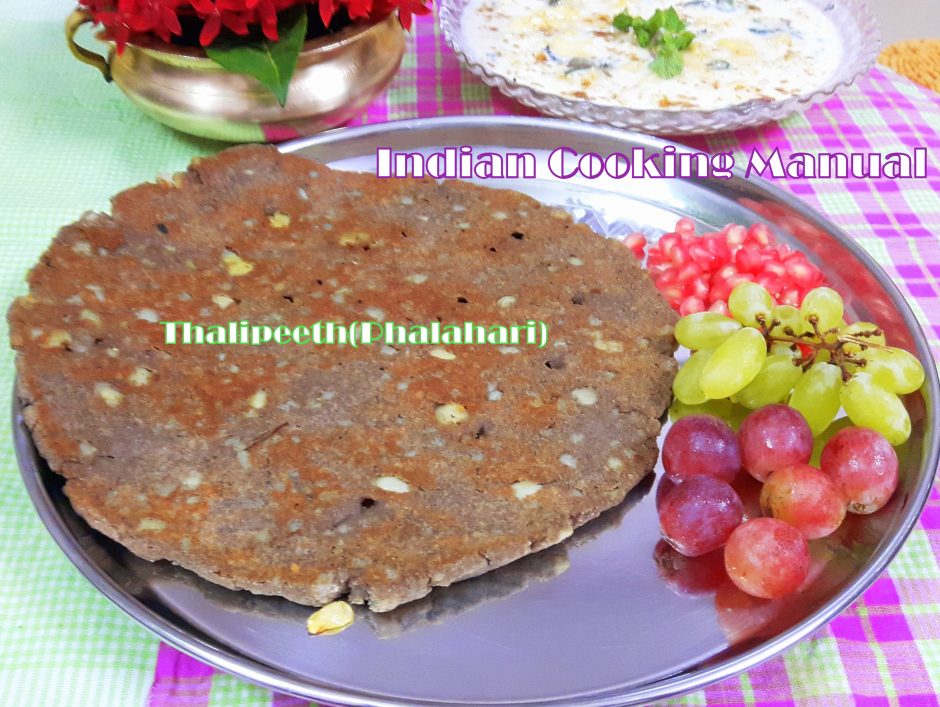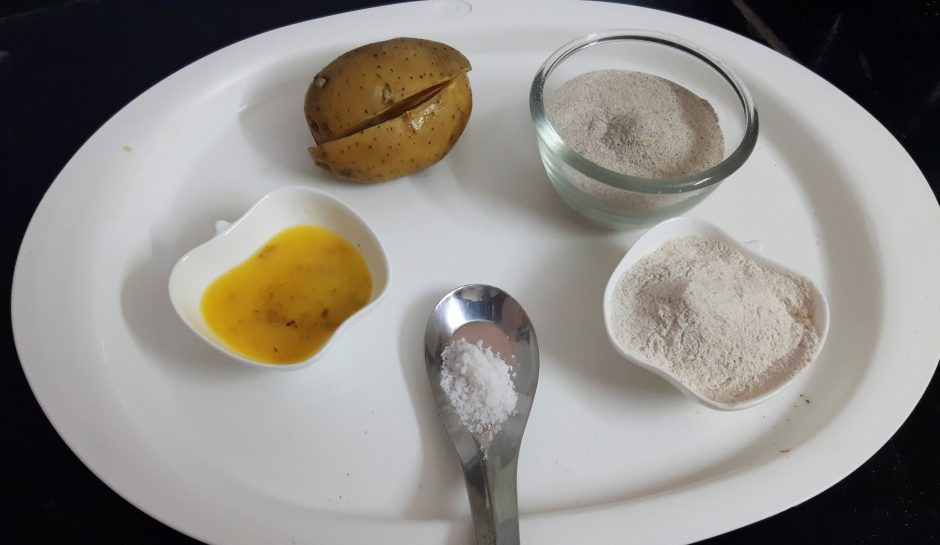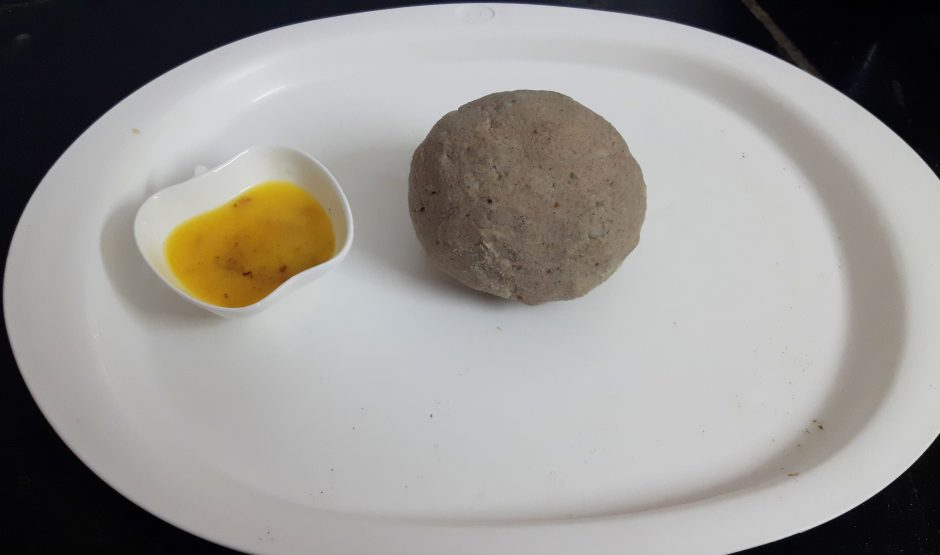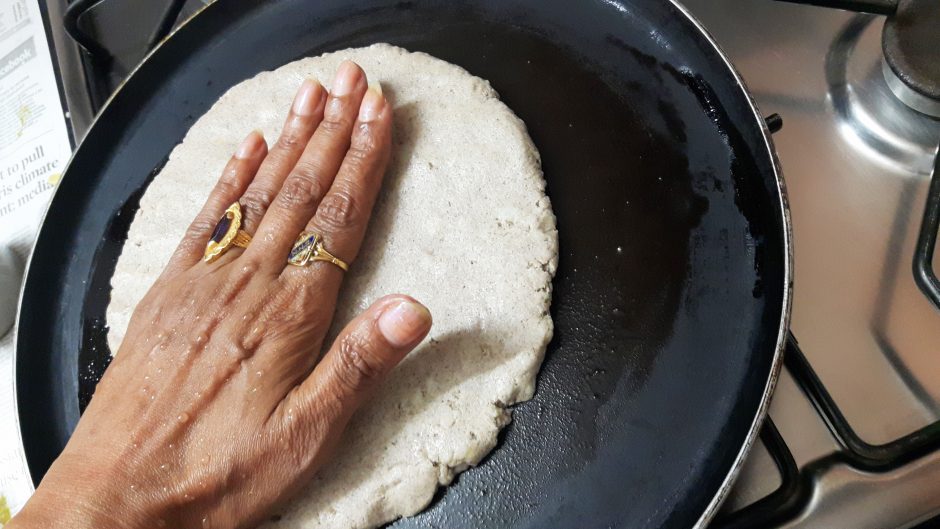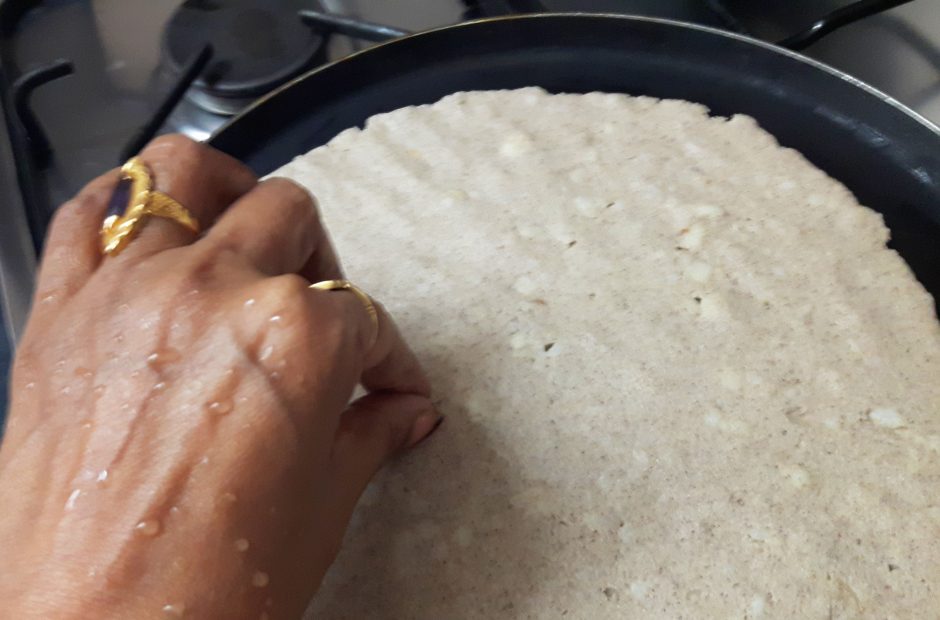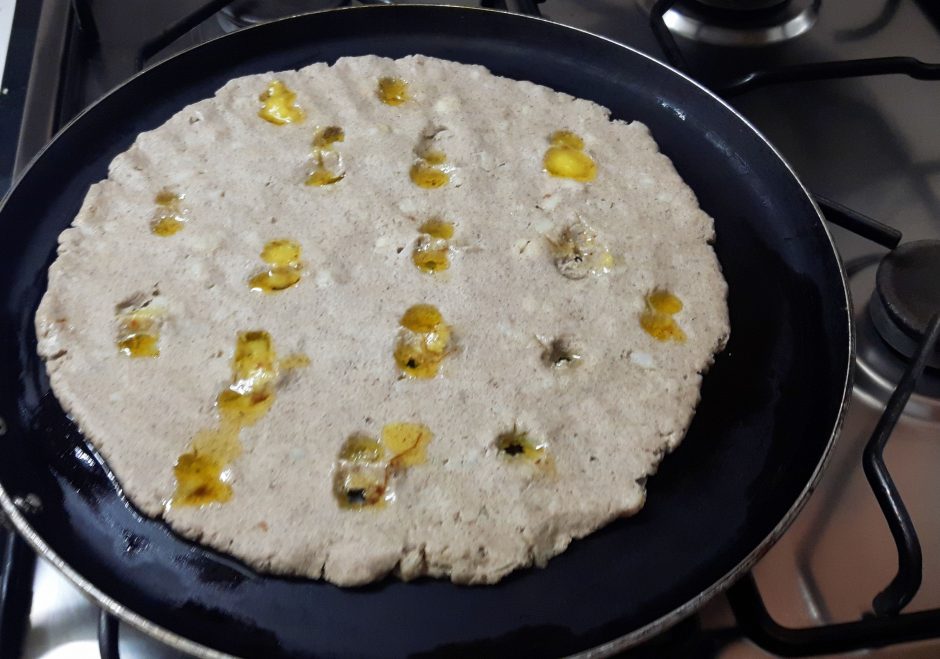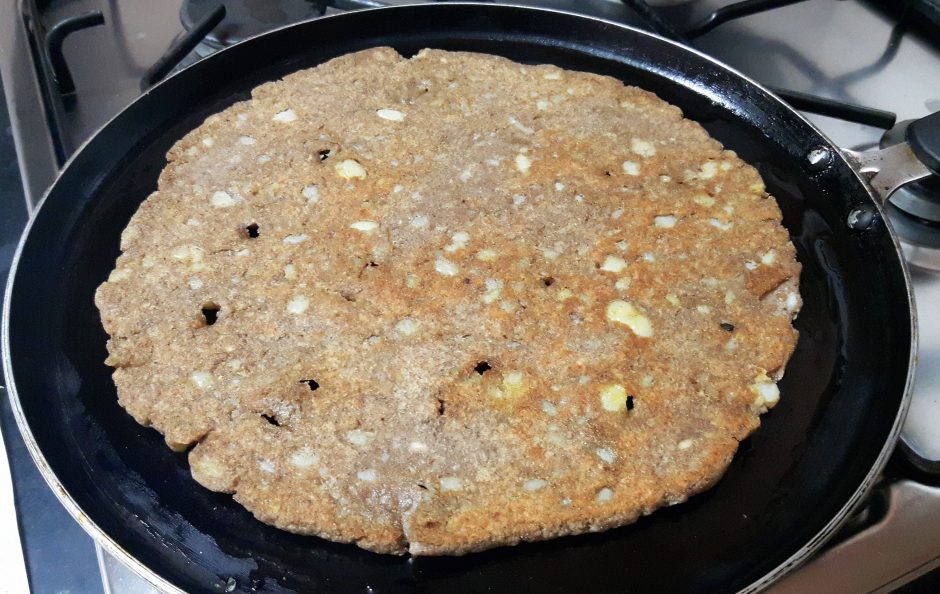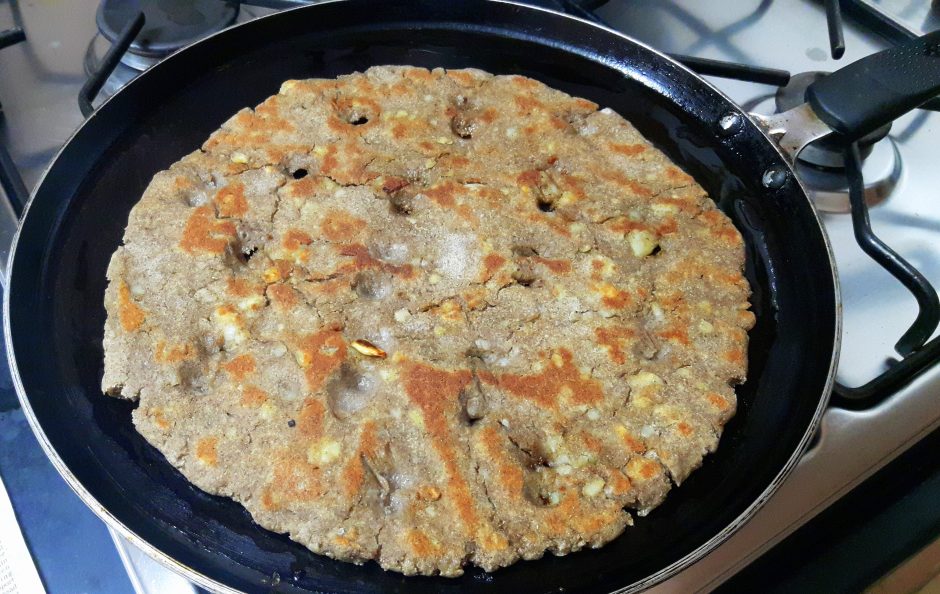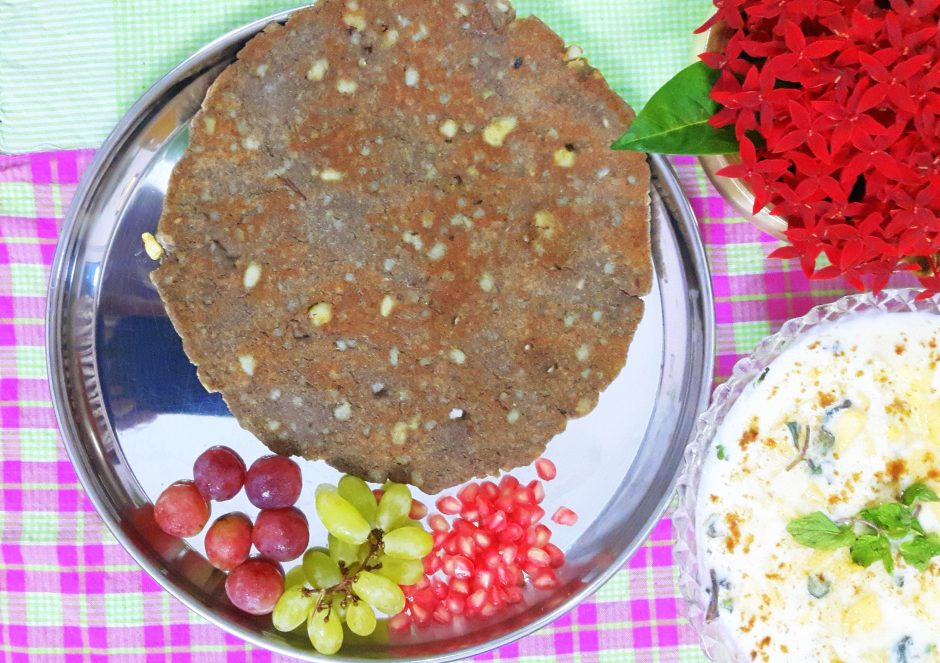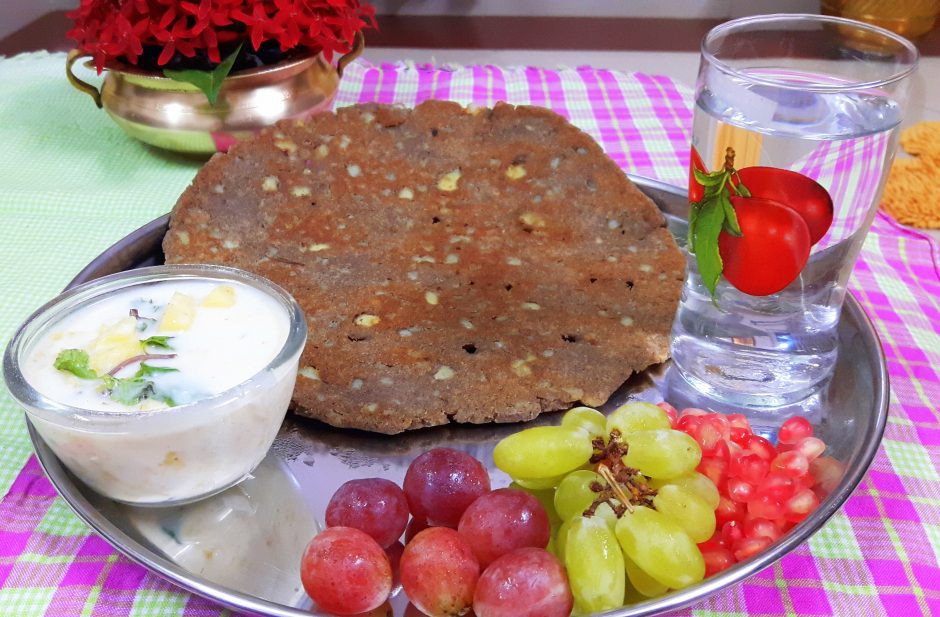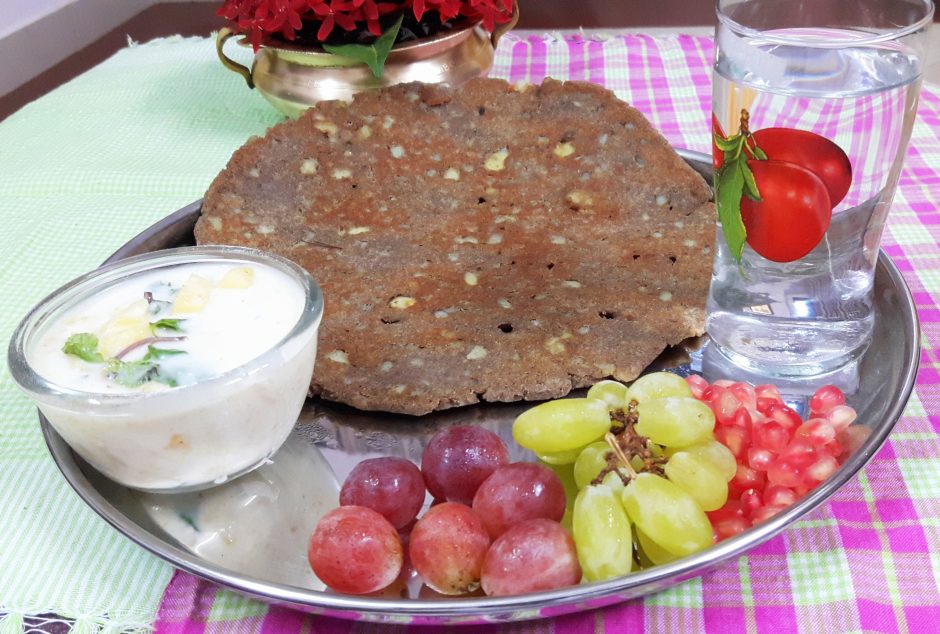 Phalahari Thalipeeth by Nag Ratna Sahu is licensed under a Creative Commons Attribution-NonCommercial-ShareAlike 4.0 International License.