Servings: 2-3
Preparation time: 4 minutes.
Assembling time: 6 minutes.
Total time: 10 minutes.
Today I would like to share an easy vegetarian Korean recipe named 'Kimbap/Gimbap' which is made with pickled radish. The ingredients are gifted to me from one of my beautiful Korean friend; thank you so much once again my dear friend through this medium(Indian Cooking Manual). Basically Kimbap is a seaweed rice roll served as light lunch with kimchi.
It is very popular picnic food and takeout food in Korea; it is sold everywhere in from airport to market. It is liked by everyone from kids to elder. I also fall in love with this delicious Korean rice roll and wish to bring in my kitchen…
Ingredients:
Japanese cooked rice (Uruchi Mai/ Bap): 2 cups
Salt: ½ teaspoon
Sesame oil: 2-3 tablespoon
Dressing vinegar: 1 teaspoon (optional)
Dried seaweed sheet (Gim/Sushi Nori): 4 no.
Radish Pickle sticks: 1 pack
Bamboo roller mat/Sushi rolling mat: you may use aluminum foil
Preparation:
Dry roast seaweed sheet on non-stick pan at lower flame till it gets crispy, keep aside.
Take a mixing bowl; put rice, salt and sesame oil, mix well with help of spatula, now the mixture is ready to prepare the Kimbap.
Take a chopping board and keep a bowl filled with water near to wet the hand to prevent the rice from sticking at the time of rolling.
Method to assemble:
Place the bamboo mat on the chopping board, keeping non-shiny side up, spread seaweed sheet over the mat; It is important to wet your hands with water to prevent the rice from sticking to hand, take a handful of rice, place the rice on the seaweed sheet then spread evenly to cover the ¾ of the sea weed as in photo …
Now arrange pickled radish over it as in photo.
Then roll it with slightly pressing manner so that fillings stay inside; continue to roll at the end of the bamboo mat as in photo.
Press with both hands so that it sets as a roll, keep aside. Repeat the same till all rolls are done as in photo.
Apply sesame oil all over the roll and cut into 2" pieces or 7-8 pieces from one roll with sharp knife.
'Kimbap (Korean dish) in Indian kitchen' is ready to be served, if you want to store this for next day picnic; store in an airtight container in refrigerator and reheat or microwave before use.
Note: Here I used Japanese sticky rice(Koshihikari rice), you may use parboiled rice instead of Japanese sticky rice.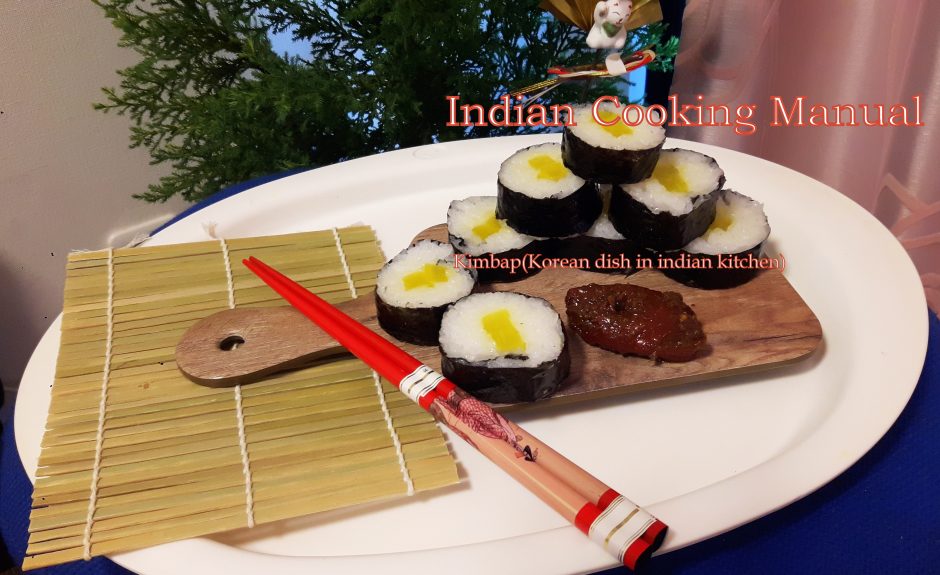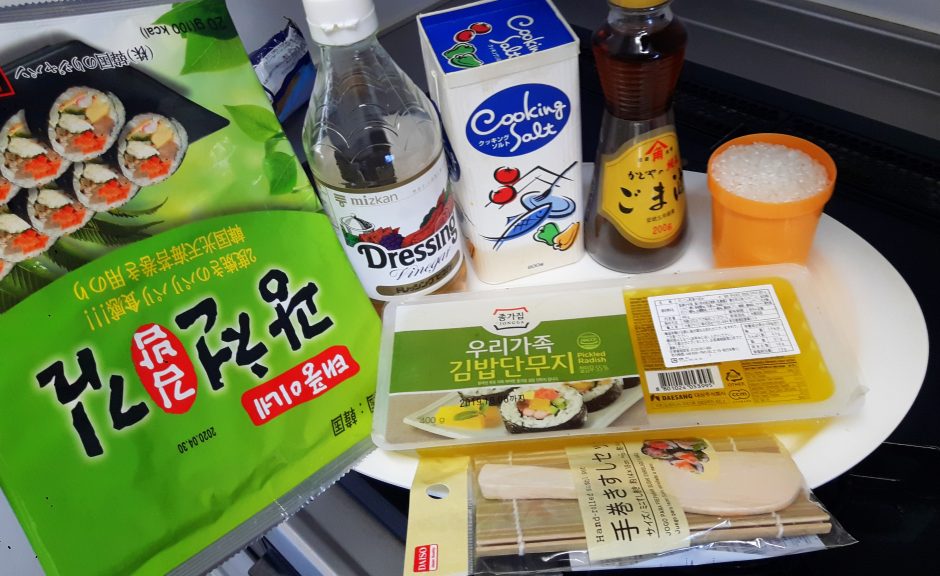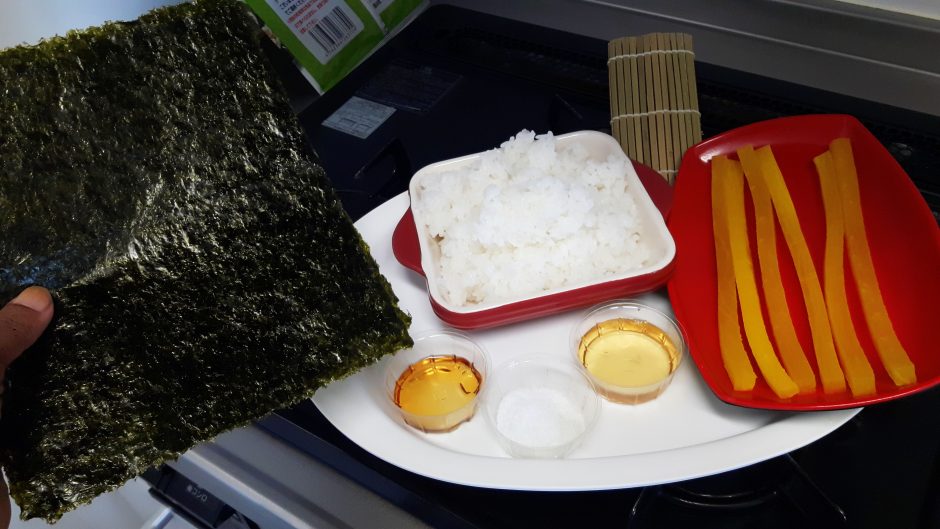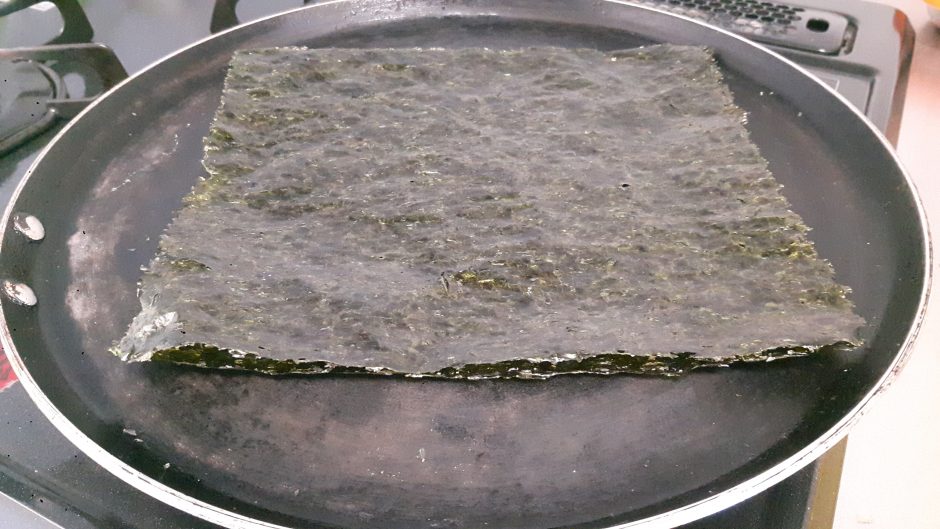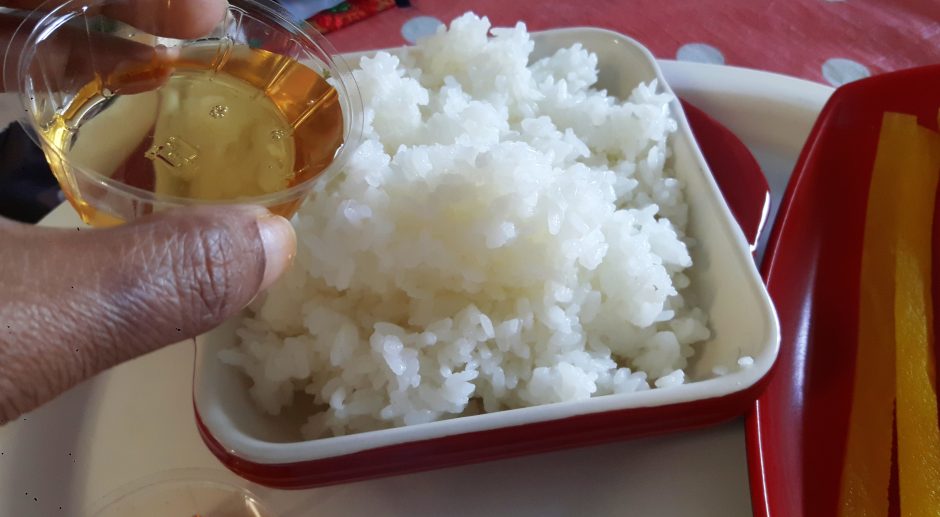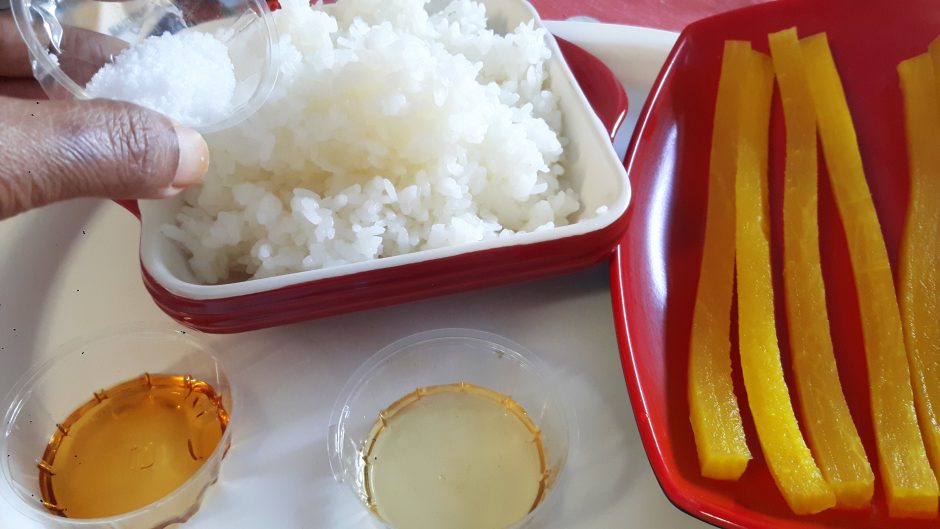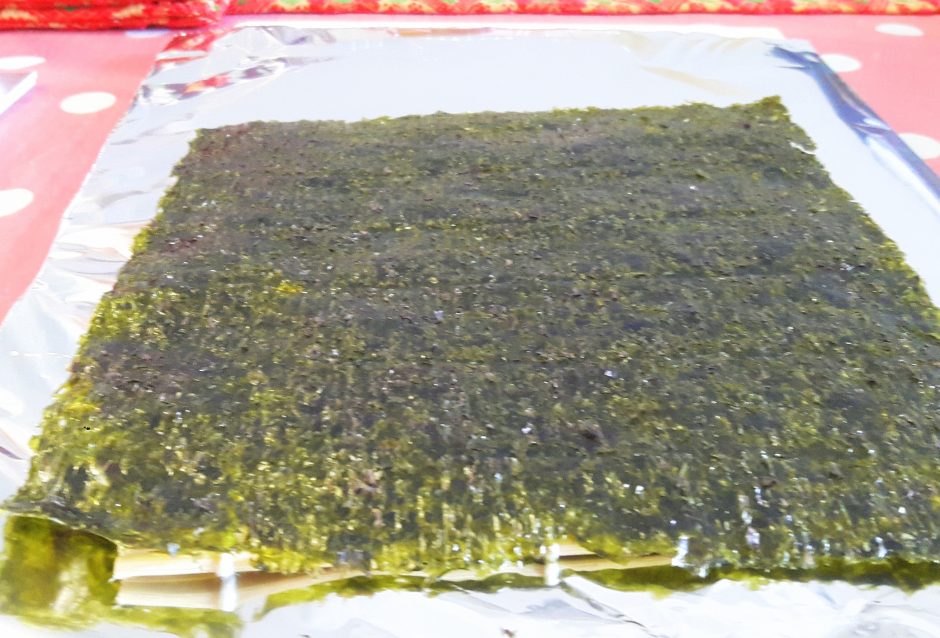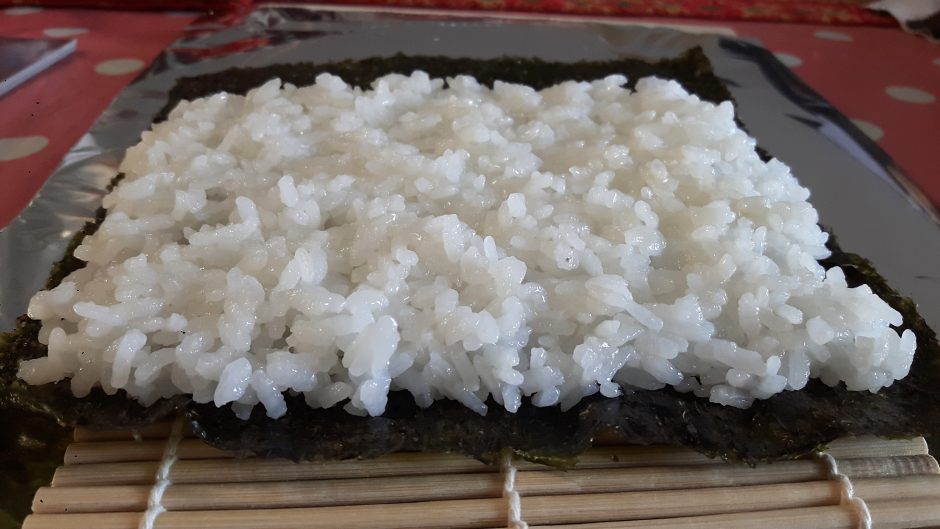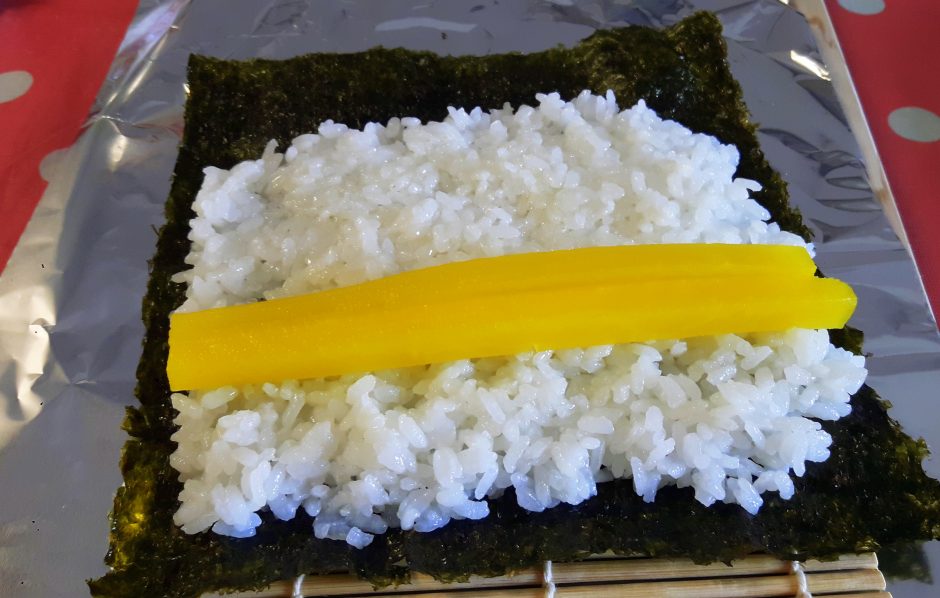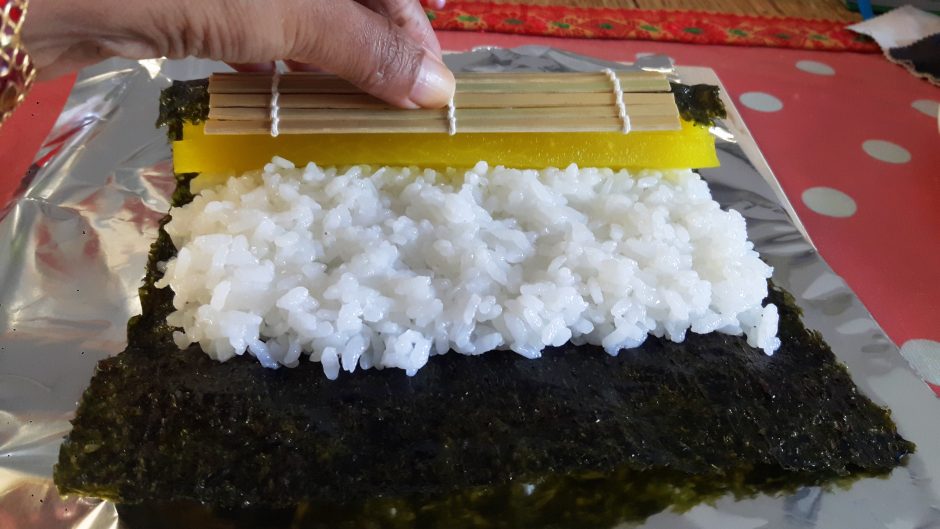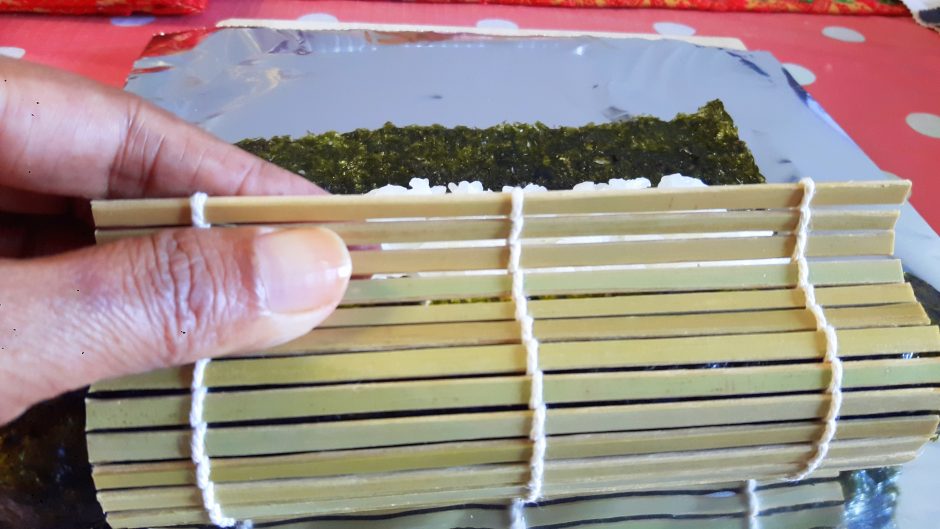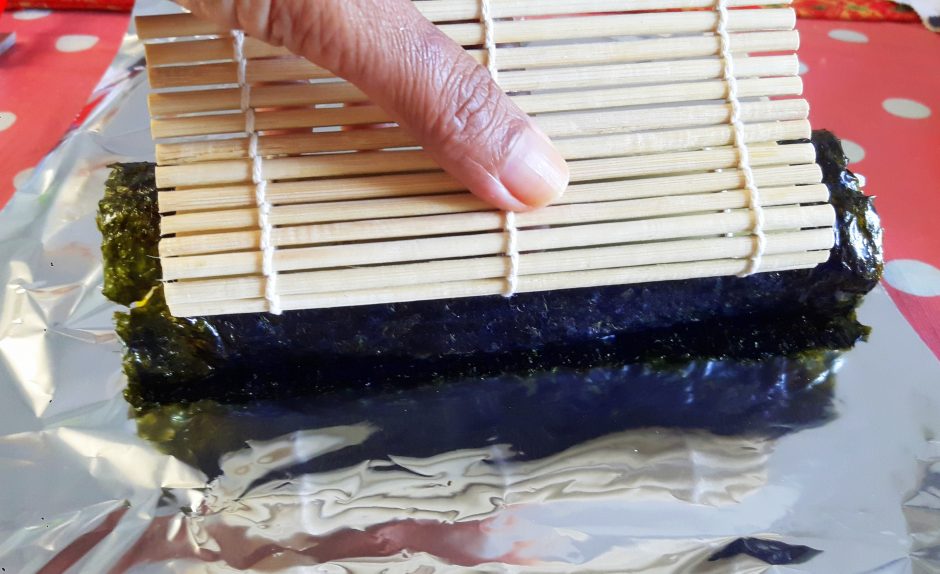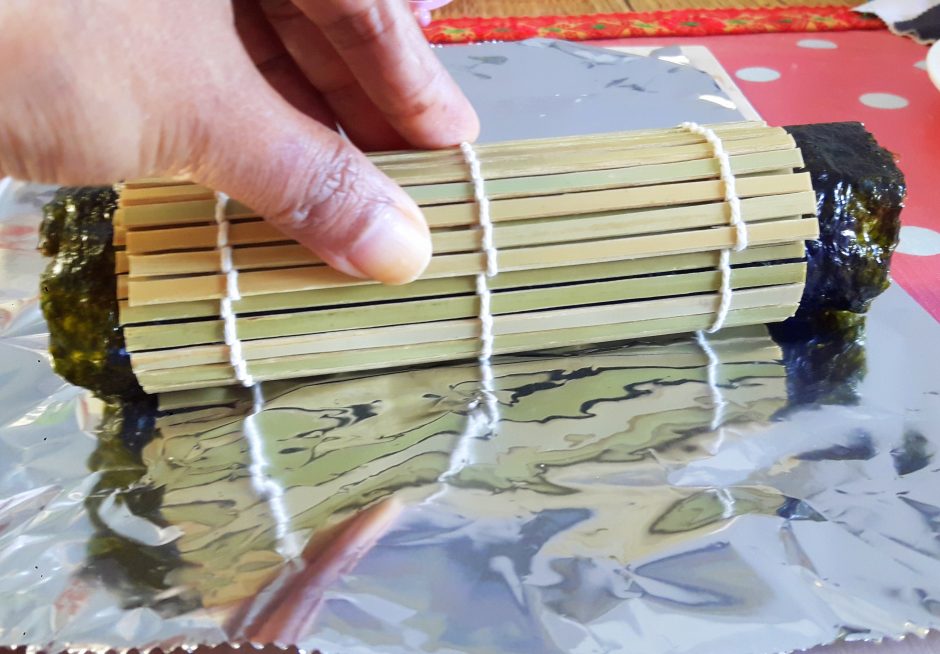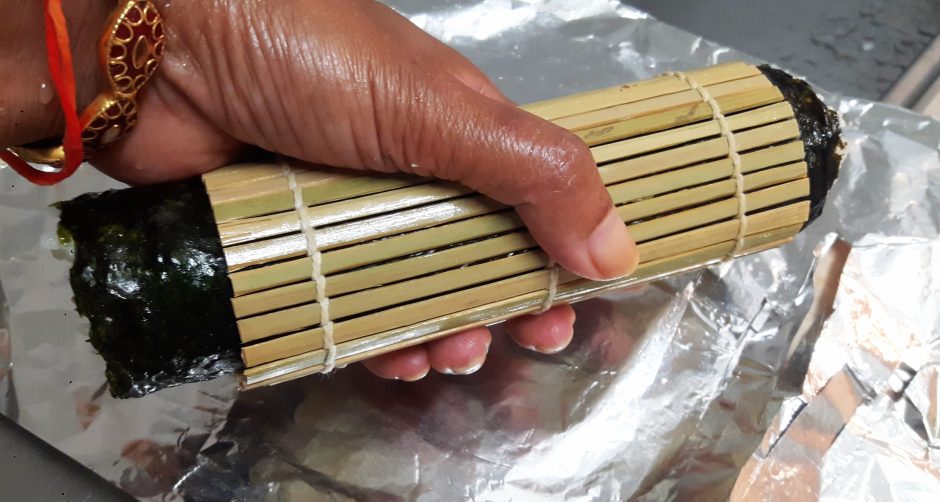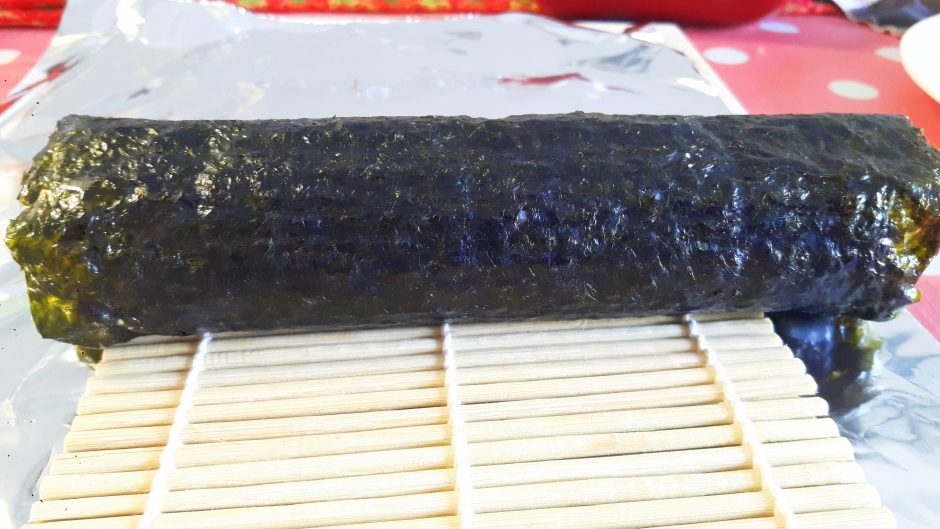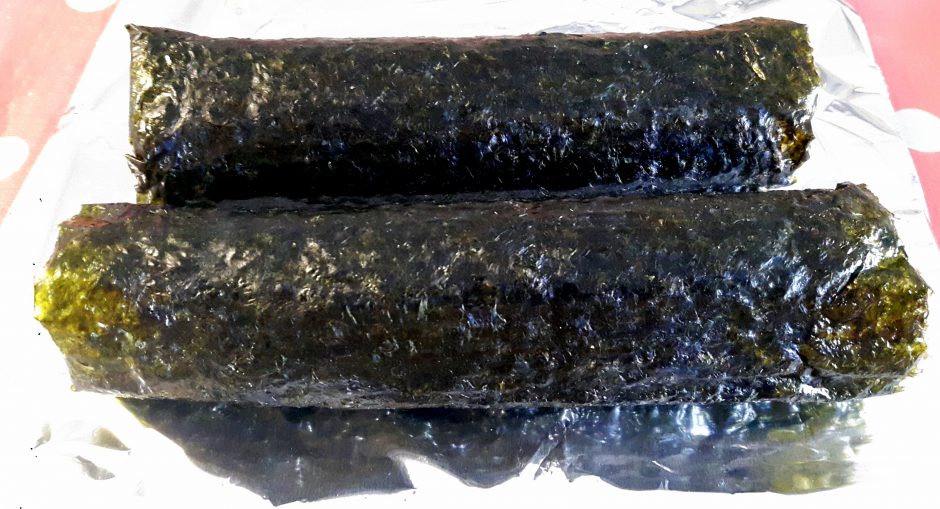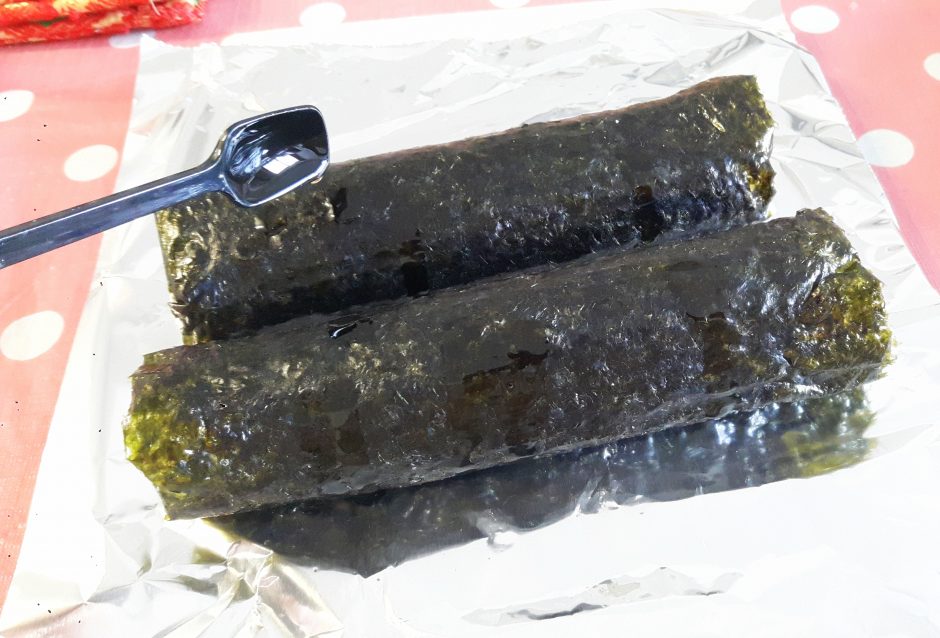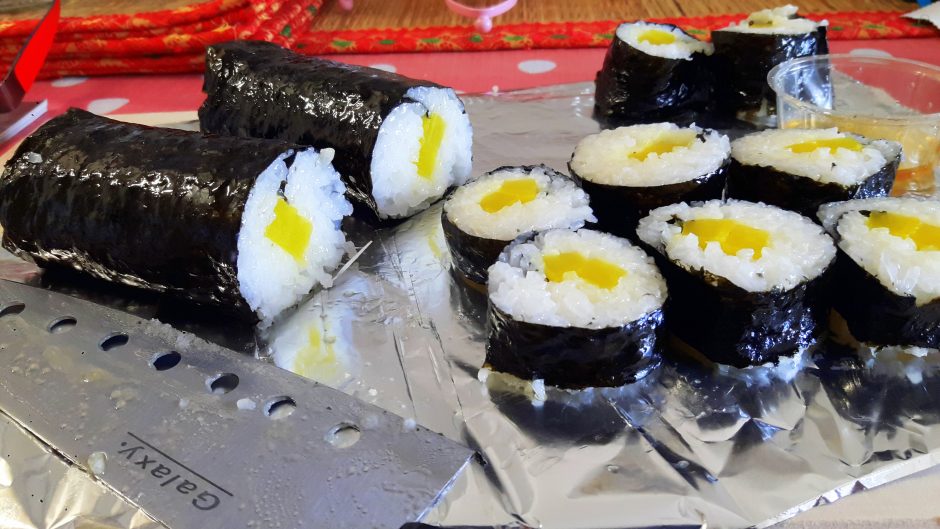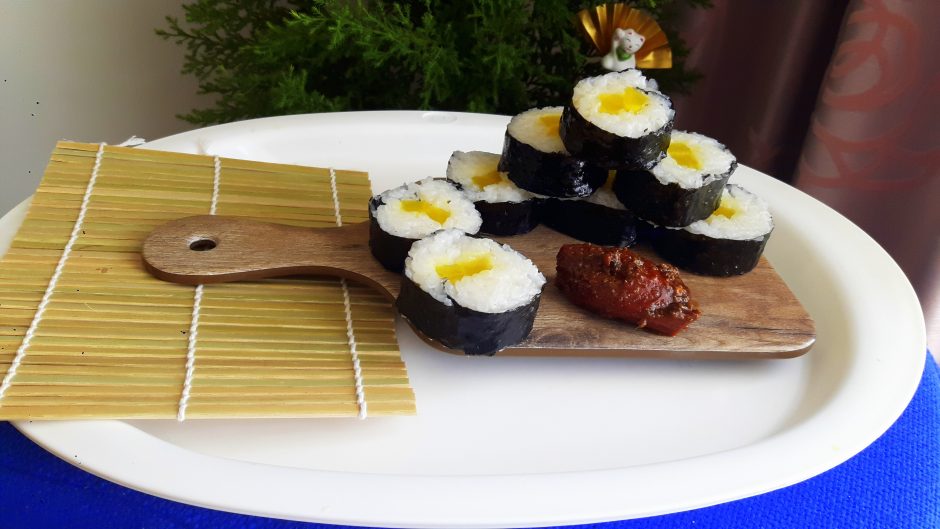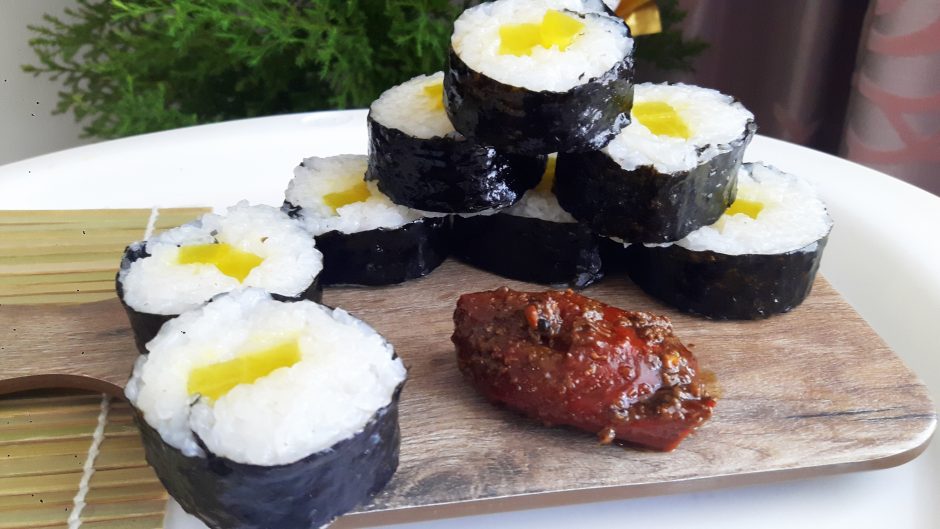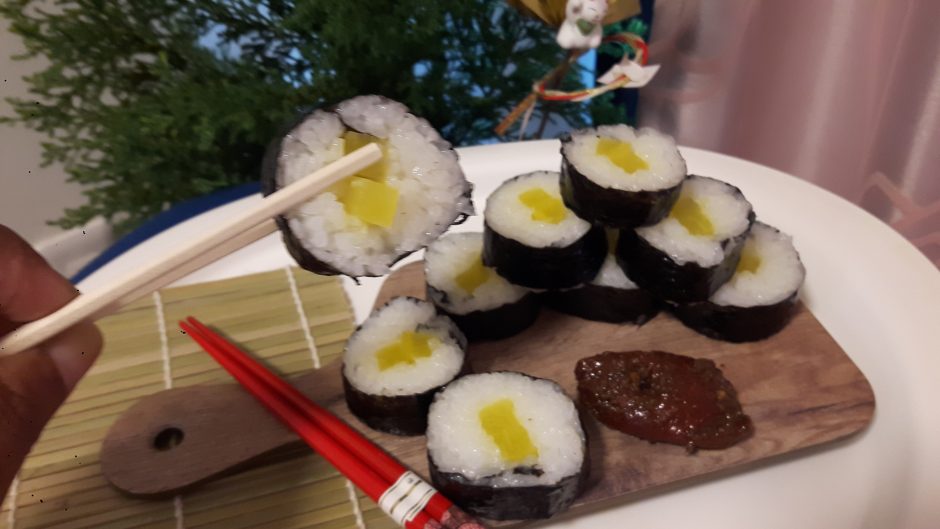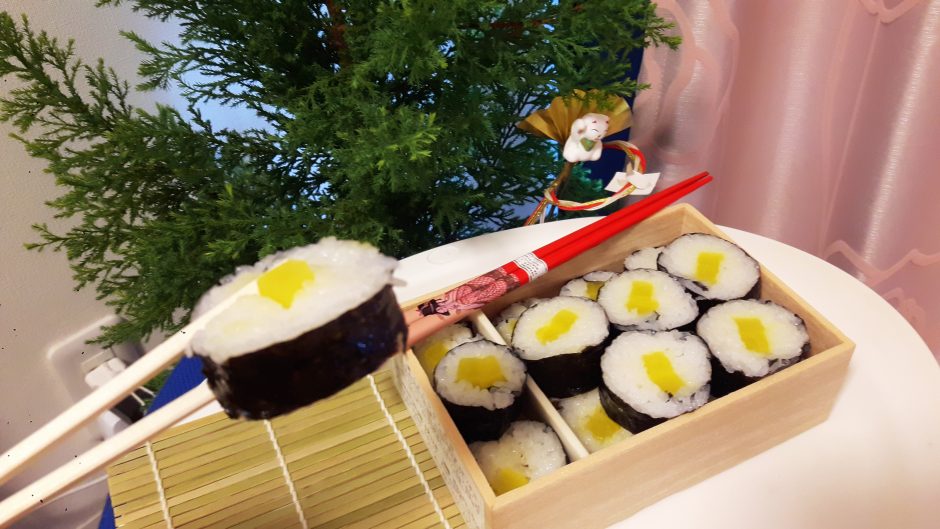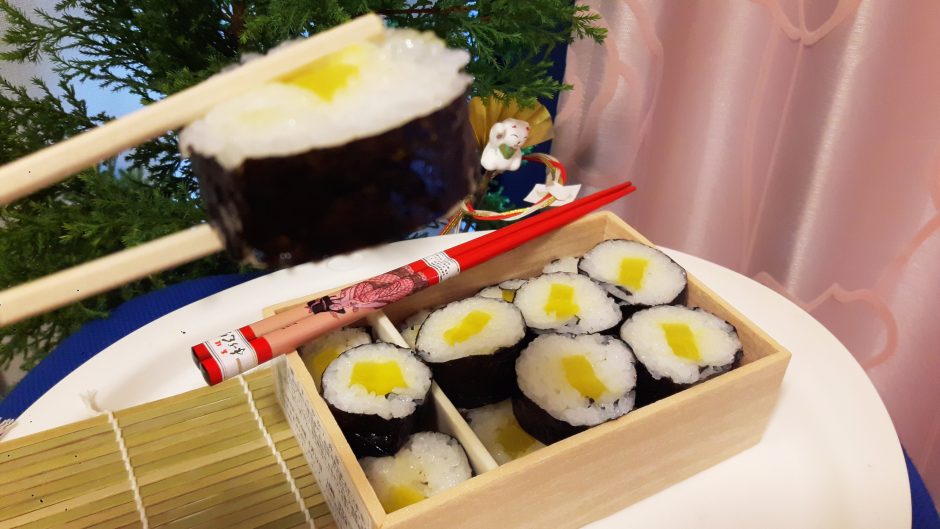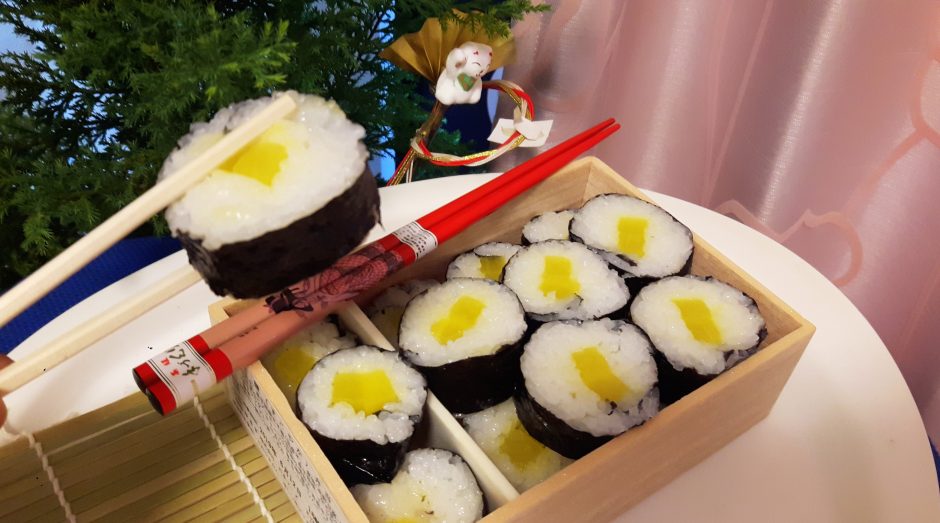 Kimbap (Korean dish) in Indian kitchen by Nag Ratna Sahu is licensed under a Creative Commons Attribution-NonCommercial-ShareAlike 4.0 International License.