Bitter gourd is extremely popular in Asian country; as we know, it is an excellent source of vitamin B1, B2, B, C, phosphorus, zinc, manganese, and iron and also contains high dietary fiber. It is Doctor's recommendation for diabetics. This is the reason I prefer to eat bitter gourd daily.
So prepare 'Stuffed Bitter Gourd with mango powder'..
Above all here I used special Bitter Gourd that is 100% organic grown by my husband in our Tokyo home balcony pot. He sprayed water 2-3 times a day to protect from harsh sun in the rowdy summer of Japan and got very healthy vegetables.
This is very common recipe prepared in every house of north India. It is also very useful as a travelling food, also can be packed into lunch boxes or can be served as side dish of get- together.
After cooking the recipe, put it into refrigerator and use it as side dish every day for weeks.
Ingredients:
Karela (bitter gourd): 200 gm
Salt: ½ teaspoon
Mustard seed: ½ teaspoon
Fennel seed: ½ teaspoon
Jeggery/sugar: 1 teaspoon (as per taste)
For stuffing:
Coriander powder: 1 tablespoon
Fennel powder: 1 table spoon
Mango powder: 1 tablespoon
Turmeric powder: 1 teaspoon
Salt: 1 teaspoon
Oil: 4 tablespoon
Preparation:
Trim the both ends of bitter gourd. And cut into center; scoop out all pulp and seeds form it with help of knife or scooper. Keep aside, to be used for stuffing.
Apply salt all over on scooped pieces, keep aside for 10-20 minutes.
For stuffing:
Grind coriander powder, fennel powder, mango powder and bitter gourd pulp in a grinding jar with small amount of water to make fine masala paste, keep aside.
Wash the bitter gourd and boil them for 5-6 minutes (80% done) ,you may microwave. Keep aside
Method:
Take a fry pan. Put 2 tablespoon of oil, when smoke starts coming, add fennel seed and mustard seed, sputter it for few seconds; lower the flame, add pinch of turmeric powder and add masala paste.
Increase the flame. Fry this masala till it become thick, add salt, jeggery and turmeric powder, stir continuously, it should not stick into the bottom. (In this recipe, I used 4-5 bitter gourd leaf also) Fry about 4-5 minutes. Now stuffing is ready keep aside.
For making stuffed Bitter gourd:
Take boiled bitter gourd and stuff with stuffing, keep aside. Take fry pan, put remain oil into the pan heat oil till smoke starts arrange stuffed bitter gourd one by one, lower the flame, cook (8-10 minutes) and flip the sides carefully to avoid spill of stuffing, cook for 5-6 minutes (till it is done).
Now "Stuffed Bitter Gourd (Bharwan karela) with mango powder" is ready.
Note: you may use fresh raw mango instead of mango powder, the taste will be better.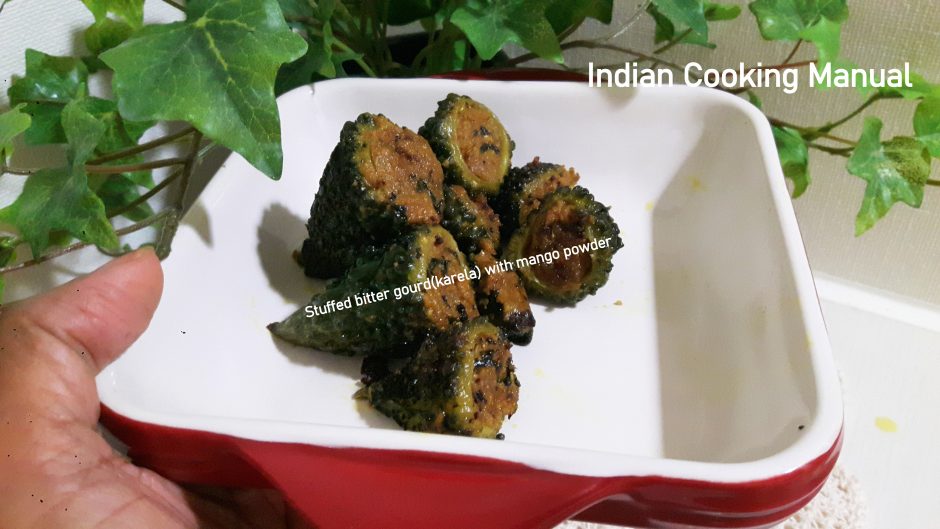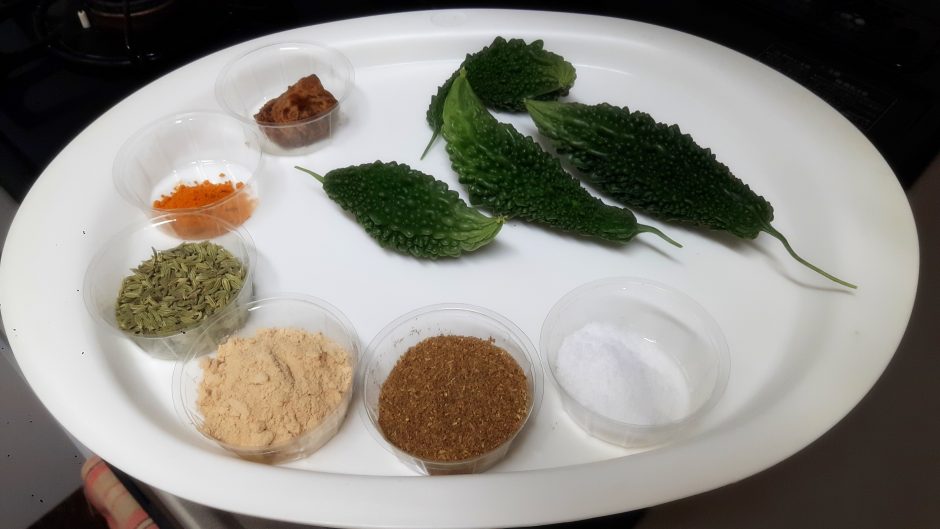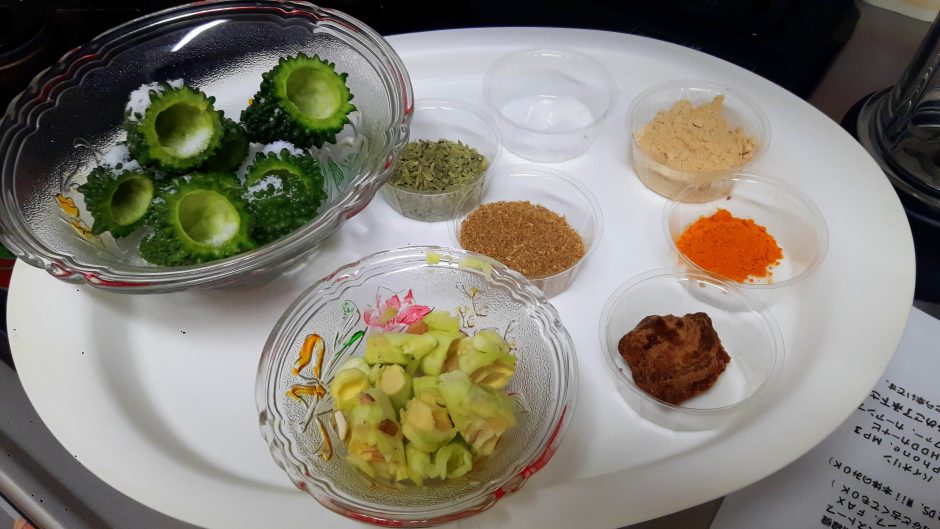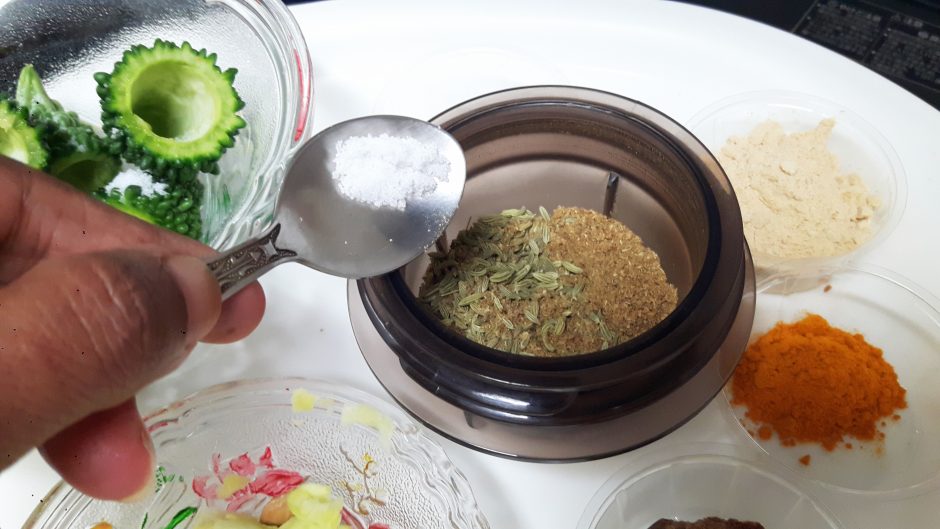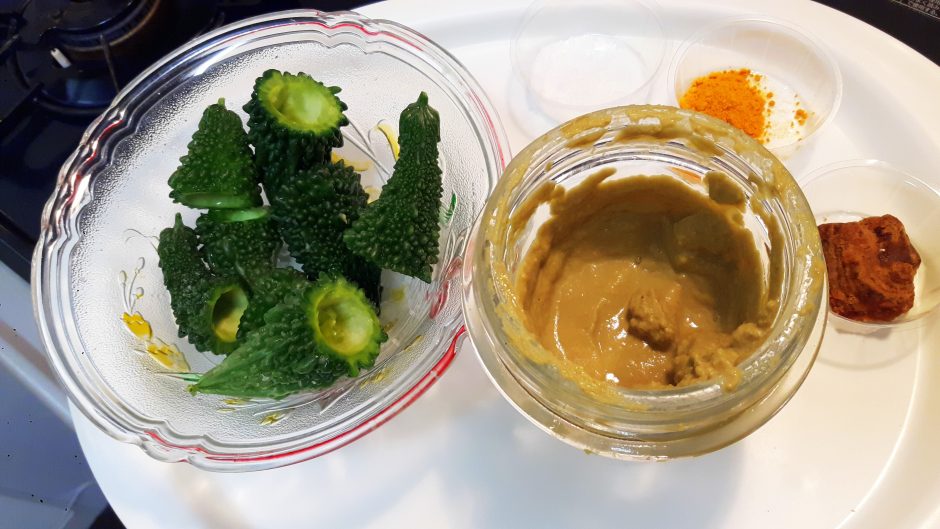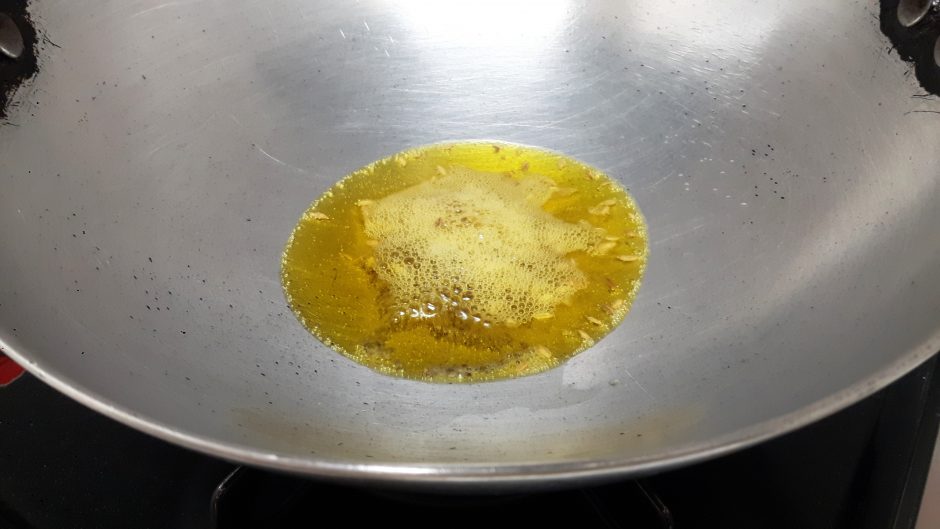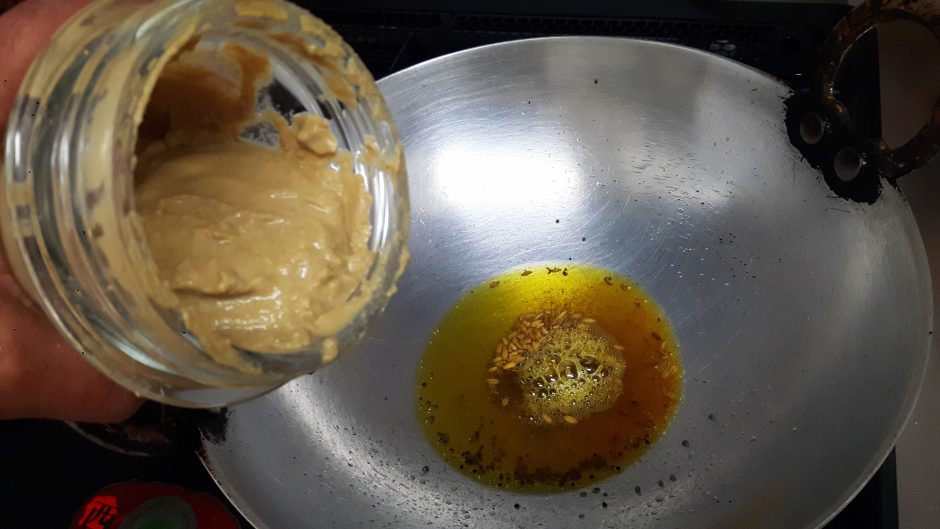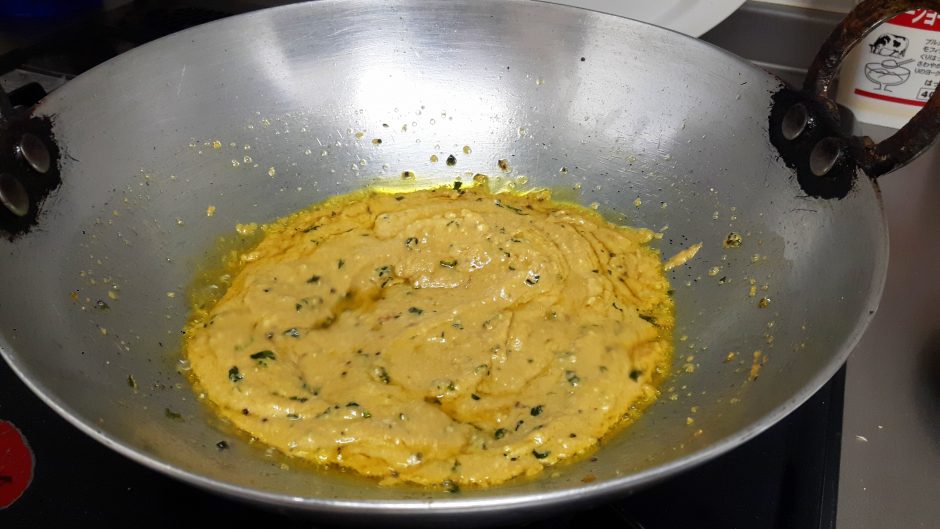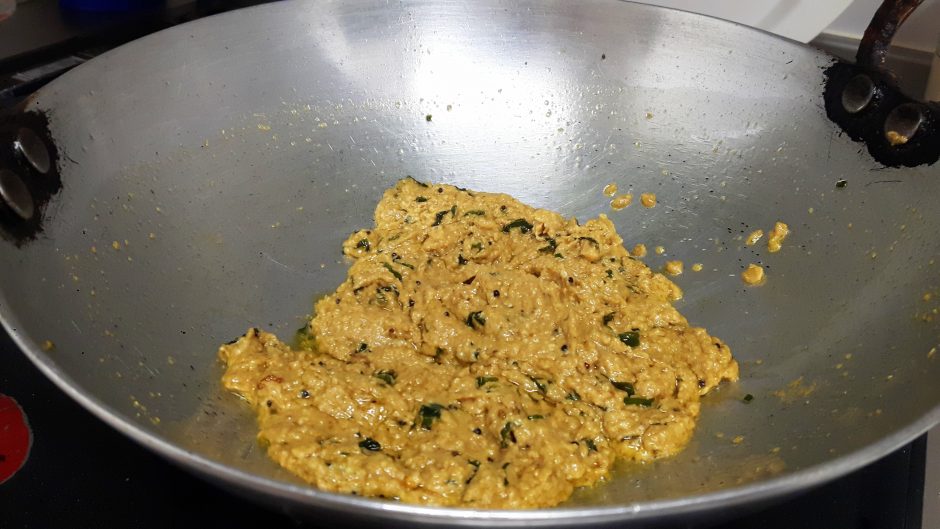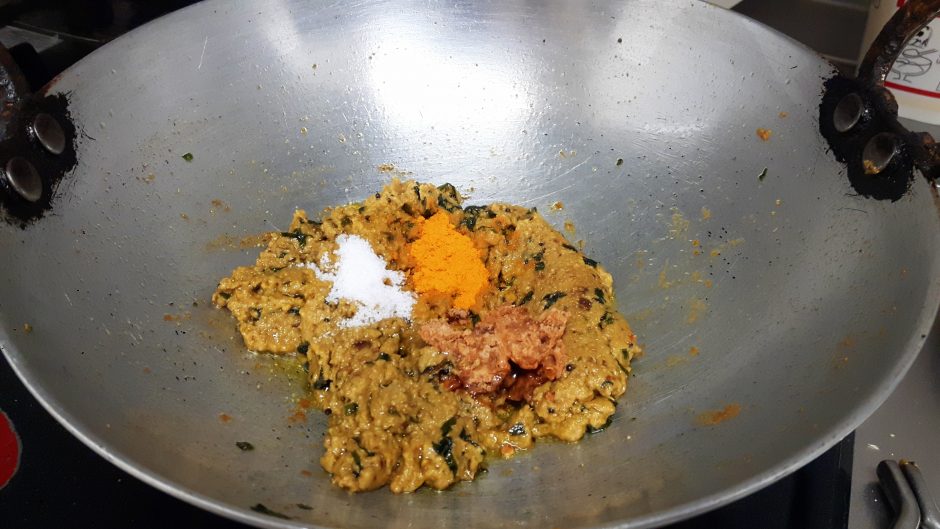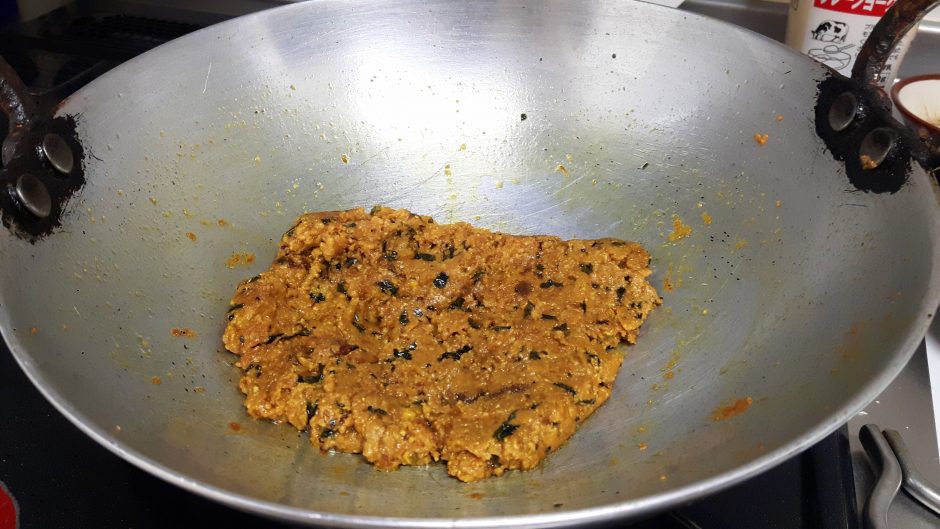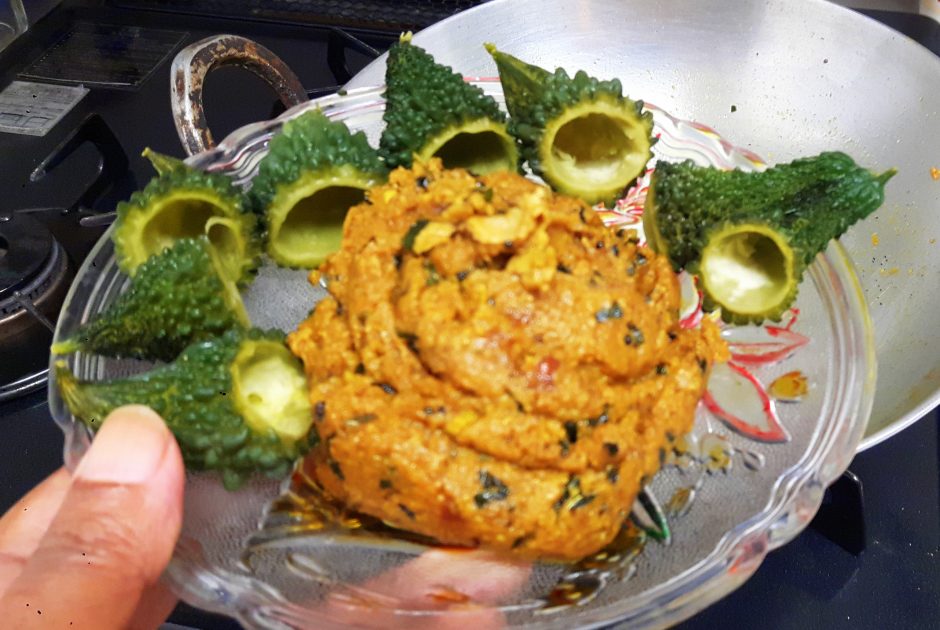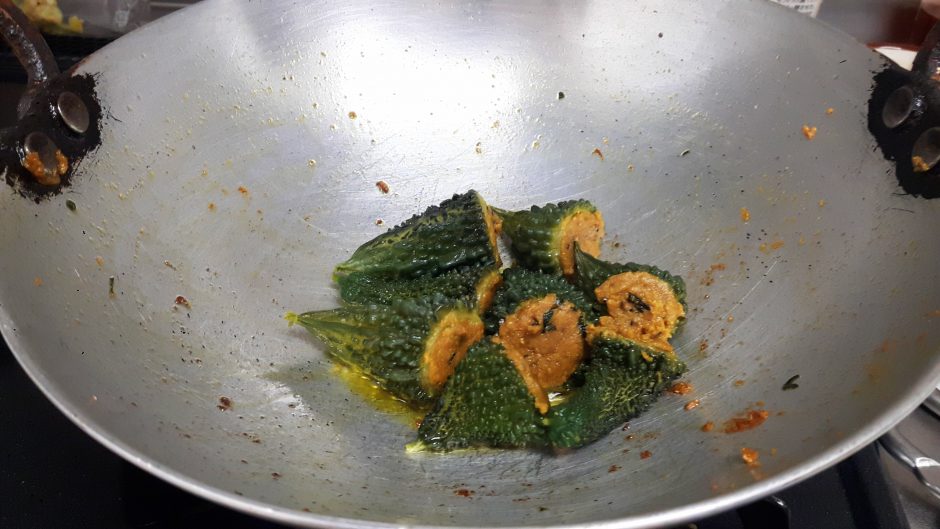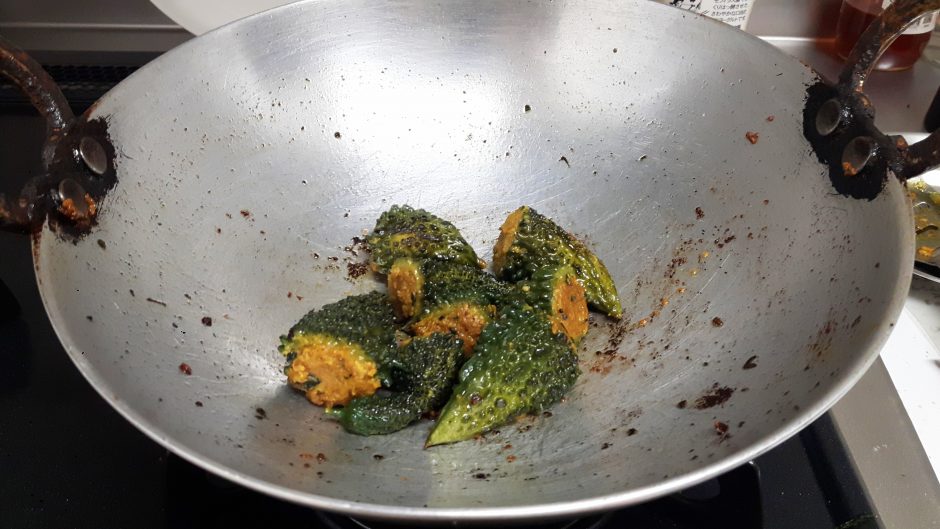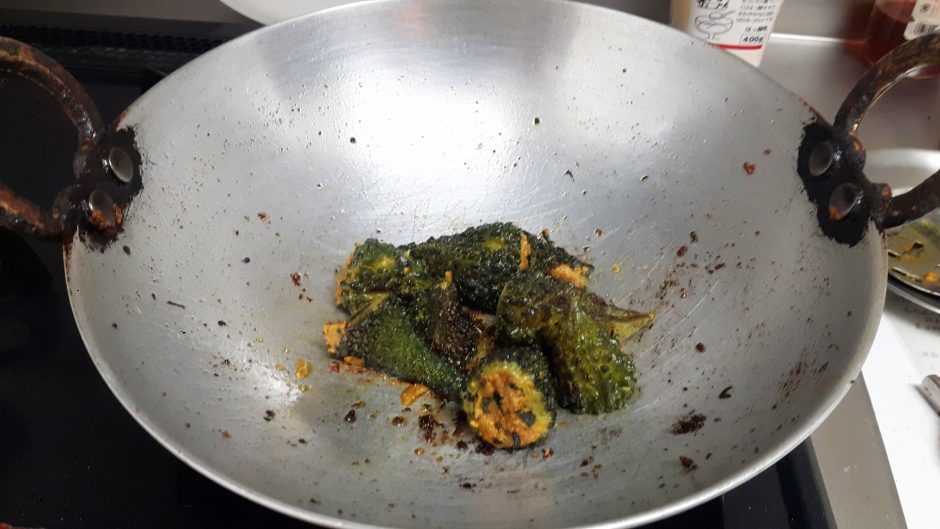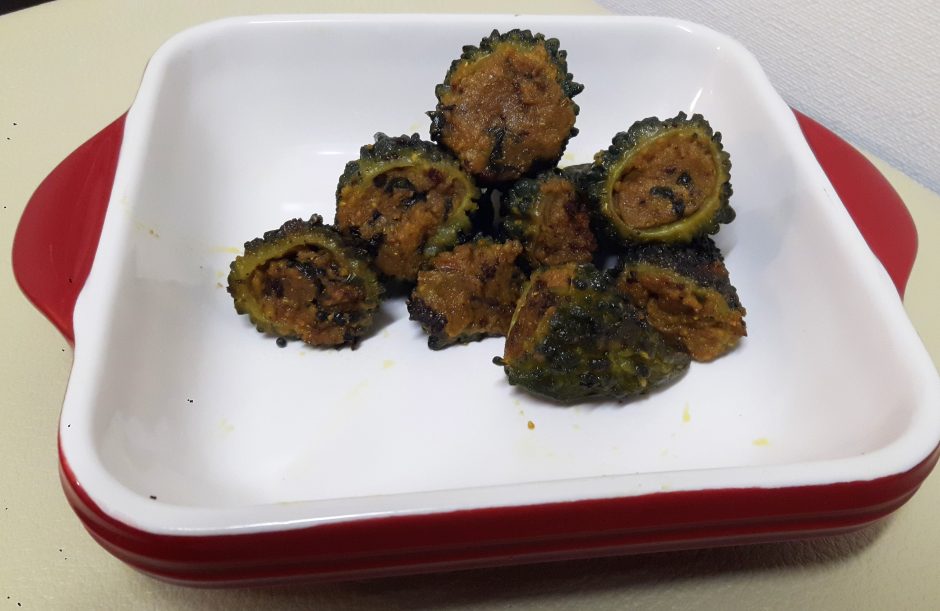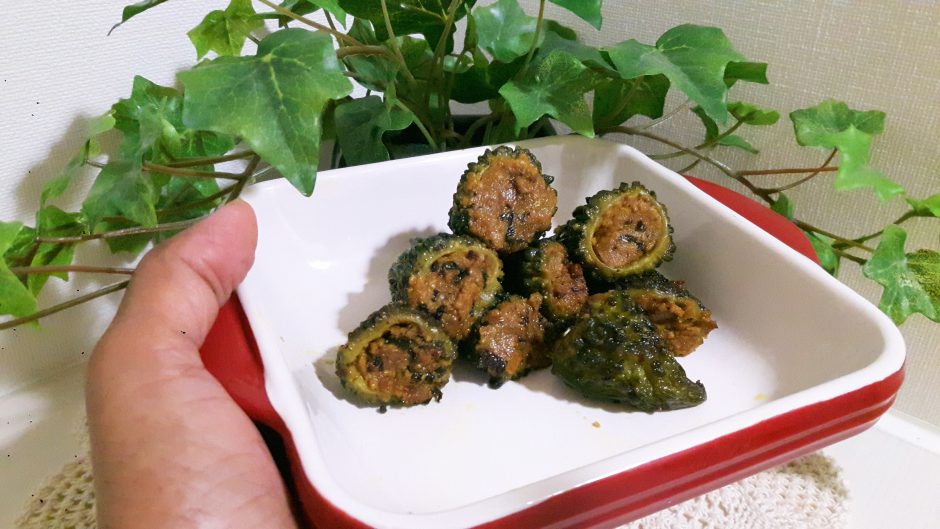 Stuffed Bitter Gourd (Bharwan karela) with mango powder by Nag Ratna Sahu is licensed under a Creative Commons Attribution-NonCommercial-ShareAlike 4.0 International License.