For me Asparagus is not common vegetable, but it is delicious and luxury one; Asparagus in Tokyo market is expensive one. Living in Tokyo from about one and half years, used to pick up from convenience store(Hanamasa, Peacock, Lawson 100 etc) and use to cook every week due to its multi beneficial properties.
The day I had and less quantity available in my refrigerator so added one potato, still it came so delicious not any way lesser than usual… my all time favorite…Oishii desu (it is delicious)
Ingredients:
Asparagus: 1 bunch (~150 gm)
Potato: 1 medium size
Yogurt (curd): 1 tablespoon
Cumin: ¼ teaspoon
Asafoetida: 1 pinch
Turmeric powder: ¼ teaspoon
Chili powder: ½ teaspoon
Coriander powder: 1 teaspoon
Salt: 1 teaspoon (as per taste)
Cooking oil: 2 tablespoon
Garam masala powder: ¼ teaspoon
Chat masala: ½ teaspoon
Preparation:
Cut asparagus into 1 inch pieces, keep aside.
Peel off potatoes and chop longitudinally as asparagus, keep aside.
Method:
Take a fry pan. Heat oil till it smokes. Put cumin and asafoetida, sputter it for few seconds; and add chopped potatoes stir fry for couple of minutes on medium flame; add salt, turmeric powder, coriander powder, chili power, Garam masala and chat masala stir fry for couple of minutes; Add chopped asparagus continue to cook on lower flame with lid on till it get 80% done, stir in between to avoid the burn from bottom.
Lower the flame, add curd; continue to stir, cook for couple of minute till oil separates from masala (add little water if necessary) cook on lower flame till it done.
Put off the flame, transfer into serving bowl. Decorate with green coriander.
'Asparagus and potato (Aaloo) ki sabji' is ready to serve with Indian bread.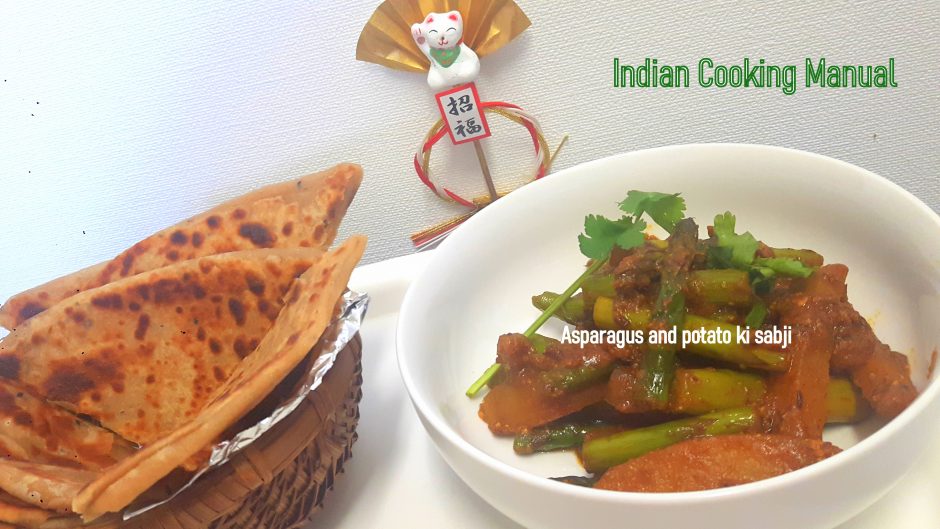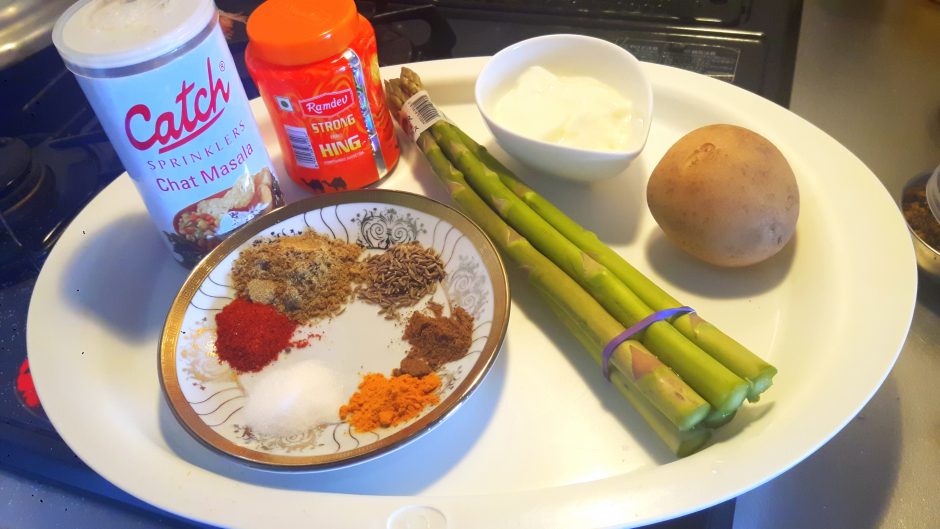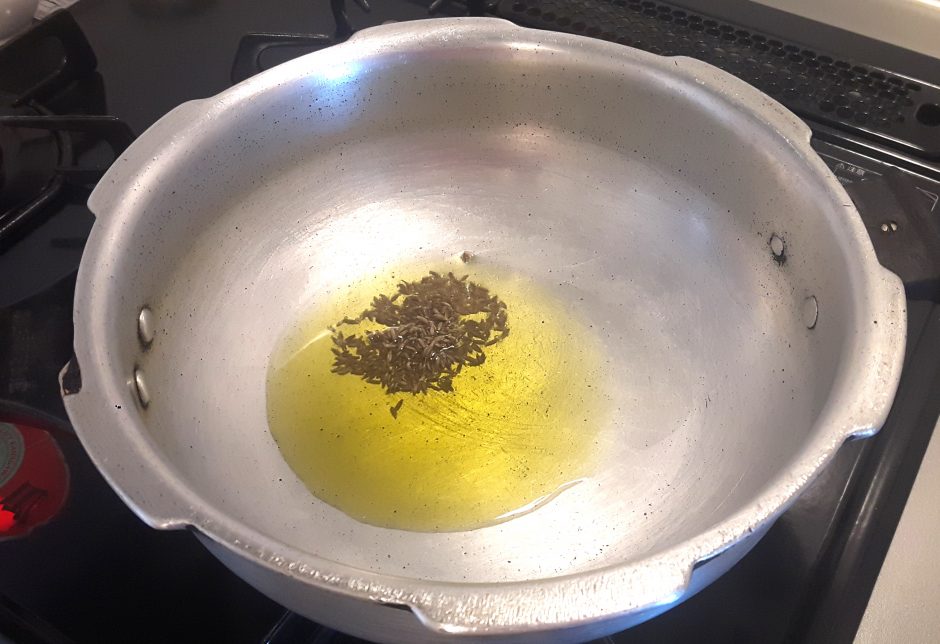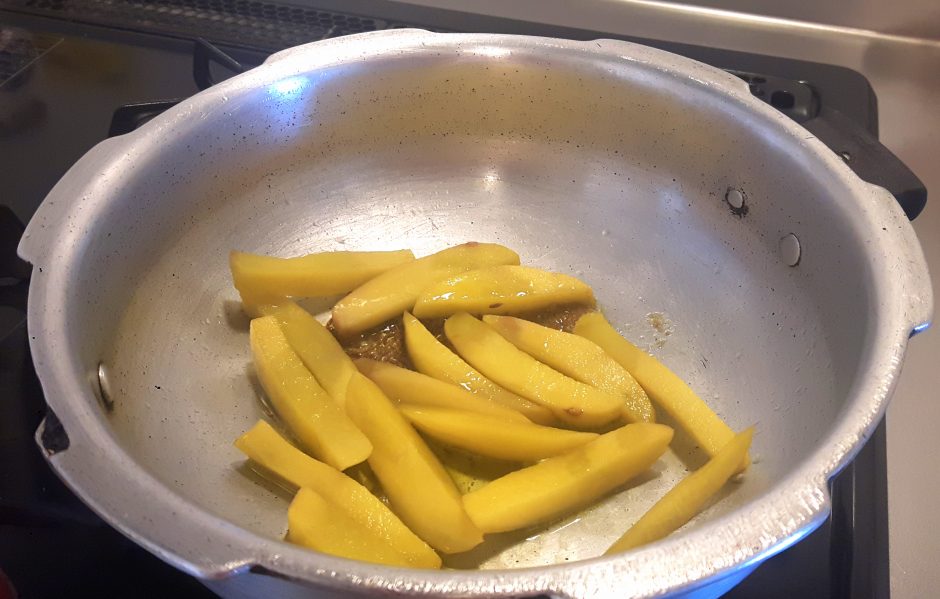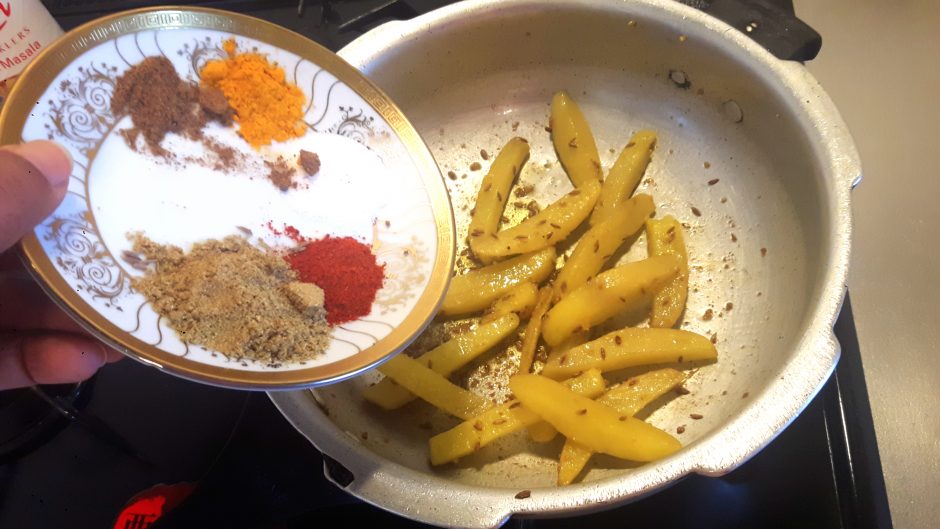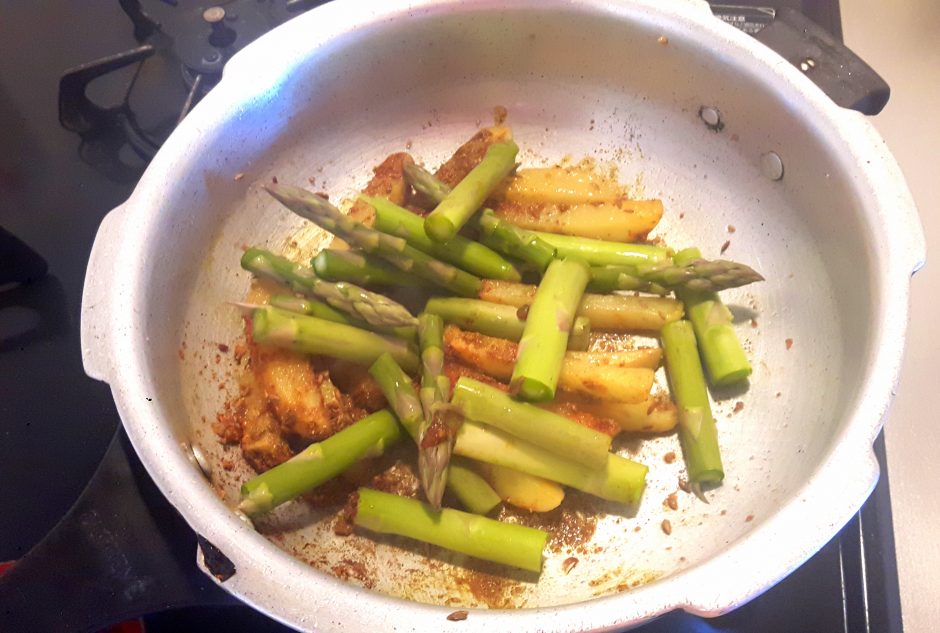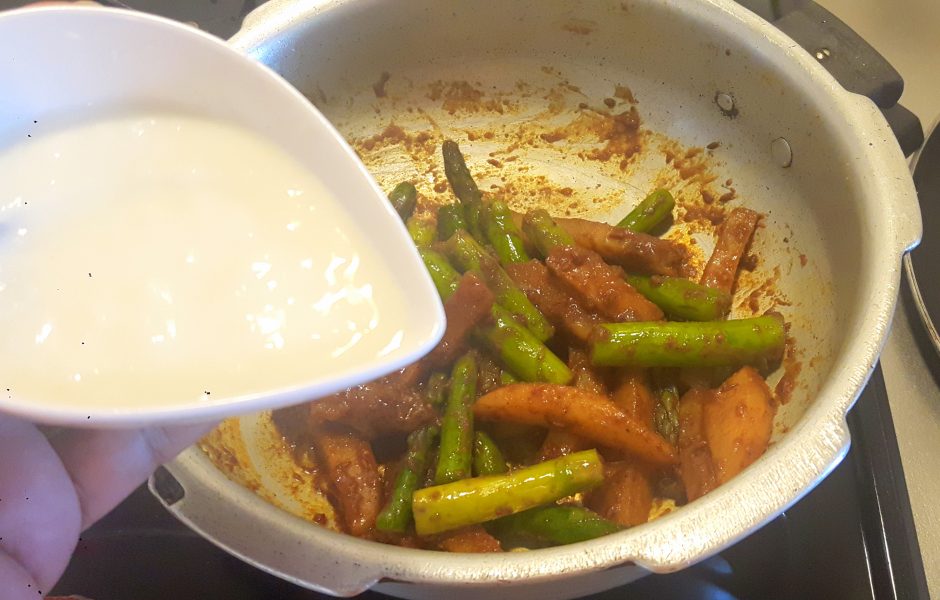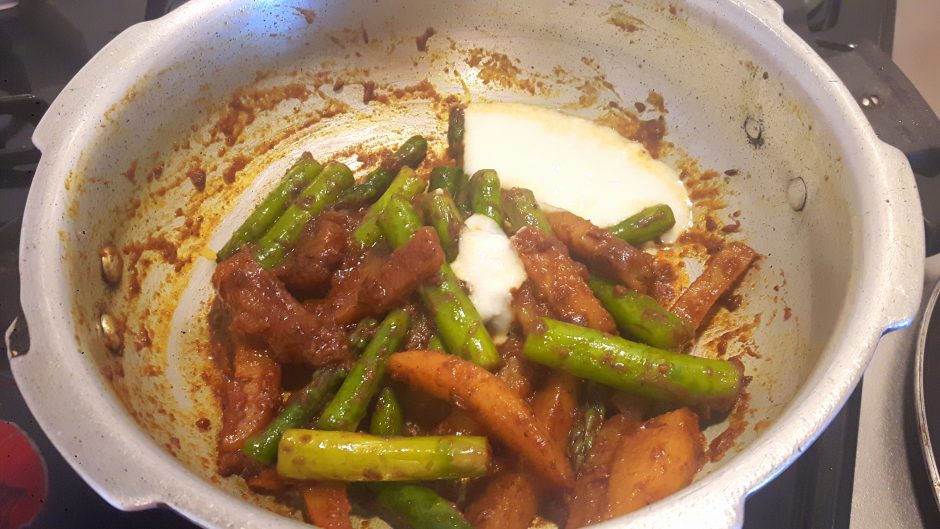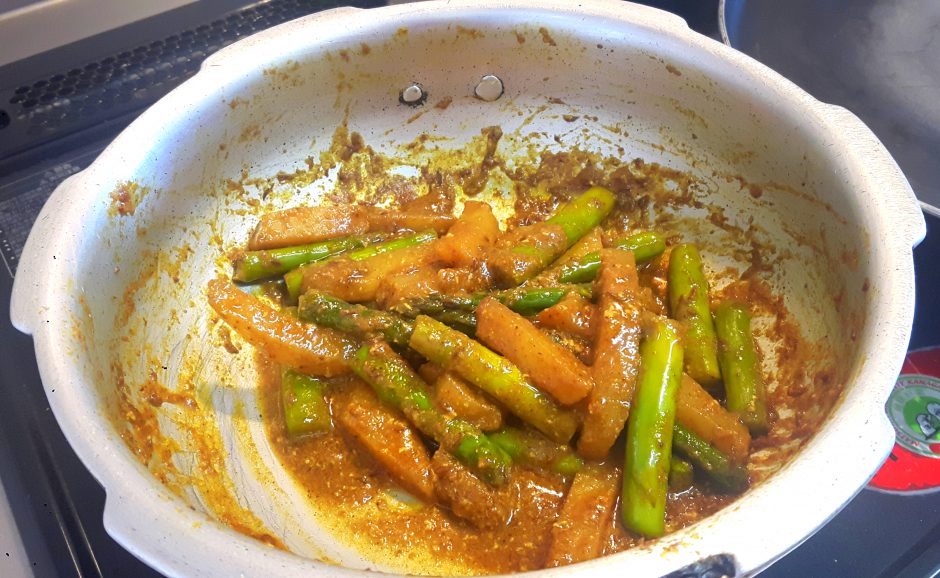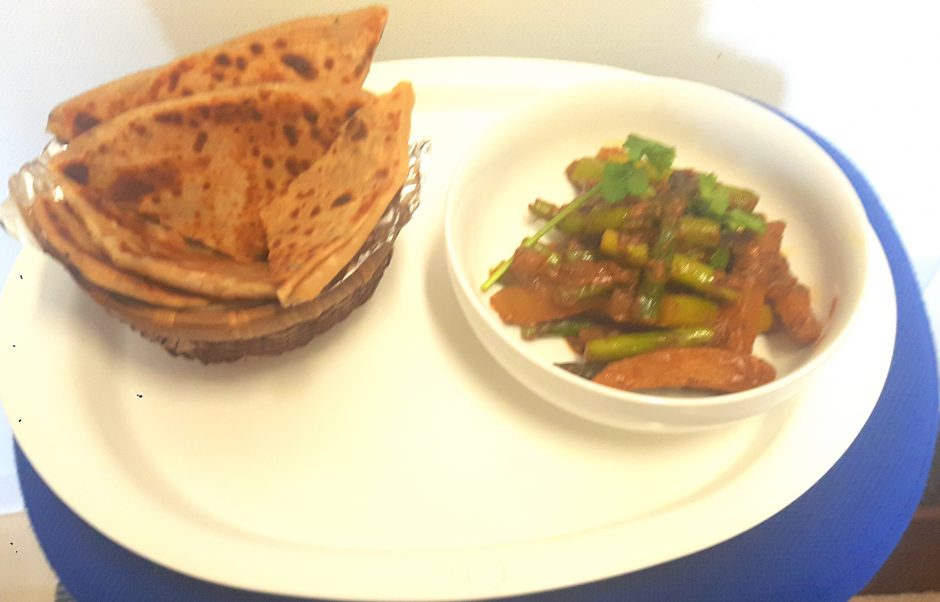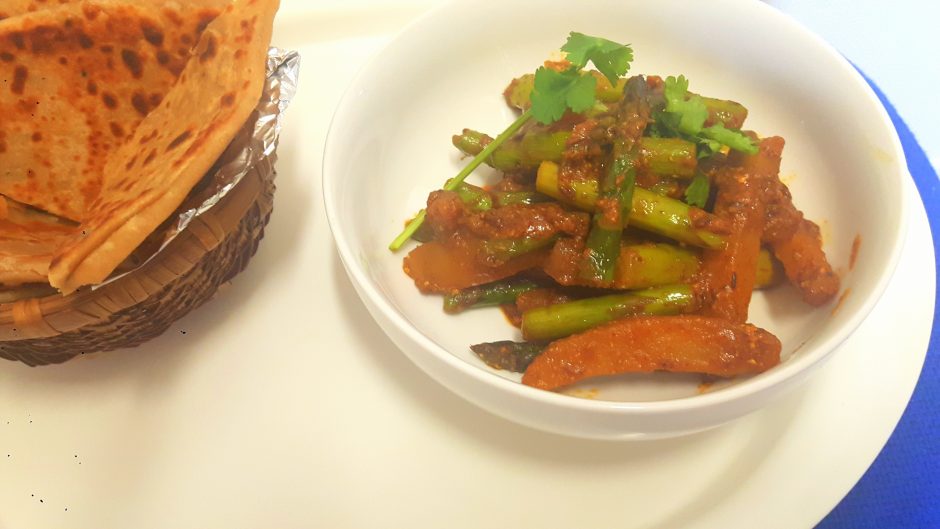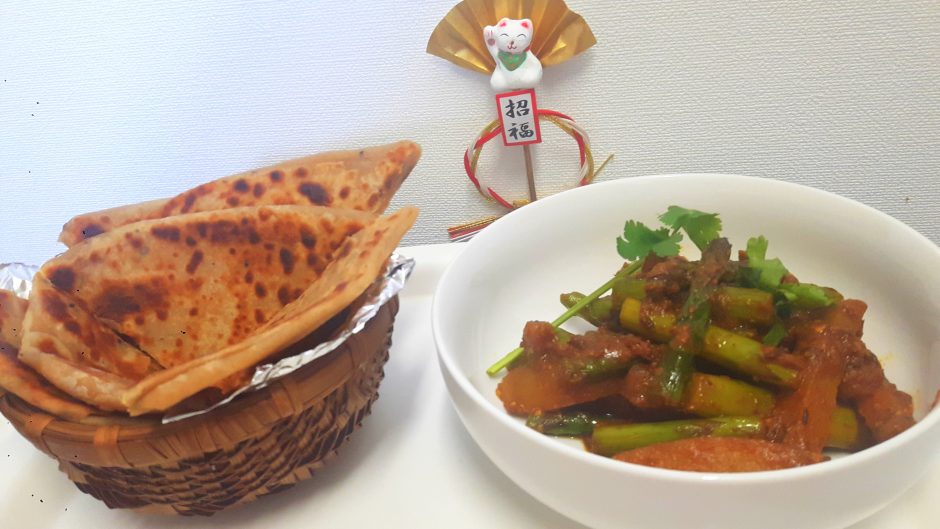 Asparagus and potato (Aaloo) ki sabji by Nag Ratna Sahu is licensed under a Creative Commons Attribution-NonCommercial-ShareAlike 4.0 International License.