On the eve of Navratri fasting days People prepare this 'Aaloo ka chila/cheela (potato crepe) recipe, it is very popular in northern India. It is really delightful with a glass of orange juice and some seasonal fruits.
I prepare this recipe sometimes as a breakfast and add grated cheese and chili powder, the cheese goes very well with potatoes. You will be overwhelmed as all of us love cheese and potato.
Ingredients:
Potatoes: 300 gm.
Cheese: 50 gm. (optional)
Salt: ½ teaspoon (as per taste)
Red chili powder: (optional)
Cooking oil/butter: for roasting
Preparation:
Wash and clean potatoes and boil them, about 90 % cooked: peel off and grate, add salt keep aside.
Grate cheese and keep aside.
Method:
Take a non stick pan; apply one spoon of butter, grease all on it. Spread the grated potatoes mixture, press them with spatula and set the edges properly, so that it gets smooth texture at the edge, as shown in photo.
Let it cook about 5-6 minutes on low flame with lid on: when it gets slightly golden in color, flip it upside down with the help of plate (put plate on the cheela and reverse the fry pan, so that chila come out on the plate again put the cheela upside down on fry pan, shown in the photo, if size of the cheela is small, flipping upside down can be done by spatula also).
Sprinkle grated cheese and chili powder on the top, cover and cook another side until cheese melt and get golden color (about 5-6 minutes).
Transfer into serving plate, serve hot 'Aaloo ka cheela' may be served along with pumpkin sabji, chopped fruits and fresh juices for fasting days and serve with chutney or tomato ketchup on normal days.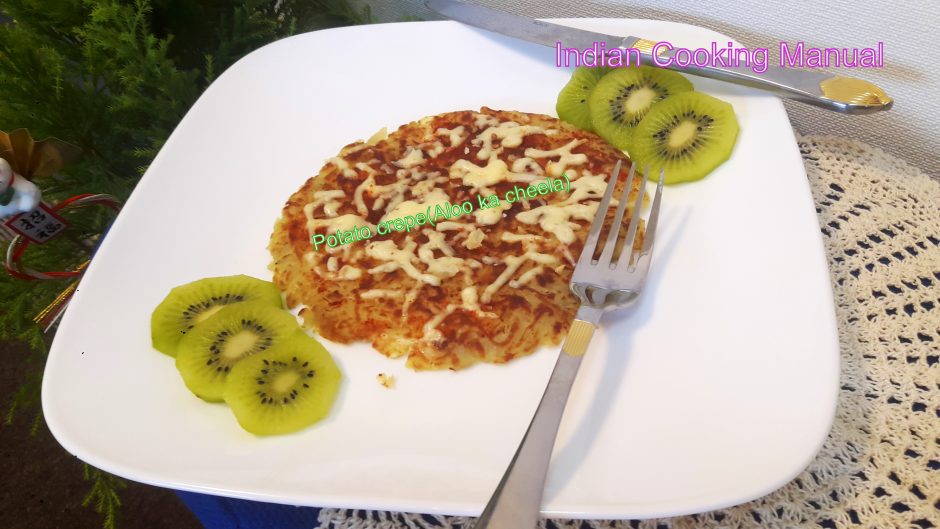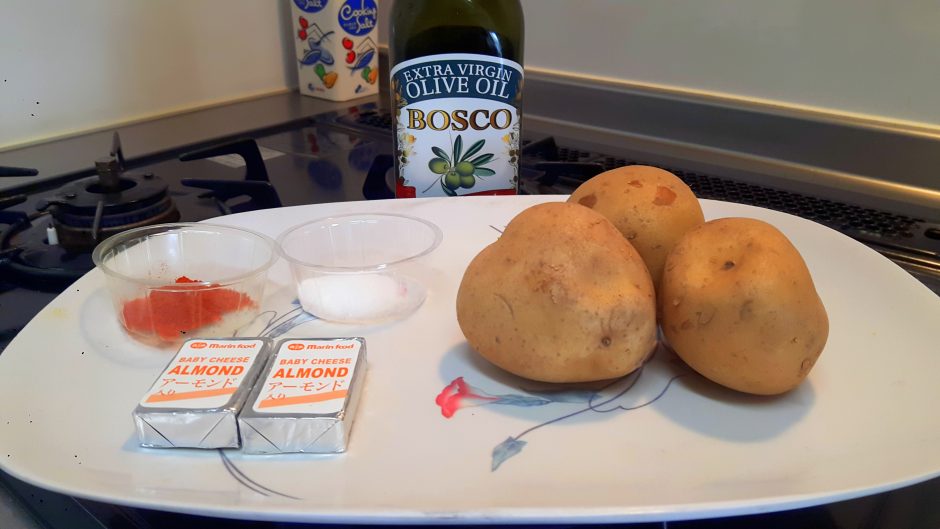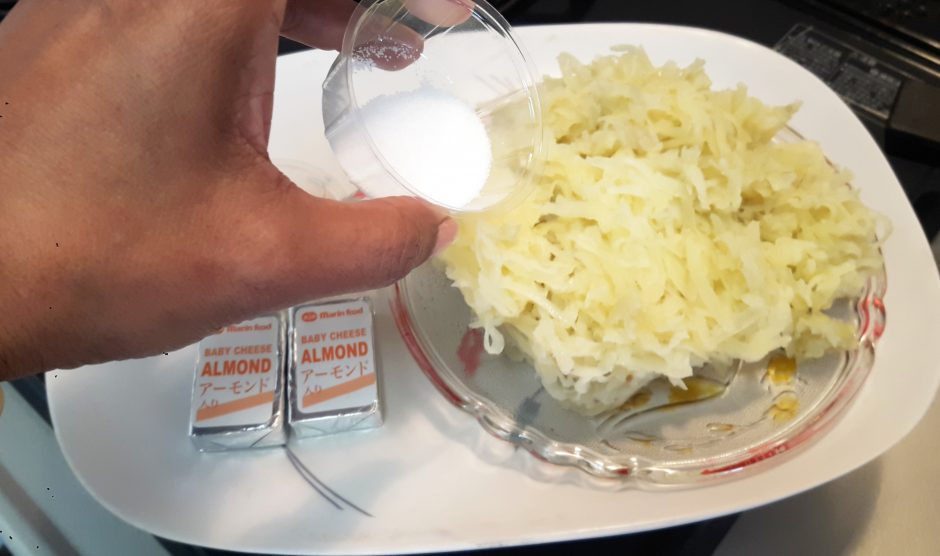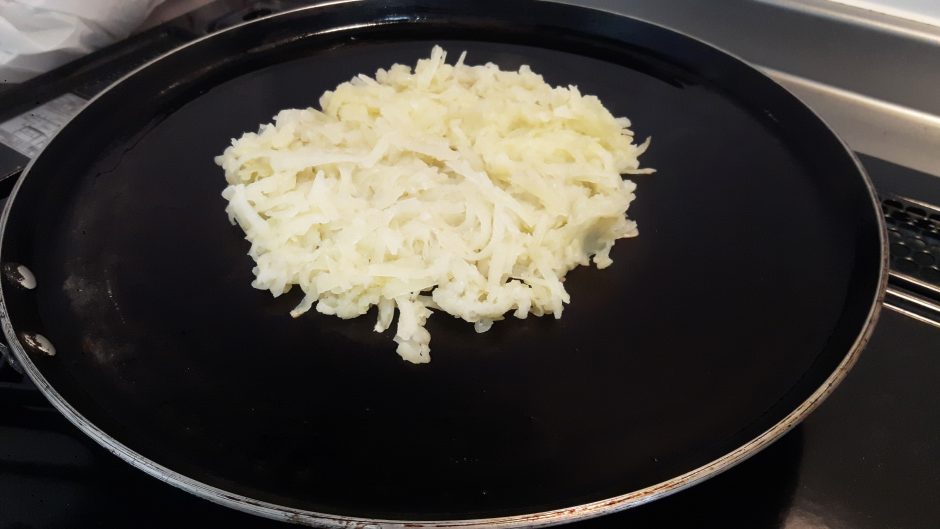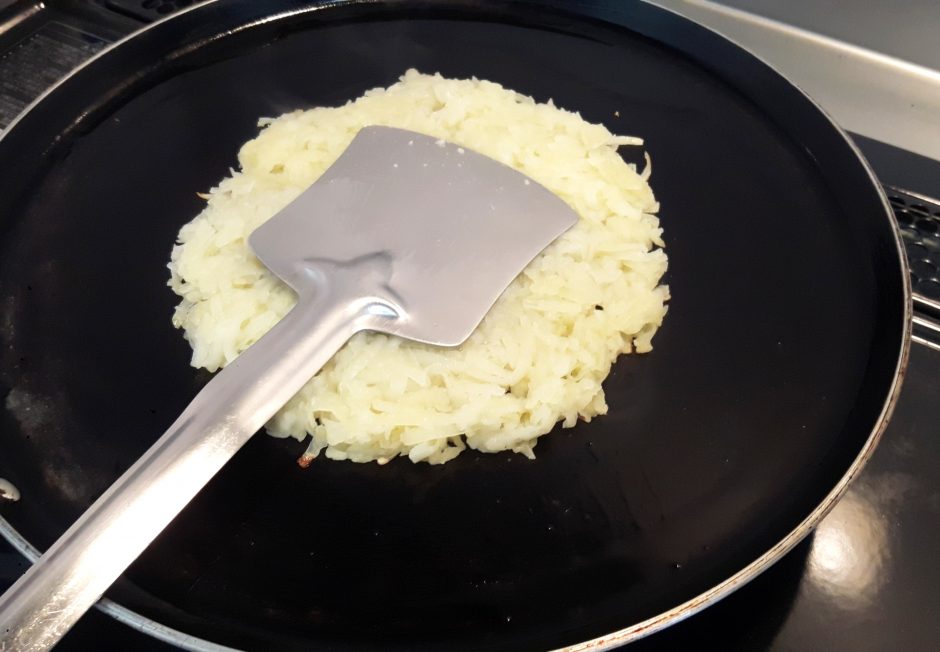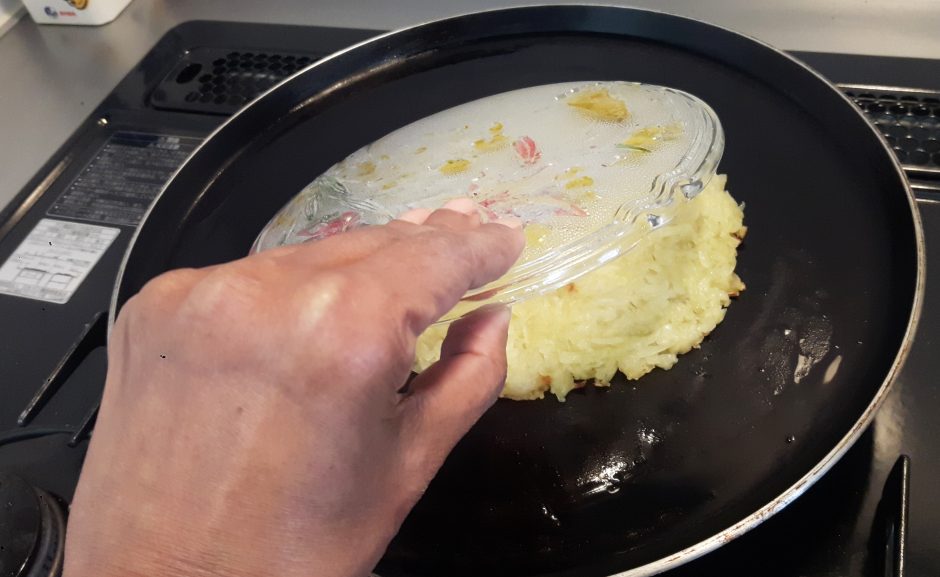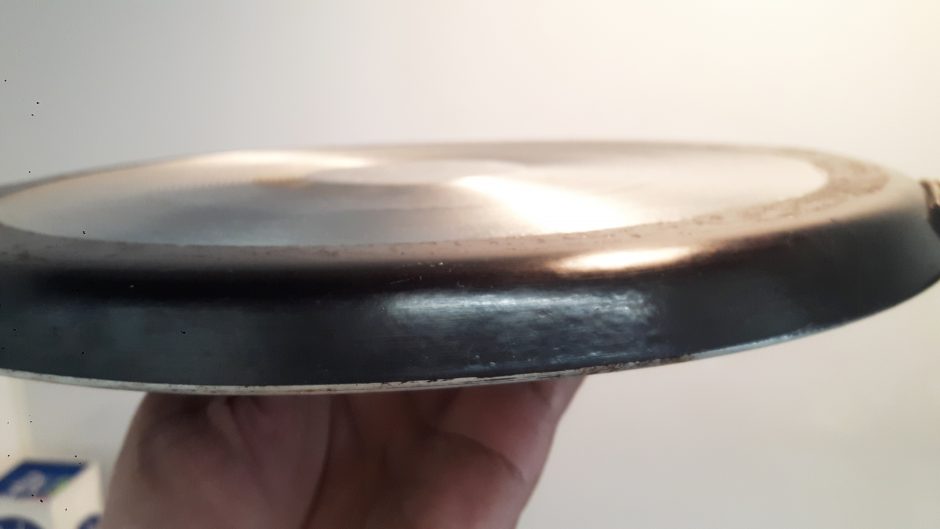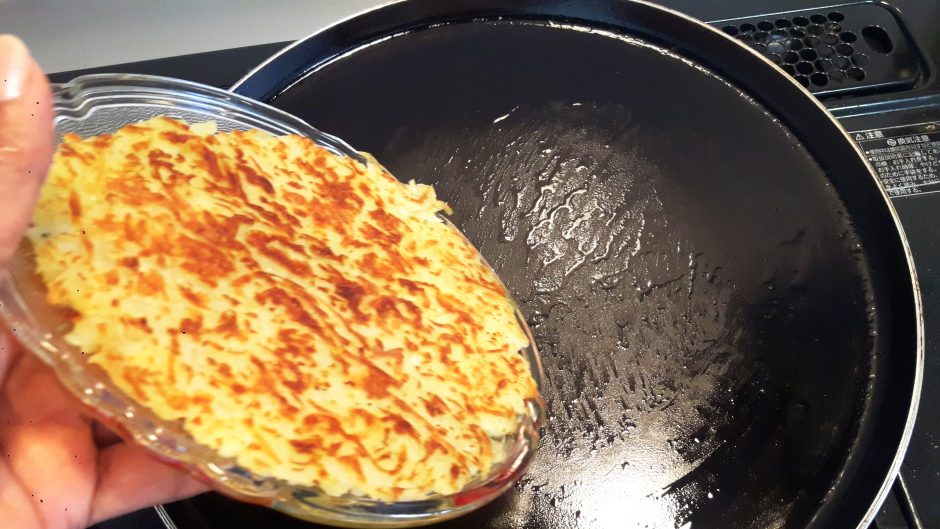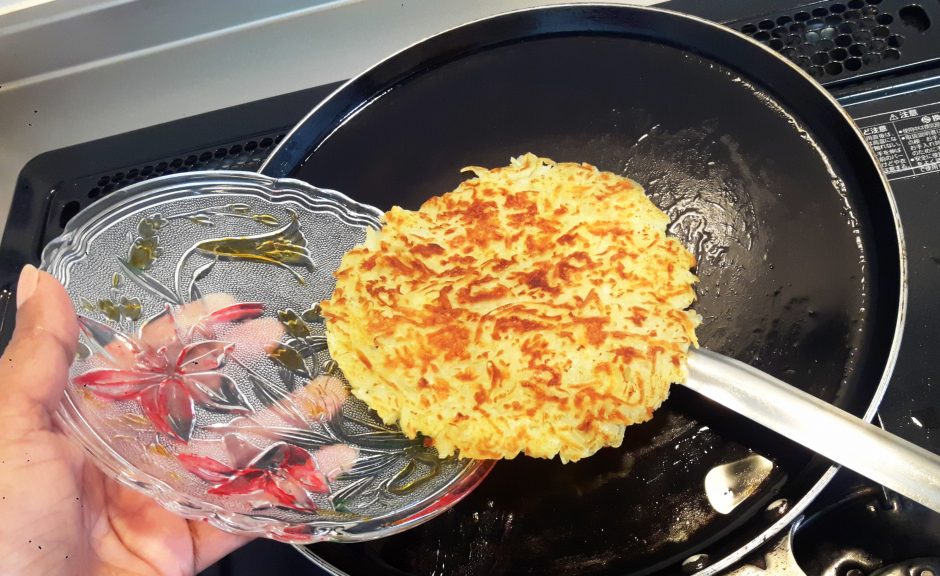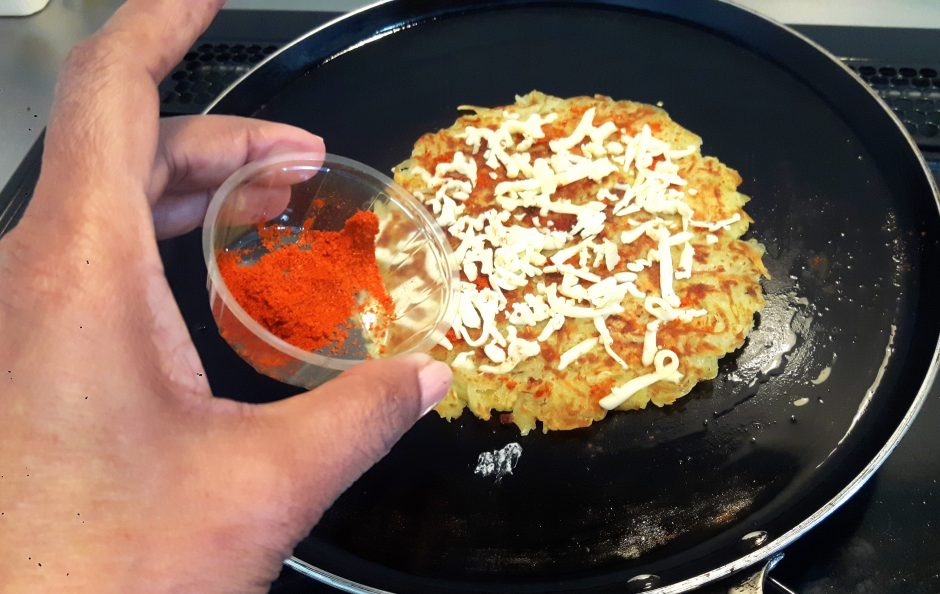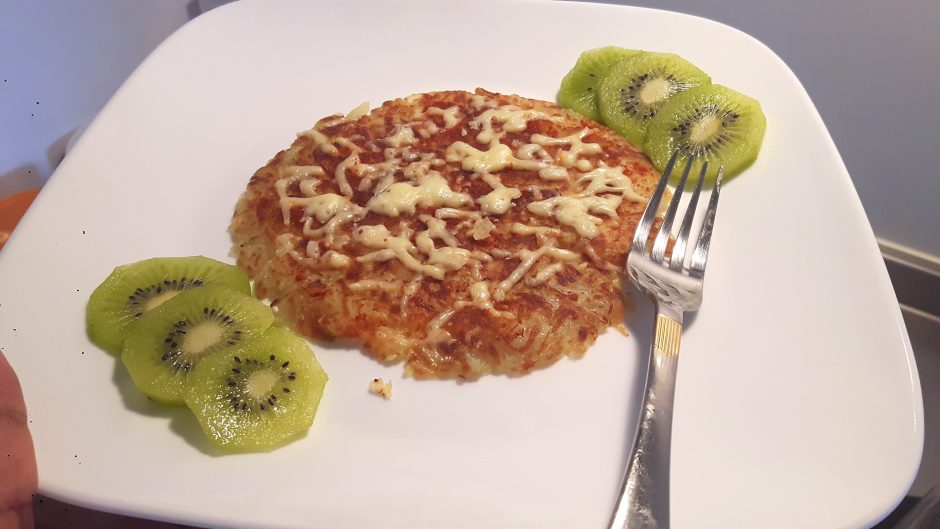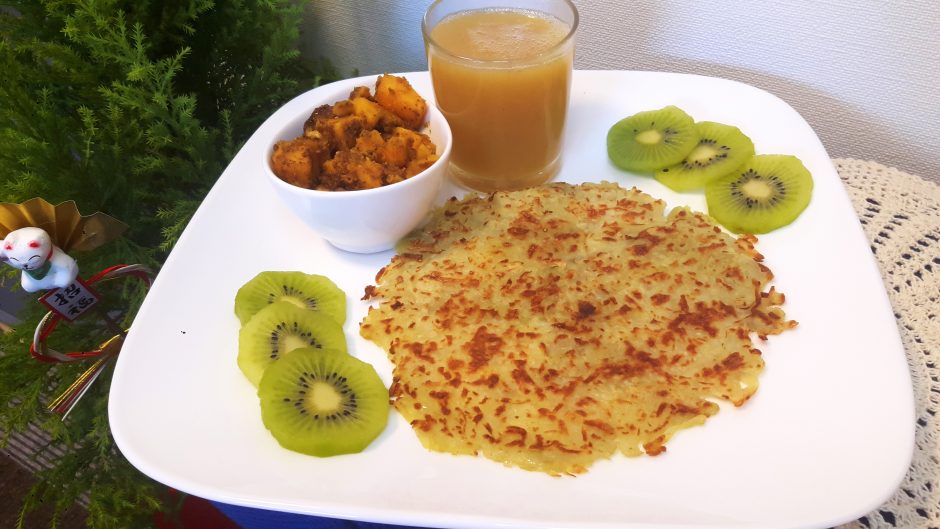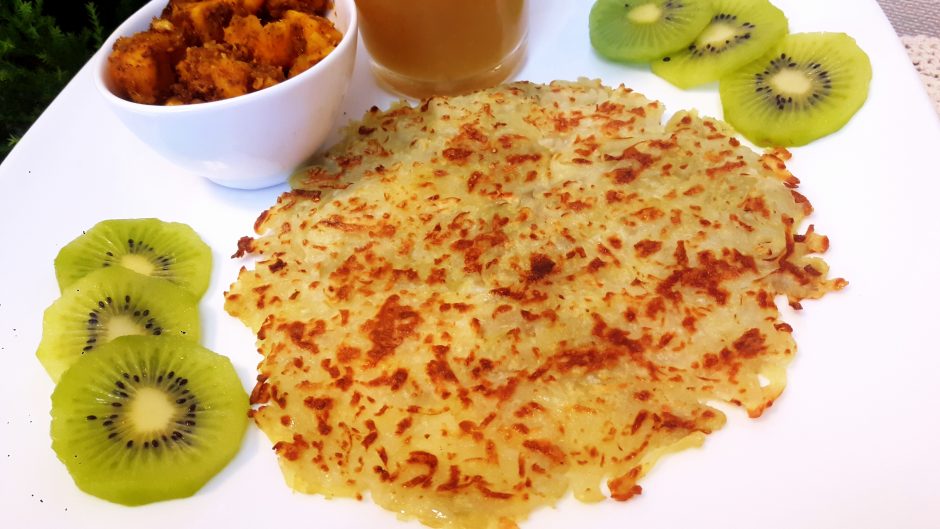 Aaloo ka chila/cheela (potato crepe) by Nag Ratna Sahu is licensed under a Creative Commons Attribution-NonCommercial-ShareAlike 4.0 International License.