Last Sunday I woke up very late in the morning, so I skipped breakfast preparation and decided to go for brunch. In afternoon my husband was feeling hungry and asked me to prepare something to eat.
We had some leftover rice; he suggested preparing fried rice with bitter gourd leaf. We have bitter gourd plant in our balcony pot. He plucked the bitter gourd leaves, the moment I saw so fresh and healthy green bitter gourd leaves in the bamboo basket, immediately it flashed in mind to prepare fritters of this verdant leaves. I started preparation for fritters with bitter gourd leaves.
It came out awesome; here is the recipe good for diabetes people and everyone…
Ingredient:
Bitter gourd leaves: 15-20 no.
Potato: 1 no. (Small)
Onion:1 no. (Small)
Green chili: 2-3 no.
Salt: ½ teaspoon (as per taste)
Turmeric powder: ¼ teaspoon
Ajwaine (carom seeds): half teaspoon
Black pepper corn: 8-10 no.
Chat masala: 1 teaspoon
Red lentil (masoor dal): 1 cup
Mustard oil (hot): for moin
Mustard oil: for deep fry
Preparation:
Soak masoor dal into water for about 20-30 minutes, grind roughly with help of blender, keep aside. Chop bitter gourd leaf, onion, potato and green chili in small pieces, keep aside.
Take a bowl. Put chopped bitter gourd, onion, green chili and potato along with salt, turmeric, Ajawine, and black pepper in it, add ground lentil and mix together to prepare batter. Add 1 tablespoon hot oil give a mix, it is ready for deep frying.
Method:
Take a fry pan, heat oil in it. Let oil to smoke. Pour a drop of batter into the oil. If batter comes up, it means right temperature of oil otherwise wait for a while and test again.
After getting right temperature of oil, take little quantity of batter direct by hand or spoon. Drop the batter into the oil; deep fry, when they start to come up slowly turn over. Fry till it becomes golden brown on both sides. Sprinkle chat masala and enjoy the piping hot fritters followed with afternoon tea.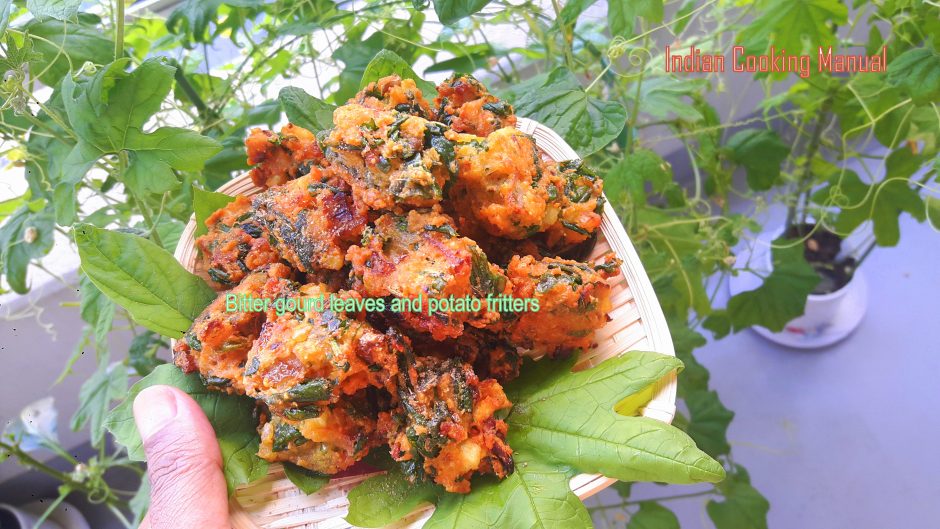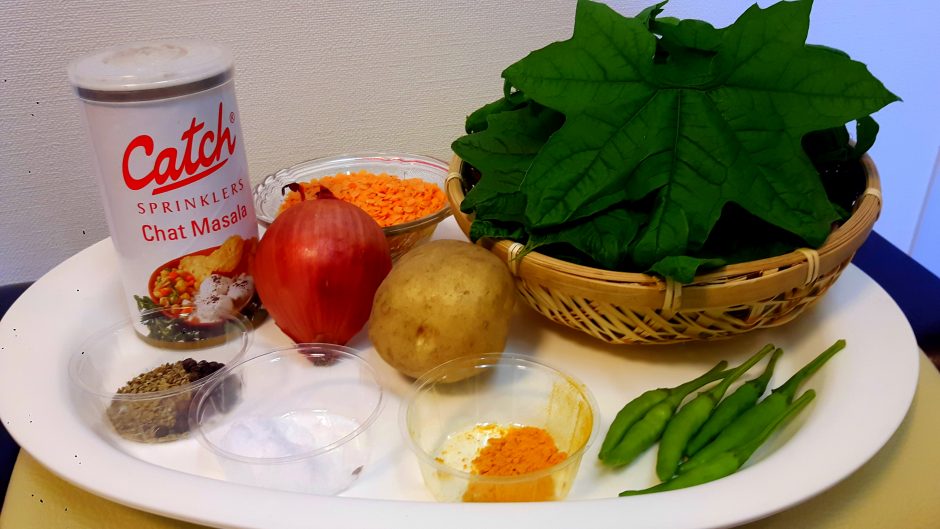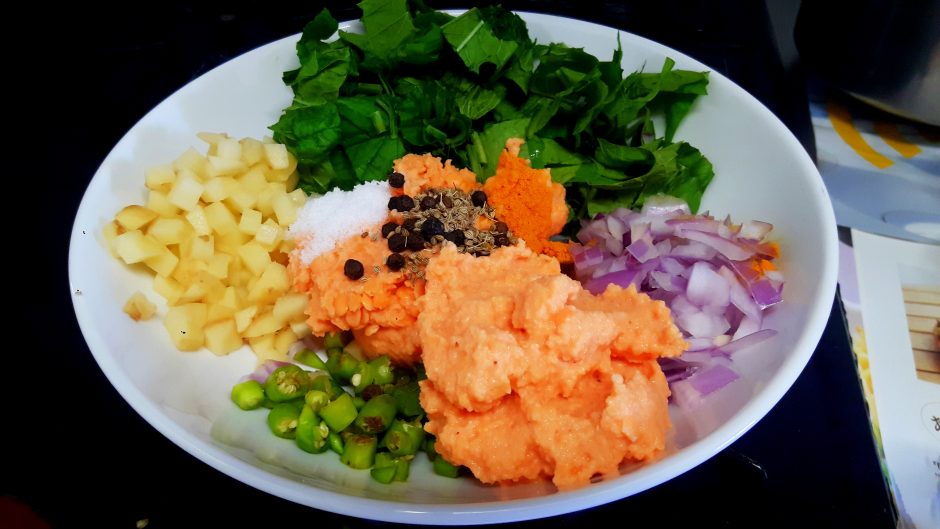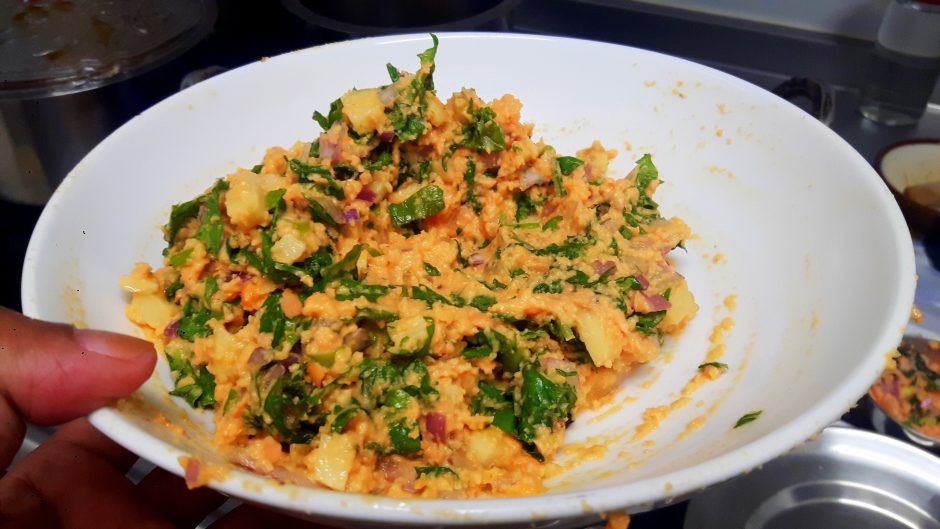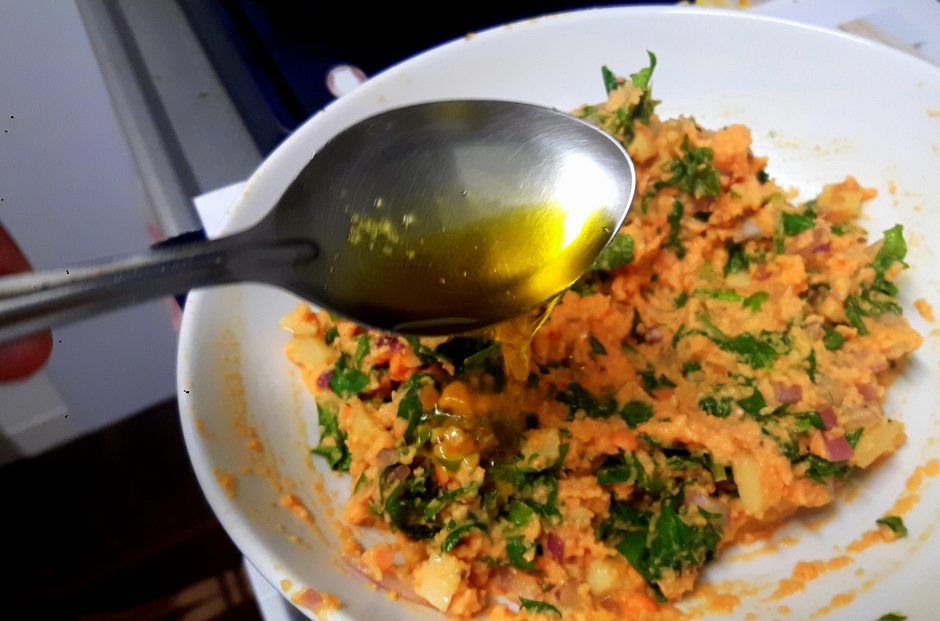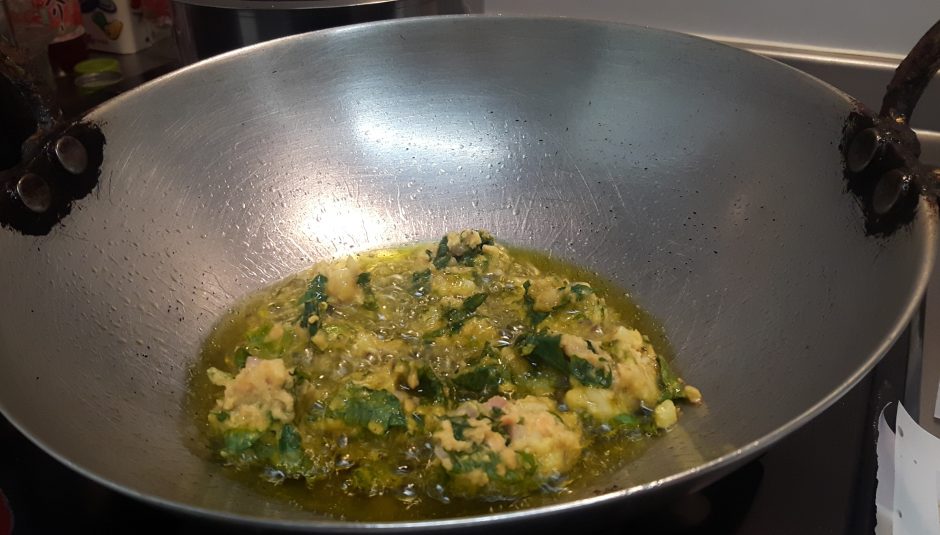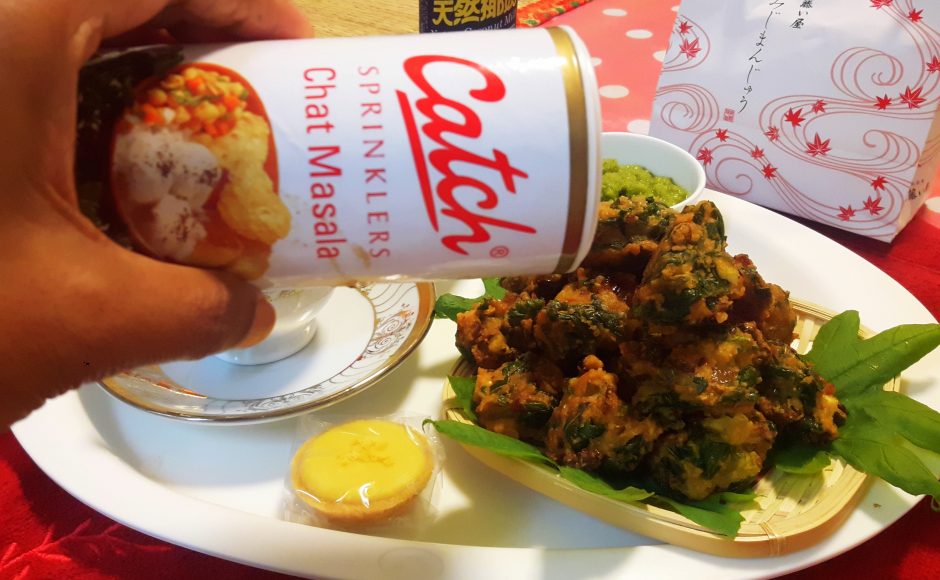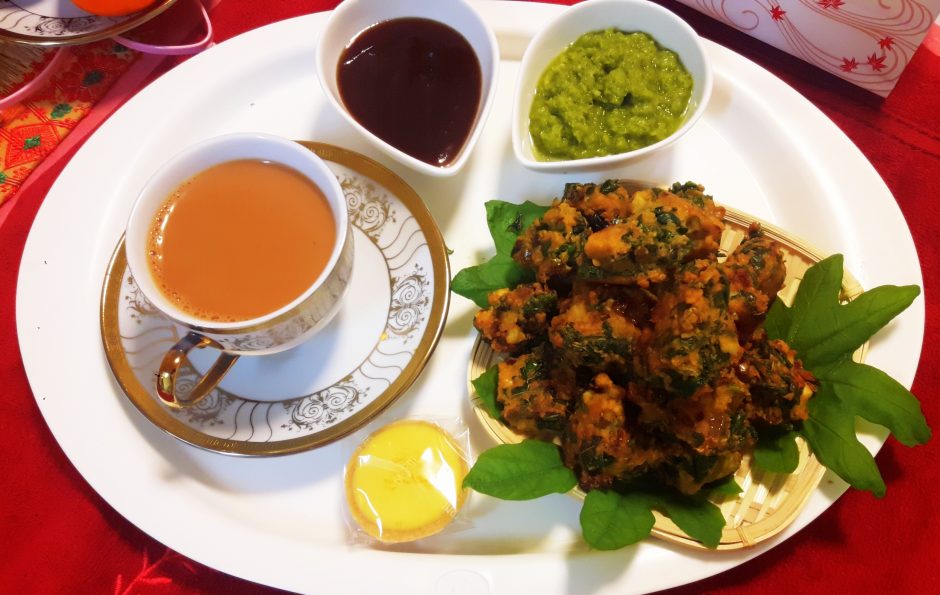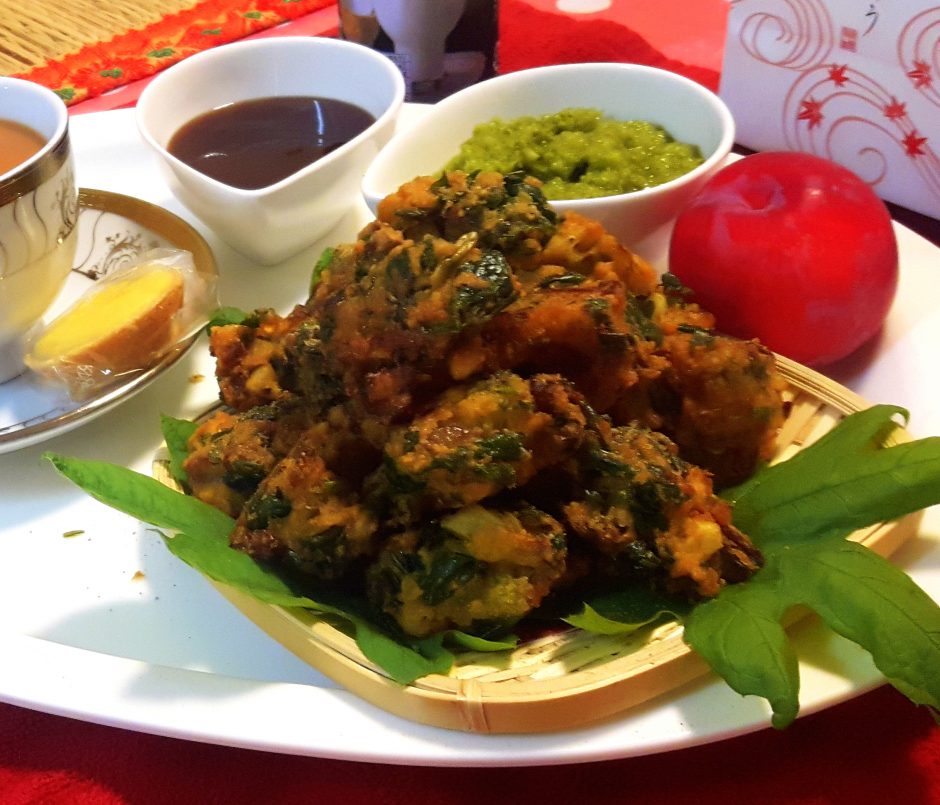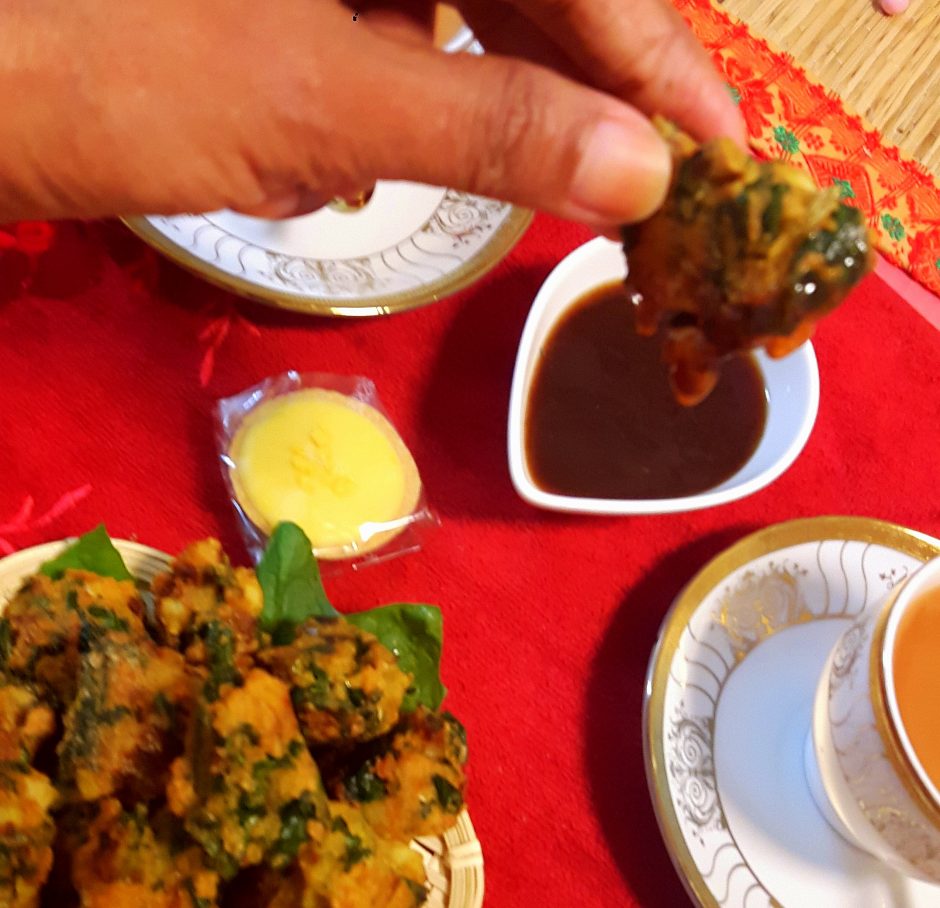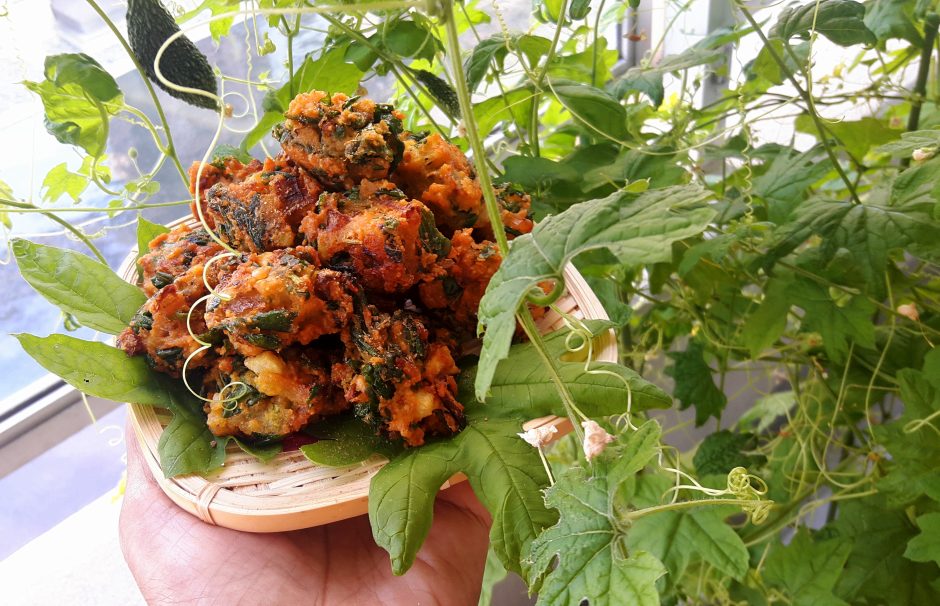 Bitter gourd leaves and potato fritters (karela leaf and Aaloo pakoda) by Nag Ratna Sahu is licensed under a Creative Commons Attribution-NonCommercial-ShareAlike 4.0 International License.