I plucked bitter gourd and potatoes leaves from my Tokyo home balcony pot, cleaned with running water, dipped them in a seasoned gram flour and water batter… fried and served with Italian basil sauce followed with tea.
In this way I enjoyed my afternoon tea with my friends in my living room and chit chat about 'how we feel to grow the vegetables in such a small pot, what types of problem is faced in the way to grow the plant especially when you have to step out with family for several weeks.
We are fortunate and thanks to one of my friend who took the responsibility to water the plants, when we went to hometown because the plants are just like pet you can't leave them'.
Ingredients:
Bitter gourd leaf: 10-12 no.
Garlic paste: ½ teaspoon
Salt: ½ teaspoon
Turmeric powder: ½ teaspoon
Chili powder: 1 teaspoon
Ajawine (carom seeds): ¼ teaspoon
Besan (gram flour): ½ cup
Rice flour: 1 tablespoon
Water: ½ cup
Hot mustard oil: for moin (add into batter 1 tablespoon)
Mustard oil: for deep frying
Preparation:
Clean and dry leaves on kitchen towel, take a bowl: Put Besan, rice flour, salt, Ajwain and chili powder in it, make a smooth batter with the help of water and add 1 tablespoon oil too.
Method:
Take fry pan, heat oil in it, let oil to smoke. Pour a drop of batter into the oil, If batter comes up slowly, it means right temperature of oil otherwise wait for a while and test again.
After getting right temperature of oil, dip 2-3 leaves together in the prepared batter of Besan (Either directly by hand or spoon), put as many pakoda as can be accommodated depending upon quantity of oil. When they start to come up slowly turn over. Deep fry till it becomes golden brown on both sides. Remove the pakoda from oil. Deep fry all pakoda (sets of leaves).
Serve hot with green chutney and tomato sauce followed by tea. It can be served with any meal. It goes well with steamed rice and dal.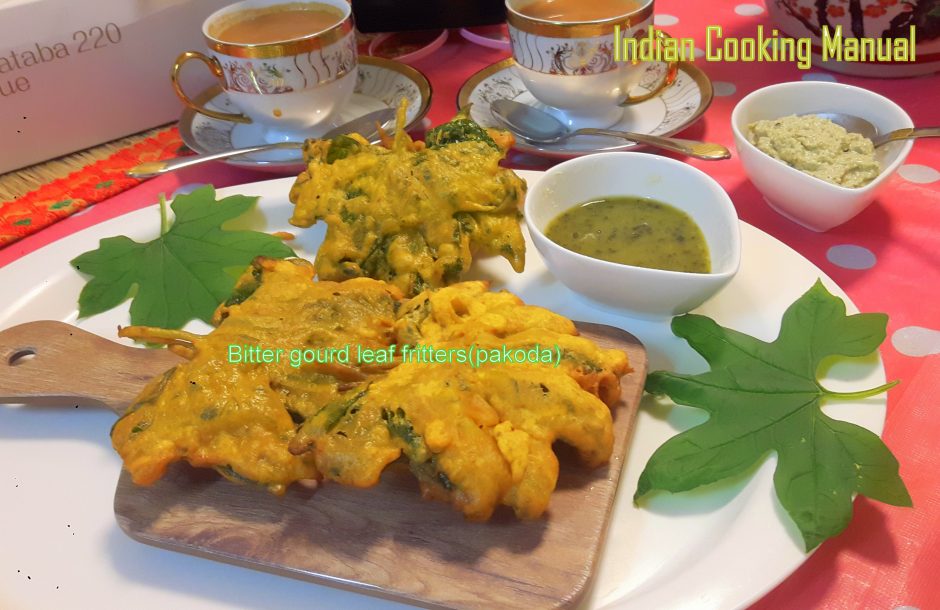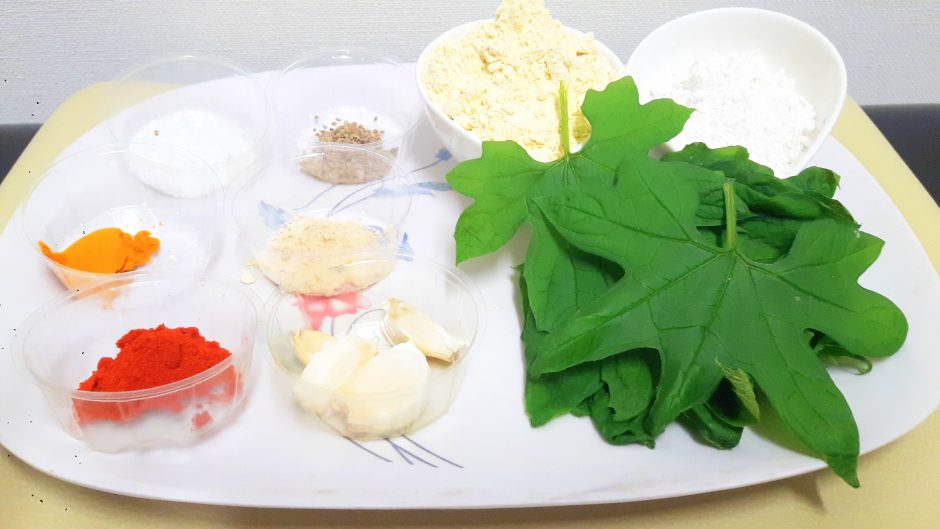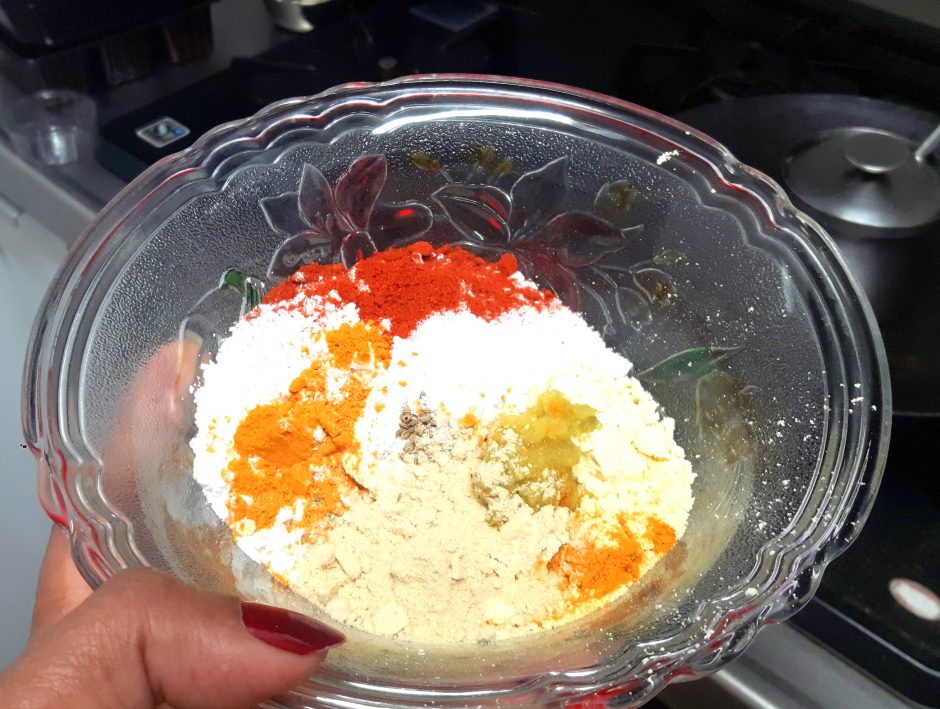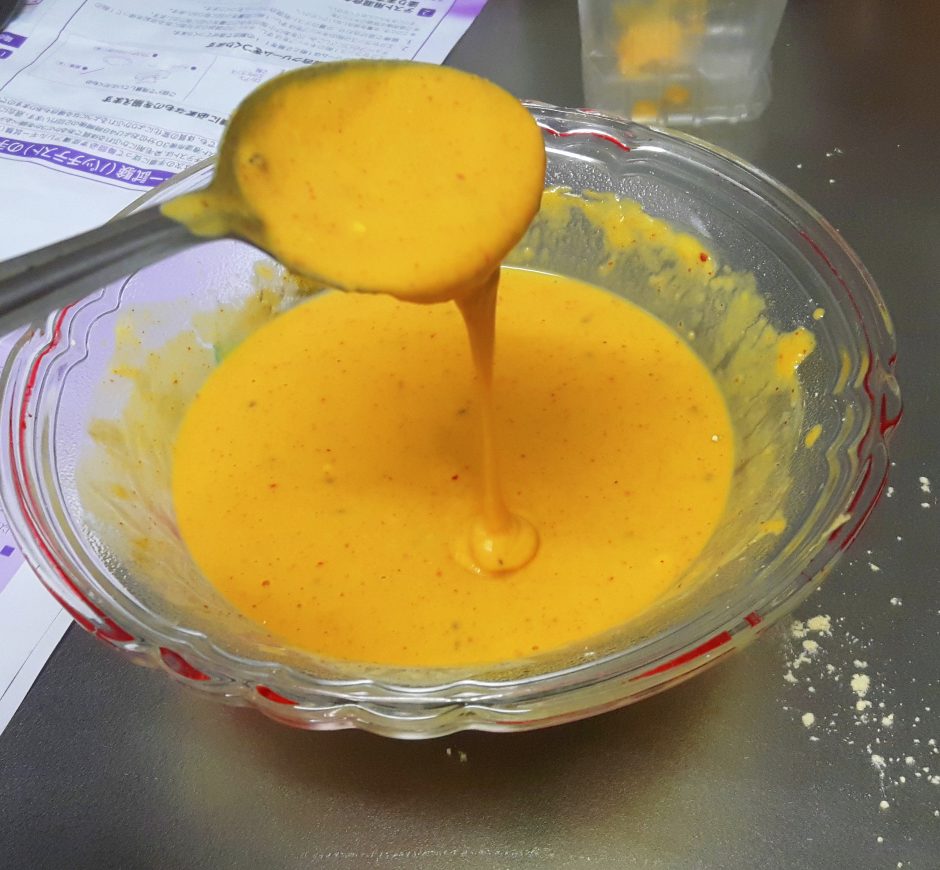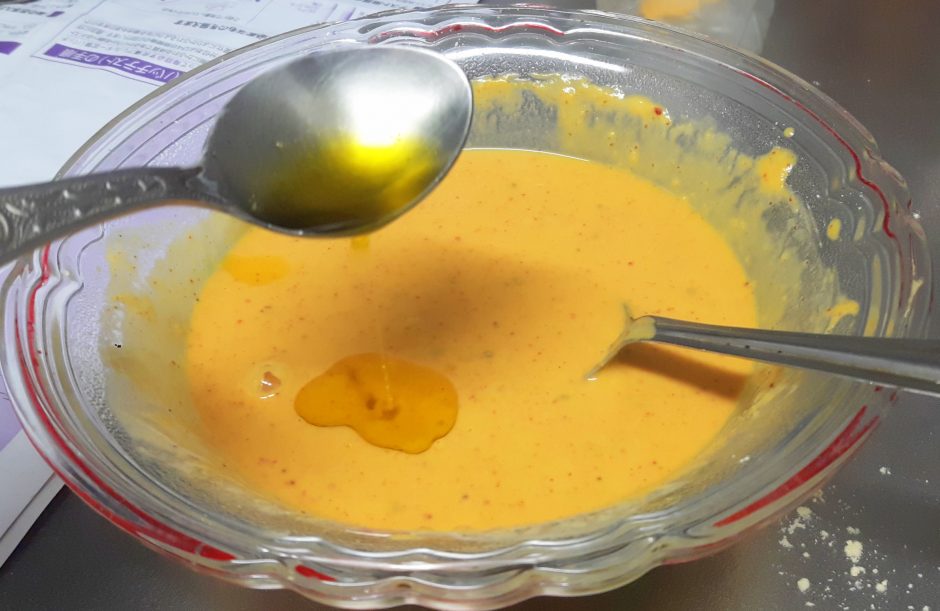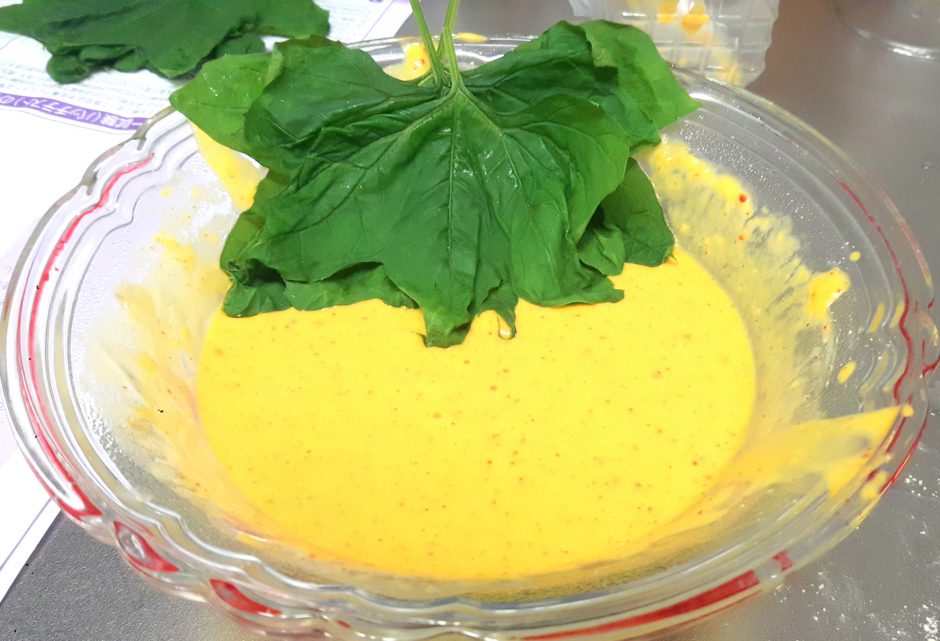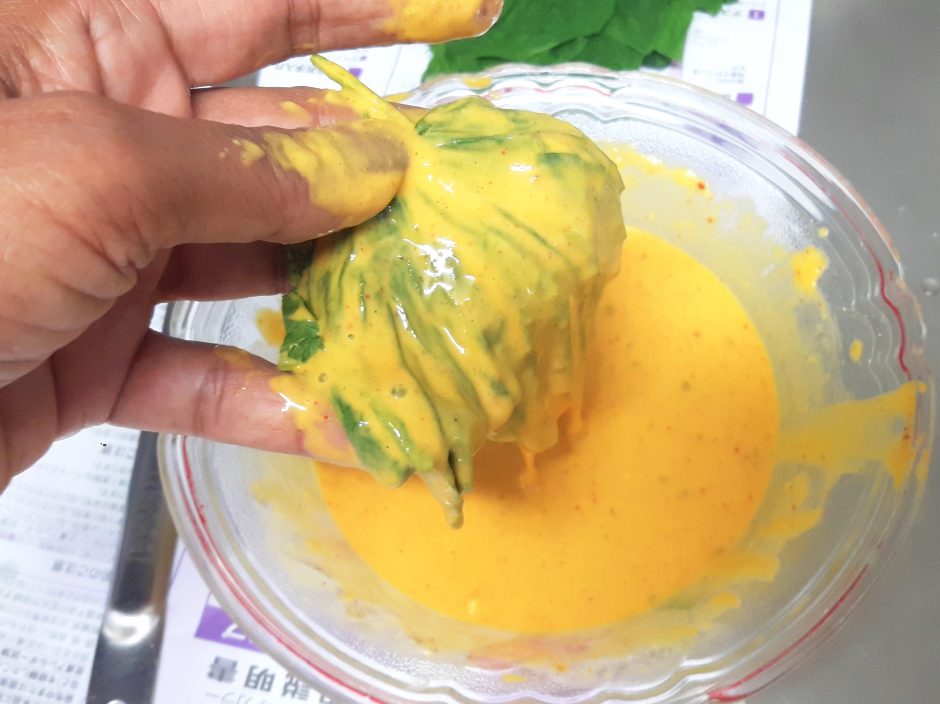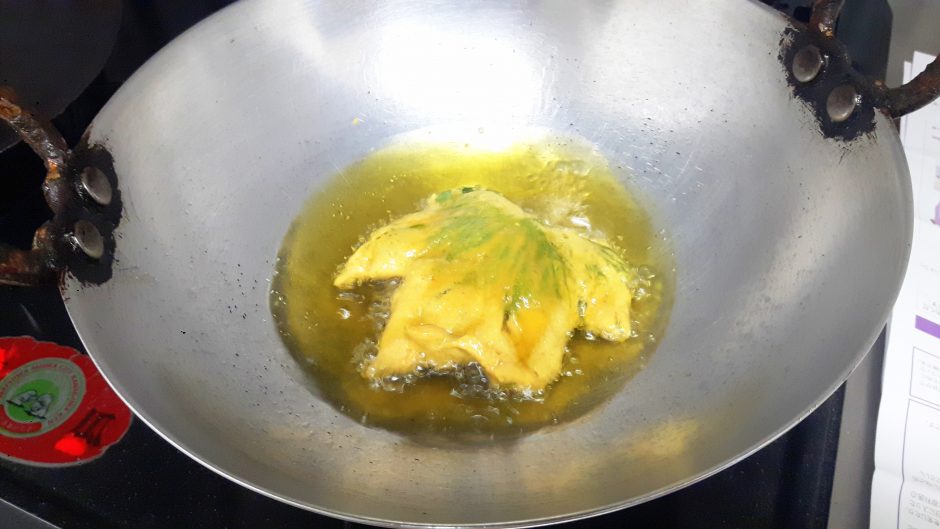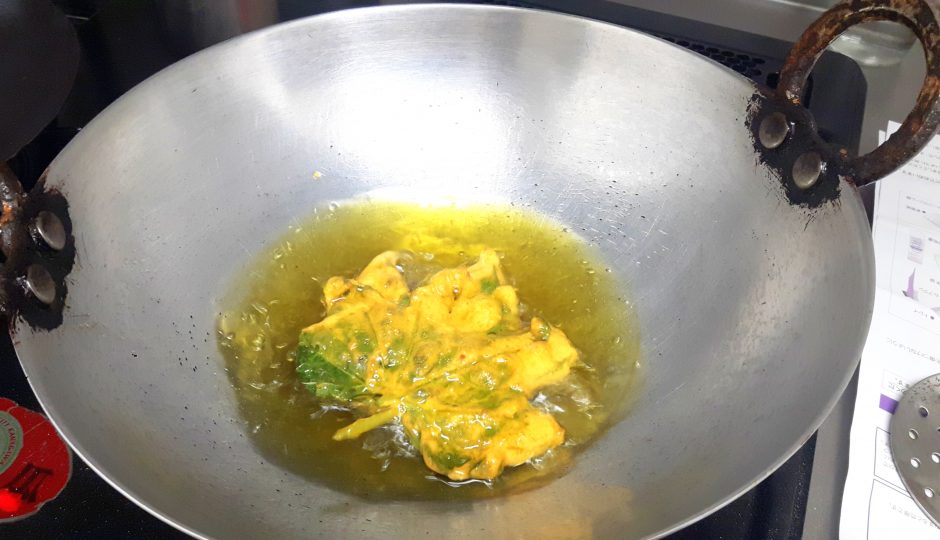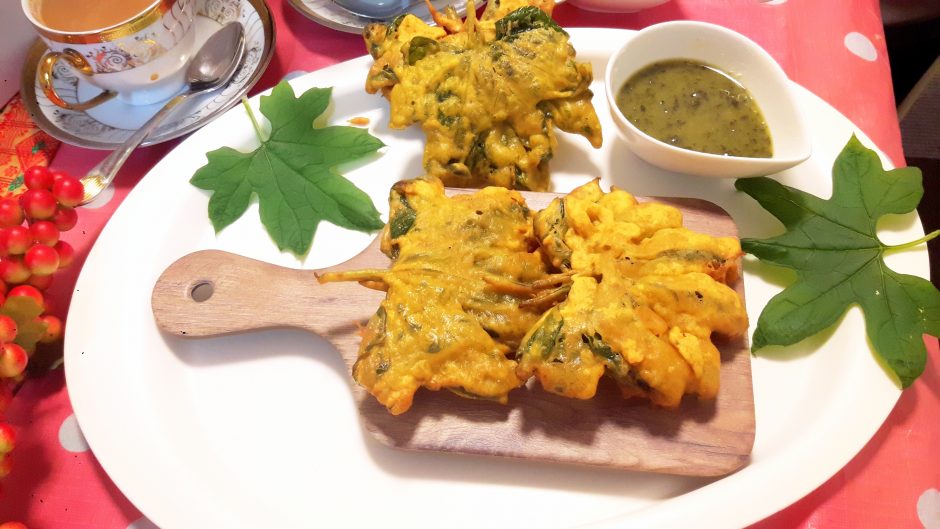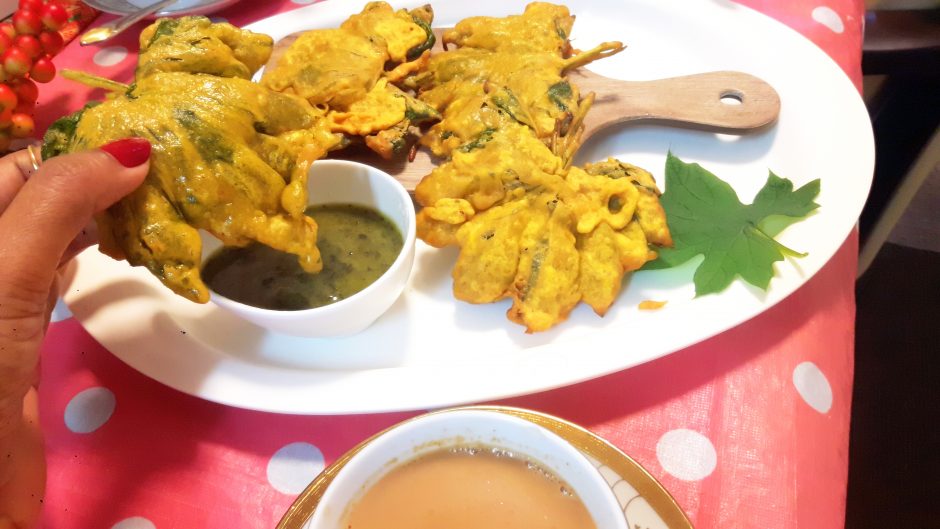 Bitter gourd leaf pakoda (fritters) by Nag Ratna Sahu is licensed under a Creative Commons Attribution-NonCommercial-ShareAlike 4.0 International License.