In my opinion this is my most favorite sweets for growing children, when my sons were kid, I gave them one laddu to eat as quick small breakfast every morning along with a glass of milk before I was busy with my daily routine. Kids just loved it. This protein packed sweets made with ghee provides good fat and calcium, sugar give carbohydrates, which is necessary for kids to provide energy to play whole day.
I really miss that wonderful time: today I prepare this laddu for my grand-daughter, who is very far away from me in India. My princess we miss you, I may not play every day with you, but I think of you and love you every moment. God bless you my angel…
It is difficult task, what recipe to upload Today for blog; thanks to my daughter-in-law called up to ask me to share this recipe.
Ingredients:
Mung dal (split green gram): 1 cup (200gm)
Sooji/rava: 2 teaspoon
Sugar: ¾ cup (150 gm)
Ghee (clarified butter): ¼ cup (50 gm)
Green cardamom: 5-6 no.
Cashew nut: 8-10 no.
Almond: 12-15 no.
Milk: ½ cup (if needed during adding sugar)
preparation:
Soak Mung dal at least 2 hours or overnight; grind with mixer grinder to fine paste, keep side.
Powder sugar, keep aside.
Roughly grind almond and cashew nut. Keep aside
Prepare cardamom powder. Keep aside.
Method:
Heat 2 tablespoon of ghee in a fry pan/ non stick fry pan; add two teaspoon sooji/rava( to avoid sticking dal paste into bottom of the fry pan), fry for a minute add dal paste; stir fry on medium low flame till it gets light golden in color, add ghee one spoon at a time whenever you need during frying (do not add all ghee at a time).
Add dry fruits powder and fry for a minute, add powdered sugar, stir well on low flame (sugar going to be melt and it will turn into halwa consistency, at this time you may add milk if needed). continue to cook until binding consistency appears. Add cardamom powder.
Take one handful mix; shape the mixture in laddu by using your hand shown in the photo.
Depending upon size of laddu 12-15 laddu will be ready. Decorate with saffron thread.
Delicious laddu is ready to serve for everyone; the nice aroma of cardamom makes the taste awesome.
You may store this airtight container for a week.
Note: you may use more ghee and dry fruits.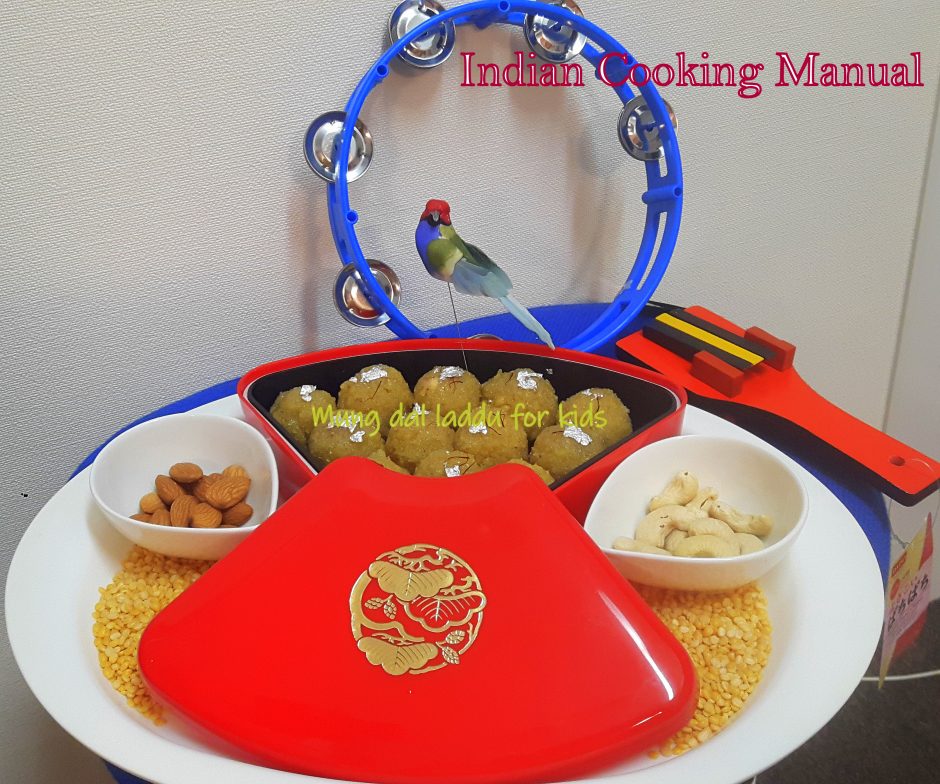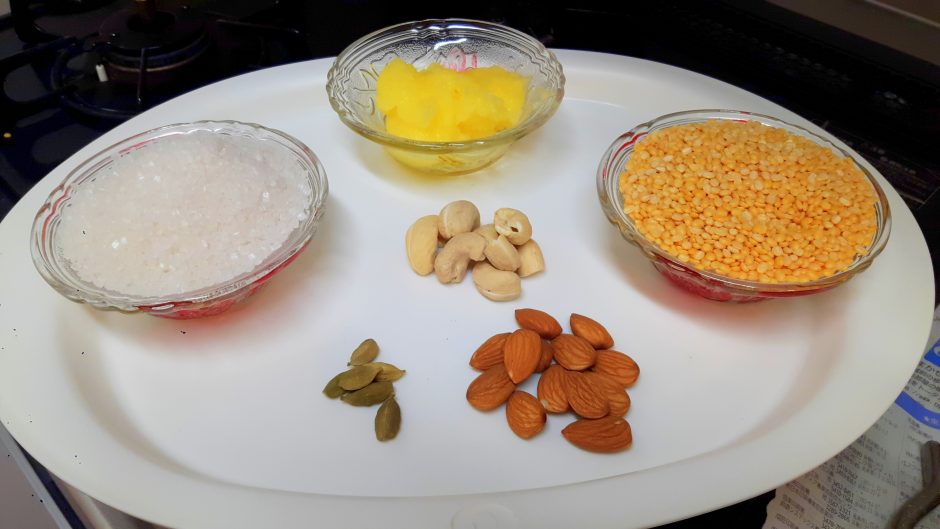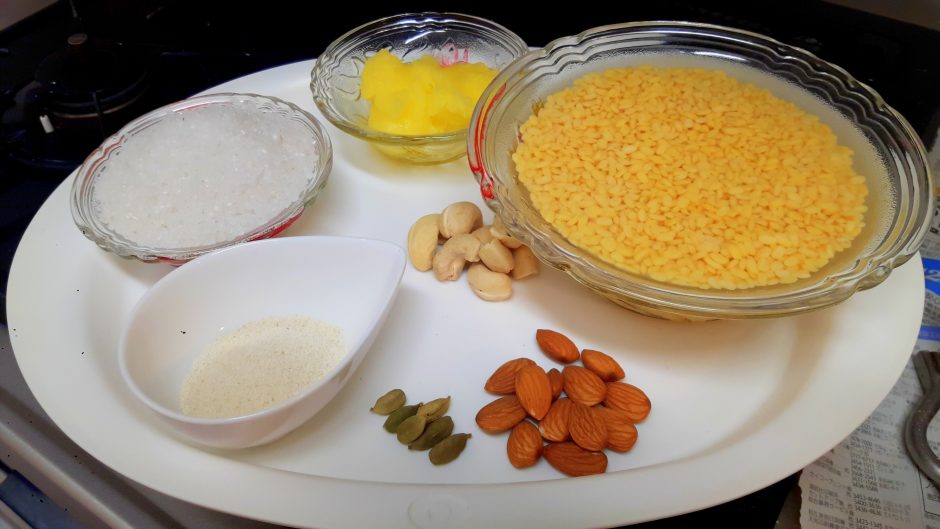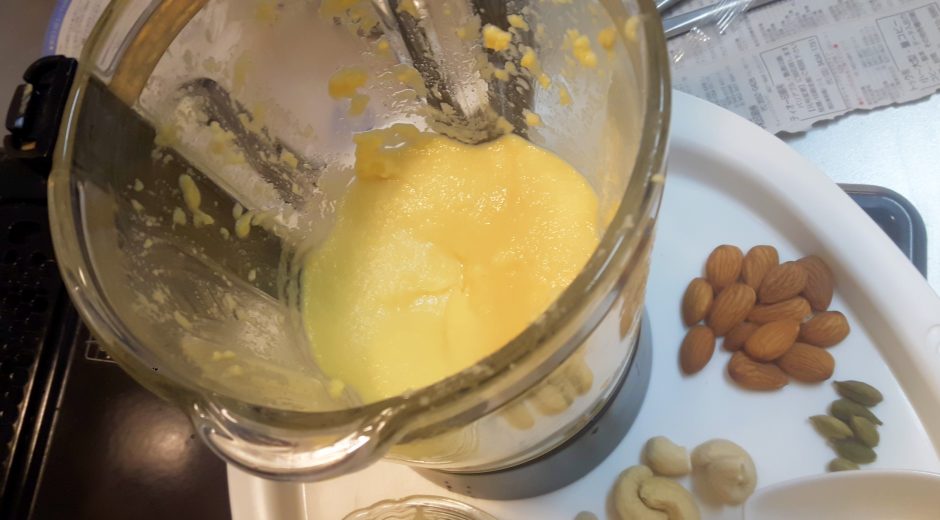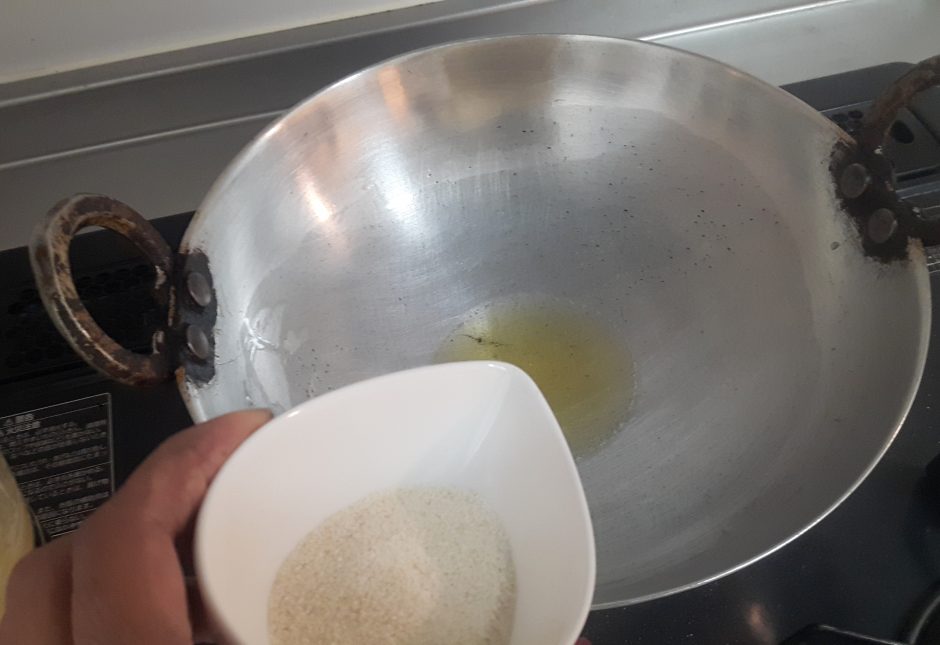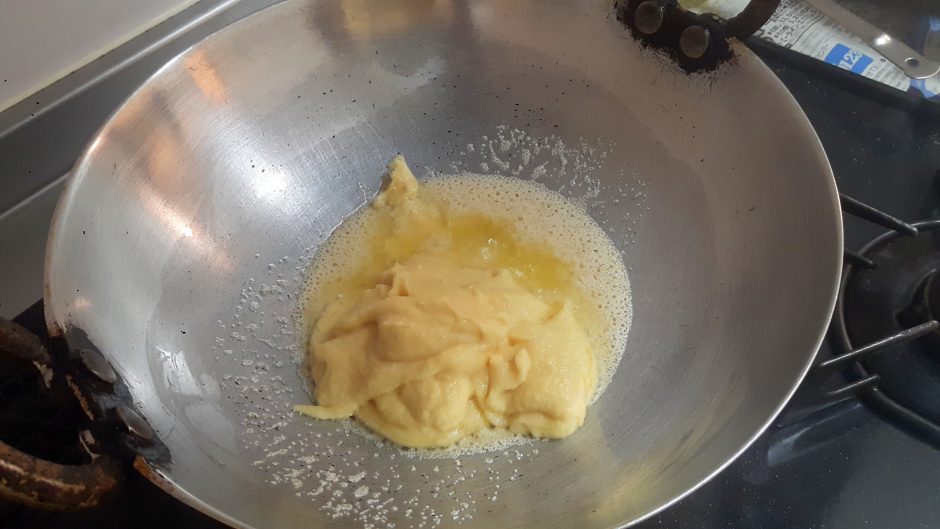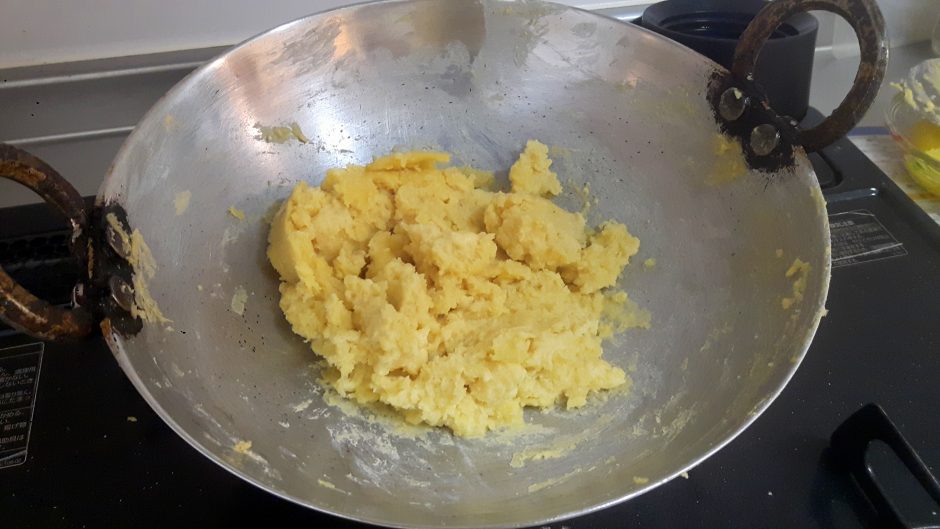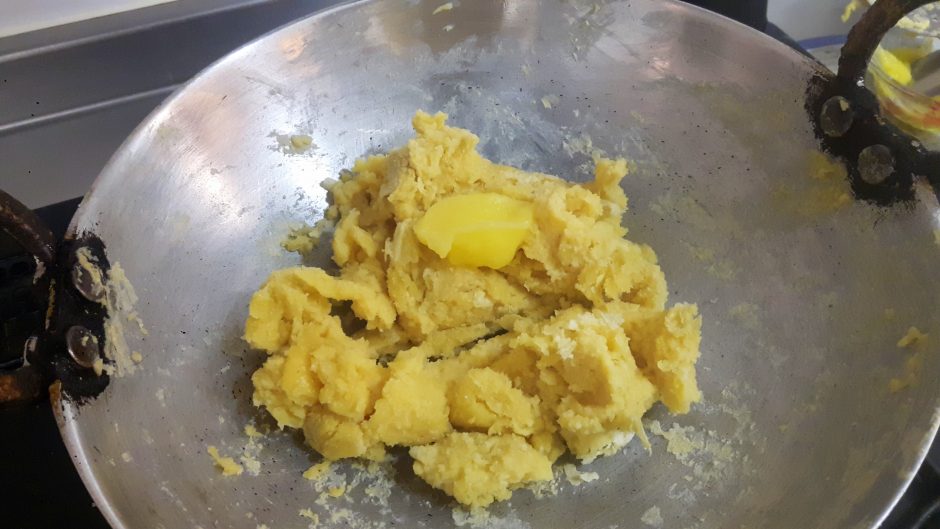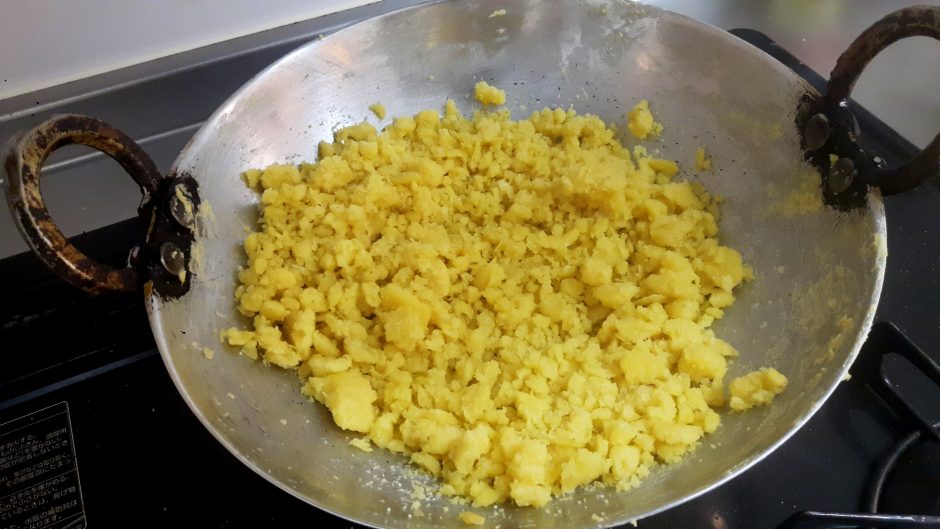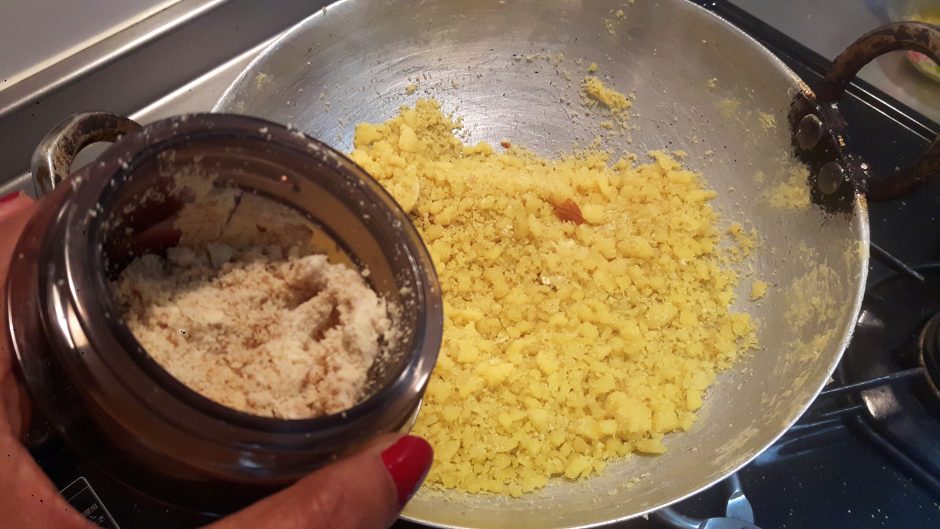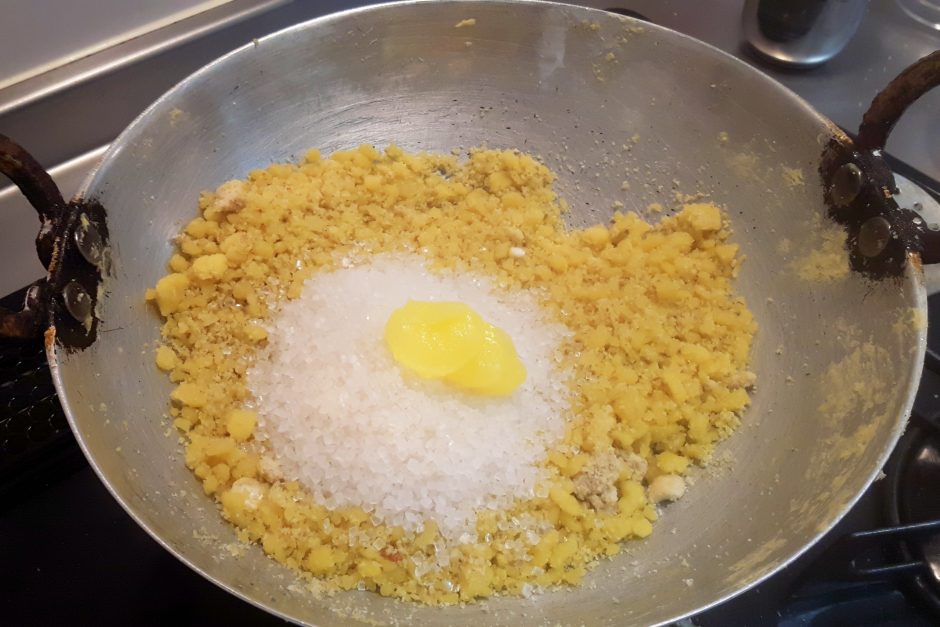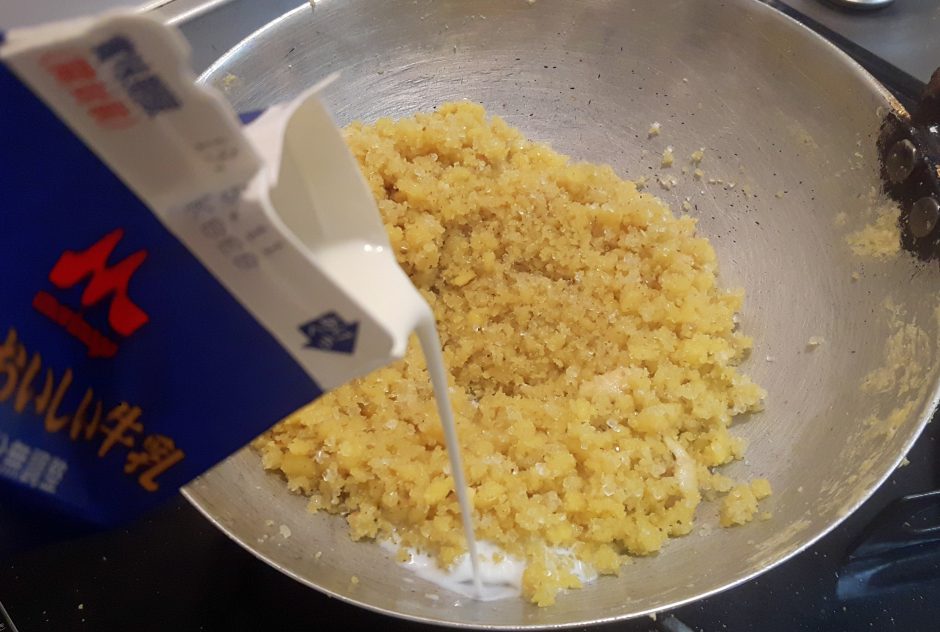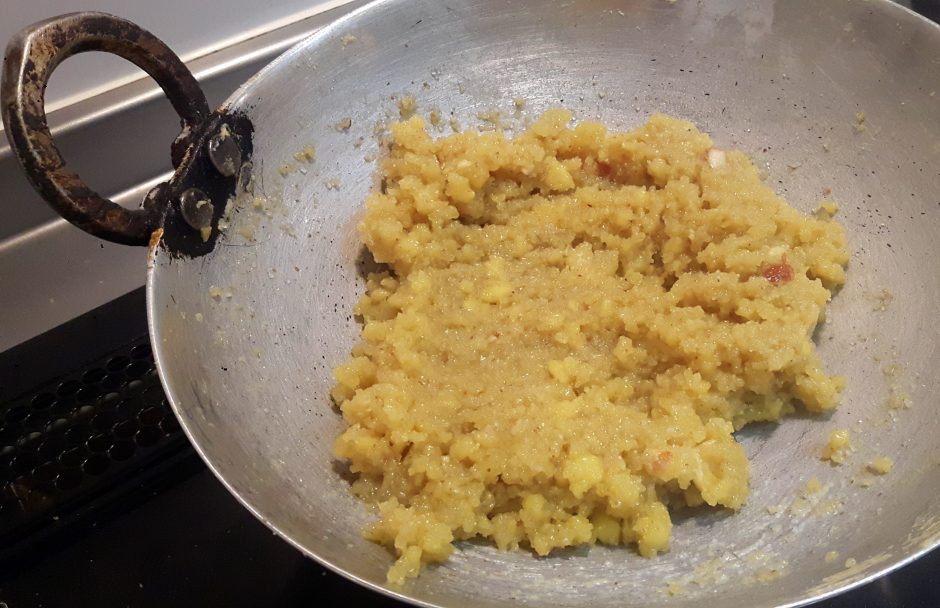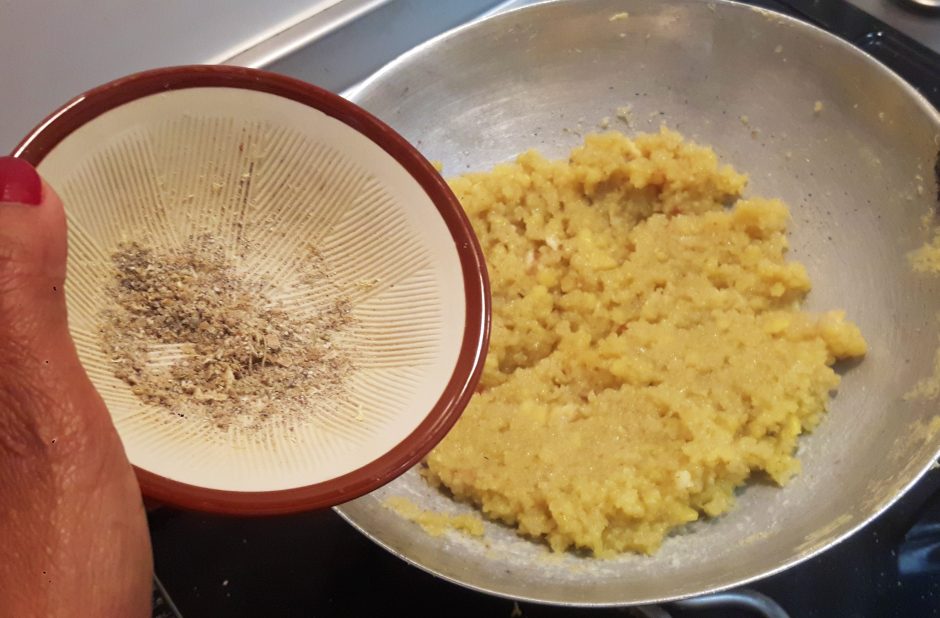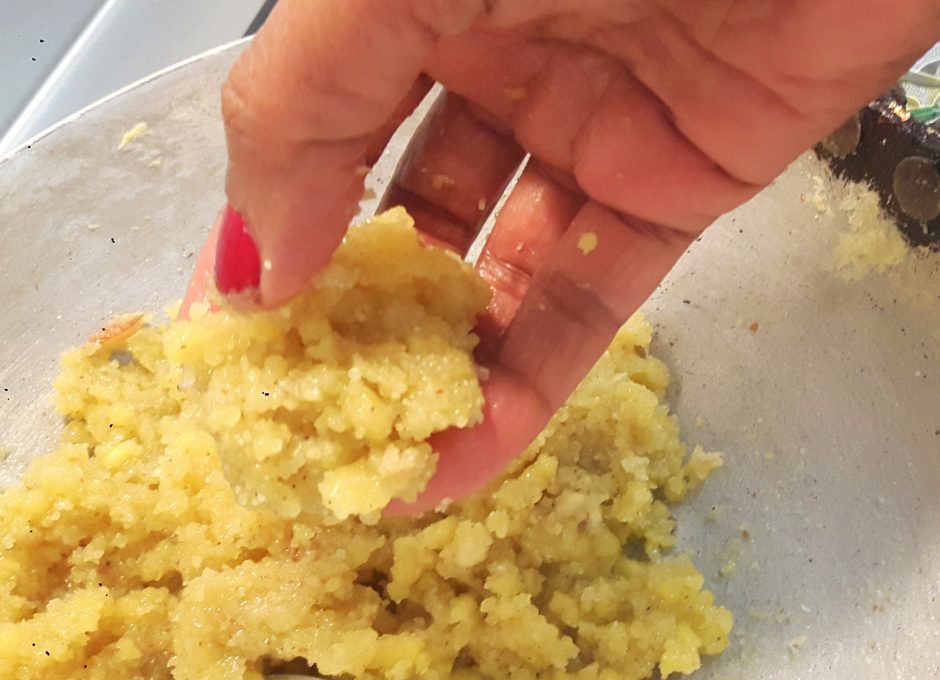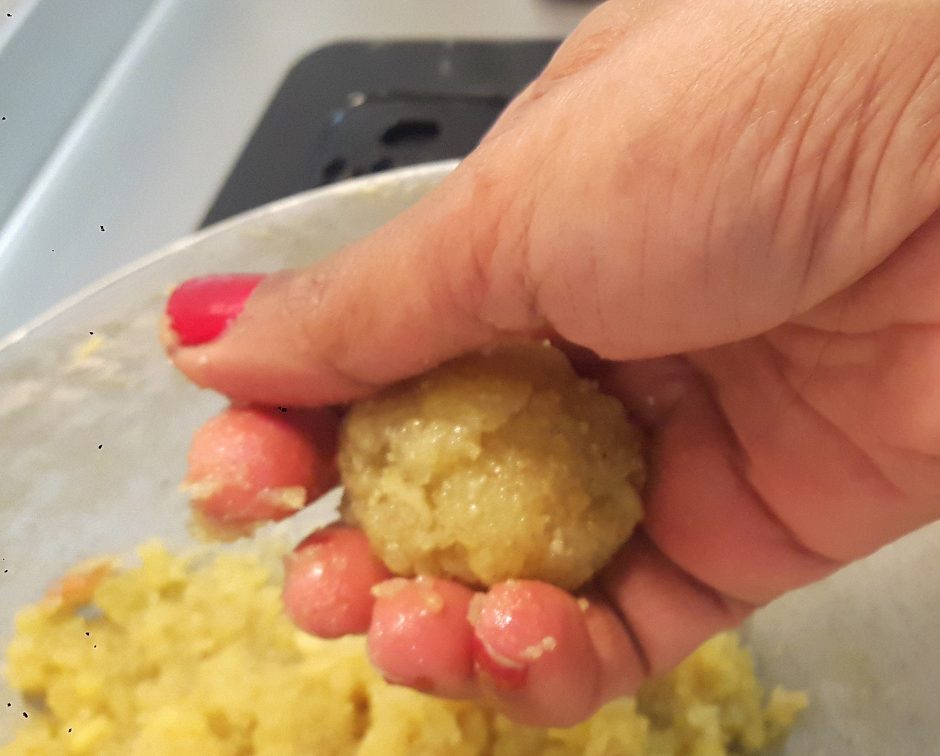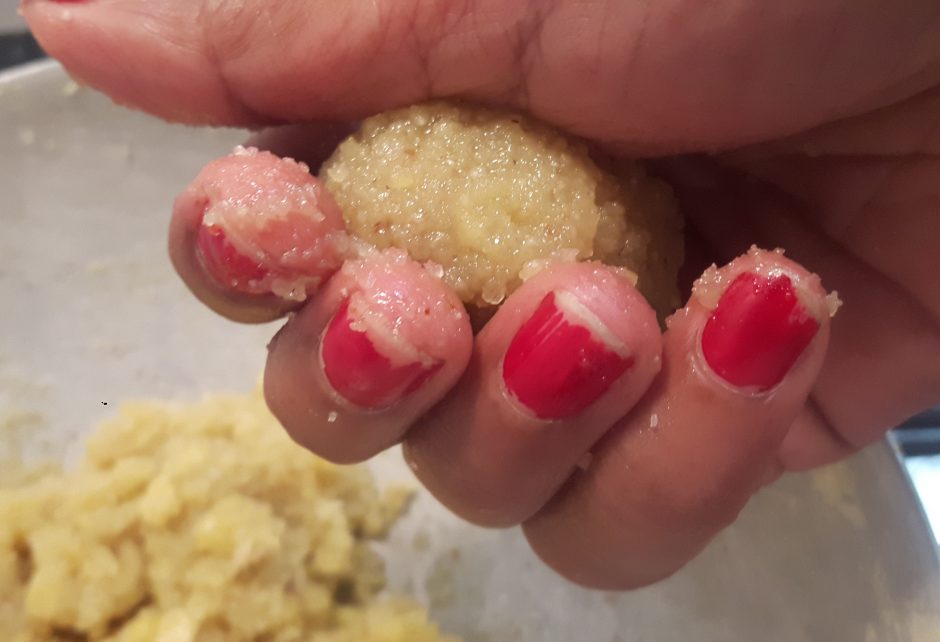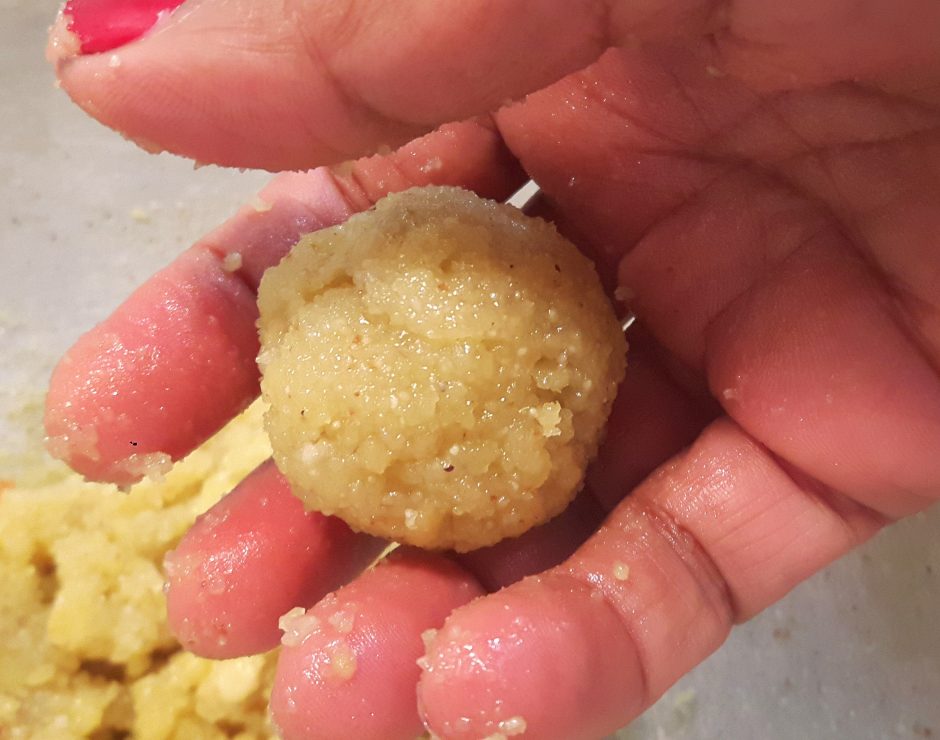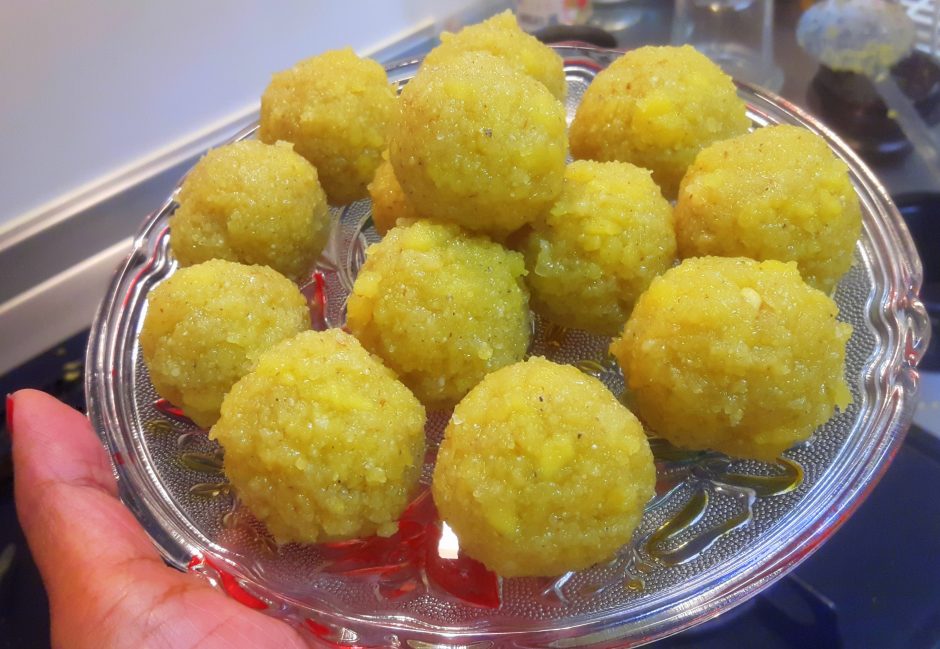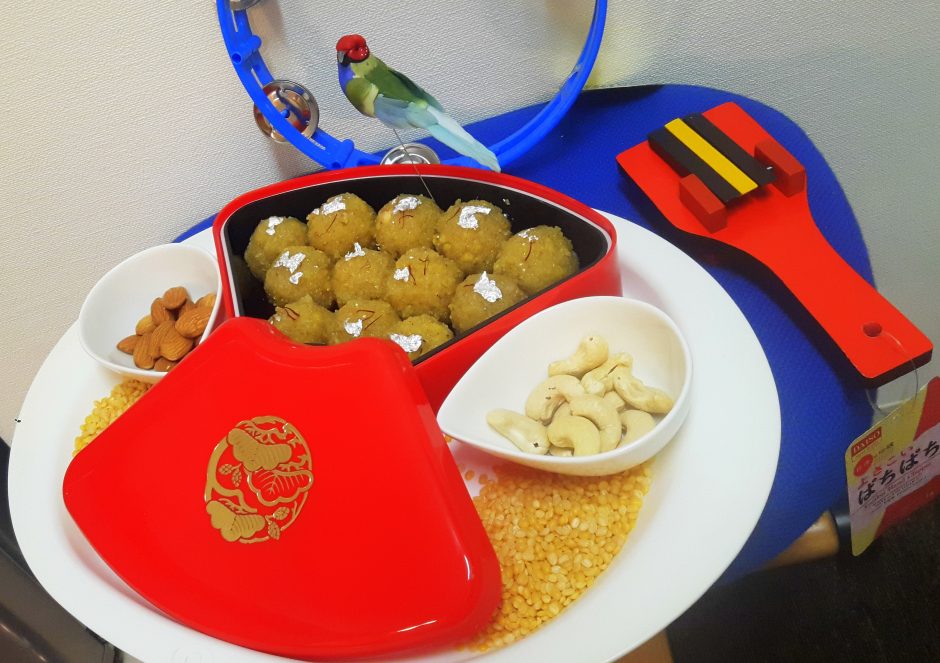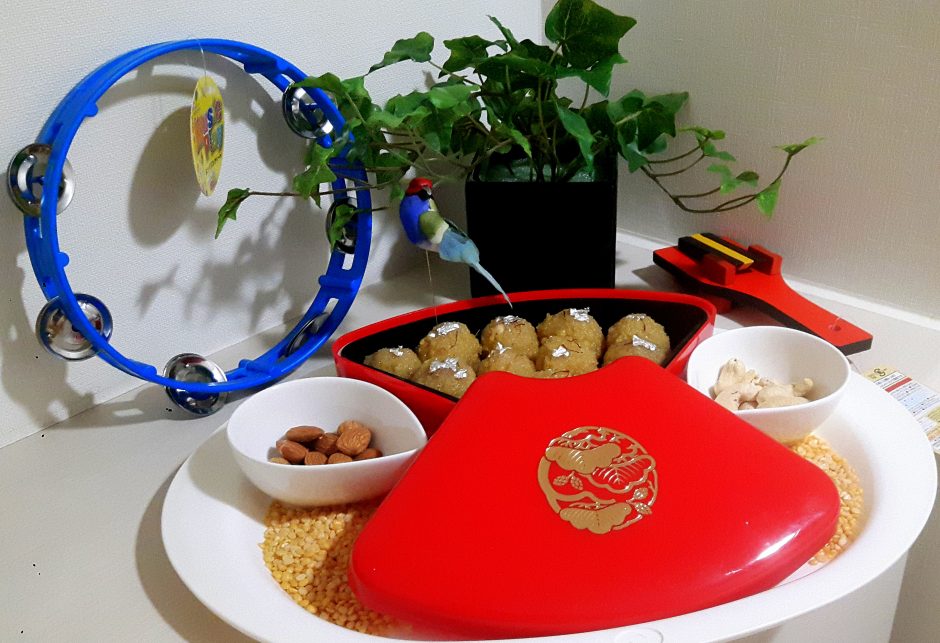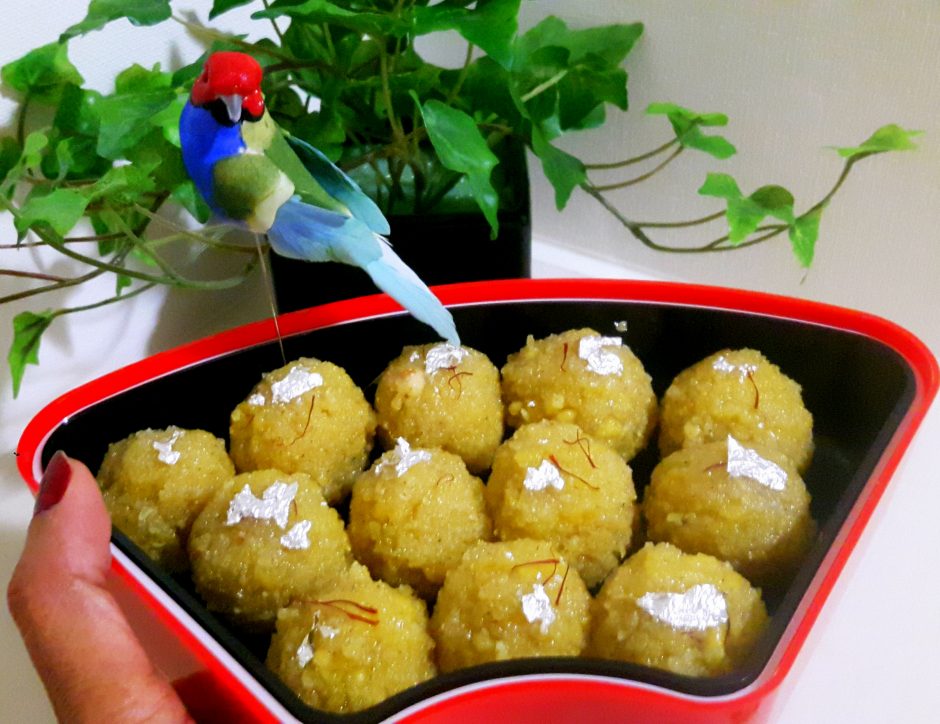 Mung/ Moong dal (split green gram) laddu/sweets for kids/toddlers by Nag Ratna Sahu is licensed under a Creative Commons Attribution-NonCommercial-ShareAlike 4.0 International License.