I am posting this recipe from Japan, so I prepared with Japanese sticky rice. Enjoy "Bamboo shoot (Takenoko) masala". See how Appealing is this!
I wanted to cook this recipe since couple of year ago when I ate Bamboo shoot rice in a restaurant in Mumbai. Fresh bamboo shoot is easily available here in Japan. Although some Asian countries as China, Indonesia, Vietnam, Malaysia, Burma, Japan, Thailand, Taiwan, Nepal etc are the hub of bamboo shoot. The north east part of India each and every houses do plant bamboo, because their cuisine are incompletes without adding dash of bamboo shoot. It is very nutritious, give much strength and make you strong and tough.
Canned bamboo shoot is easily available everywhere, Malls in India and aboard too. For the recipe you can use canned too. In this recipe I used fresh bamboo shoot and included how to chop bamboo shoot.
So enjoy the unique & exclusive recipe of bamboo shoot…
Ingredients:
Bamboo shoot (Takenoko): 2no. (Medium size, about 6-7 inch)
Ground nut: 100gm.
Dry coconut: 2 tablespoon
Sesame seed (white): 1 tablespoon
Cumin seed: 1 teaspoon
Mustard seed: ½ teaspoon
Chili: 2no.
Coriander leaves: 20 gm
Chili powder: 1 teaspoon
Coriander powder: 1 teaspoon
Salt: 1 teaspoon, as per taste
Turmeric powder: half teaspoon
Onion: 1 no. medium size
Ginger: 2" pieces
Garlic: 2-3 cloves
Lemon: ¼of a medium size lemon
Tamarind pulp (optional): 1 teaspoon
Tomato: 1 no. (Medium size)
Olive oil/cooking oil: 1 serving spoon
Mustard seed: ½ teaspoon
Preparation:
Wash the Bamboo shoot, and trim the thick end ½ -1"an inch. Peel out outer layer until white portion is coming, trims the upper ½ -1" portion too (Shown in the photo).
The second step is to peel out the upper hard layer just like we peel off the potatoes (shown in the photo). Slices it and put it into bowl filled with water.
Boil and cook this sliced bamboo shoot into pressure cooker with ¼ lemon and a whole red chili on high flame, bring to full cooking pressure, reduce to low flame and cook for 15-20 minutes. Allow it to cool and open. Drain out the water, keep aside.
Chop the tomatoes, onion and coriander leaves.
Light roast ground nut on low flame, let it cool and remove the upper layer or skin. Keep aside.
Roast coconut, cumin and sesame seed separately and keep aside.
Grind the ground nut, coconut, sesame seed, ginger, and garlic and cumin seed with the help of water and make fine paste (wet masala).
Method:
Take a pressure pan/pressure cooker, pour oil, when oil becomes hot and smoke starts coming from it. Add mustard seed and red chili. Allow to sputter for few seconds: add sliced onion stir fry till it gets translucent. Add chopped tomato along with coriander powder, chili powder and turmeric powder, stir fry for couple of minutes, add wet masala and fry for 8-10 minutes on low flame till oil separates from masala and liquid dries up. Stir 2-3 times in between so that it should not stick to bottom.
Add boiled bamboo shoot and salt, stir fry for 3-4 minutes: add water and tamarind pulp, close the cooker lid, and bring to full pressure. Lower the flame and cook for 2-3 minutes. Put off the flame, let it cool and serve.
Have this delicious "Bamboo shoot (Takenoko) masala" with either rice or some paratha, chapati to satiate your stomach's craving delightfully.
Note: It is necessary to use fresh bamboo shoot within 2-3 days, only white portion to be used.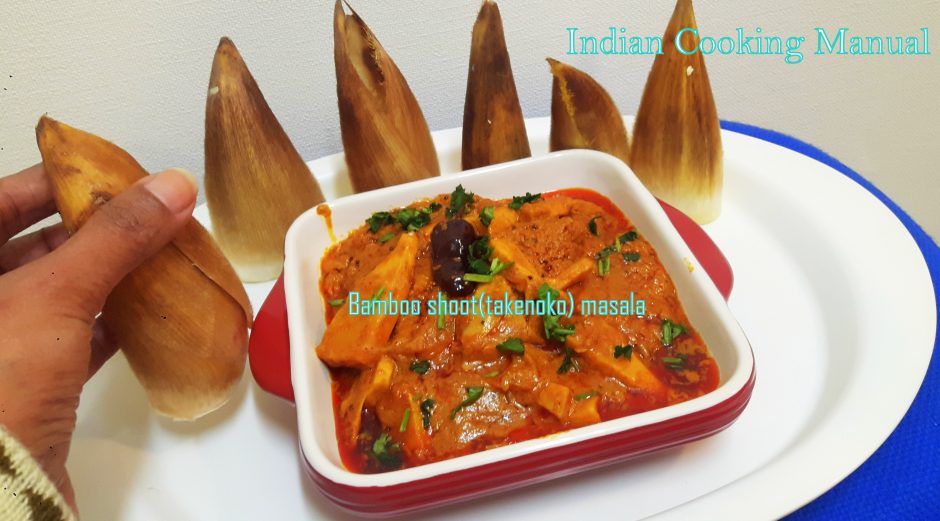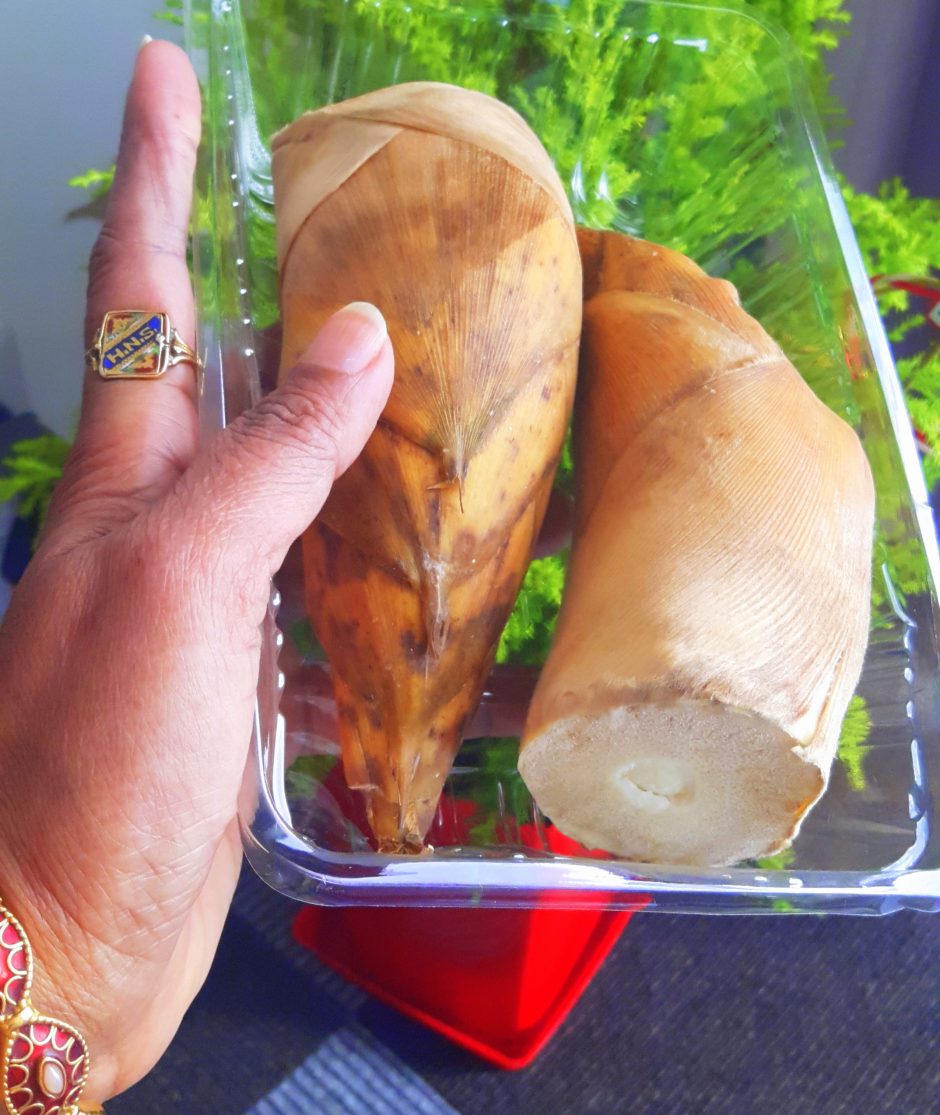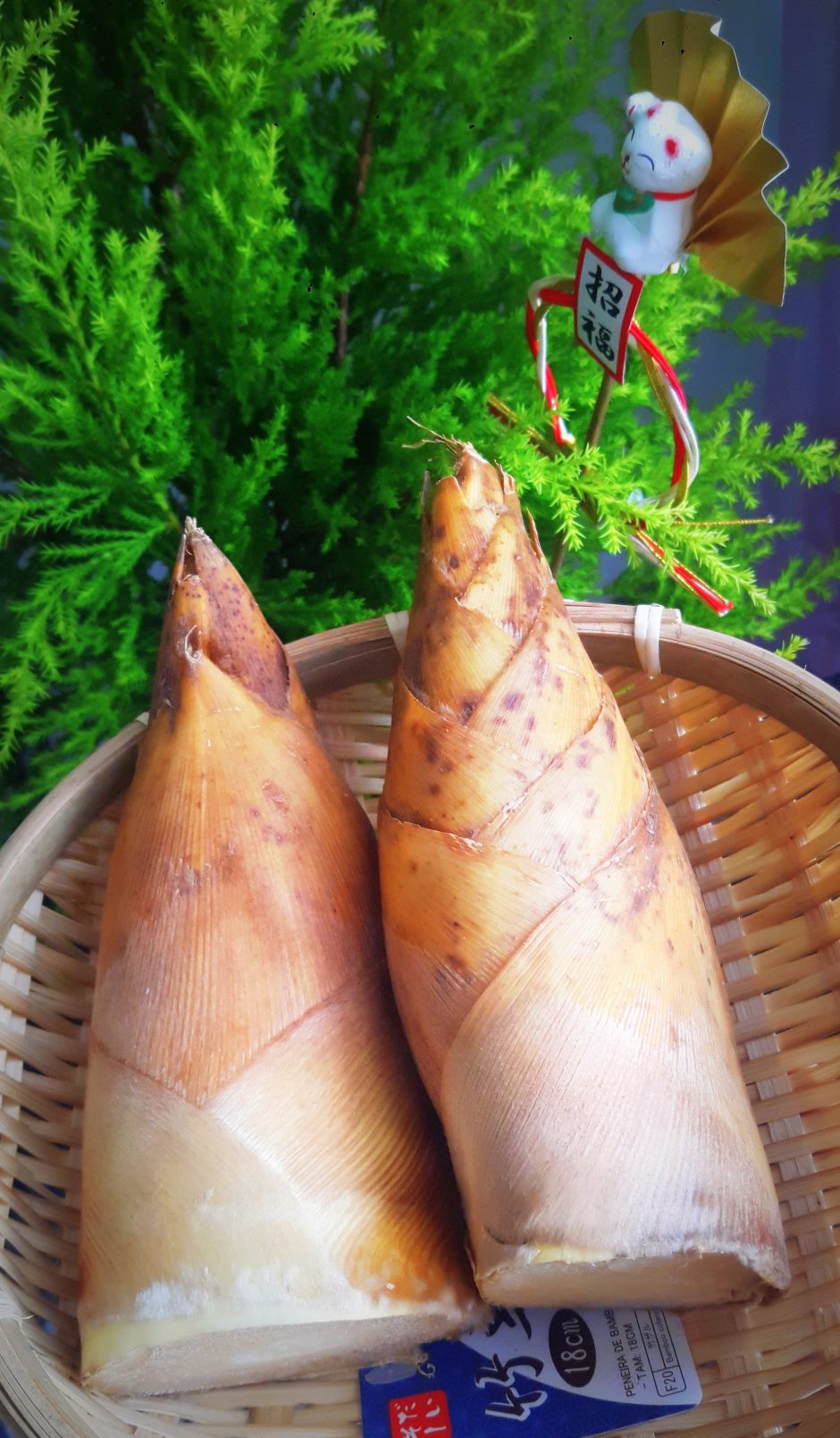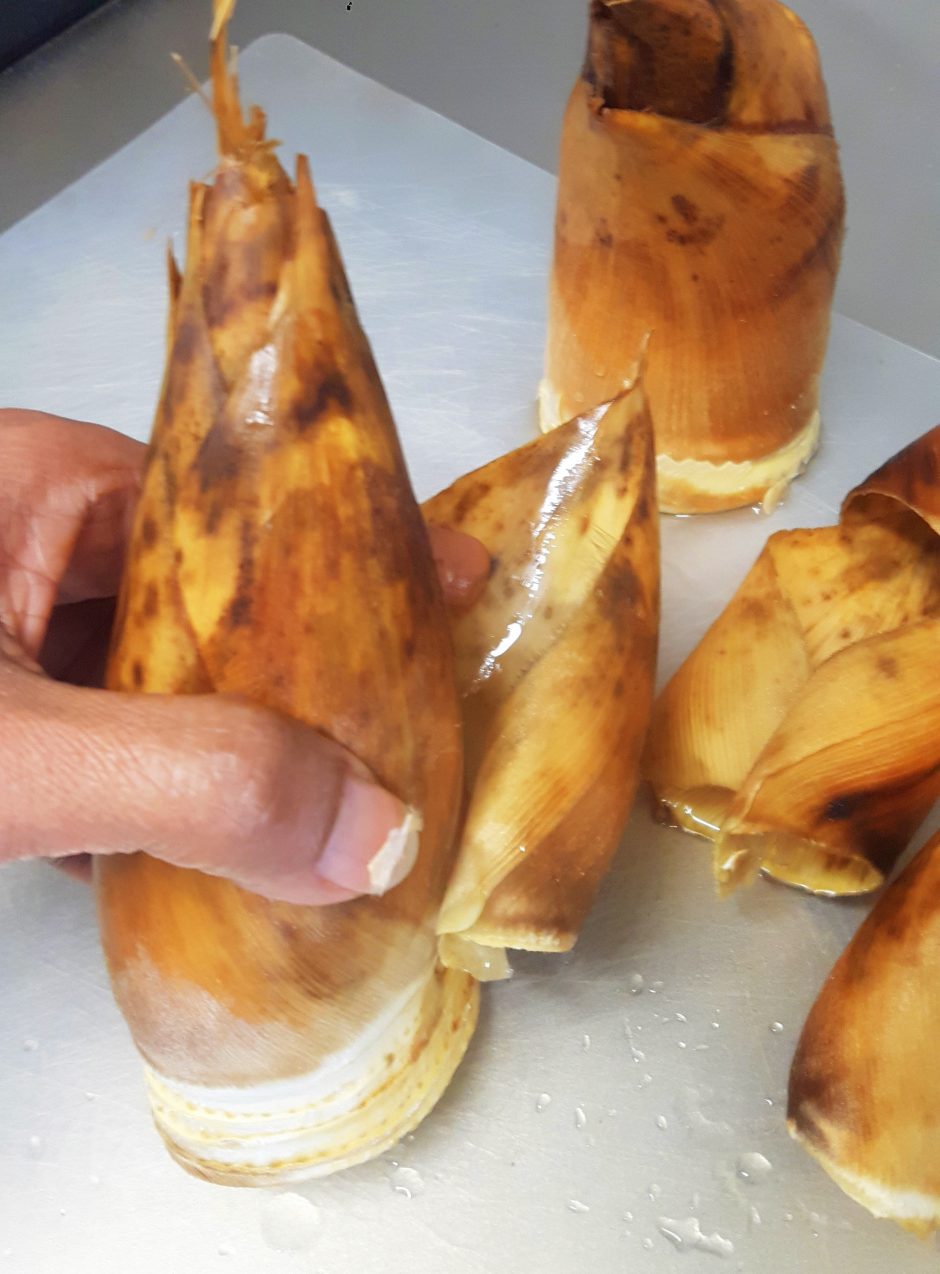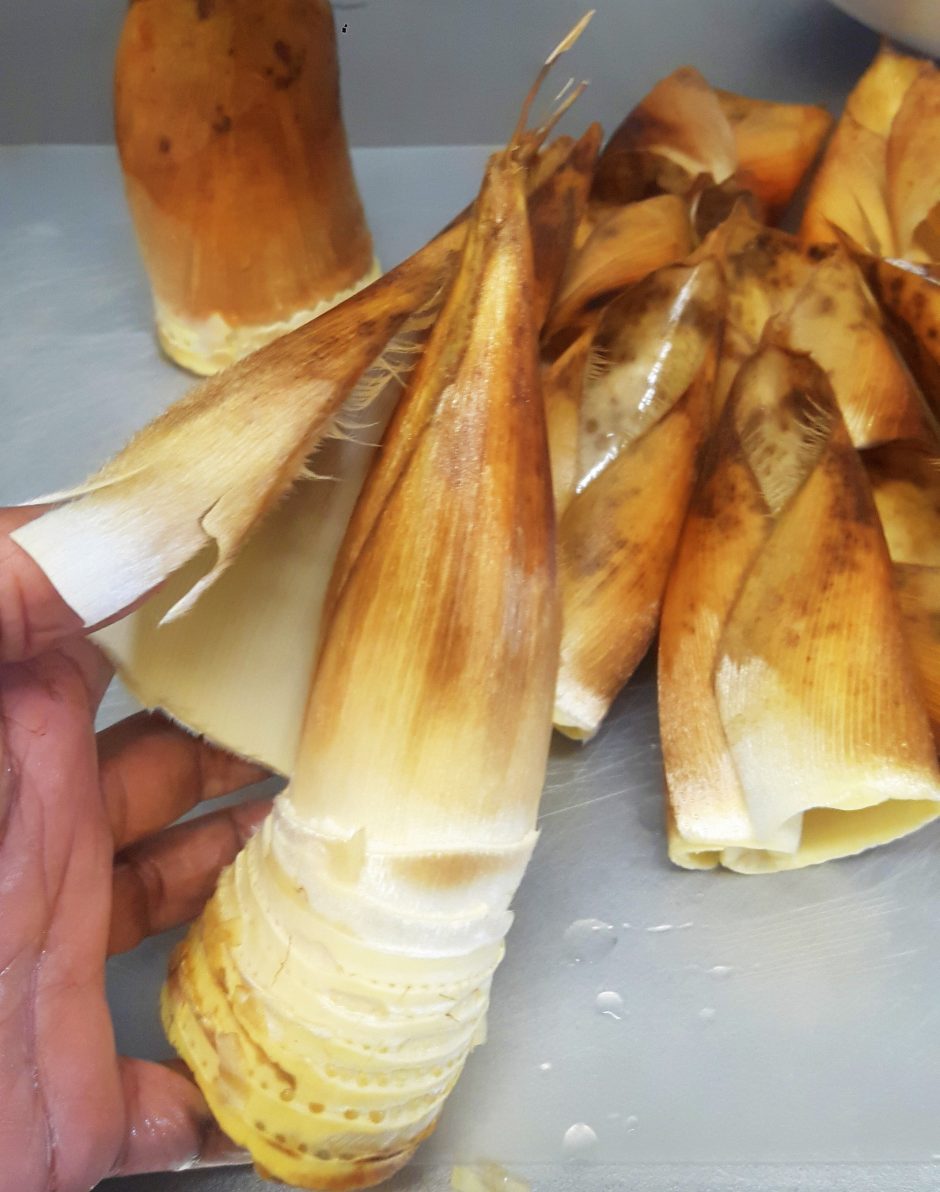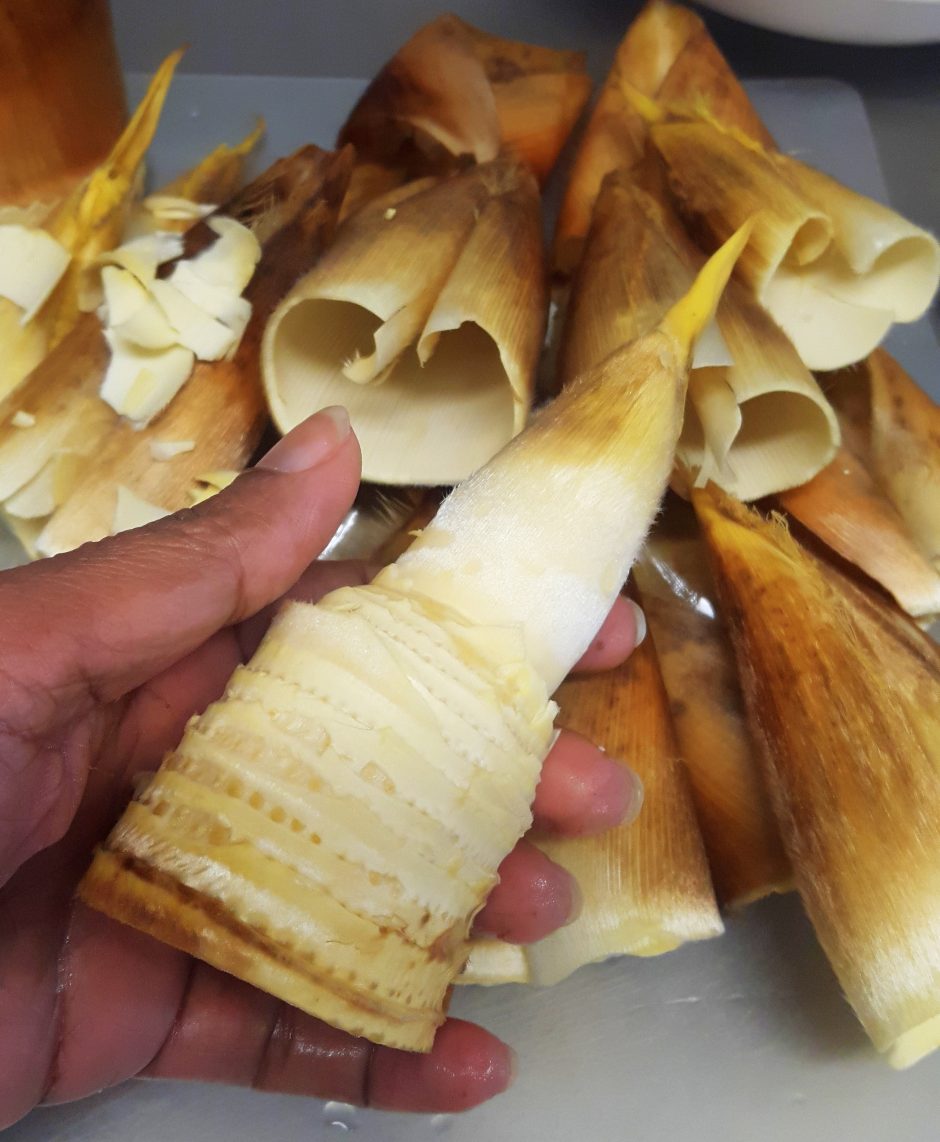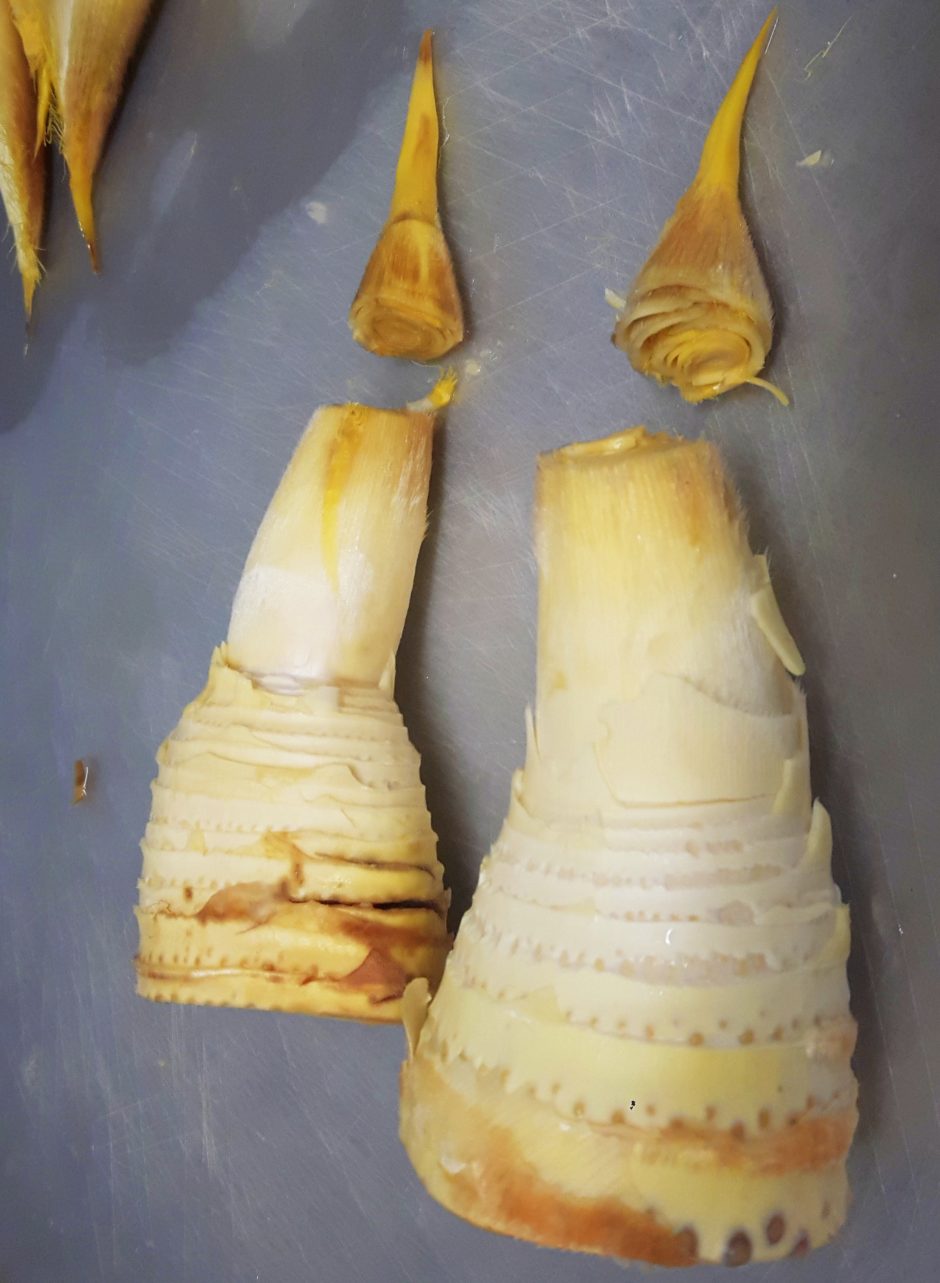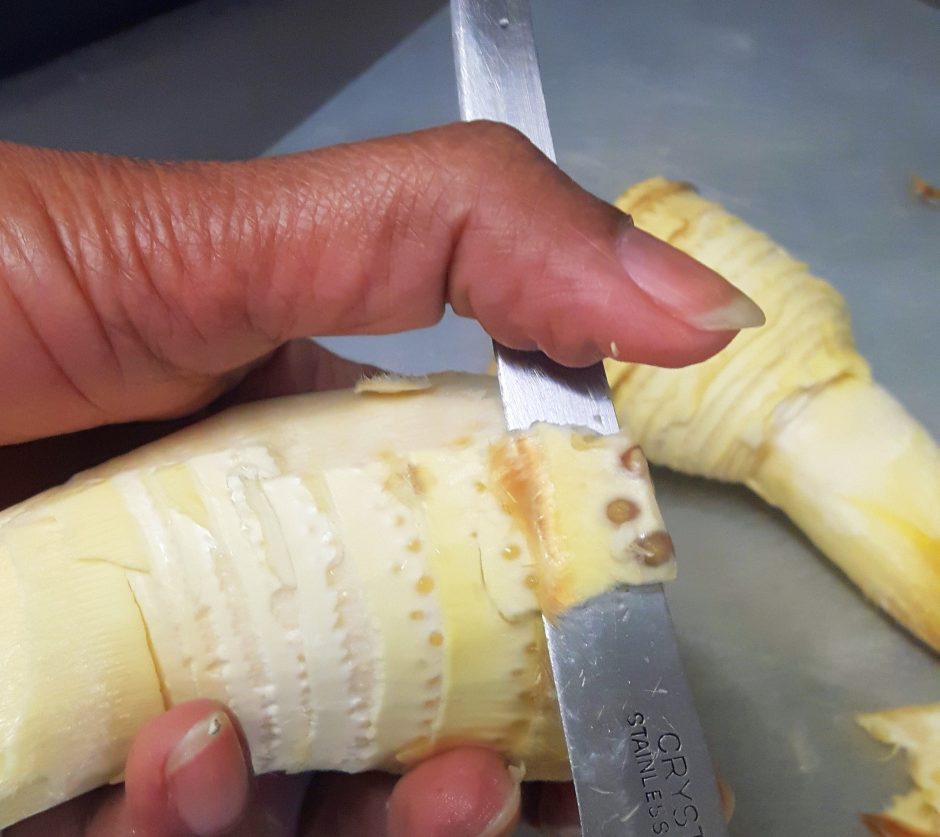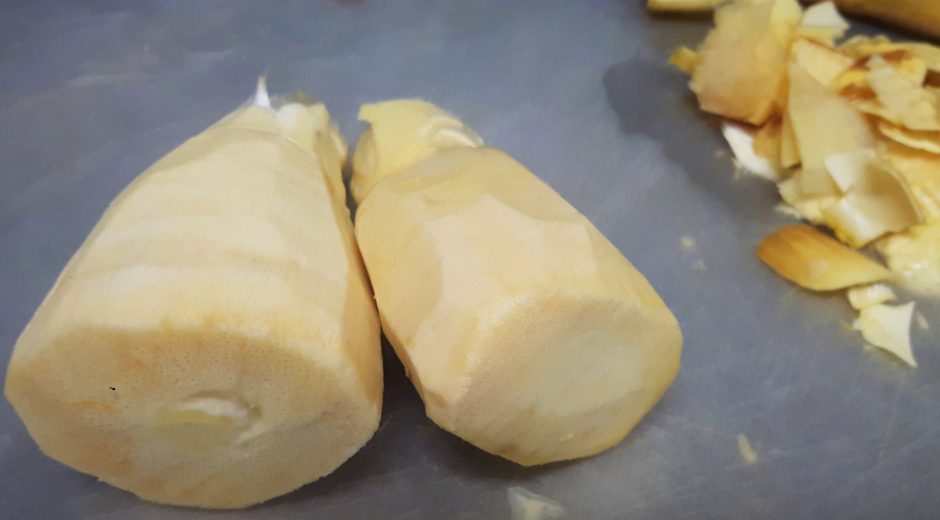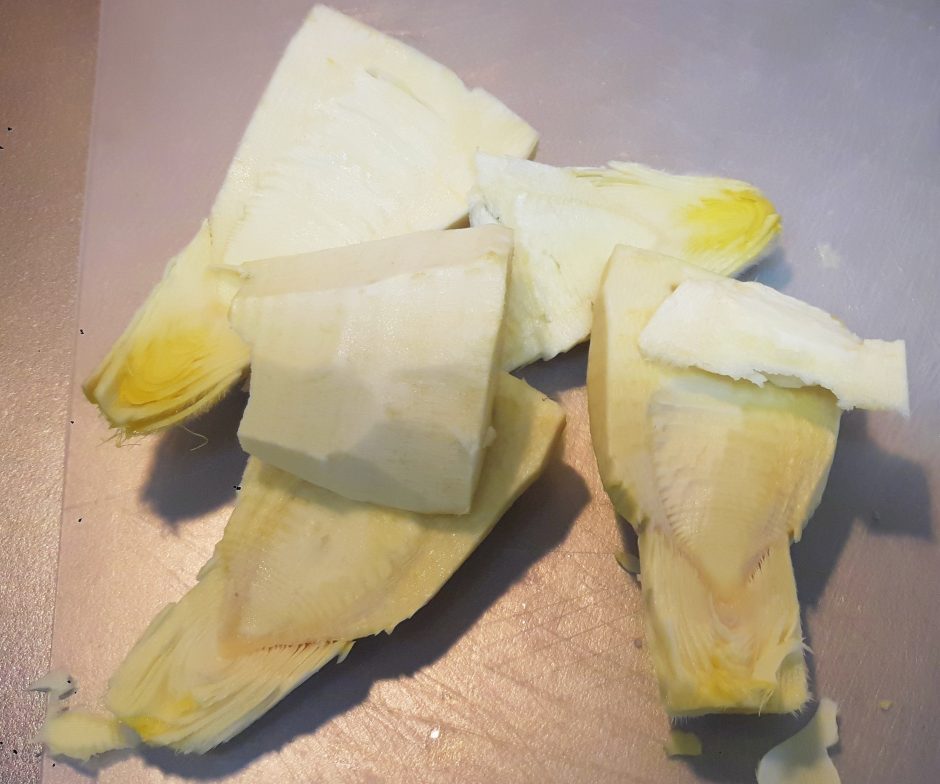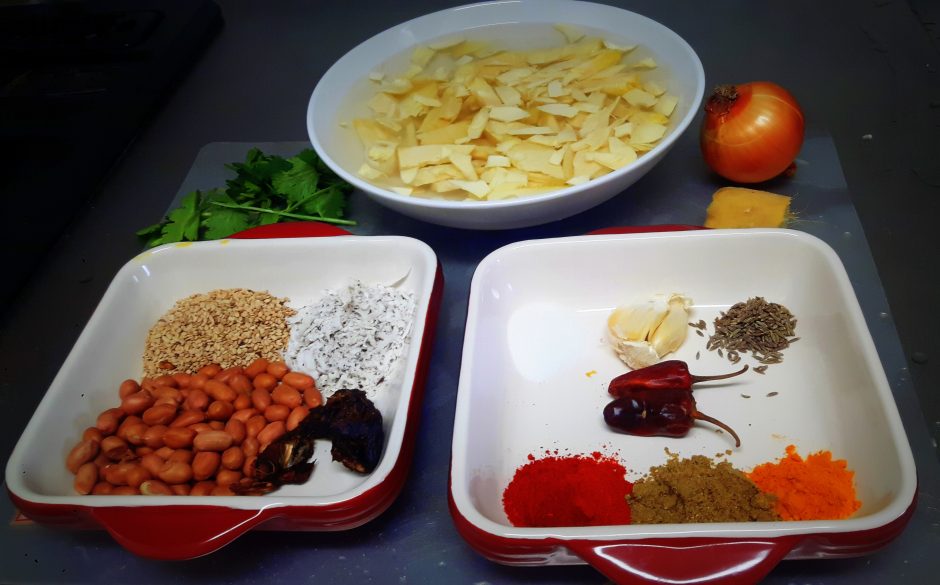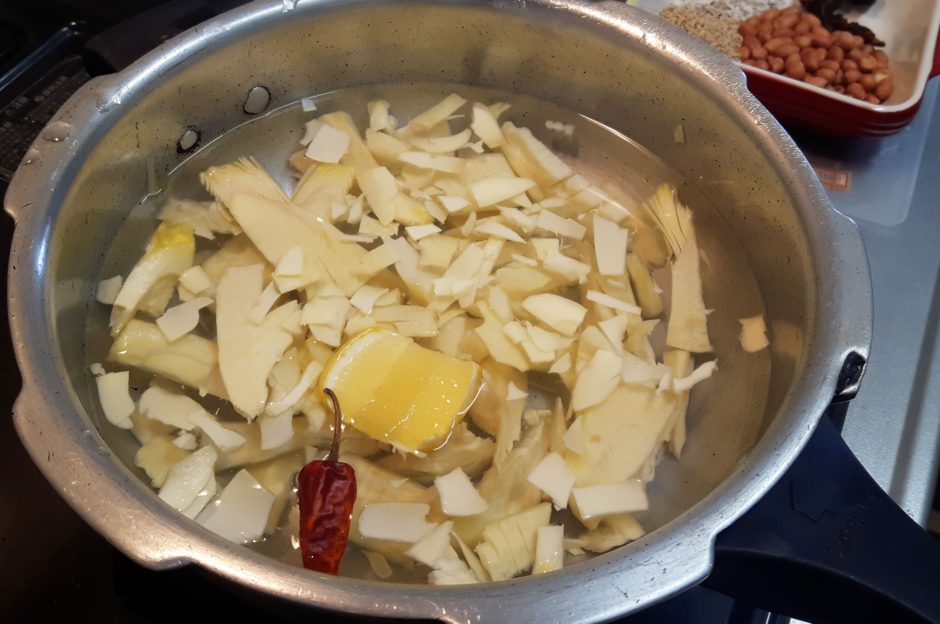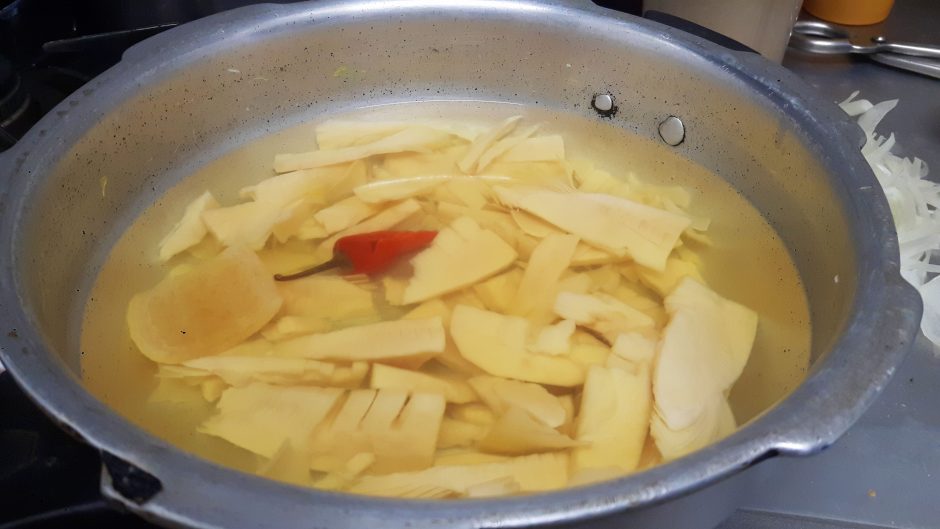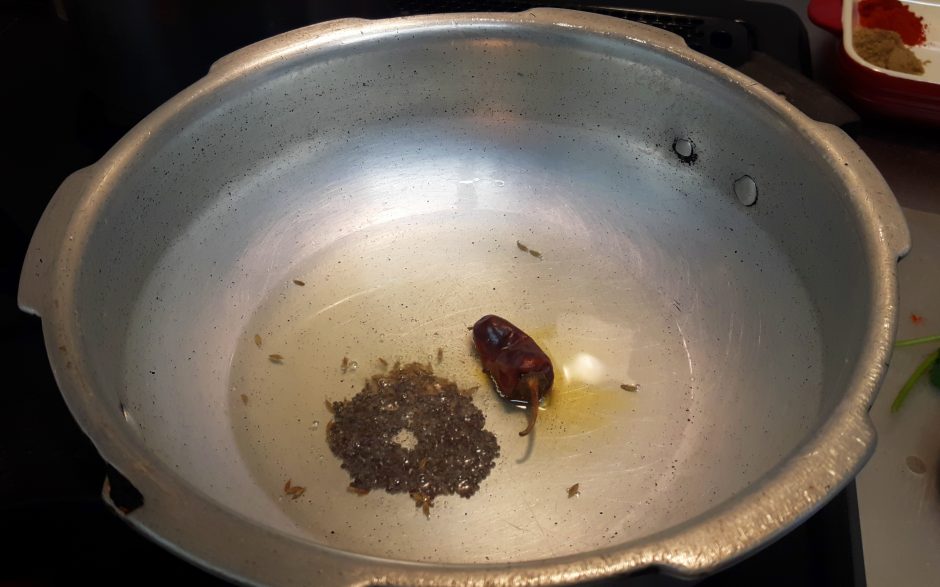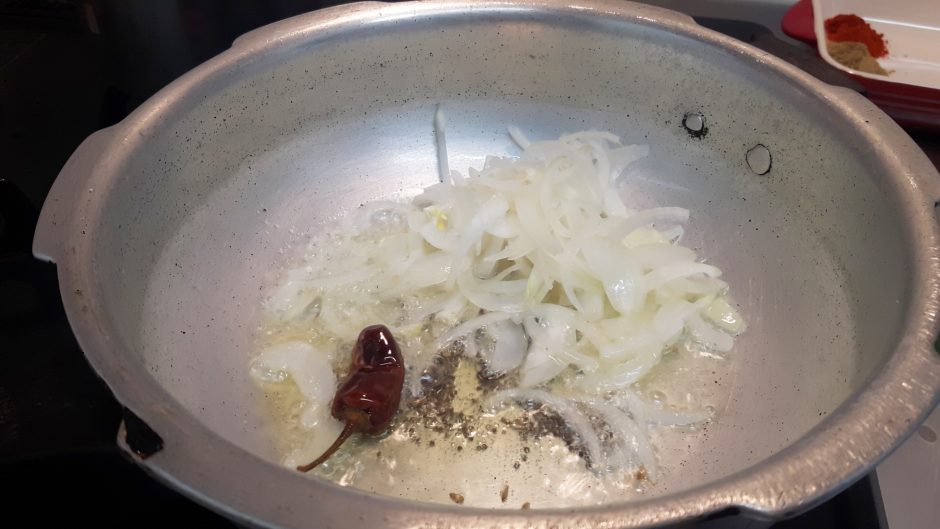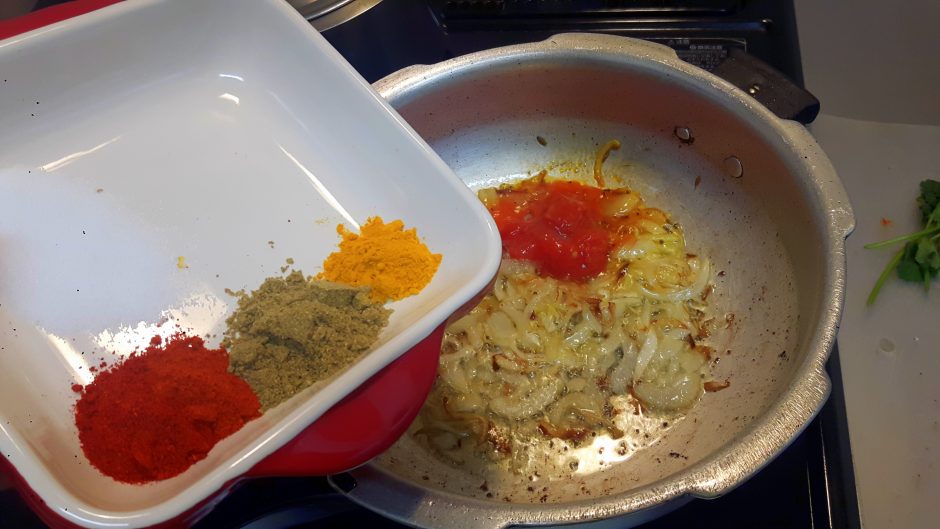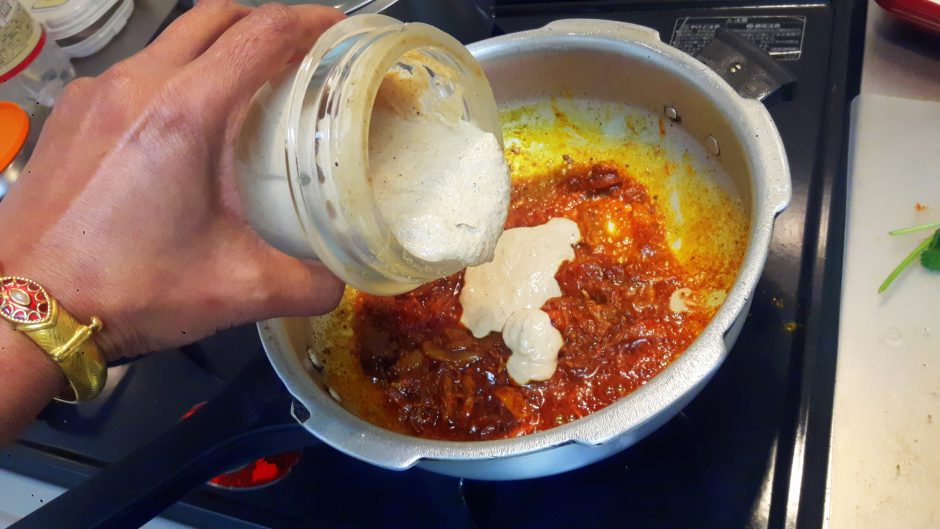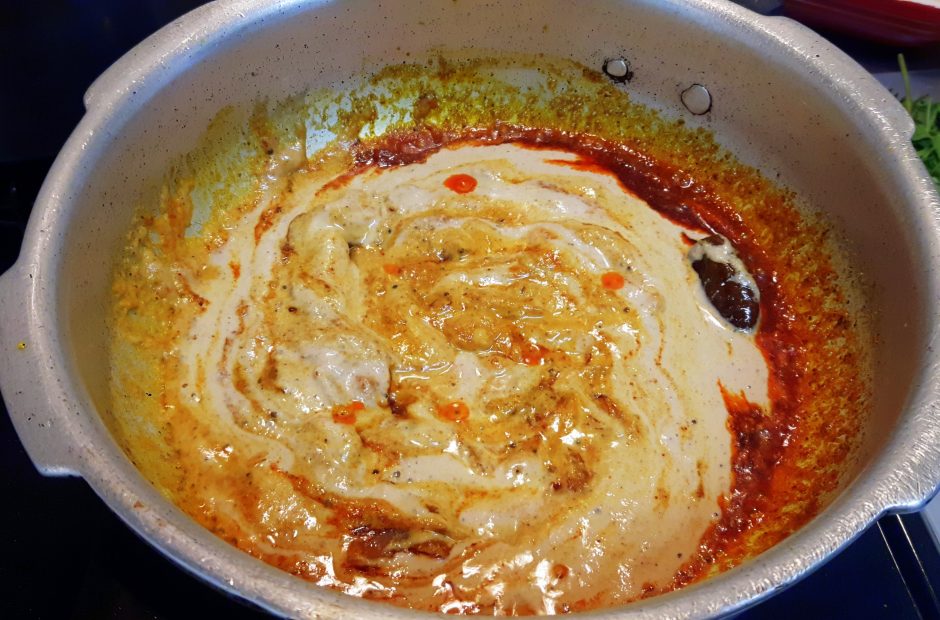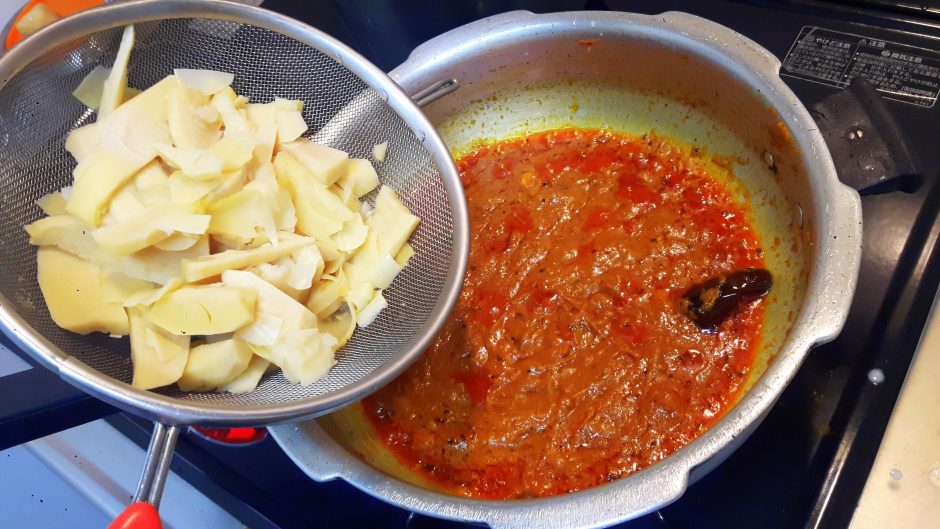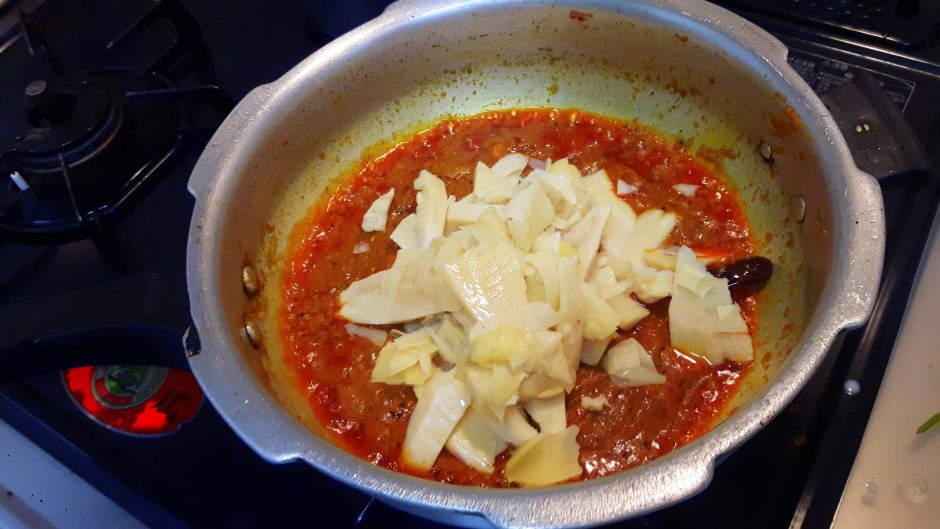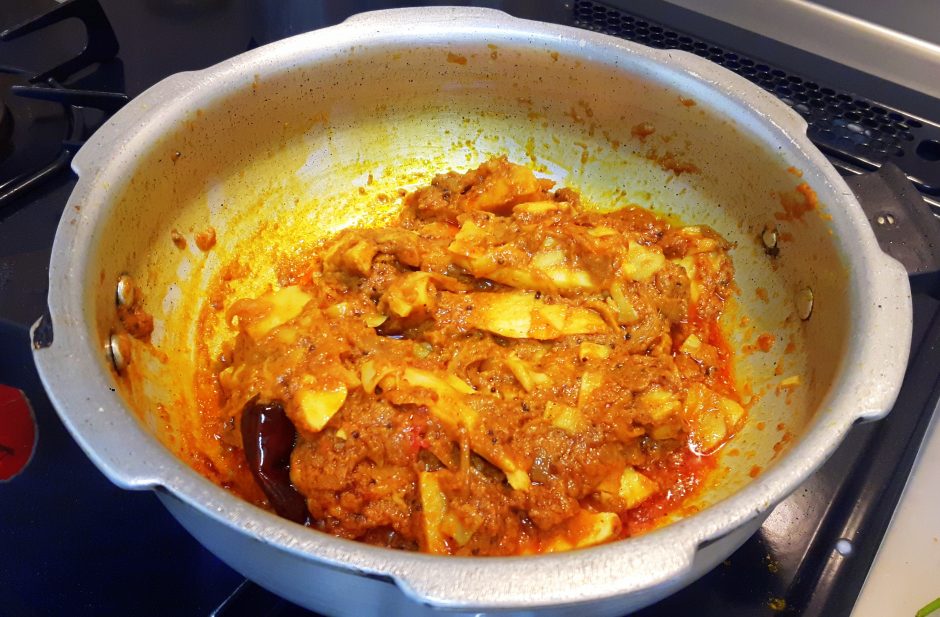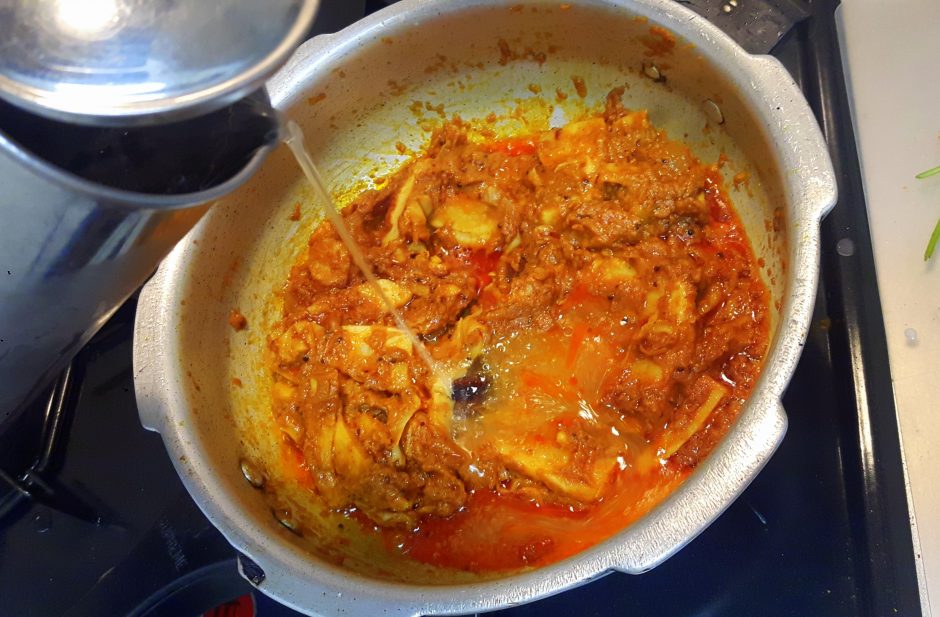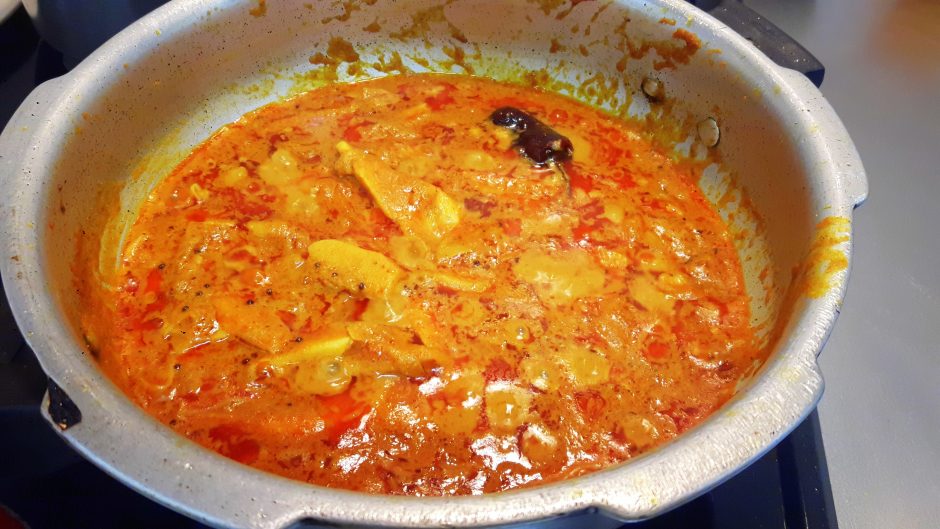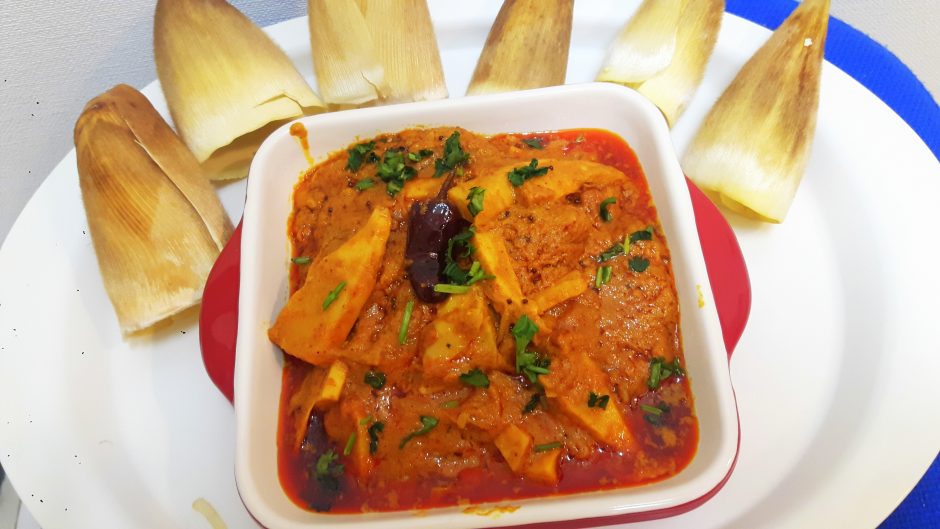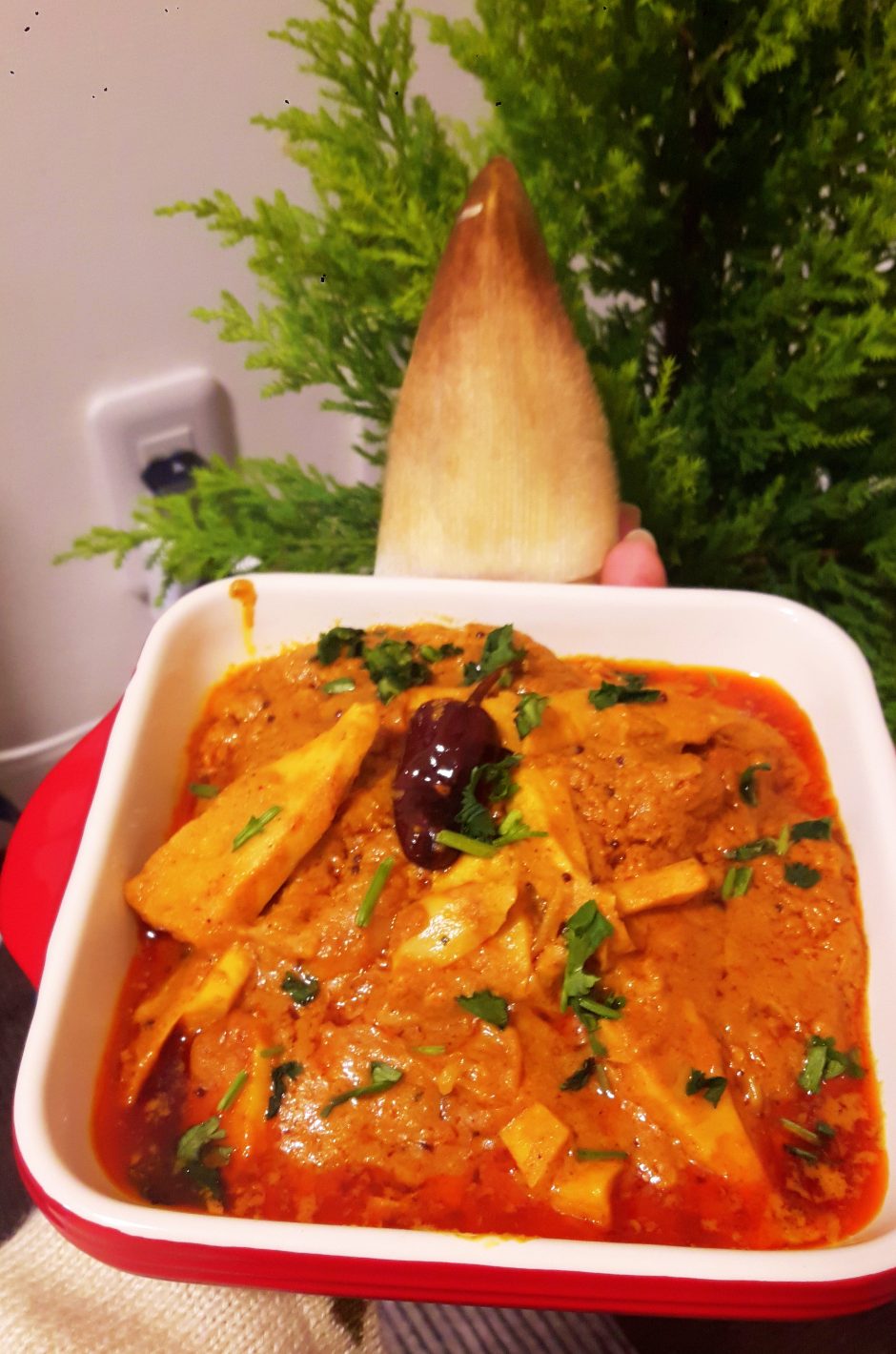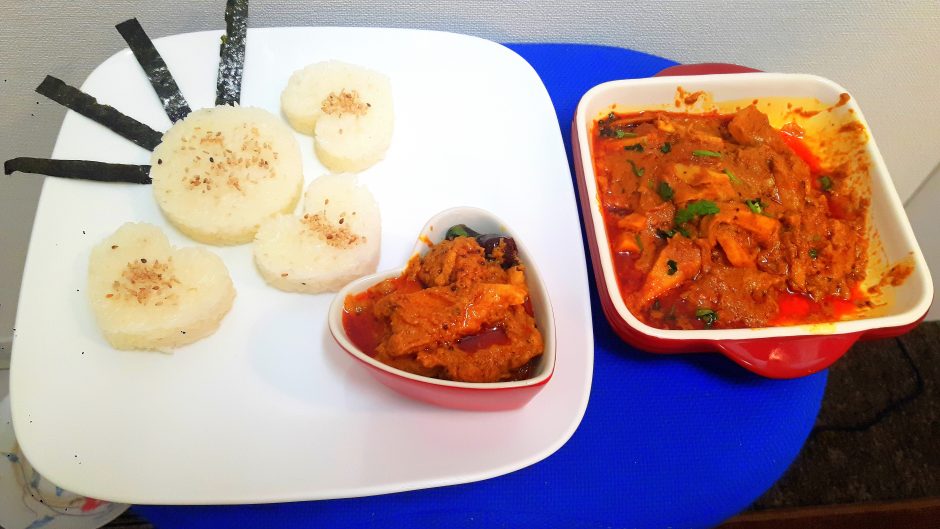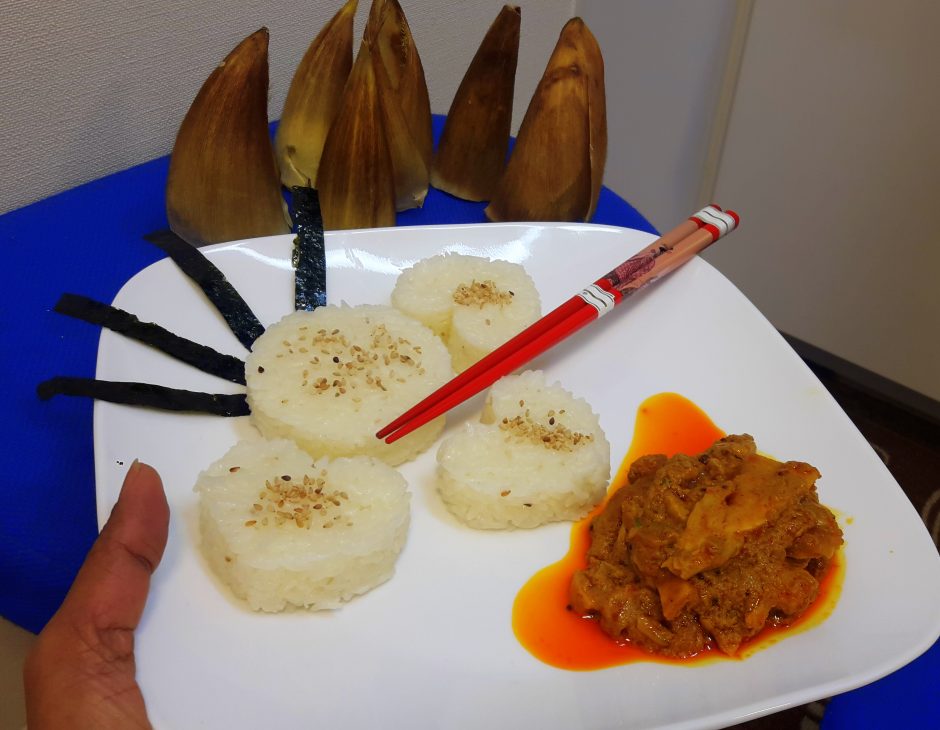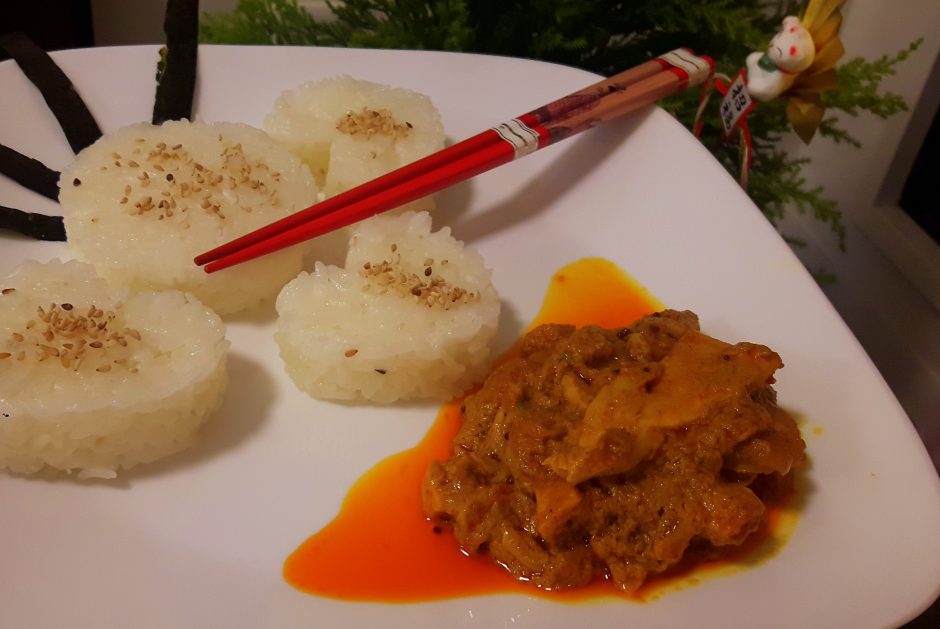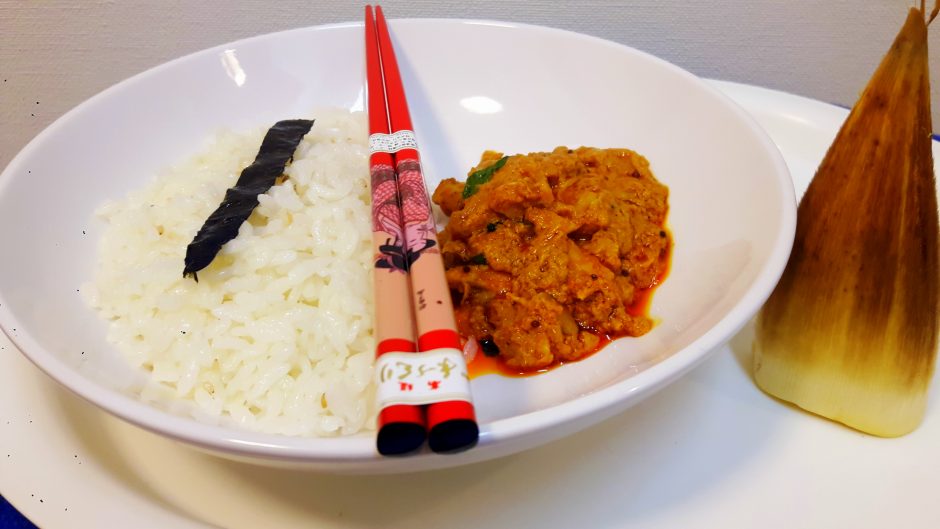 Bamboo shoot (Takenoko) masala by Nag Ratna Sahu is licensed under a Creative Commons Attribution-NonCommercial-ShareAlike 4.0 International License.