Kadhi with Jackfruit-seed pakoda is an exotic dish goes best with steam rice. The smooth, thick, piping hot bowl of kadhi is great with any meal, made from ripen jackfruit seed. The taste is delectable and enjoyable… is going to be family favorites… must try this and give the feedback…
Ingredients:
For Karhi:
Besan (gram flour): half cup
Curd/yogurt (sour): 1 cup
Salt: 1 tablespoon
Water: 4 cup
Turmeric powder: 1 teaspoon
Ginger: 1inch (grated)
Onion: 1 no.
Clove: 2-4 no.
Fenugreek seed: ¼ teaspoon
Ajawine (carom seed): ½ teaspoon
Red chili: 2 no.
Bay leaf: 1 no.
For pakoda:
Jackfruit seed: 20-22 no.
Besan: 2 tablespoon
Onion: 1 no.
Green chili: 1 no.
Salt: half teaspoon
Oil: for deep frying
For seasoning:
Cumin: 1 teaspoon
Mustard seed: ½ teaspoon
Asafoetida: ¼ teaspoon
Ghee: Two tablespoon
Red chili powder: One teaspoon
Preparation:
Beat curd, mix gram flour in a big bowl and blend them thoroughly. Ensure that there are no lumps in it. Or (you can mash it with the help of sieve), keep aside.
Cut onion, green chili and ginger into small pieces, keep aside.
Ground jackfruit seed till get fine texture of paste, keep aside.
For making pakora:
Take a bowl. Put Ground jackfruit seed paste, Besan, salt, chopped half onion, green chili, mix well and make small lemon size ball, keep aside.
Take kadhai (fry pan), heat oil in it, let oil start to smoke; Dip fry balls as shown the photo, fry the ball till golden brown. Keep aside.
Repeat this till all batter is finished.
For making Karhi:
Take another fry pan, heat 2 tablespoon oil in it.
 Put red chili, fenugreek seed, ajawine, bay leaf, and clove. Sputter it for few seconds.
 Then add grated ginger and onion; fry this till light brown, put mixture (curd and Besan) in the fry pan, add salt and turmeric powder in it add water slowly, if needed.
Bring it to boil and stir continuously, so that it does not cuddle, simmer for 15-20 minutes and stir occasionally.
Put these balls into Karhi and boil again for 3-4 minutes.
Now 'Kadhi with Jackfruit-seed pakoda' is ready.
For seasoning:
Take a small fry pan. Put ghee in it, when smoke begins to come, add cumin and mustard; sputter for few seconds put off the gas. Add red chili powder and asafoetida.
Spread this seasoning all over the 'Kadhi with Jackfruit-seed pakoda'.
Serve with steamed rice or jeera rice (cumin rice).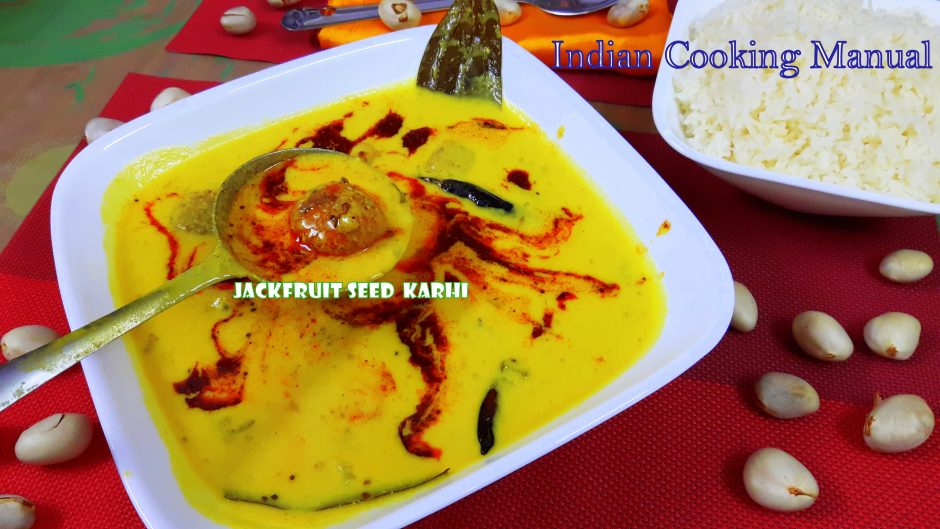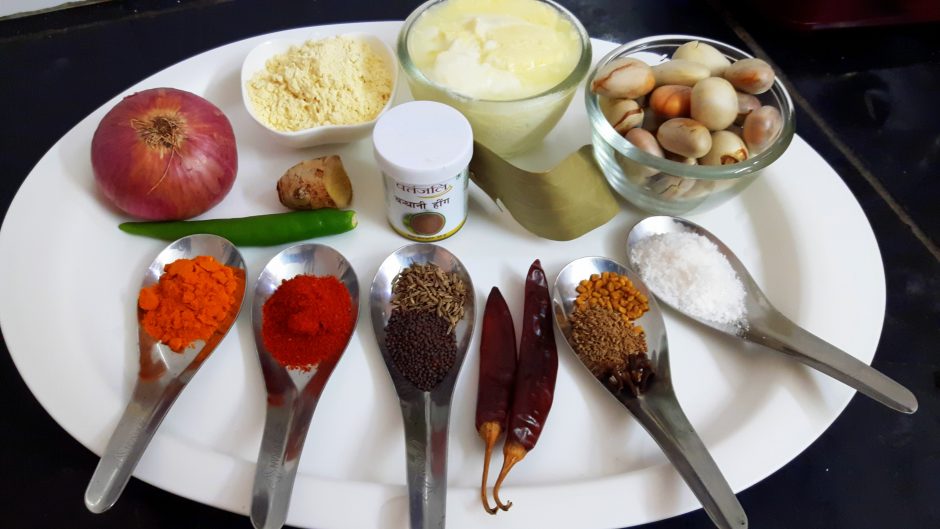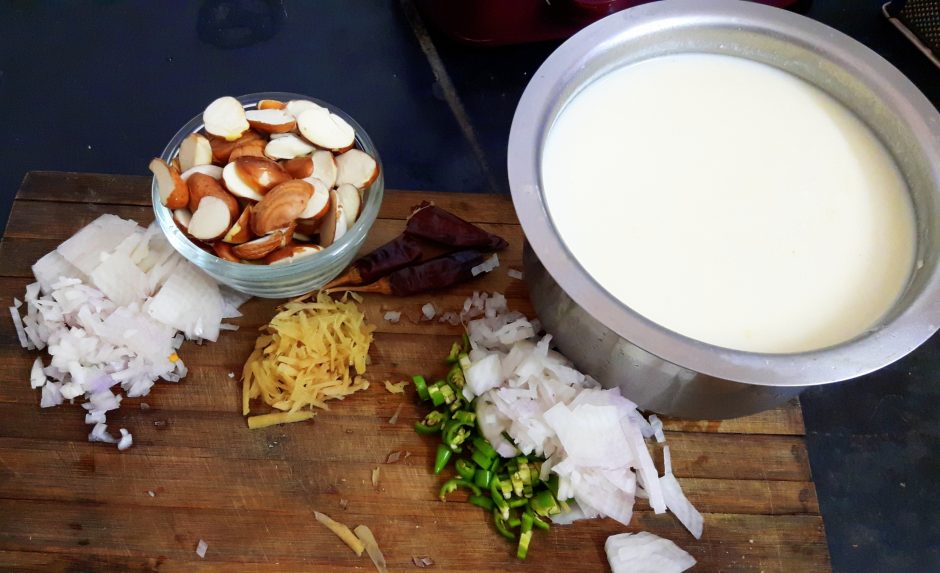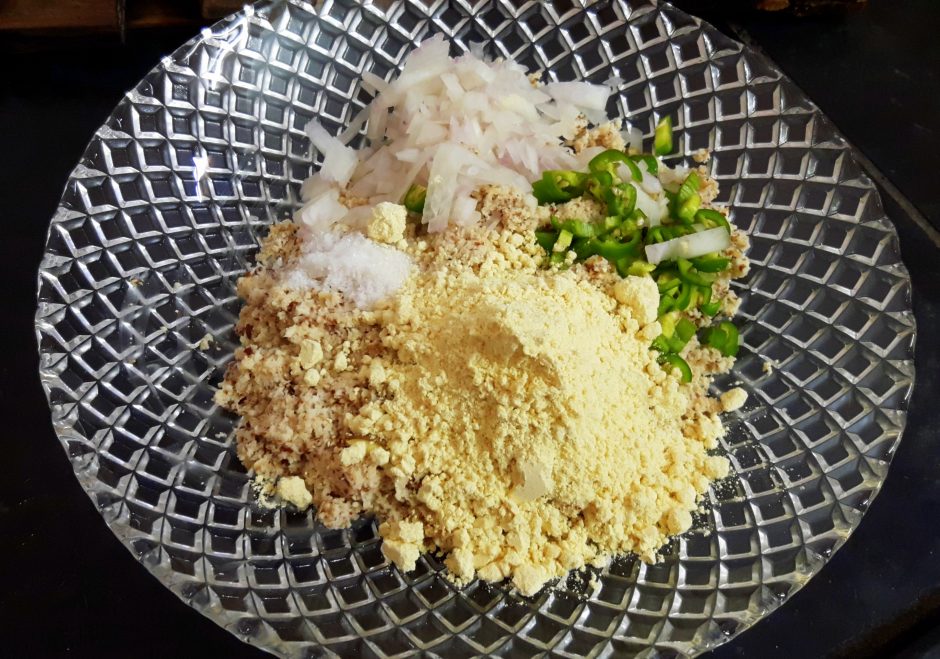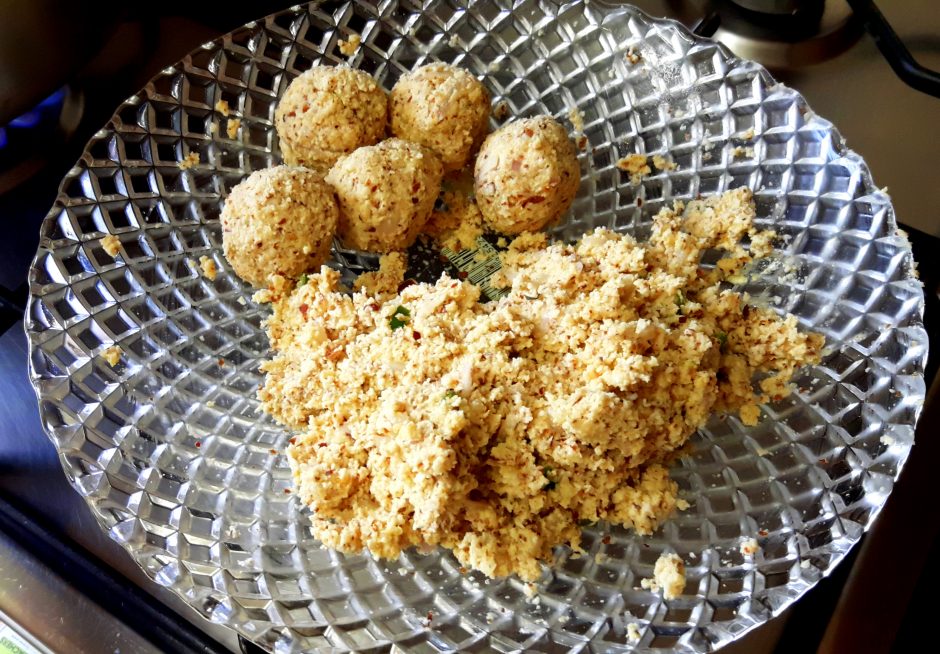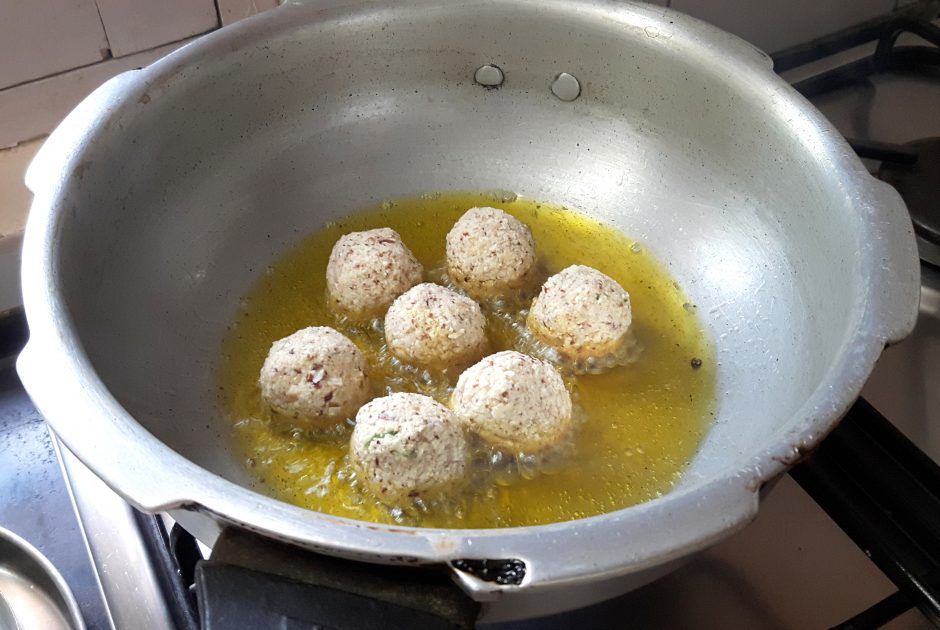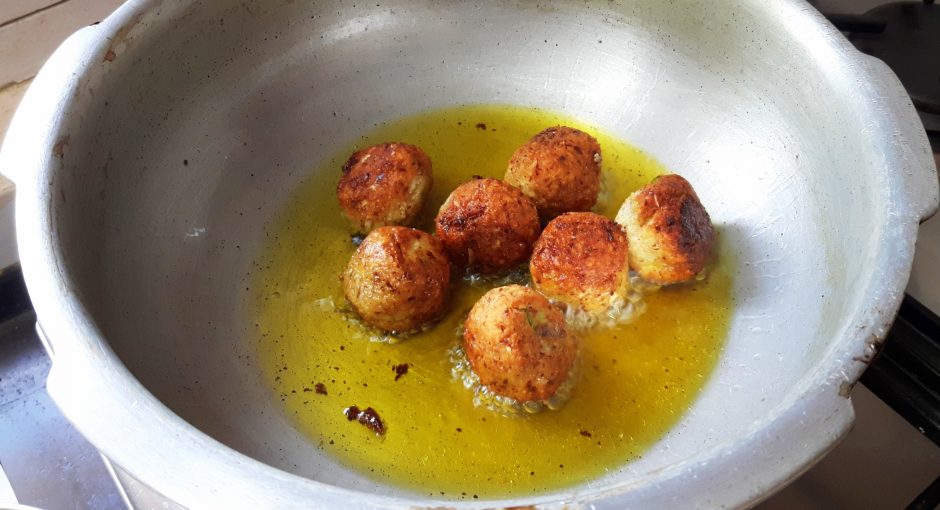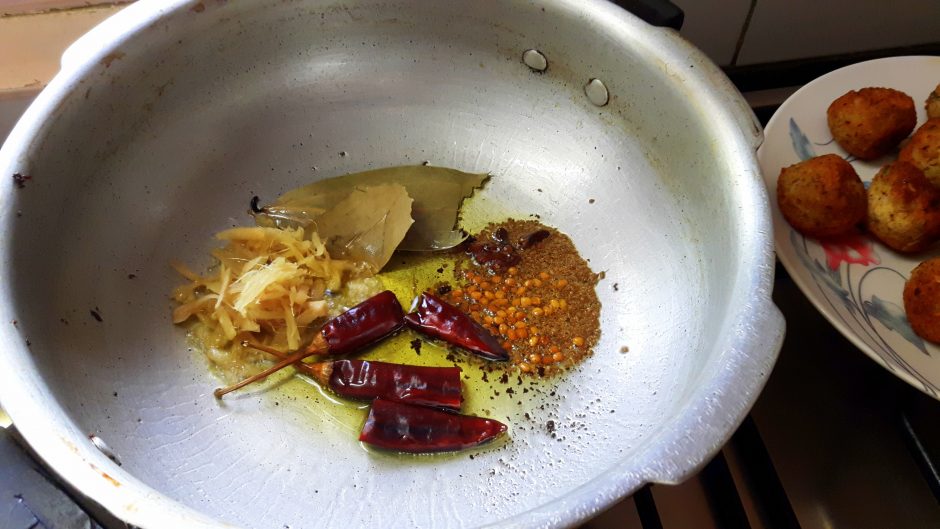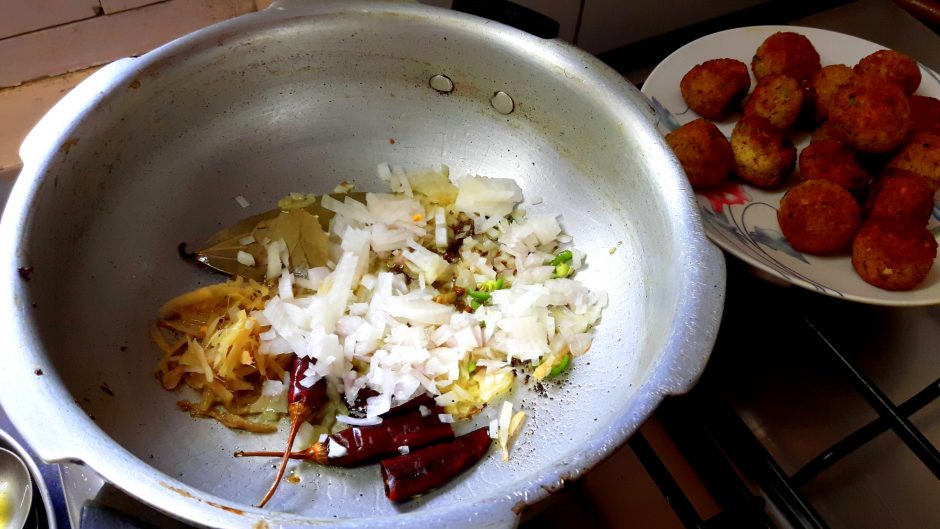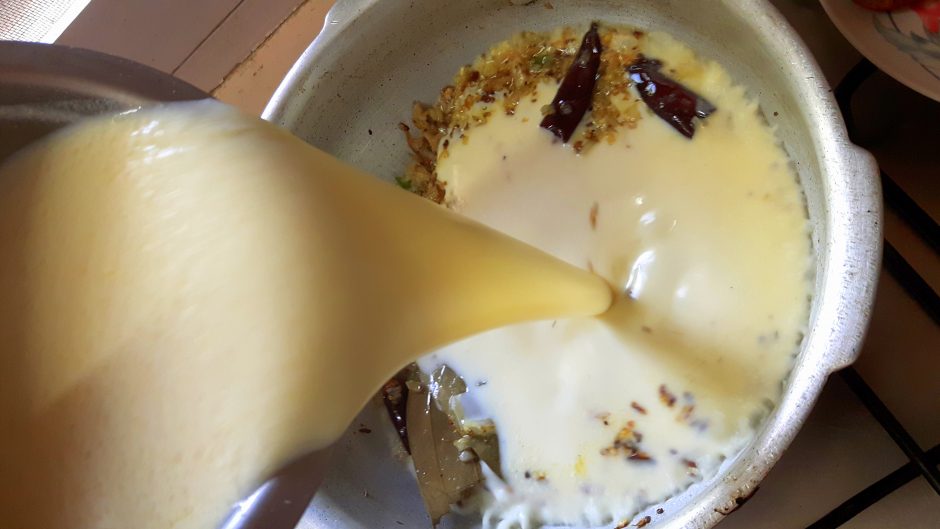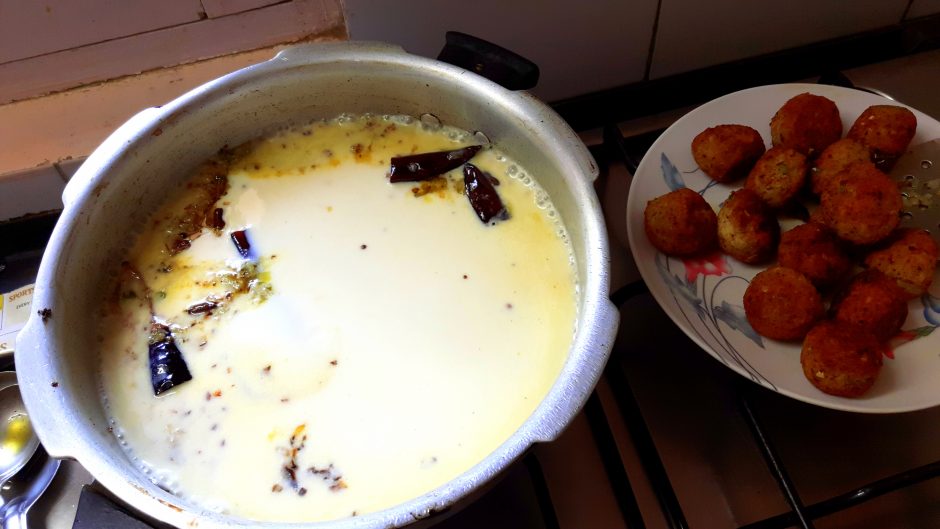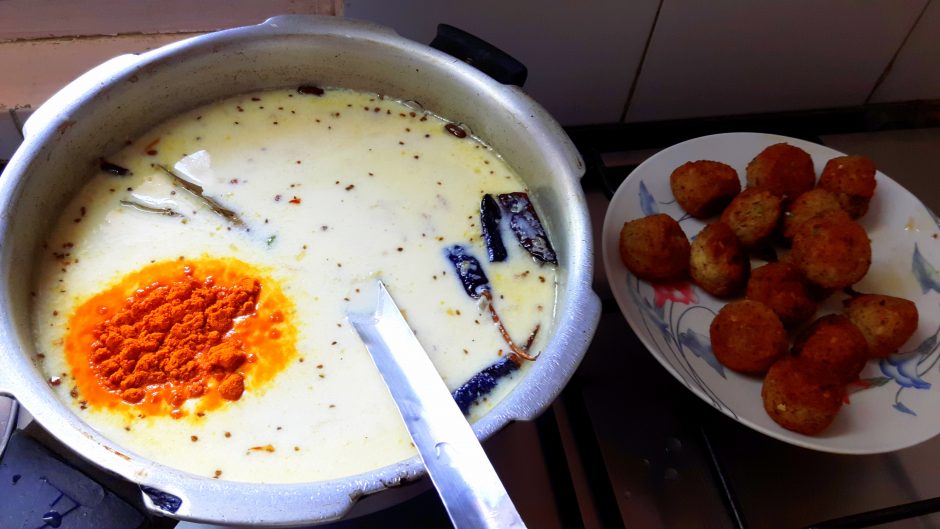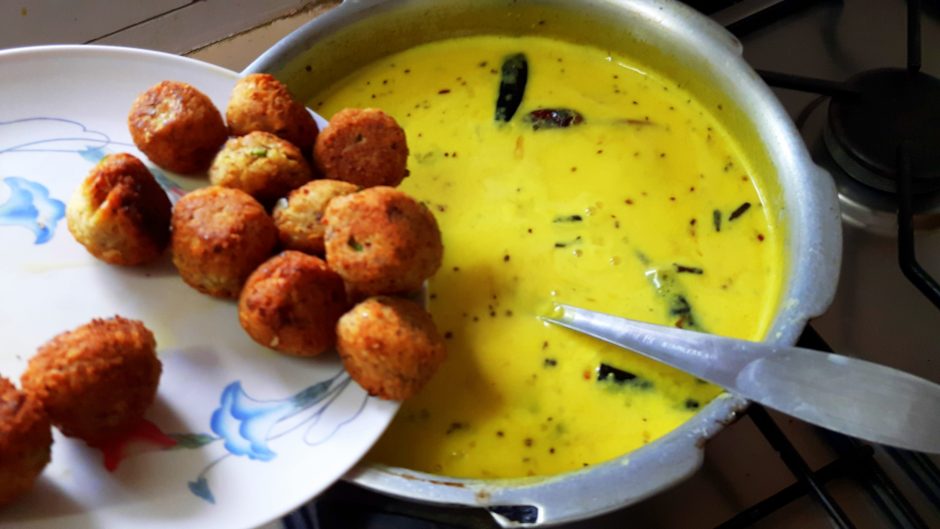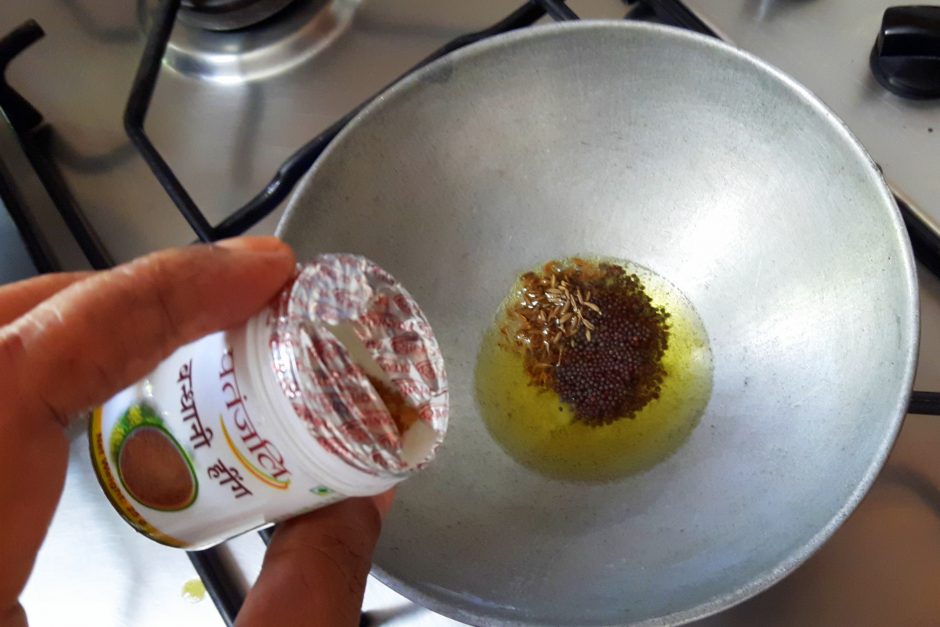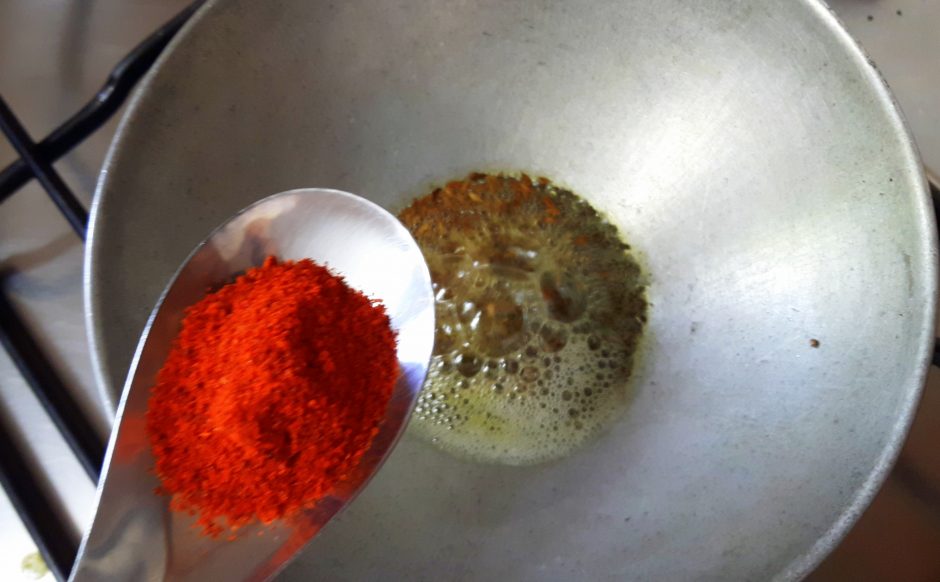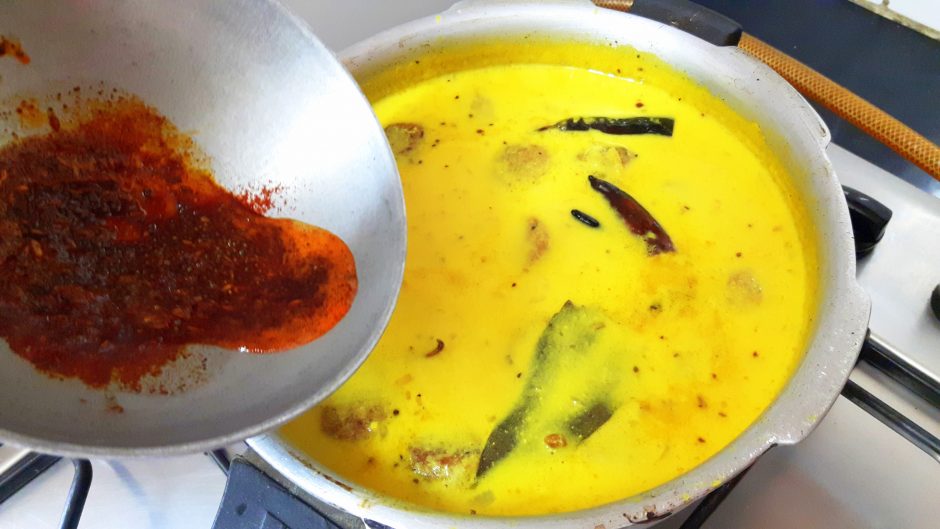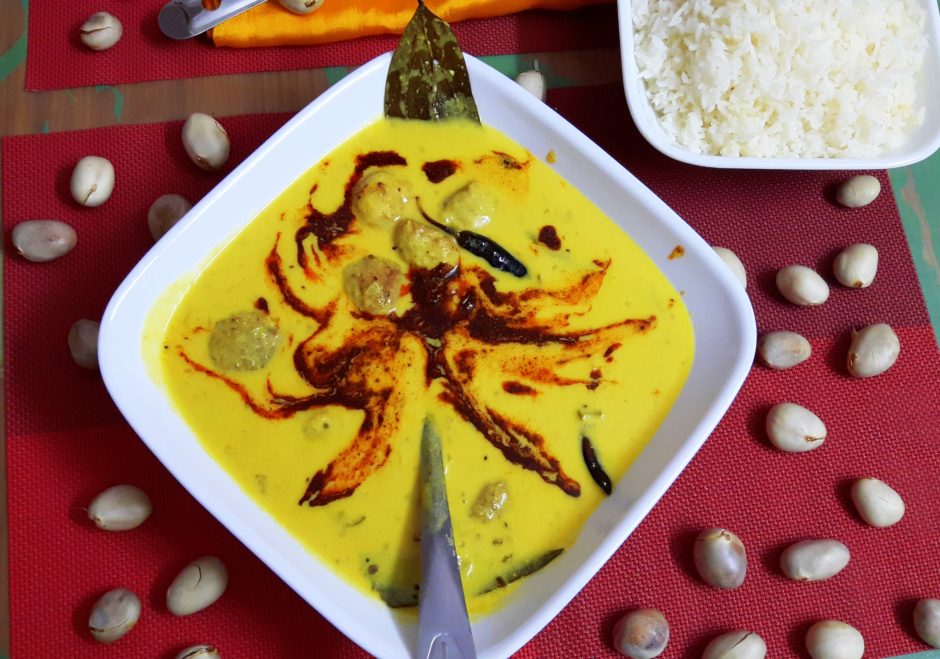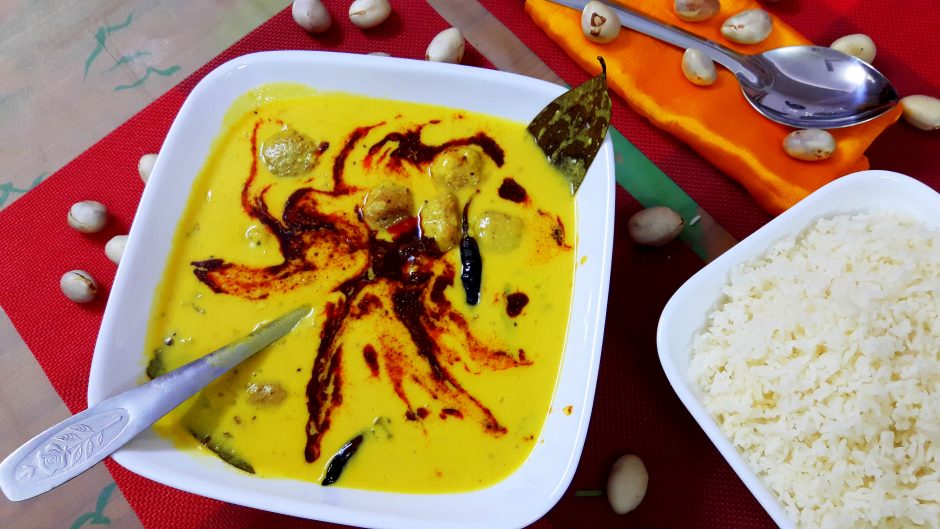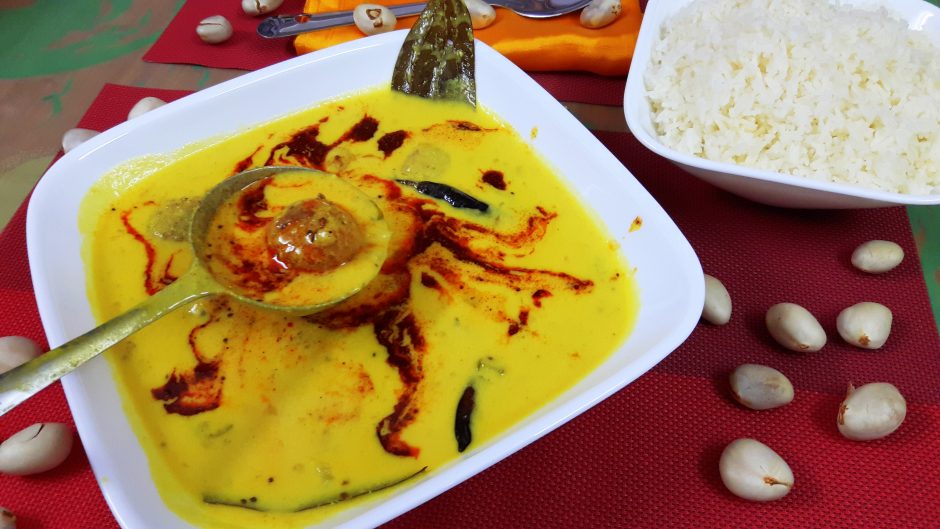 Kadhi with Jackfruit-seed pakoda by Nag Ratna Sahu is licensed under a Creative Commons Attribution-NonCommercial-ShareAlike 4.0 International License.