We (my family and friends) love the recipe and have a special place in our hearts… and have confidence that it will be surely liked by guests too…it happened in last month when couple of my friends visited our place for lunch. I prepared many items but they liked it so much that after their 1st bite only they told me "this recipe alone is more than sufficient".
Enjoy the weekends with delicious 'Stuffed mashed-potato Poori (Stuffed mashed-Aaloo Poori)'as brunch …
Ingredients:
For dough:
Aata (wheat flour): 1 cup
Maida (refined flour): 1 cup (optional)
Ghee: 2 tablespoon (for moin that is put it into dough itself).
Onion seed: half teaspoon
Carom seed: half teaspoon
Salt: half teaspoon.
Ghee/ cooking oil: for deep frying
For stuffing:
Potato: 200-250 gm
Onion: 1 no. (Medium size)
Ginger: 2" pieces
Mint leaves: 50 gm
Mustard seed: ½ teaspoon
Cumin seed: 1 teaspoon
Fennel seed: 1 teaspoon
Green chili: 1-2 no.
Salt: 1 teaspoon
Chili powder: ½ teaspoon
Dry mango powder: ½ teaspoon
Kala namak (black rock salt): ½ teaspoon
Garam masala powder: ½ teaspoon
Cooking oil: 1 tablespoon
For making dough:
Take a wide vessel; pour Aata, Maida, 2 tablespoon ghee, onion seed, carom seed and salt. Mix well by rubbing between palms.
Add water in small quantity and knead them, if required, put some more water till the dough becomes soft.
(The dough can be made in food processor also)
Cover and Keep aside, to be used after 10-20 minutes.
For making stuffing:
Boil and mash potatoes, keep aside.
Heat 1 tablespoon of oil in a fry pan; add cumin seed, funnel seed and mustard seed, sputter for few seconds, add chopped green chili, ginger and onion. Add salt, chili powder, mint leaves, dry mango powder, Garam masala and mashed potatoes; stir fry for 4-6 minutes, Keep aside .Now stuffing is ready.
Divide stuffing as well as dough into equal parts and make balls.
Method:
Roll the dough ball in 2-3 inch diameter circle, place stuffing ball in the centre of the circle: fold it and seal the edges by pleating and join properly: now press this ball slightly with the help of palm.
Again roll this ball into the wheat flour, roll the ball with the help of rolling pin gently, till  3-4 inch dia. Now raw Poori is ready.
Heat oil in a fry pan on maximum flame (to check if oil is ready or not, put a little piece of dough in the oil it should come up slowly).
Deep fry the poories on medium flame: after they start to puff; slowly turn over, fry till it becomes golden brown.
Now, mouth watering Stuffed-Aaloo Poori is ready to eat with or without chutney as you wish.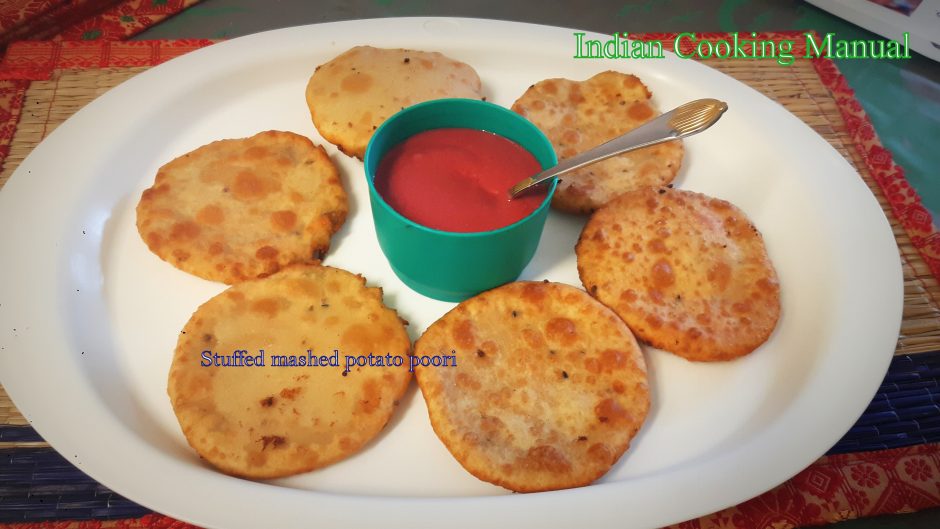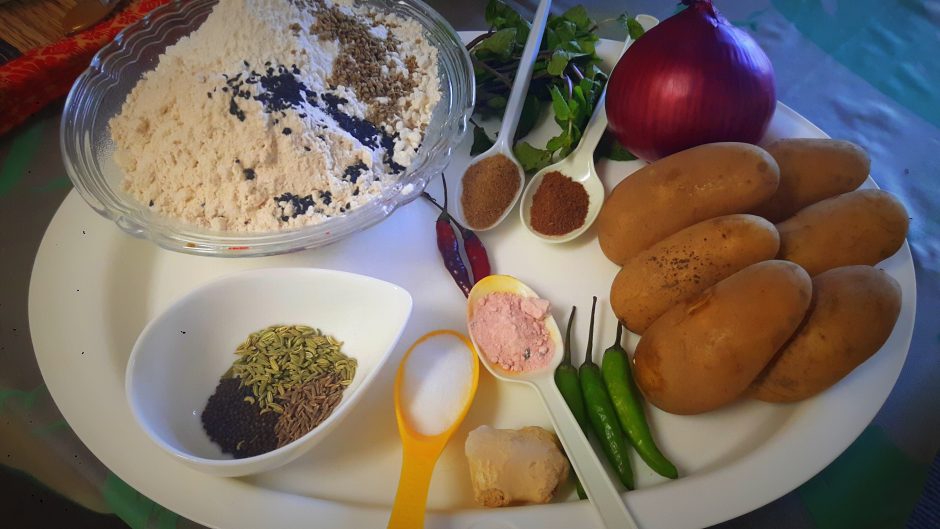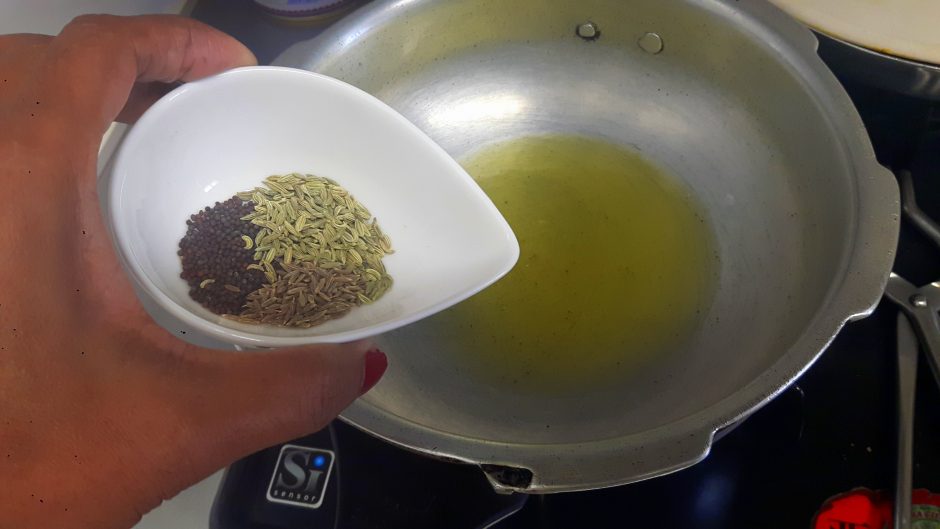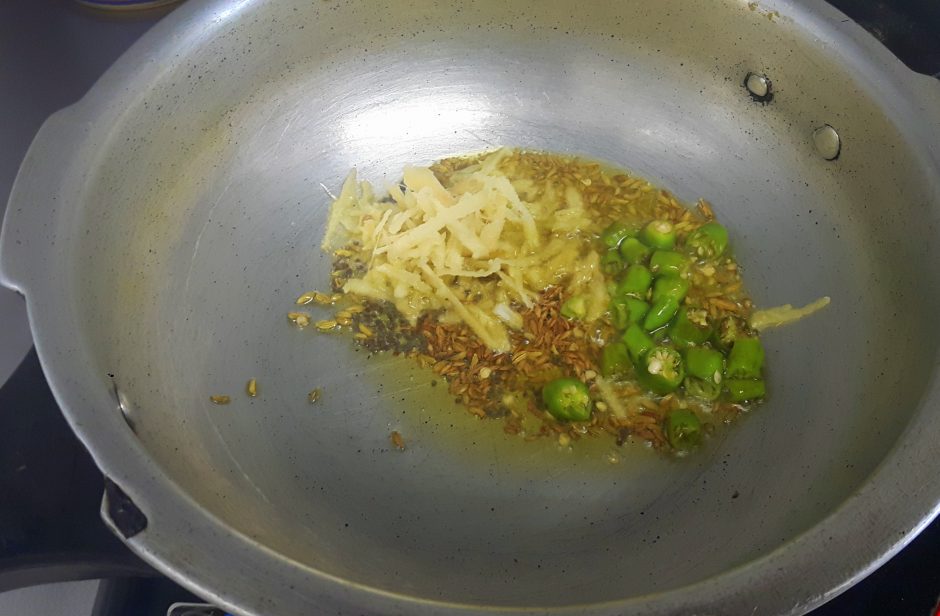 add chopped green chili, ginger and onion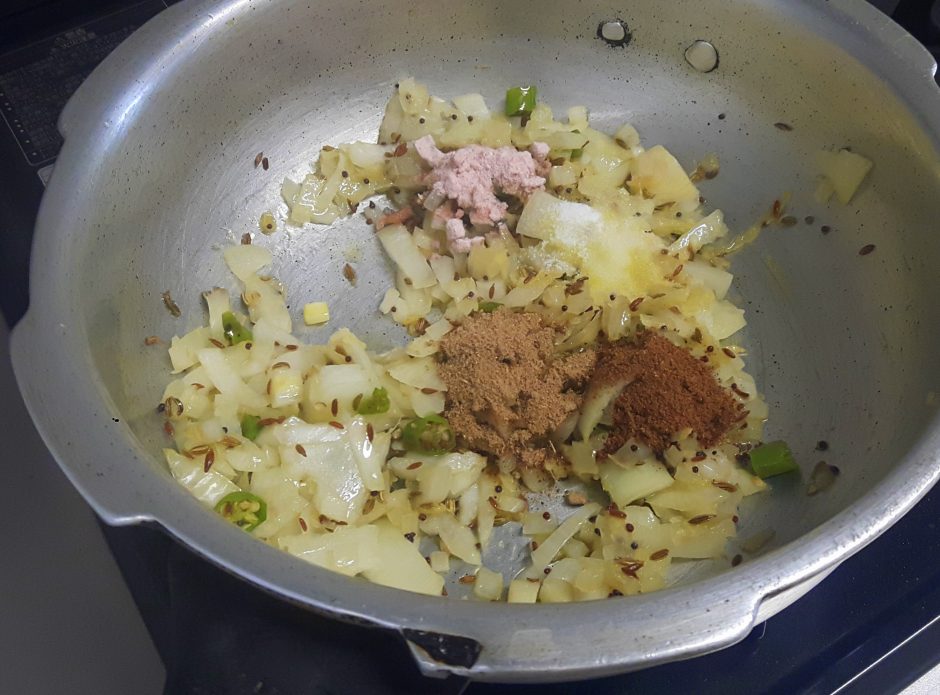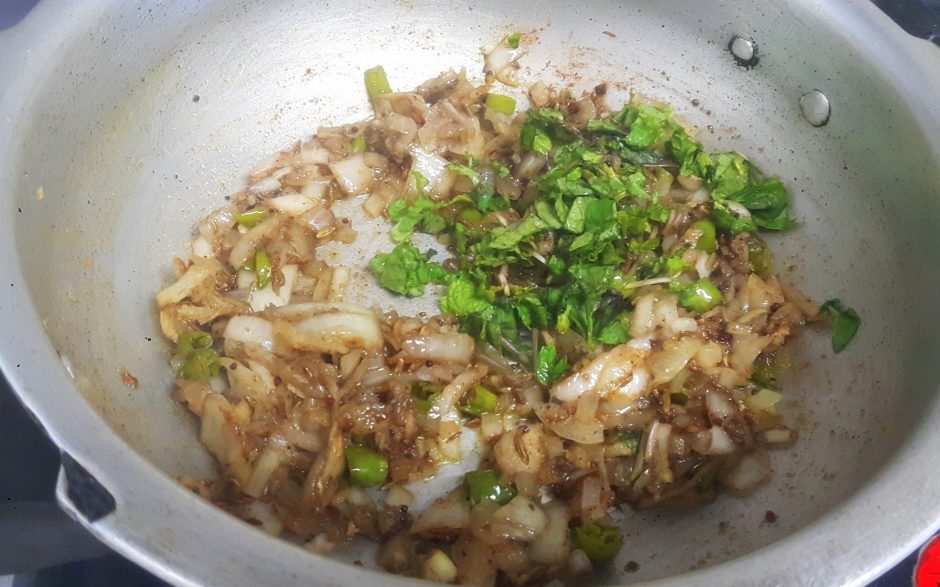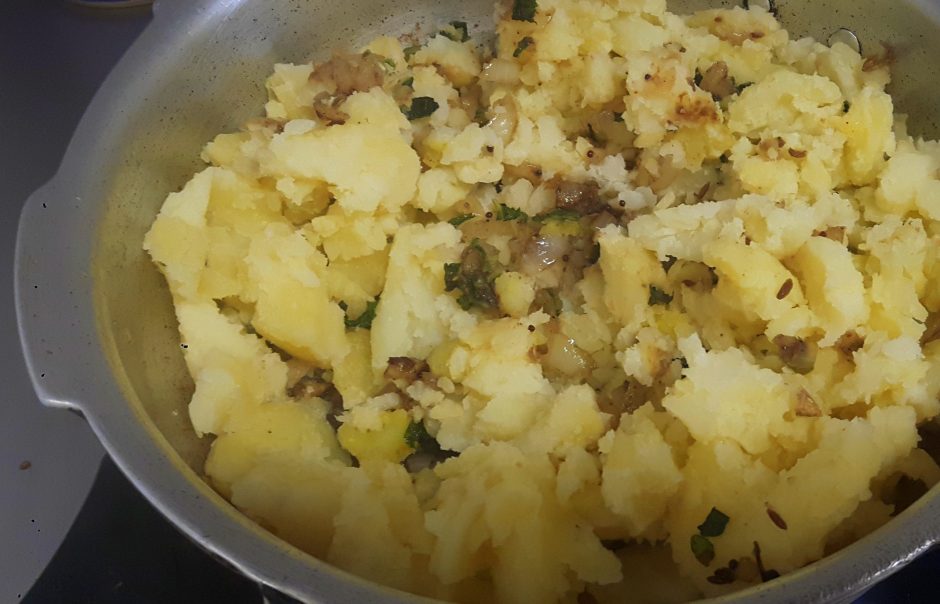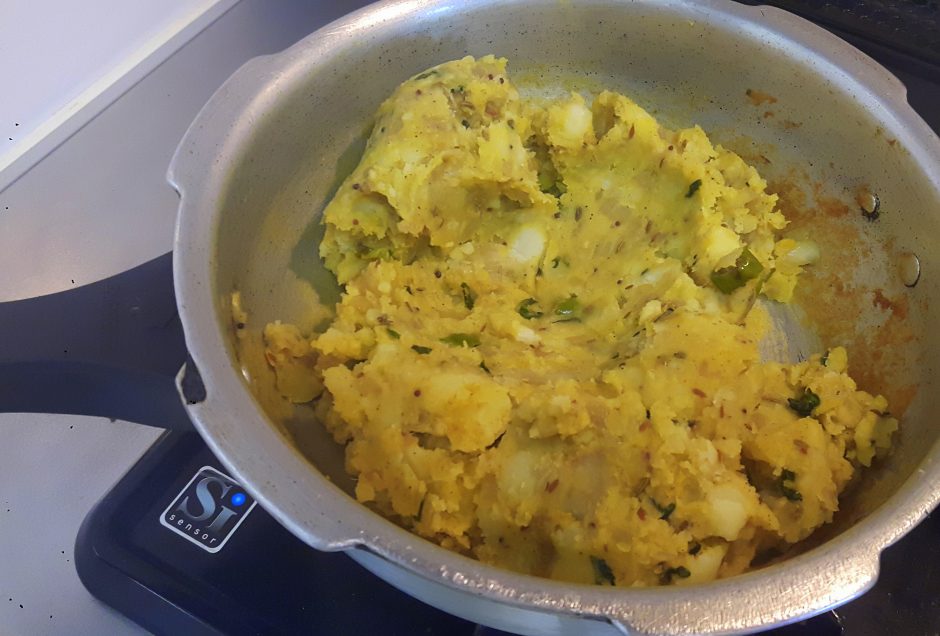 stuffing and dough
Stuffing process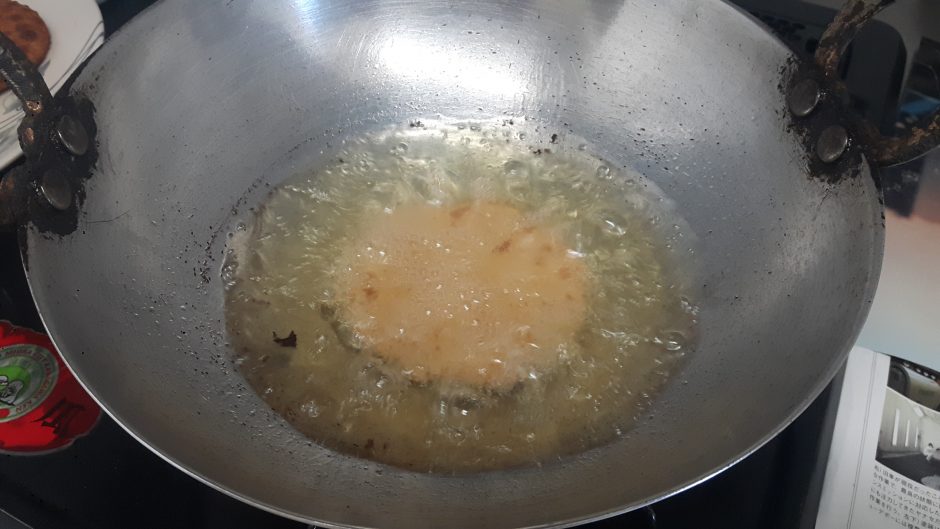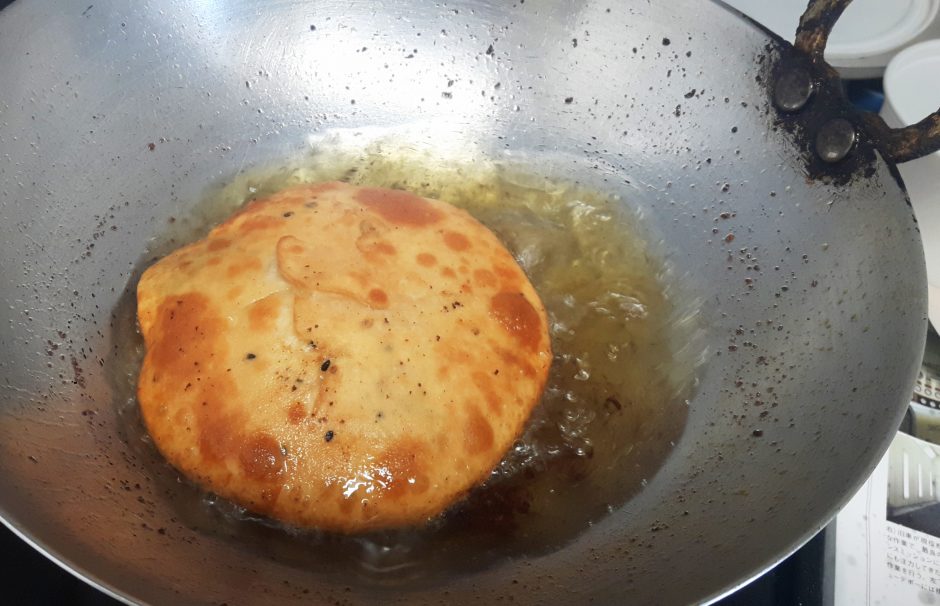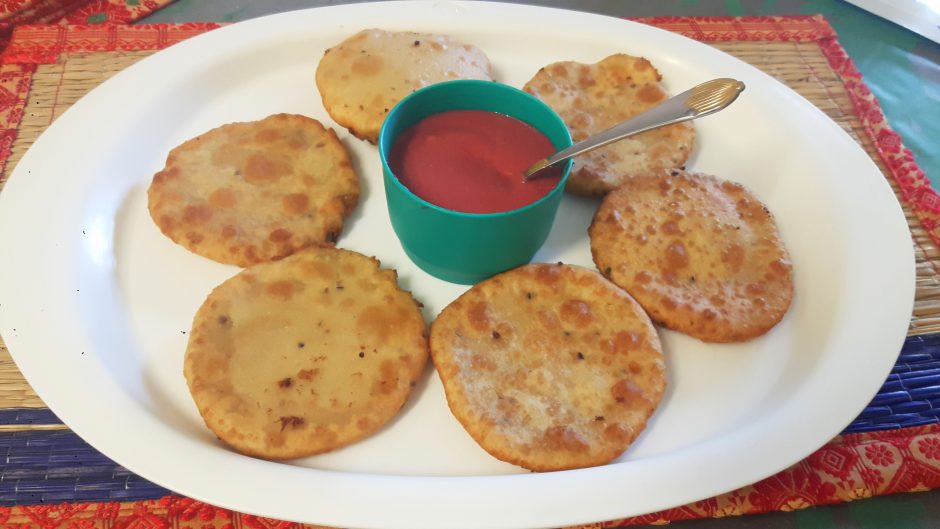 Stuffed mashed-potato Poori (Stuffed mashed-Aaloo Poori) by Nag Ratna Sahu is licensed under a Creative Commons Attribution-NonCommercial-ShareAlike 4.0 International License.