This is the season of balmy winters with foggy mornings yet my kitchen is warm with the preparation of rich and crispy stuffed potato fried breads.
Honestly although this is the variation of the traditionally prepared Aaloo Poori but trust me when I say this, I mean it that it comes out to be much more delicious. So much so, that you will simply want to prepare it as a feast to enjoy these winters. This will turn out to be a universal favorite in your family, relished by the youngest to oldest with its soft flaky and crispy texture.
Enjoy this recipe to beat the bitter cold winters.
Ingredients:
For dough:
Atta (wheat flour): 1 cup
Maida (refined flour): 1 cup
Ghee: 2 tablespoon (for moin that is put it into dough itself).
Onion seed: half teaspoon
Carom seed: half teaspoon
Salt: half teaspoon.
Ghee/ cooking oil: for deep frying
For stuffing:
Potato: 400- 500gm
Onion: 1 no. (Medium size)
Ginger: 2" pieces
Mint leaves: 50gm
Mustard seed: ½ teaspoon
Cumin seed: 1 teaspoon
Fennel seed: 1 teaspoon
Green chilly: 4-5 no.
Salt: 1 teaspoon
 Chili powder: ½ teaspoon
Dry mango powder: ½ teaspoon
Kala namak (black rock salt): ½ teaspoon
Garam masala powder: ½ teaspoon
Mustard oil: 1 tablespoon
For making dough:
Take a wide vessel; pour Aatta, Maida 2 tablespoon ghee, onion seed, carom seed and salt. Mix well by rubbing between palms.
Add water in small quantity and knead them, if required, put some more water till the dough becomes soft.
 (The dough can be made in food processor also)
Cover and Keep aside, to be used after 10-20 minutes.
For making stuffing:
Heat 1 tablespoon of oil in a fry pan.
Add cumin seed, fennel seed and mustard seed, when it turns brown, and add chopped green chili, ginger and onion.
Stir it, sauté on low flame till changing color. Add chopped potato and fry it on medium flame: Cover it, lower the flame. Stir occasionally; Fry until it is half done, (About 5-7 minutes)
Add salt, chili powder and turmeric powder Fry till they are done.
Add chopped mint leaves, dry mango powder, and Garam masala; stir fry for couple of minutes, Keep aside .Now stuffing is ready.
 Divide stuffing into 8 parts and make ball.
Method:
Divide dough into parts: make big lemon size balls; roll the ball in 2-3 inch diameter circle.
 Place 2 tablespoon stuffing in the centre of the circle: fold it and seal the edges of this by pleating.
Fold the edges into the center and joint properly: now press this ball slightly with the help of palm.
Again roll this ball into the wheat flour, roll this ball with the help of rolling pin gently, till the 2-3 inch dia. Now raw poori is ready.
Heat oil in a fry pan on maximum flame (to check if oil is ready or not, put a little piece of dough in the oil it should come up slowly.
Deep fry the poori on high flame: after they start to puff slowly turn over, fry till it becomes golden brown.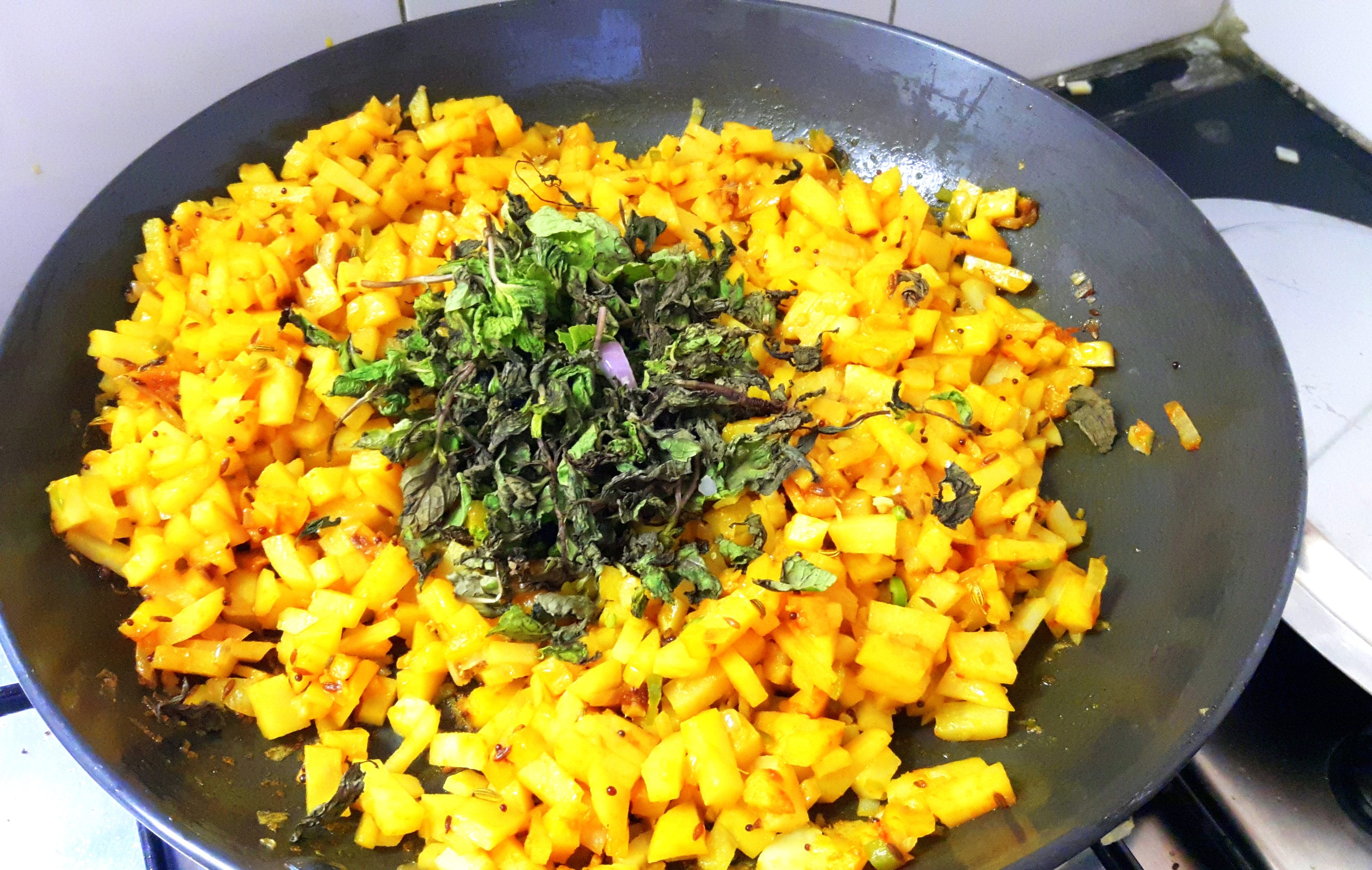 Stuffed Aaloo Poori by Nag Ratna Sahu is licensed under a Creative Commons Attribution-NonCommercial-ShareAlike 4.0 International License.