Eating hotel food for days together can be boring, as outside food is high in fats, calories and sodium.
Home cooked food is healthy and safe; so why not to cook this simple and traditional recipe 'salted pongal'. It is nutritious, appealing flavor, exciting taste and aroma; rather it is one pot balanced meal.
Traditionally it is the festive dish on the occasion of pongal festival in south India, served on banana leaf. In my opinion this traditional delicacy is very good for any day. It suits today's office going and busy modern lifestyle, an excellent food for all of us.
Ingredients:
Raw rice: 100 gm. (1 cup)
Yellow Mung dal (split green gram)/paasi paruppu: 100 gm. (1 cup)
Ghee: 3-4 tablespoon
Cashew nut: 12-15no.
Salt: 1 teaspoon
Turmeric powder: 1 teaspoon
Cumin: 1 teaspoon
Black pepper: ½ teaspoon
Asafoetida: ½ teaspoon
Green chili: 1 no.
Ginger: 2" piece
Curry leaves: 1 twig
Preparation:
Chop ginger and green chili into small pieces, keep aside.
Coarsely grind the black pepper, keep aside.
Wash rice and dal together and keep aside.
Method:
Take an earthen pot, boil 5 cup of water, when water starts boiling; add mixture of washed rice and dal.
Add salt and turmeric powder along with one tablespoon of ghee, cook until it is done. (About 10-15 minutes). Keep aside.
After tempering/seasoning Salted pongal (south Indian recipe) is ready.
Note: Pressure cooker can be used instead of earthen pot.
Tempering/seasoning:
Take fry pan, put 2 tablespoon of ghee, and fry cashew nut till light brown; take it out and keep aside.
Add cumin seed, sputter it for few seconds; add chopped ginger, asafoetida, curry leaves and green chili; stir fry for few seconds on high flame, add crushed black pepper, put off the flame, Seasoning is ready.
 Add seasoning and fried cashew nut in prepared pongal and stir it.
Now Salted pongal (south Indian recipe) is ready to serve with masala Sāmbhar, ulundu vada, and pickles.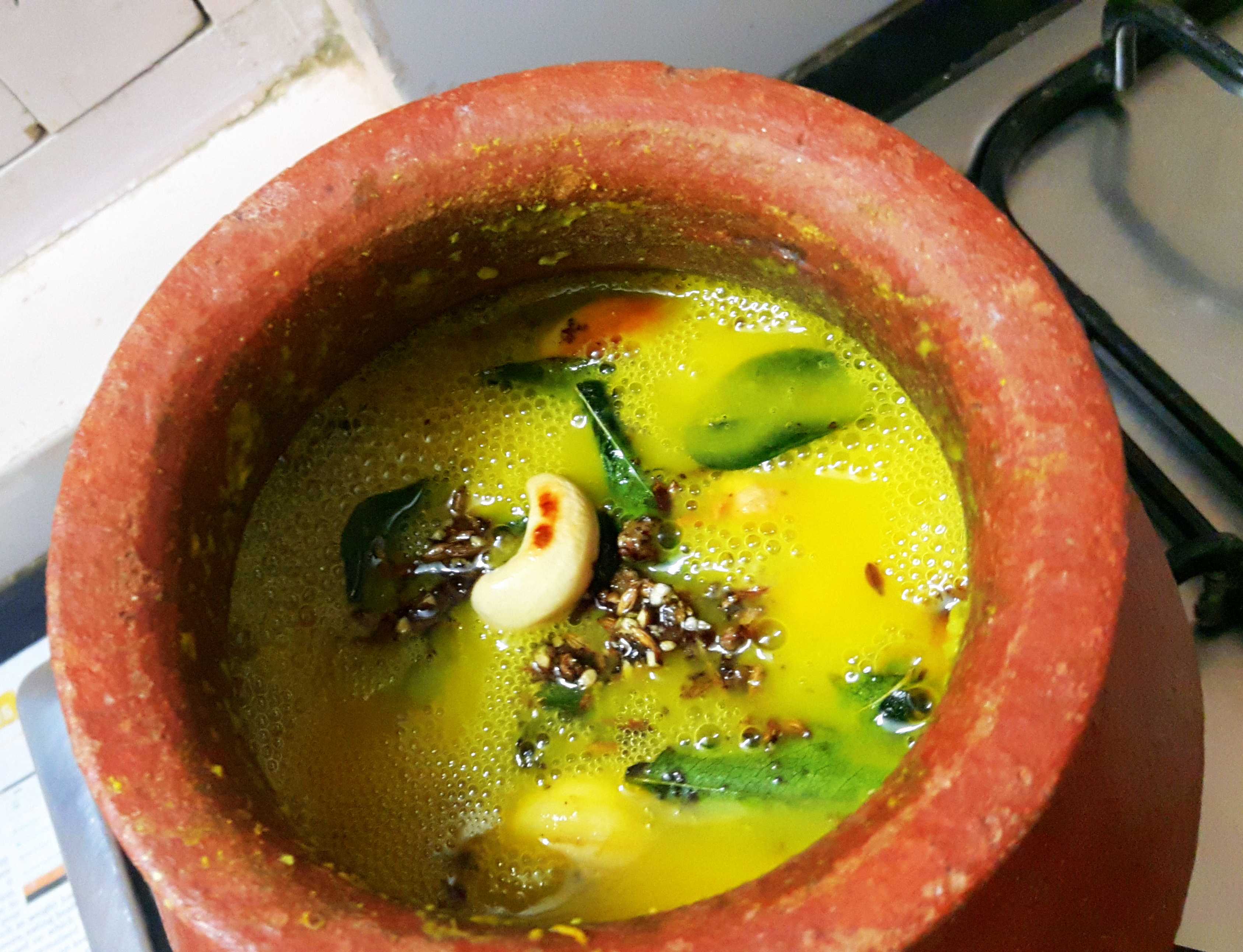 Salted pongal (south Indian recipe) by Nag Ratna Sahu is licensed under a Creative Commons Attribution-NonCommercial-ShareAlike 4.0 International License.