As you know that lauki (bottle gourd) is very healthy, but when it is stuffed with dry fruits i.e. (cashew nut, almond, raisin) along with paneer (cottage cheese) and Khoa, it is ideal for winters, due to rich in nutrients and very delicious too.
The magic of this royal recipe will force you to lick your finger.
Ingredients:
For stuffing:
Lauki (bottle gourd): 1 no. (Small size ~ ½ kg)
Khoa: 150gm
Paneer (cottage cheese): 150 gm.
Cashew nut: 20 gm. (Broken into small pieces)
Dry grapes: 30 gm.
Saffron: 1 pinch
Green coriander leaves: 20gm (Cut in small pieces)
Green chili: 2no. (Cut in small pieces)
Salt: 1 teaspoon
For gravy:
Onion: 2no. (Medium size)
Tomato: 1no. (Medium size)
Poppy seed: 1 tablespoon
Cashew nut: 20 gm.
Fresh cream: 2 table spoon
Curd:  2 tablespoon
Ginger: 2" pieces.
Garlic: 4-5
Cumin seed: half teaspoon
Green cardamom: 2-3 no.
Clove: 3-4 no.
Cinnamon: 1" stick
Coriander powder: 1 teaspoon
 Chili powder: 1 teaspoon
Salt: 1 teaspoon
Garam masala powder: 1 teaspoon
Ghee: 4 tablespoon
Butter: 20 gm.
Milk: ½ cup
Turmeric powder: half teaspoon
Coriander leaf: 2 tablespoon
Salt: one teaspoon
Preparation:
Chop onion, ginger, tomato and garlic roughly, keep aside.
Boil chopped onion, garlic, ginger, tomato and cashew nut together on high flame, allow it to cool, grind them to make wet masala paste. Keep aside.
Peel off bottle gourd, slit longitudinally and Scoop out the inner pulp as shown in photo. Keep aside.
For stuffing:
Take a mixing bowl, Put all stuffing ingredients, mix well, stuffing is ready. Keep aside.
Take scooped out bottle gourd, stuff the stuffing in it. Wrap this stuffed bottle gourd into silver foil, keep aside.
Method:
Cook this wrapped bottle gourd into pre heated oven on 200 degree F until it is done, stuffed bottle gourd is ready. Keep aside.
Method for making curry:
Take a fry pan. Heat ghee until smoke starts coming. Add cumin seed, green cardamom, clove and cinnamon, sputter it for few seconds.
 Add wet masala paste, sauté till light brown. Add chilly, turmeric, and coriander powder, reduce to low flame, and fry till oil separates from masala (or liquid dries up).
Add bitten curd and half quantity of fresh cream, stir well and cook for 2-3 minutes, add butter and milk slowly also add half cup of hot water as per your gravy consistency. Add Garam masala powder and coriander leaves. Put off the flame.
Take a serving bowl. Arrange the stuffed bottle gourd; Transfer the gravy on the stuffed bottle gourd, Garnish with chopped coriander or fresh cream as you wish. serve with tandoori paratha or poori or any side dish.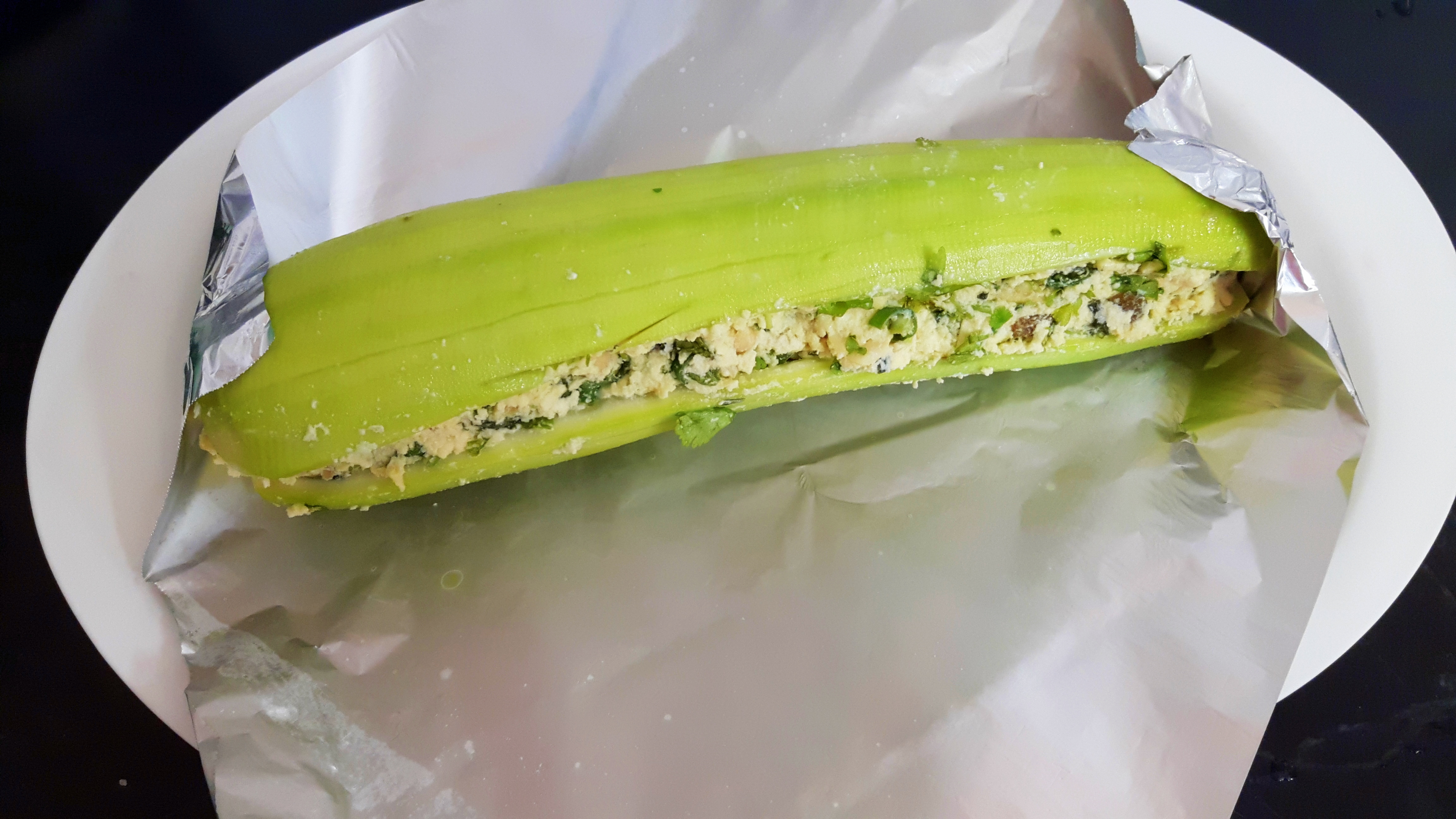 Shahi bharawan lauki (royal stuff bottle gourd) masala by Nag Ratna Sahu is licensed under a Creative Commons Attribution-NonCommercial-ShareAlike 4.0 International License.