An Indian meal is not complete without vegetables, so here I cooked one of the vegetable curry raw banana and fresh peas curry. The curry is very flavorful, spicy and tempting. It is well suited for any meal either lunch or dinner.
Raw banana is healthier substitute of potato for diabetic people. It is high in iron, stimulate the production of hemoglobin.Banana is high in fiber. It improves our mood and makes us feel happy.
Ingredients:
Raw banana: 2no. (Medium size)
Fresh peas: 100gm
Onion: 1no. (Medium size)
Tomato: 2no. (Medium size)
Green chili: 1 no.
Red chili: 1 no.
Mustard oil /cooking oil: 3 tablespoon
Salt: 1 teaspoon
Turmeric powder: ½ teaspoon
Chili powder: 1 teaspoon
 Coriander powder: 1 teaspoon
Garam masala powder: half teaspoon
Kalonji (onion seed): one forth teaspoon
Preparation:
Peel off skin of raw banana, cut into cubes. Keep aside.
Chop onion, green chili and tomato. Keep aside.
Method:
Take fry pan/cooker, put oil, when it smokes, add Kalonji, red chili, and sputter it for few seconds.
Add chopped onion and green chili, fry till color becomes light brown (About 2-3 minutes), add chopped tomato fry till oil separates from the masala, add chili powder, salt and turmeric powder and coriander powder, fry for couple of minutes.
Now put raw banana and stair it. Cover the pan. Lower the flame, Cook on minimum flame until banana becomes soft, add fresh peas, and Stir fry for couple of minutes.
Add two cup of water, stir it. Cover it for full cooking pressure and put off the flame.
Note: can be cooked into fry pan, as you wish.
Add Garam masala powder and put off the flame, allow it to cool, Garnish with coriander leaves.
Raw banana and fresh peas curry is ready to serve.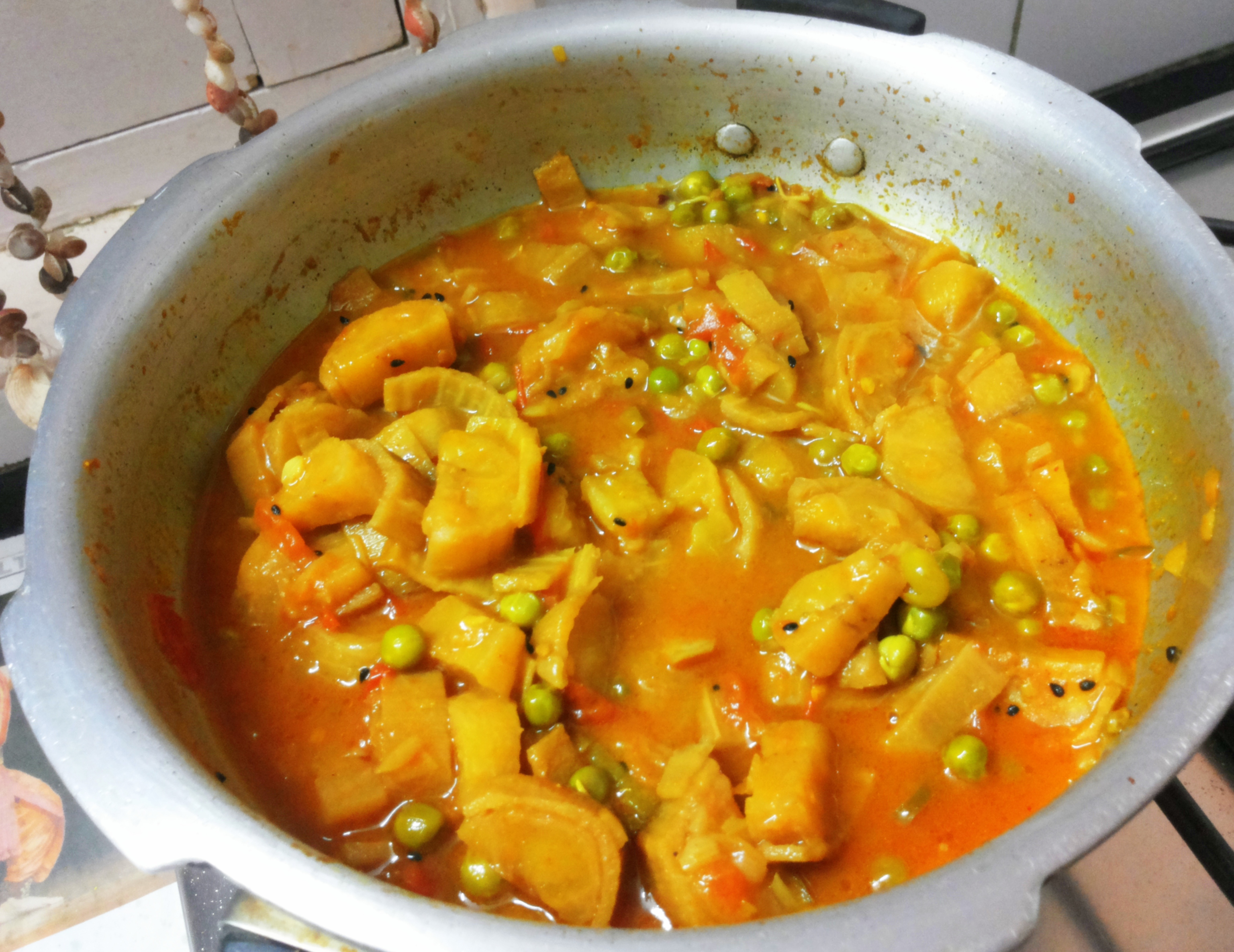 Raw banana and fresh peas curry by Nag Ratna Sahu is licensed under a Creative Commons Attribution-NonCommercial-ShareAlike 4.0 International License.