Raw banana is easily available in all over India especially south India, rather banana is staple food in south India. It can be cooked in many ways; I am sharing here today the south Indian ways of cooking, very easy to cook called 'raw banana poriyal'.
In this recipe, fresh coconut, curry leaves and black pepper gives mild sweet and spicy flavor. This is very healthy and nutritious too. It goes very well with noon meal with Sāmbhar and steamed rice.
Ingredients:
Raw banana: 2no. (Medium size, vegetable verity)
Onion: 1 no. (Small)
 Garlic: 2-3 flakes
Sesame seed oil/cooking oil: 2 table spoon
Salt: half teaspoon (as per taste)
Cumin: ½ teaspoon
Mustard seed: 1 pinch
Black pepper powder: ½ teaspoon.
Split black gram: 1 tablespoon
Curry leaves: 1 twig
Asafoetida: 1 pinch
Turmeric powder: 1 pinch
Fresh scrap coconut: 1 tablespoon
Preparation:
Chop onion, and garlic into small pieces. Keep aside.
Boil/ microwave the raw banana
Peel and grate the banana, keep aside.
Method:
Take fry pan, put oil and heat.
When it smokes, add mustard seeds, and split black gram, wait till it sputters.
Add turmeric powder and garlic; stir and fry (keep it stirring otherwise it may burn).
 Add scraped fresh coconut, onion and curry leaves, and fry for few minutes.
 Add, grated raw banana in small quantity to avoid sticking; keep stirring, cover it and cook for 2-3 minutes on medium/low flame.
Add salt, Put off the flame, now raw banana poriyal/dry sabji (south Indian style) is ready to serve.
Transfer into serving bowl; serve this as a side dish at lunch or dinner.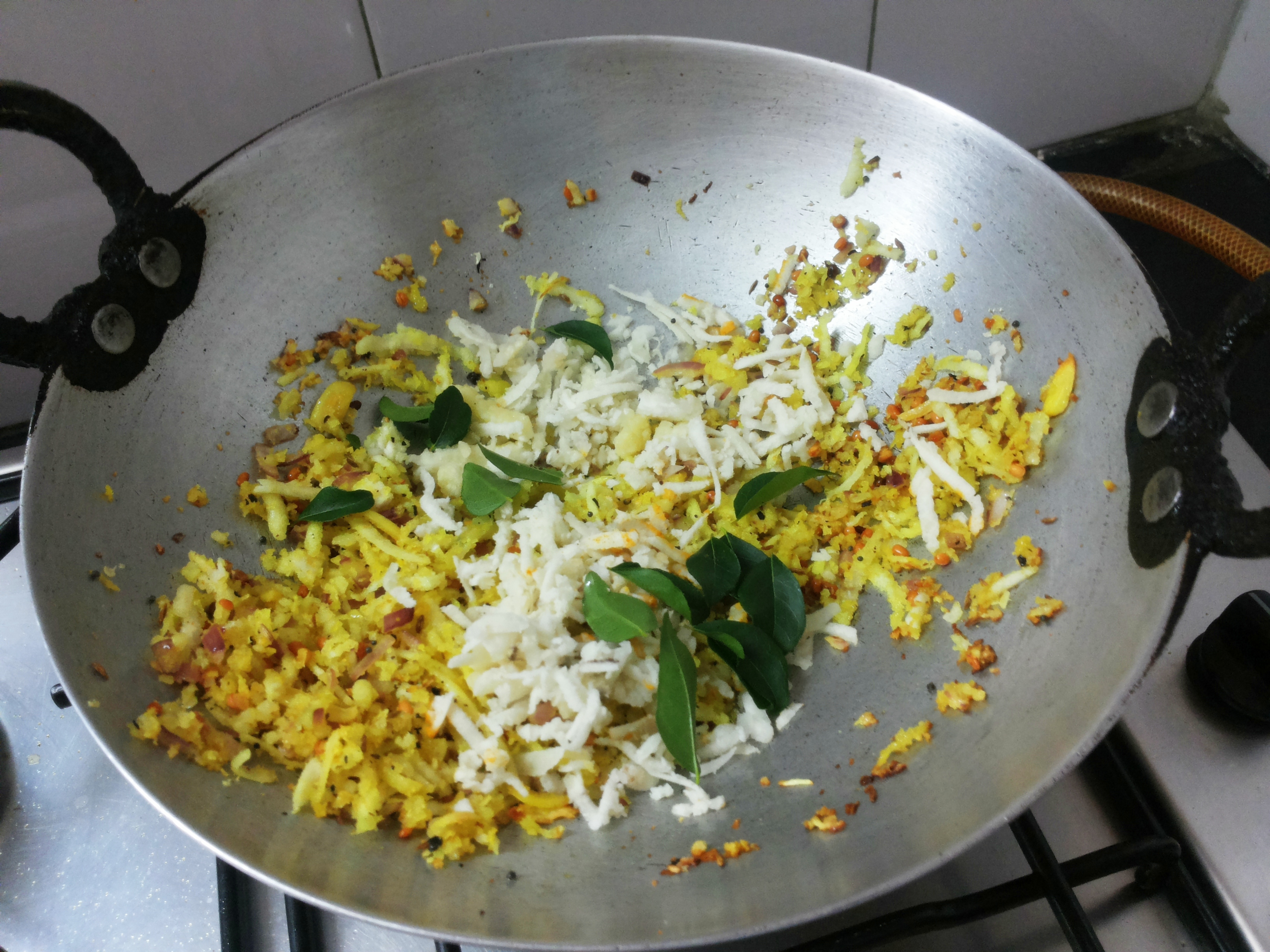 Raw banana poriyal/dry sabji (south Indian style) by Nag Ratna Sahu is licensed under a Creative Commons Attribution-NonCommercial-ShareAlike 4.0 International License.