Squid (kanava fish), Sounding well!  It's hot summer afternoon, my husband while coming from Trivandrum to township in a suburban market on the way, he found the fresh squid (kanava fish). The squid (kanava fish) is really an exotic fish.
Ingredients:
Squid (kanava fish): 5 no. (Medium size)
Baby onion/madras onion: 100gm
Tomato: 1no. (Small)
Ginger: 2"piece
Garlic: 5-6 flakes
Green chili: 2 no.
Oil: 3 table spoon
Cumin seed: half teaspoon
Garlic: 2 flake
Bay leaf: 2 no.
Clove: 2 no.
Salt: 1teaspoon
Turmeric powder: 1 teaspoon
Red chili powder: 1 teaspoon
Coriander powder: 1 teaspoon
Fennel seed powder: 1 teaspoon
Garam masala powder: one forth teaspoon
Fresh coriander leaves: 2 tablespoon (chopped)
Water:  half cup
Preparation:
Cleaning and cutting Squid (kanava fish):
Wash the squid, hold the tentacles and pull the inner part of the squid body, the head part get detached. Discard the inner part. As shown in the photo.
You will see the transparent quill (cuttle bone) like structure inside the body, pull out and discard this.
Grab the two fins(wings) of the squid, strapping the skin(membrane) off, it comes out very easily as shown in the photo, wash and clean inside if there is any left over. Cut the fish as your desire shape either ring or square shape. Again wash it and keep aside.
Peel off and chop the garlic and ginger, make fine paste keep aside.
Cut onion, green chili and tomatoes into small pieces. Keep aside.
Method:
Heat oil in a pan till smoke comes; put bay leaf, Cumin seed, cinnamon, green cardamom, and clove, fry till sputter, add onion, fry onion on high flame till it becomes light brown in color.
Add chopped tomato, ginger paste, and fry it for about 3-4 minutes, add salt, chili powder, turmeric powder, coriander powder and fennel seed powder. Reduce to low flame, fry till liquid dries up.
Add green chili and Squid (kanava fish) and continue to cook for another 2 minutes.
Add hot water, Close the lid and reduce to lower heat and cook for 5- 7 minutes.
Add Garam masala powder and chopped coriander leaves and put off the flame.
Squid (kanava fish) masala is ready to serve hot with roti / paratha or any meal along with salad.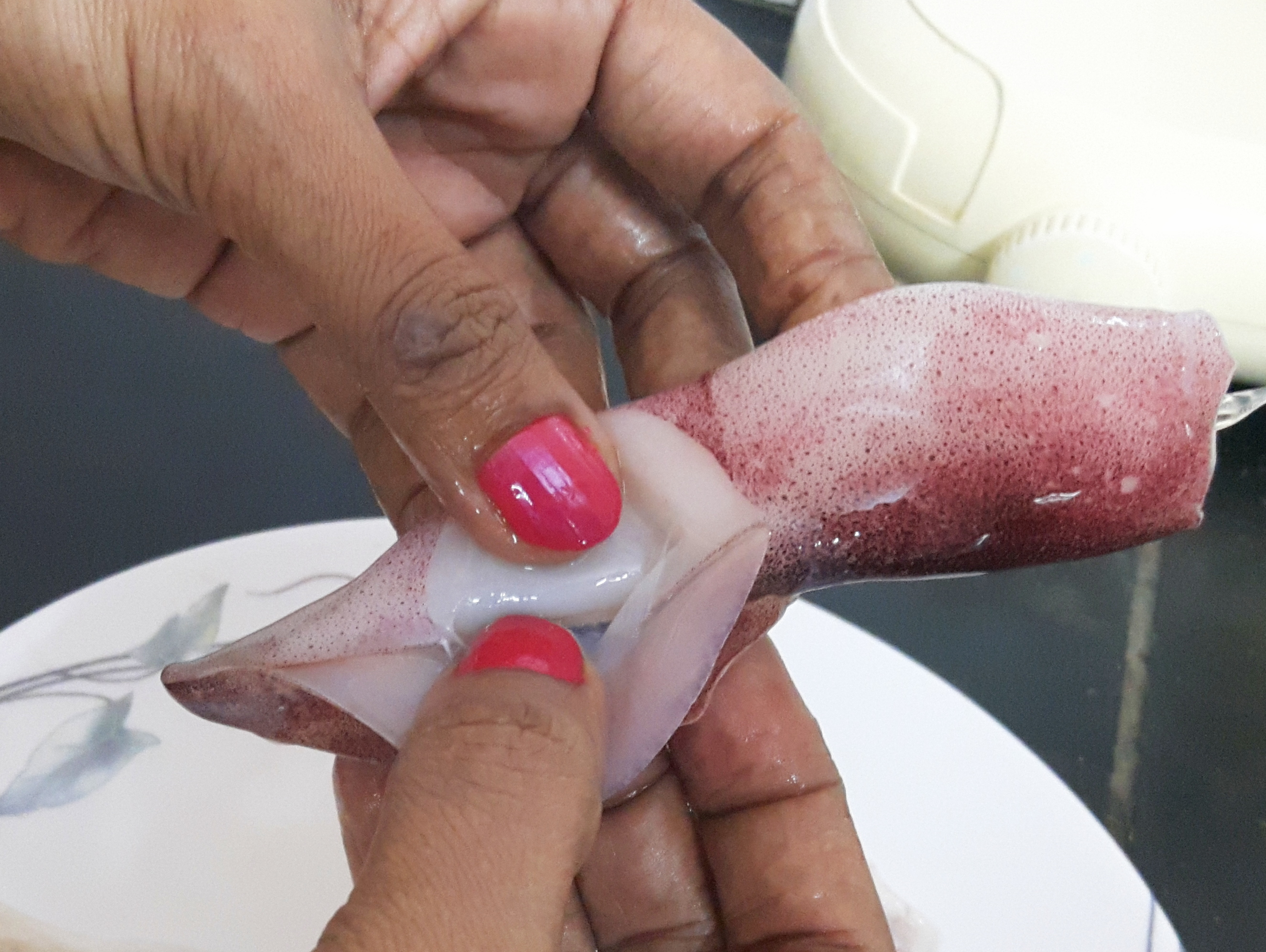 Squid (kanava fish) masala by Nag Ratna Sahu is licensed under a Creative Commons Attribution-NonCommercial-ShareAlike 4.0 International License.