Chicken is extremely popular in all over world, traditionally Dum style cooking in earlier days into earthen pot sealed with Aata dough, over slow burning coals for hours. Here I am using gas stove.
It is main course recipe with delicious gravy (curry) to be used everyday meal, will be loved by children and adult.
Ingredients:
Chicken: 300gm (medium size breast piece).
Potato: 4 no. (Small)
Onion: 1no. (Small)
Tomato: 1 no. (Small)
Red chili powder: 1teaspoon
Turmeric powder: half teaspoon
Coriander powder: 1 teaspoon
Garam masala powder: half teaspoon
Ginger: 2-3 "piece
Garlic: 3-4 flakes
Whole red chilly: 1 no.
Green chili: 2 no.
Cumin seed: half teaspoon
Bay leaf: 2 no.
Salt: 1 ½ teaspoon
Mustard oil/any cooking oil: 3 tablespoon
Ghee: one teaspoon (optional)
Water: 1 cup (as per gravy consistency required)
Preparation:
Peel off potatoes and cut into equal medium size pieces. Boil the peeled potatoes with chicken, along with ½ teaspoon of salt and bay leaf. Keep aside.
Grind ginger, garlic, tomato and onion; make fine paste, Keep aside.
Method:
Take fry pan heat oil in it. When it smokes, put 2 whole chilies, cumin seeds and bay leaf.
Add boiled chicken and potatoes in it. Stir fry it for 2 -3 minutes, take it out and keep aside.
Add ground paste Stir it and fry (keep it stirring otherwise it may burn) till oil separates from the masala (About 5 minutes).
 Take a bowl put chili powder, coriander powder, turmeric powder and salt in it, add one tablespoon of water and mix it well, it will become paste.
Add this paste in the fried masala and stir it., add fried potato and chicken in it. Stir it for 2 minutes.
Add one cup of hot water and cover it, Lower the flame and heat it about another 5-6 minutes.
Add Garam masala powder, one teaspoon ghee and put off the flame, Now, chicken potato Dum is ready to serve.
Serve with fluffy puries or rice.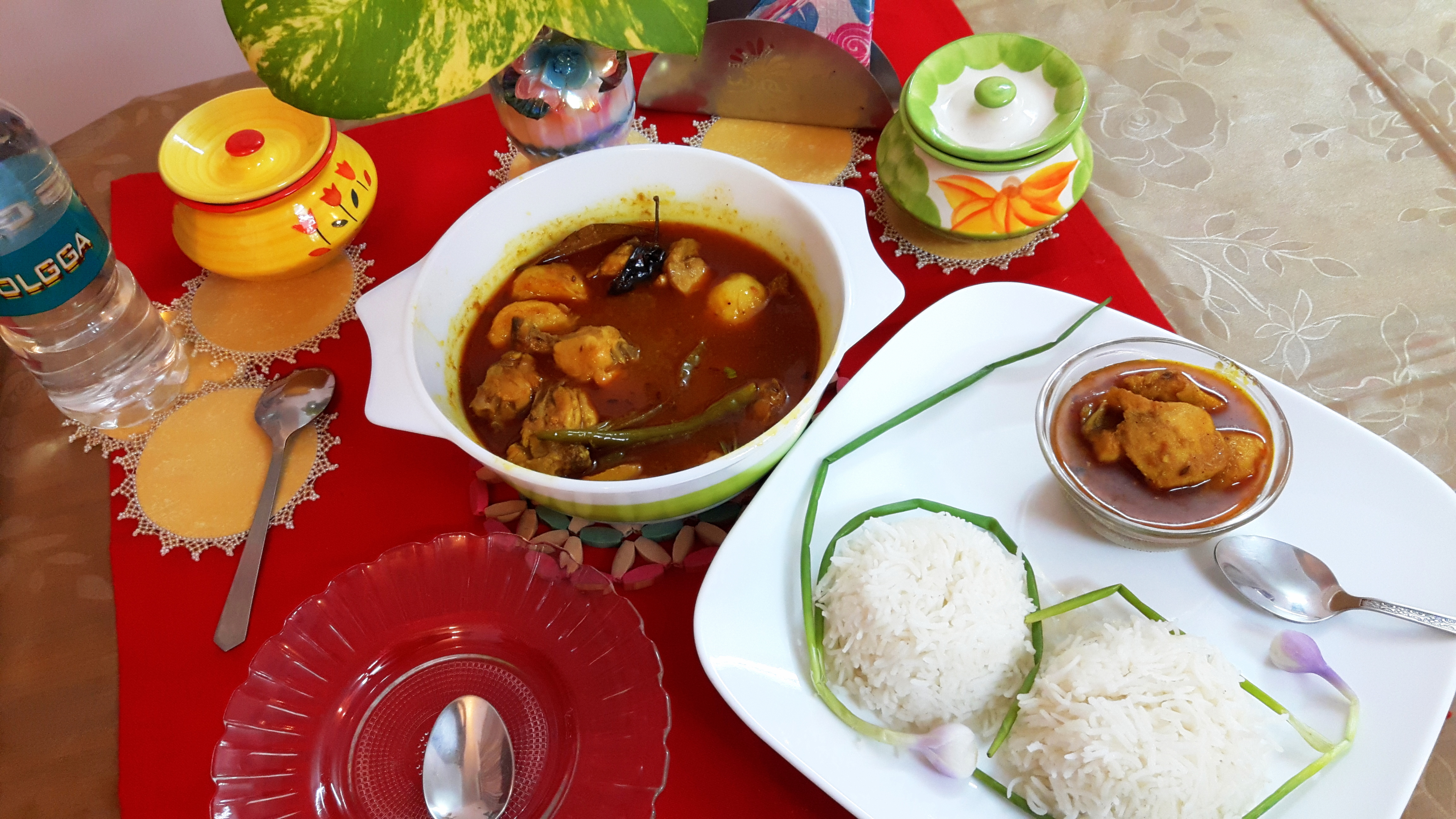 Chicken aaloo Dum (chicken potato Dum) by Nag Ratna Sahu is licensed under a Creative Commons Attribution-NonCommercial-ShareAlike 4.0 International License.