About 20 years ago I invited one of my family friends for dinner, it was Friday, they told on Friday they don't take onion and garlic, so I prepared the kofta curry with poppy seed and melon seed, the very first time I made this gravy without onion and garlic, the taste was awesome.
August flower has bunch of healthy value, it cures night blindness as it contain vitamin 'A', it strengthens optical nerves, it has power to throwing out stomach worms and makes your stomach happy for long time. It is better to choose flowers that have not bloomed fully, however bloomed one is also very good.
Ingredient:
For kofta:
August phool (august flower): 100-150 gm.
Besan (gram flour): 1 cup
Chili powder: ½ teaspoon
Salt: ½ teaspoon
Mustard oil: to deep fry
For curry:
Melon seed: 1 tablespoon
Curd: 1tablespoon
Poppy seed: 1 tablespoon
Tomato: 1no. (Medium)
Cinnamon: 1" stick
Green cardamom: 2 no.
Clove: 2-3 no.
Cashew nut: 10-12no.
Ginger: 2"piece
Salt: ½ teaspoon (as per taste)
Chili powder: ½ teaspoon (as per taste)
Coriander powder: 1 teaspoon
Turmeric powder: half teaspoon
Garam masala powder: ½ teaspoon
Milk: 1cup
Fresh cream: 1 tablespoon
Preparation:
Boil cashew nut, poppy seed, melon seed and tomato into water.
Grind all together make a fine paste, keep aside.
Take flower; discard stigma (centre hard stem), chop roughly.
Take a mixing bowl, Combine Besan, ½ teaspoon of chili powder, salt and chopped flower.
Mix and Mash all with the help of hand to make dough for kofta.
Shape it to lemon size ball. Keep aside. Now raw kofta is ready.
Method:
Take a fry pan; heat oil in a fry pan till smoke is coming.
 Deep fry the kofta (ball) till it turns golden brown in color from all sides. Keep aside.
For curry:
Take a fry pan. Put 4-5 spoon of oil in it, heat it till smoke comes.
Add cumin seed, wait for few seconds, and add grounded fine paste.
Fry it till it gets light brown in color, take care, it should not burn.
Add salt, turmeric powder, chili powder, and coriander powder, stir it.
 Add fresh cream and whipped curd and fry it in lower flame. (2-3 minutes)
Add milk slowly. Boil the gravy.
Add fried kofta and Garam masala powder.
 Boil it again put off the flame.
August phool (august flower) kofta curry without onion garlic is ready to serve.
Transfer this into serving bowl;
Decorate with fresh cream and coriander leaves.
Serve with chapati or rice.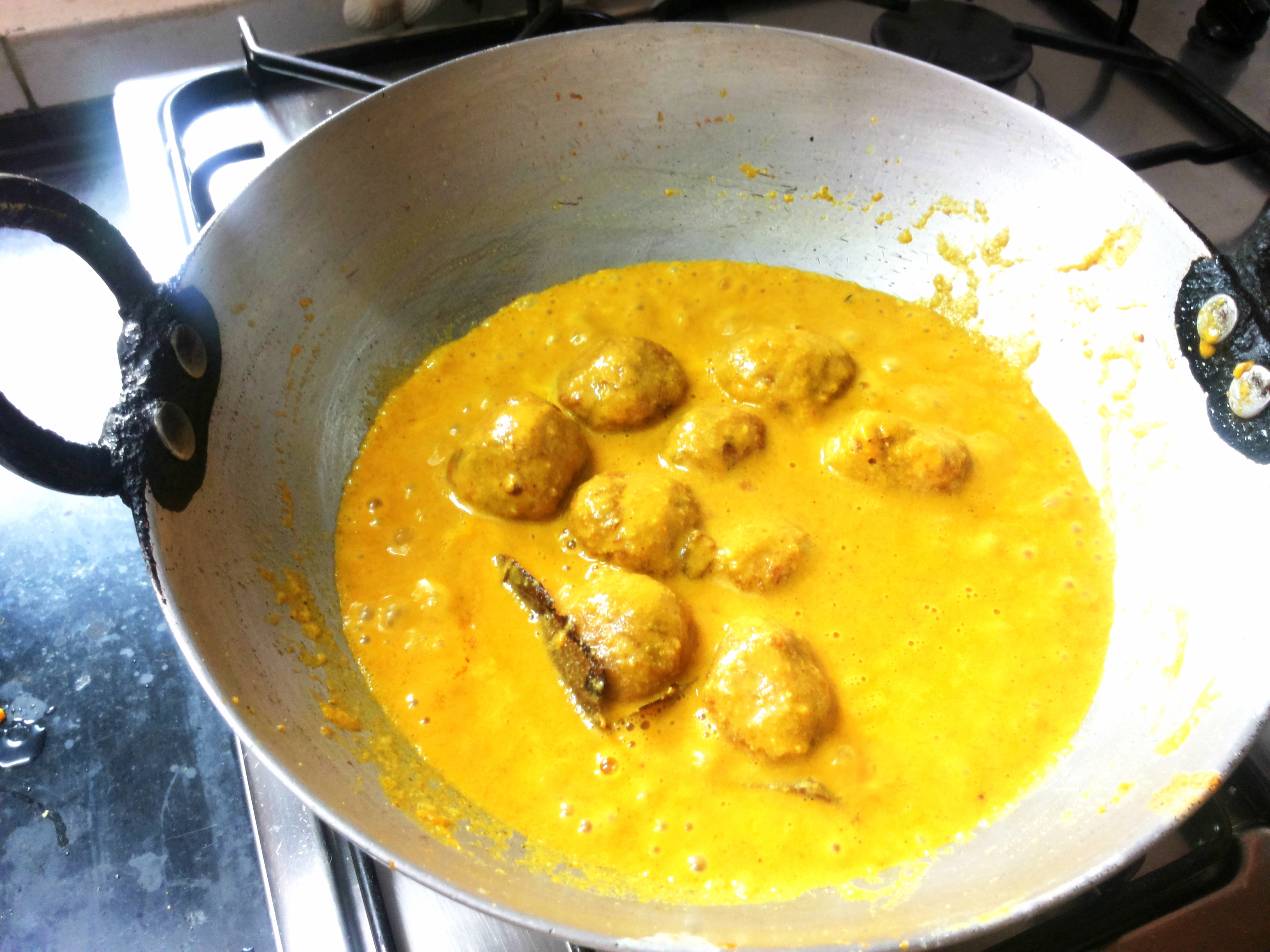 August phool kofta curry without onion garlic by Nag Ratna Sahu is licensed under a Creative Commons Attribution-NonCommercial-ShareAlike 4.0 International License.