My son is coming today to spend a week with us, so I was thinking to cook something special for him, so I decided to exceptionally marvelous, superb, yummy south Indian delicacy coconut milk pulao (Thengai pal pulao).
Recipe, in which I grind ginger and garlic with traditional way mortar and pestle, and use ramba leaves gives high fragrant smell in my house, my family love its unique taste, you too will love it…
Ingredients:
Basmati rice (preferably long grain): 2 Cup
Coconut:  1 no. (Medium size) Or
Fresh coconut milk: 4 cup
Ramba/kewada leaf (pandanus odorus): 2 no.
Onion: 1 no. (Medium size)
Tomato: 1 no.
Ginger: 1 tablespoon (grated)
Garlic: 3-4 flakes.
Cashew nut: 10-15 no. (Optional)
Salt: 2 teaspoon
Clove: 4 no.
Green cardamom: 2 no.
Cinnamon: 2' stick
Ghee: 1 tablespoon
Refined oil: 1 tablespoon
Preparation:
Wash the rice and keep aside.
Slice the onion and the tomatoes, keep aside.
 Roughly grind ginger and garlic in the traditional way i.e. is mortar and pestle.
Coconut milk preparation:
Take fresh coconut and break it, Scarp only white portion of coconut with help of coconut scraper.
Take scraped coconut into grinding jar, add 2 cup of water, Grind well as chutney, Strain the chutney with fine strainer, store the liquid aside, this is called coconut milk, put back the coconut residue into grinding jar, add again 2 cup of water, Grind again and strain, now 4 cups of coconut milk is ready. (You can store it in refrigerator).
Method:
Take a pressure cooker, heat ghee and refined oil, fry cashew nut till light brown. Keep aside.
Put green cardamom, cinnamon and clove, sputter for few seconds and add roughly grind ginger-garlic paste stir fry for few seconds on high flame then add sliced onion and ramba leaves (just break by hands in to 3-4 pieces) fry till onion gets translucent.
Add chopped tomatoes, stir and fry for couple of minutes, add salt and Pour coconut milk when starts boiling, add rice, stir it and close the cooker lid , Cook on high flame Bring to full cooking pressure, put off the flame. Allow cooker to cool and open.
Transfer into serving bowl, Decorate with cashew nut, delicious coconut milk pulao (Thengai pal pulao)
Serve with fried peanut, boiled eggs, papad, salad and chutney.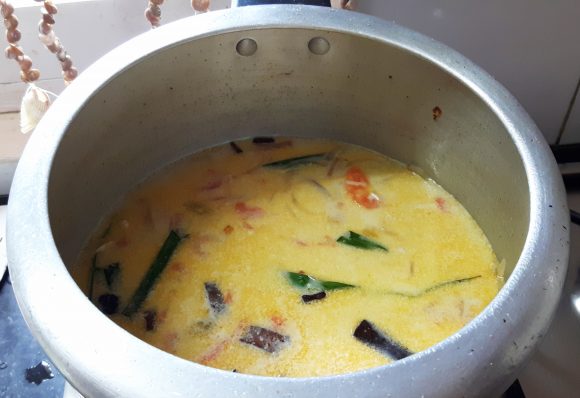 Coconut milk pulao (Thengai pal pulao) by Nag Ratna Sahu is licensed under a Creative Commons Attribution-NonCommercial-ShareAlike 4.0 International License.