Ingredients:
Muli: 100 gm
Onion: 50 gm
Garlic: 3-4 pods
Shredded coconut: 1 tablespoon (optional)
Tomato: 1 small
Salt: 1 teaspoon
Oil: 1tablespoon
Whole red chili: 2-3 no.
Tamarind paste: half teaspoon (optional)
Urid dal: 2 teaspoon
Chana dal: 1 teaspoon
Curry leaves: 10 no.
For seasoning:
curry leaves:10 leaves
Mustard seed: 1 teaspoon
Urad dal: 1 teaspoon
Whole red chili: 1 no.
Oil: 1 teaspoon
Preparation:
Cut onion, radish and tomato into small pieces.
Method:
Take nonstick fry pan, put 1 tablespoon oil in it.
Heat the oil adds chana dal, urad dal and whole red chili.
Fry till it becomes golden brown.
Add garlic, roughly chopped radish and onion.
Sauté till all become soft.
Add shredded coconut and tamarind in it. Stir properly and put off the gas.
Allow it to cool properly, when it becomes cool grind it with salt and tamarind.
For seasoning:
Heat 1 teaspoon oil in a fry pan; add mustard seed, after popping the mustard seed
Add whole red chili and curry leaves.
Put this seasoning to the chutney, mix well.
Spicy chutney is ready to serve with rice, chapatti, chilla, dosa and idly.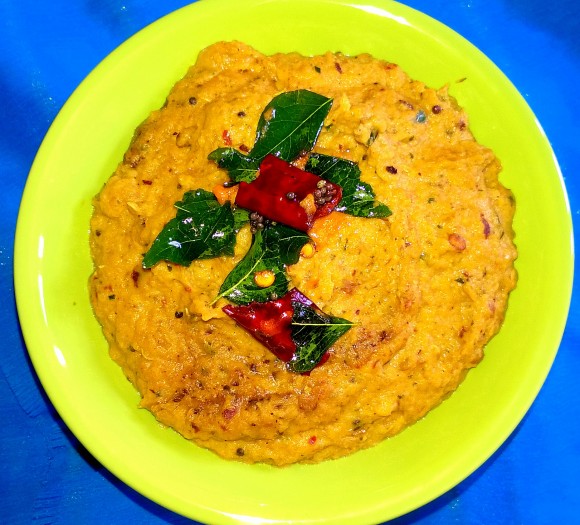 delicious chutney !

Muli (radish) ki chutney by Nag Ratna Sahu is licensed under a Creative Commons Attribution-NonCommercial-ShareAlike 4.0 International License.