Ingredients:
Preparation:
 Clean and peel the carrots.
Cut into 3inch( thin) pieces longitudinally
Cut the cauliflower into medium pieces.
Grind onion, ginger and garlic together. Masala is ready. Keep aside.
Soak Jaggery and tamarind into the vinegar for some time.
Mix properly with hand and sieve this.
Now the pulp is ready for use. Keep aside this pulp.
Blanch (put the vegetables into the boiling water for 2 minutes. And immediately put into chilled water and then in running water) the carrot and cauliflower separately.
Then put these vegetables in to the sun for 2-3 hours for drying to get rid of extra water.
Method:
Take a fry pan. Put oil in it, when oil starts smoking, put asafetida and grounded masala in it.
Fry on medium flame till it becomes golden brown and separates from the masala.
Add all dry masala and fry 2 minutes.
Add dry carrot and cauliflower into it.
Stir it and fry for 2-3 minutes.
When it comes on normal temperature, and then add prepared pulp in it.
Carrot and cauliflower pickle is ready.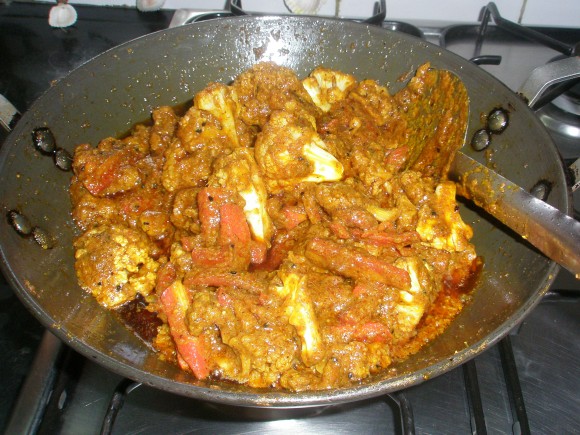 Store this pickle in a glass container.

Gajar (carrot) Gobhi (cauliflower) pickle by Nag Ratna Sahu is licensed under a Creative Commons Attribution-NonCommercial-ShareAlike 4.0 International License.