ingredients:
Preparation:
Trim the both ends of karela, and carefully make slit on one side (Lengthwise).
Take out all seeds from it.
 Grind onion, tomato, garlic and ginger together up to fine paste.
Method:
Take a nonstick fry pan, Heat oil.
When smoke comes, add karela in it, and fry on high flame.
Fry until karela is done, (About 5-7 minutes).  Keep aside.
Stuffing masala:
Put 5 tablespoon oil in fry pan and heat it.
Add aniseed, when it turns brown, add ground paste. Fry till the paste dries up and become golden brown color. (About 5-10 minutes depending upon the quantity.)
Add chili powder, coriander powder, turmeric powder, and 2 teaspoon sugar and aniseed powder.
Fry 1-2 minutes and add Garam masala powder. Keep aside to cool.
Stuff this masala into the fried karela with the help of spoon.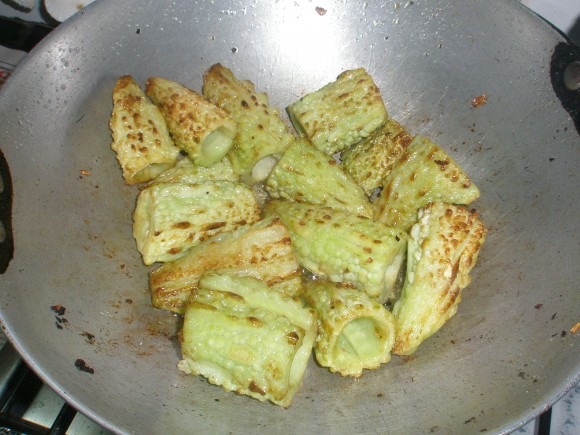 Stuff karela is ready to serve.

stuff karela(bitter gourd) with onion masala by Nag Ratna Sahu is licensed under a Creative Commons Attribution-NonCommercial-ShareAlike 4.0 International License.