Ingredients for fry fish:
Fish: 500gm (cut into pieces)
Salt: 2 teaspoon (level)
Garlic paste: 1 teaspoon
Corn flour: 2 teaspoon
Turmeric powder: 1 teaspoon
Mustard oil/cooking oil: 6 tablespoons
Mustard seed: 1 teaspoon
Lemon juice: 2 teaspoon
Ingredients for gravy:
Mustard seed (preferably yellow color):3 tablespoon
Ajwain: 1 teaspoon
Salt: half teaspoon
Oil: 3 tablespoon
Green chilly: 3no.
Turmeric powder: half teaspoon
Onion: 1no. (Medium)
Curd (yogurt): 150 gm
Ginger paste: 1 teaspoon
Garlic paste: half teaspoon.
Clove: 3-4 no.
Cinnamon: 2" pieces
Cardamom (black):1 no.
Chili powder: 1 teaspoon
Red chilly: 2no.
Bay leaf: 2no.
Preparation:
Clean the fish properly with running water. Add lemon juice. Leave it for 5-7 minutes. Again wash the fish drain out all the water.
Add garlic paste, salt and turmeric powder. Rub all these items on the fish. Keep aside.
Grind mustard, Ajawin, salt together first, then add garlic and onion and pour 2-3 tablespoon of water, again grind the masala.
Make fine paste of wet masala. All together keep aside.
Method:
Heat oil in fry pan on high flame, when smoke starts coming, put mustard seed. Allow the seed to Sputter for few seconds.
Reduce heat at low flame. Add fish pieces and increase the flame to high.  Fry on both sides till light golden color appears (about 2-3 minutes each side).
 Fry remaining pieces in the same way. Keep aside
Put oil in the fry pan and when smoke starts coming, put mustard seed, red chili, Clove, Cinnamon, Cardamom and bay leaf, sputter them for few seconds. Lower the flame, add wet masala, and fry the masala until it becomes golden brown (about 4-5 minutes)
Add green chili and stir it.
Slowly add 100ml water (as per gravy thickness.)
Boil it for 1 minute. Add curd and lower the flame.
Stir continuously when it starts to boil add fry fishes in it. When it  starts to boil. Put off the flame.
Serve after 5-10 minutes. Sprinkle the chopped coriander leaf on it.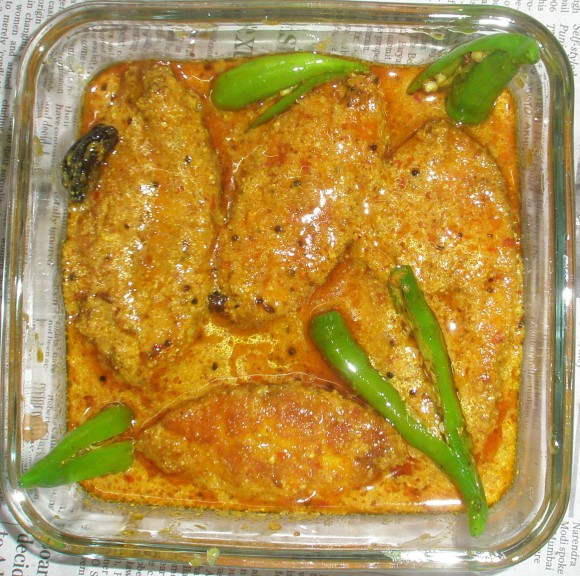 "No one who cooks cooks alone. Even at her most solitary, a cook in the kitchen is surrounded by generations of cooks past, the advice and menus of cooks present, the wisdom of cookbook writer's
― Laurie Colwi
So even when I try cooking from age old traditional fish recipes passed over generations, I end up experimenting it as a juxtapose of so many recipes that I have tasted, So try this and I bet it comes out so beautifully, you got to make much extra to last–till you are tired eating it. ."
Lavishly used Mustard and Carom seeds give it the zing that and the sweet taste and an immensely smooth texture of "Rohu/Rui/Rahu" (Freshwater Fish) easily absorbs it totally within.
A fish is known to be cooked well till its taste lasts further on from your tongue on to your soul!

Fish in curd (yogurt) gravy by Nag Ratna Sahu is licensed under a Creative Commons Attribution-NonCommercial-ShareAlike 4.0 International License.