Ingredients:
Palak (spinach): 50 gm
Curd (Yogurt): 100gm
Cumin seed (roasted powder): 1 teaspoon
Salt: half teaspoon
Sugar: 1 teaspoon
Cashew nut: 8- 10 no.
dry grapes: 15-20 no.
Walnut: 4-5 no.
Preparation:
Cut palak into very small pieces.
Cut cashew nut and walnut too.
Method:
Take a mixing bowl.
Put the curd, salt, cumin seed powder and sugar into the bowl.
Mix them well.
Add palak, cashew nut, walnut and dry grapes.
Mix well and put into serving bowl.
Now palak raita is ready.
This is the complete breakfast in the morning.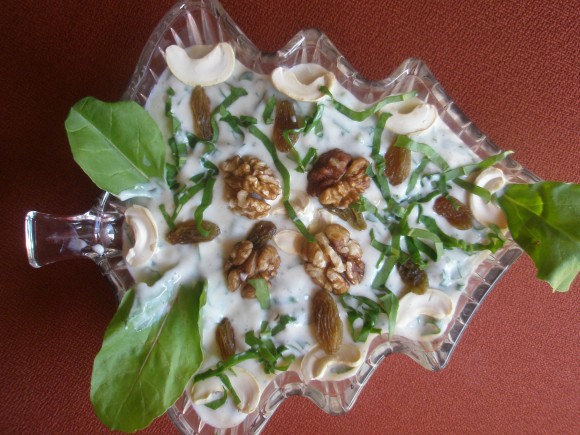 You can serve this as side dish too.

Nutritious healthy crunchy palak (spinach) raita by Nag Ratna Sahu is licensed under a Creative Commons Attribution-NonCommercial-ShareAlike 4.0 International License.