Ingredient:
 For stuffing:
For dough (outer layer):
For sugar syrup:
Sugar: 250 gm
Water: 100ml
Preparation:
For sugar syrup:
Take a large pan, put sugar and water in it.
Add cardamom powder and saffron and bring it to boil.
Let this (syrup) boil for 3-4 minutes. Remove from heat, sugar syrup is ready.
Method:
For stuffing:
Take a non stick fry pan. Pour 1 table spoon of ghee, when ghee become hot add Cashew nut, Almond, Dry grapes, Pistachio all together and fry for 20 to 30 seconds.
Add Khoa and fry on medium flame. Stir continuously till it become light brown in color.
Keep aside, allow it to cool to room temperature, add sugar powder and mix properly.
Now, stuffing is ready.
For making dough:
Take a wide vessel; pour Maida, ghee. Mix well by rubbing between palms.
Add water in small quantity and knead them, if required put some more water till the dough become soft.
 (The dough can be made in food processor also)
Cover and Keep aside, to be used after 20-30 minutes.
For making chandrakala:
Take dough, make small balls (~ 0.5 inch dia).
Roll the balls in 3 inch diameter circle like small poories.
Take one poori, Place 2 teaspoon stuffing in the center of the poori
apply wet finger around the edge of the poori.
Cover it with another poori.
Press the edge of the poori, so that edges stick properly.
Fold the edges with finger.
Now, the raw chandrakala is ready to fry.
Heat ghee in a fry pan on medium heat (to check if oil is ready, put a little piece of dough in the oil it comes up slowly).
Deep fry it on medium to low heat.
Note: if it is fried on high heat, it will be soft. It will be not crunchy.
After it starts to puff slowly turn over.
 Fry till it becomes golden brown from both sides. Take it out and allow to cool.
Dip it into the sugar syrup. After 1-2 minutes, take out pieces on strainer.
Now chandrakala is ready.
Garnish:
with almond, Pistachio slices and saffron threads.
 Now, awesome and delicious chandrakala is ready to eat.
While serving, on the top a small tea spoon sugar syrup can be added by making hole with finger (optional).
   Yummy chandrakala is ready to serve for any festive occassion.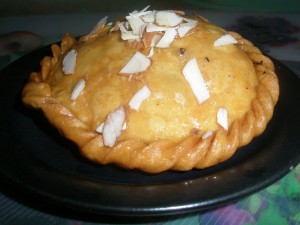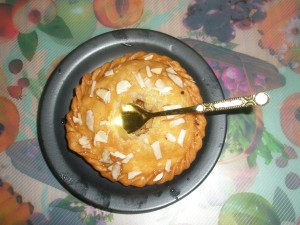 Chandrakala is one of the north Indian festive desserts, prepared on the occasion of diwali, Holi etc…
When I eat with my family and friends, it is a moment of real pleasure.
I really enjoy my life….
It is very tempting and delicious too.

Chandrakala (festival sweets) by Nag Ratna Sahu is licensed under a Creative Commons Attribution-NonCommercial-ShareAlike 4.0 International License.