Ingredients:
Preparation:
Grind one tomato and one onion. Keep aside.
Chop one onion.
Boil the potatoes.
Peel off potatoes and cut into equal parts.
Scrape parawal (pointed gourd) using a knife (not peeler), remove both ends.
Wash and cut longitudinally into two pieces.
To cook: Method
Take fry pan heat 2 table spoon of oil in it. When it smokes, put 2 whole chilies, cumin seeds and bay leaf.
Add parawal and fry it about 5 minutes (till parawal becomes tender).
Remove parawal from the frying pan.
Again put the remaining oil into the frying pan and let it heat.
Add chopped onion to this oil and fry till golden brown. (About 5 minutes)
Add tomato onion and ginger paste that you have prepared in it. Stir it and fry (keep it stirring otherwise it may burn) till this mixture separates from the oil.
Now in a bowl put the chili powder, coriander powder, turmeric powder and salt. Add one tablespoon of water and mix it well, till it becomes paste.
Add this paste in the fried masala and stir it.
Add boiled and chopped potatoes and fried parawal in it. Stir it for 2 minutes.
Add one cup of hot water mix this and cover it.
Lower the flame and heat it about another 10 minutes.
Add Garam masala powder, one teaspoon ghee and put off the flame.
Now, Aaloo parawal Dum is ready to serve.
Tip: You may garnish this preparation with chopped fresh coriander leaves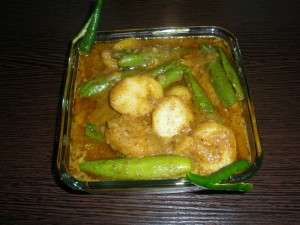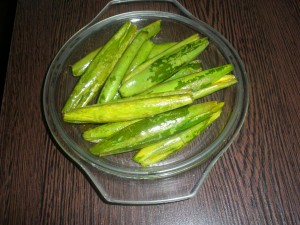 Serve with fluffy puries or rice.