Ingredients:
Preparation:
Trim the both ends of the Saim.
Remove Strings from each bean.
Split into two, and cut into small pieces.
Wash and peel off the potato.
Cut the each potato into small pieces.
Method:
Heat 2 tablespoon of oil in a heavy bottom pan.
Add cumin seeds, poppy seed, red chili and asafetida, when it turns brown; add a pinch of turmeric powder.
Put chopped potatoes and Saim ki phalli in the oil, stir it and cover it, sauté on low flame.
Fry until half done, (About 5-7 minutes)
Add chili powder, coriander powder, turmeric powder and salt.
 Fry till vegetables are done.
Add dry mango powder (optional) and fry for few seconds.
 now,delicious Saim- Aaloo is ready to serve.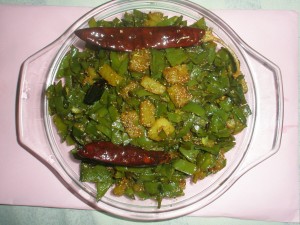 It is served with paratha or rice as a side dish.