Ingredients:
Preparation:
Take Mawa, powder sugar, pinch of cardamom powder, and few saffron threads in a mixer jar and mix well.Keep aside.
For making sugar syrup:
Take a large pan; pour sugar as well as water in it.
Add cardamom powder and saffron it and bring it to boil.
Let the syrup boil for 3-4 minutes.
Then remove from heat.
Add rose essence, saffron thread and cardamom powder in the syrup.
Keep aside.
For making dough:
Sieve Maida, milk powder and Meetha soda together.
Take a big mixing bowl; put the mixture of milk powder, Maida & baking powder and ghee, mix well by rubbing between palms.
Mix well and prepare smooth dough with the help of water.
 Make the dough soft just like chapatti.
Divide the dough in to  25- 30 pieces.
Give cylindrical shape to all pieces.
Keep aside.
Method:
Deep fry on very low flame all pieces in batches of 8 t0 ten. Slowly Gulabjamun will rise and float.
Fry till it become chocolate brown in color no need to shake Keep it aside and cool to room temperature.
Put fried Gulabjamun in lukewarm sugar syrup.
Keep it about 4-5 hours.
Take out all Gulabjamun from the syrup and put it on the shiver, so that all the Gulabjamun become dry.
Now slit the Gulabjamun in the center and smear Mawa mixture in the centre and topped up the other part.
Sandwich Gulabjamun is ready to serve.
Note: Gulabjamun should not be fried on high flame; it will become hard and remain uncooked in centre.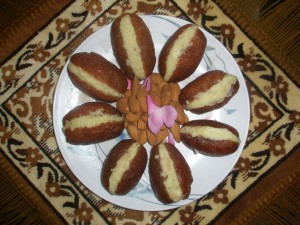 Decorate with sliced almond and pistachios.

Sandwich Gulabjamun (from milk powder) by Nag Ratna Sahu is licensed under a Creative Commons Attribution-NonCommercial-ShareAlike 4.0 International License.