Ingredients:
Preparation:
Cut one onion into pieces and make paste. Keep aside.
Cut another onion and keep aside.
Cut tomatoes into pieces. Keep aside.
Making Garam masala powder:
Take a small fry pan.Put 1 teaspoon oil in it, when smoke begins to come, add half teaspoon cumin seed, black cardamom, black pepper and bay leaf, fry till it becomes brown in color. Keep aside.
After frying, grind to make powder.
Put again 3 tablespoon of oil, when smoke is coming put cut onion, ginger and garlic and fry it till onion becomes transparent, add tomato and  grind to make paste. Keep aside.
Method:
Take one big ball, put Besan, 1 tea spoon salt, 5 tablespoon oil, and onion and garlic paste, Ajwain, Kalonji, pinch of baking soda make the dough with the required quantity of water and make it like roti dough.
Divide this dough into 8-10 pieces. . (You can make more as per your wish)
 Make it like stick by rolling it.
Boil 5 cups of water. Put all rolls into the boiling water in the medium flame and boil it near about 10 minutes.
Then remove it from the water and let it cool.
Cut it into small pieces (it is called "Gatte").
Take a fry pan and heat 50 gm oil, when it starts to smoke add boiled gatte in it.
Shallow fry this, and remove from the fry pan.
Making curry:
Keep the fry pan on the flame. Pour 100gm of oil. After heating add bay leaf cumin seed, add masala paste, and fry it on lower heat till oil separates from the masala.
Stir occasionally. Add half spoon of salt, chili powder, coriander powder and turmeric powder.
 Fry it near about 10 minutes. Add 2 cup of water slowly.
After boiling add fried Gatte, lower the flame.
Allow to boil for some time, add Garam masala powder and butter.
Cover the lid and put off the flame. Rest it for 5 minutes.
Pour it into the serving bowl. Decorate with coriander Leaves.
Now gatte ki sabzi is ready to serve.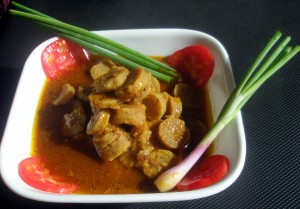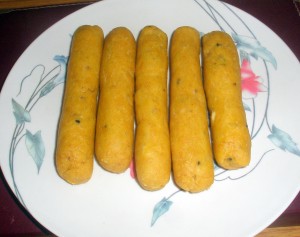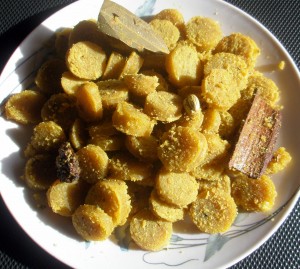 Serve this with plane rice or missie roti.

Gatte ki sabji by Nag Ratna Sahu is licensed under a Creative Commons Attribution-NonCommercial-ShareAlike 4.0 International License.