Ingredients for making batter:
Ingredients for making sugar syrup:
Preparation:
Mash banana properly along with milk with the help of hand blender/ grinder.
Pour into a big bowl add remaining "ingredients for batter" together and make smooth batter (free flowing batter not thick not thin).
Leave the batter for an hour or two.
Make one string of sugar syrup (2cup sugar and 1 cup water bring it to boil and let it cook for 3-5 minutes).
Add saffron and green cardamom powder.
Let it come to room temperature and is ready.
Method:
Take a flat bottom fry pan. Pour sufficient ghee in it.
 Heat the Ghee on medium flame, after four to six minutes when it is hot pour a drop of batter. The batter should come up after few seconds, if does not, allow heating further and check proper temperature by putting a drop of batter.
 Pour a ladle full of batter to form it 3"diameter "Malpua".
Cook on slows to medium heat.
Turn it over, when it starts to color slightly.
Cook till golden brown and both sides done.
Put directly into sugar syrup.
Drain and immerse into sugar syrup.
Remove after 2-3 minutes and drain on wire sieve.
Garnish with thin slices almond or pistachio.
It is served as a dessert in northern India Or Served with mutton as snacks during Holi festival.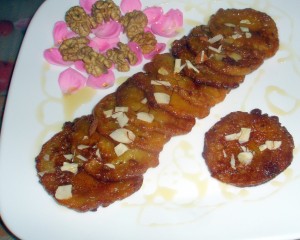 Mouth watering Malpua is ready to serve.

Banana Malpua (Holi dessert) by Nag Ratna Sahu is licensed under a Creative Commons Attribution-NonCommercial-ShareAlike 4.0 International License.