Ingredient for kofta outer layer:
Ingredients for kofta  filling:
Dry grapes: 5gm
Crushed cashew nut: 20gm
Grated paneer/cottage cheese: 20gm
Green coriander: 20gm (fine chopped)
Salt: 2pinch black
Pepper powder: half teaspoon
Ingredients for kofta  gravy:
Preparation:
 Boil/microwave onion, garlic and ginger with little water.
Take out extra water.
 Grind boiled onion, garlic and ginger all together, keep aside.
Boil tomato and grind it separately, sieve this paste and make puree, keep aside.
Grind ground nut and cashew nut together with little water to make mixed paste, keep aside.
Boil the potato, peel and grate them, keep aside.
Method for making kofta filling:
Take a ball, put all ingredients for filling together and mix it well, keep aside.
Method for making kofta outer layer:
Take big bowl; mix Salt, Mawa, Maida, boiled & grated potato and baking soda in it. It will become soft dough (if required add little amount of water).Divide into 20 equal portions and shape into balls.
 Flatten the edge of each ball with the help of finger, make 2'' diameter circle (leaving centre little thicker than edge).
Stuff with filling in little quantity, and pull the edge to wrap the stuffing (filling), Shape this stuffing ball in cylindrical shape
Repeat with the rest, Keep aside.
Method for frying kofta:
Deep fry each kofta till it gets golden brown. Slowly kofta will rise and float. (Temperature of the oil should be lower medium); if temperature is high it will remain under cooked inside). Keep aside.
Method for making gravy:
Take a pan heat ghee/butter. Add whole cardamom, cinnamon and clove .
Fry for few seconds.
Add onion, ginger and garlic paste fry on low heat for 10 – 15 minutes.
 Put tomato puree and fry on low flame for 5 – 7 minutes.
Add ground nut and cashew nut paste and fry until the ghee separates from masala.
Add chilly power and salt. Fry 2 minutes
Add malai /fresh cream and fry again till ghee separates from masala
Add 1 cup of water.
Boil well for 2-3 minutes, put off the flame
Take a serving bowl. Arrange the kofta in it. Transfer the gravy on the kofta.
Garnish with Chandi ka verak 🙁 edible silver leaf used to garnish)
Chopped coriander and cream/malai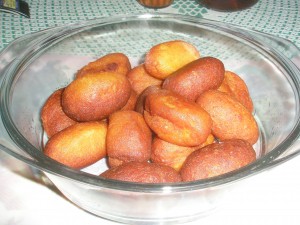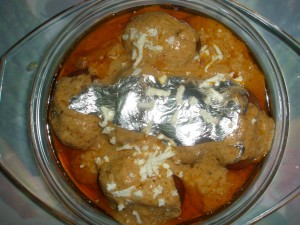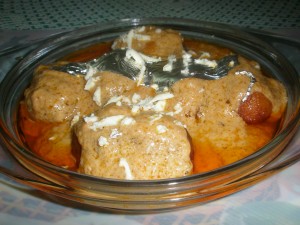 Serve with tandoori roti/Nan/Indian bread/pulav

Royal Mawa kofta masala by Nag Ratna Sahu is licensed under a Creative Commons Attribution-NonCommercial-ShareAlike 4.0 International License.