Ingredient:
For stuffing:
Urad dal: 200 gm
Salt: 1 teaspoon
Cumin powder: 2 tablespoon (roasted)
Ginger: 3" pieces (crushed/grated)
Asafoetida powder: half teaspoon
Black pepper powder: 1 tablespoon
Red chili powder: 2 tablespoon
Green chilly: 2 no. (Cut into fine pieces)
Saunf (funnel seed):1 tablespoon (crushed)
Oil: 1 serving spoon
Cashew nut: 10-15 no. (Cut into 2-3 pieces)
Dry grapes: 50 gm
For dough (outer layer):
Preparation:
Soak urad dal minimum 2-3 hours or overnight, grind them and make fine and smooth paste with help of water.
Method:
For stuffing:
Take a non stick fry pan. Pour 1 serving spoon of oil, when oil become hot add grated ginger, asafoetida  powder then grounded urad dal paste and fry this paste continuously on medium flame, when half is done add 1 teaspoon of salt.
Stir continuously and fry them till brown chocolate color is coming. It becomes similar to black gram.
Add black pepper powder, roasted jeera powder, red chili powder and crushed Saunf.
Now add cashew nut and dry grapes, stir it.
Sprinkle little water and fry evenly. It will take about 30-35 minutes.
Now, stuffing is ready. Keep aside.
For making dough:
Take a wide vessel/food processor.
Pour Maida,kalonji,ajwain, salt and ghee.mix well by rubbing between palm.
Mix well and prepare hard dough with the help of water.
Keep aside for half an hour.
   For making kachori:
Take dough, make lemon size balls. Flatten the edge of each ball with the help of finger, make 3'' diameter circle (leaving center little thicker than edge)
 And stuff 1 teaspoon stuffing in the center.
And pull the edge of dough to wrap the dal (stuffing) repeat with the rest.
Make it round in shape.
Heat oil in a fry pan on medium heat (to check if oil is ready put a little piece of dough in the oil it comes up slowly.
Deep fry the kachori on medium low heat.
After they start to puff slowly turn over.
 Fry till it becomes golden brown.
Note: if the kachori is fried on high heat, it will be soft. It will be not crunchy.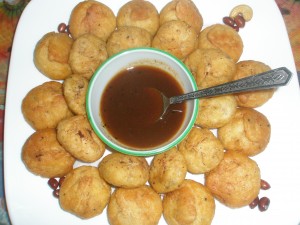 Now, mouth watering kachori is ready to eat with green chutney and sauth (tamarind chutney).

Gutki kachori (urad dal ki kachori) Hing(Asafoetida) ki kachori by Nag Ratna Sahu is licensed under a Creative Commons Attribution-NonCommercial-ShareAlike 4.0 International License.