Ingredients:
Poha:  100 gm
Ground nut/peanut: 50 gm
Salt: half teaspoon
Black pepper: half teaspoon (powder)
Oil: for deep fry
Method:
Heat oil in a big and heavy bottom pan on high flame till smoke comes.
Drop one poha, poha should float immediately.
Now, put one forth cup of poha in a big soup strainer and immerse this into hot oil.
 And lower the flame immediately.
After few seconds poha will turn puffy.
Take out the strainer and allow the extra oil to drop back in to the pan.
Again heat the oil and put the remaining poha and repeat the process.
Note: if the oil temperature is low, poha does not become puffy.
Now, fry the peanuts at low flame and take it out, put on the fried poha.
Mix salt and black pepper powder well with fried poha and peanut.
Allow it to cool.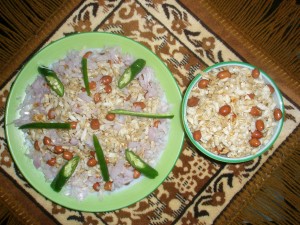 Enjoy, the quick snacks with tea or coffee.