Ingredients:
Preparation:
Wash and Trim the both ends of pointed gourd.
Peel off the Parwal and cut into two pieces (longitudinally)
Cut onion into very small pieces.
Dry grind poppy seeds and red chili, add little water garlic and ginger, wet grind to make smooth masala paste. keep aside.
Method:
Take fry pan heat 2 table spoon of oil in it. When it smokes, put, cumin seeds.
Add Parwal and fry it about 5 minutes (till Parwal becomes tender).
Remove Parwal from fry pan. Keep aside.
Put rest of oil into the pan.
Add chopped onion and fry till golden brown. (About 3 minutes)
Add masala paste. Stir it and fry (keep it stirring otherwise it may burn).
Add fried Parwal in it, add ¼ cup of water and Cover it.
Cook it on medium flame till Parwal is done. (Stir occasionally)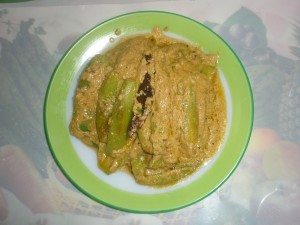 Serve hot as a side dish.