Ingredients:
Preparation:
Blanch/Boil / microwave palak (spinach) with sugar for 3 minutes and make fine paste.
Grind the onion, 1 tomato, ginger and garlic all together.
Method:
       The corn should be boiled/micro waved/blanched
Take a pan. Put oil in a pan, when smoke starts coming, add cumin seed and bay leaf .
Sputter it for few seconds, add grind  onion, tomato, garlic and ginger paste.
 Fry these masala about 3-5 minutes on medium flame.
Add red chili powder, and fry few seconds.
Then add palak paste and ¼ teaspoon salt. Put half cup water, Just boil it.
Add boiled corn in it and again boil it.
Add Garam masala powder.
 Remove it in serving bowl.
garnish with butter and red chilly (optional).
Palak corn is ready to serve. you can also prepare sandwiches from this.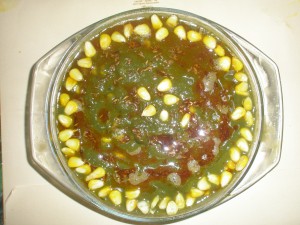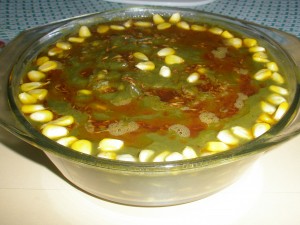 Serve hot, this makes excellent side dish.
Corn is an all time favorite vegetables.
It is Very good source of vitamin and many more nutrients.
Spinach (palak) is the greatest of all green vegetables.
It is the power house of many more nutrients.
It is a good source of phosphorus, manganese, niacin and vitamin B6.