Ingredients –
Preparation:
Crush Gond into small pieces and keep aside.
Grind the sugar and keep aside.
Procedure;
Take heavy bottom pan put ghee in it .Heat the ghee.
When smoke starts coming. Put the Gond pieces and deep fry the Gond. Keep aside; when it becomes cool, powder it with the help of palm or base of a bowl.
Add Aatta into the left out ghee and stir it continuously on medium flame, till light golden brown color appears (about 10-12 minutes).
Put off the flame.
Take another small fry pan .Put 1 teaspoon ghee in it .Fry cashew nut. And mix with fried Aatta.
Also add green cardamom powder in it.
Add Grinned sugar in it.
Add deep fry powdered Gond
Mix all things properly.
Take one handful mix; shape the mixture in laddu by using your hand.
Depending upon size of laddu 15 to 20 laddu will be ready.
Decorate with Chandi ka verak.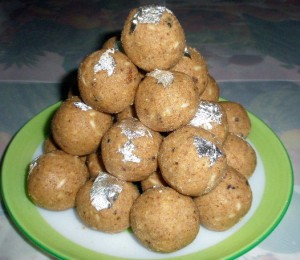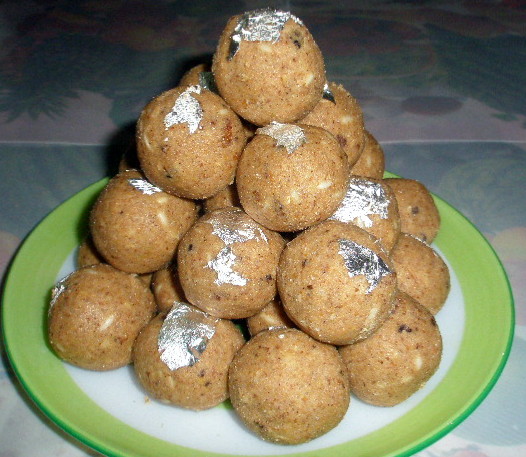 Delicious Gond laddu is ready to serve.

Gond(edible gum) ke laddu (sweet dish) by Nag Ratna Sahu is licensed under a Creative Commons Attribution-NonCommercial-ShareAlike 4.0 International License.