Ingredients:
Preparation:
Wash, peel and deseed the ash gourd.
Cut into cylindrical shape about 2-3 inch length or as you wish.
Prick these pieces all over with the help of fork.
Method:
Soak these pieces in to lime water for 30-60 minutes.
Drain the lime water and wash the pieces thoroughly under running water.
Put the Petha in bowl pour alum water on the pieces and soak for 5 minutes.
Drain the alum water.
Take sufficient amount of water in a heavy bottom pot and boil the pieces till they become soft and transparent.
Drain all water.
Take big bowl.
Spread one layer of sugar, then Petha pieces, sugar then Petha pieces and sugar.
Keep it for 5-6 hrs.
Next, take out all ash gourd pieces from the sugar.
Put left out sugar solution from bowl to kadhai and heat it on low flame to make syrup of two thread consistency.
Put drained Petha pieces in sugar syrup, increase the heating to high flame, and continue to heat till syrup become thick again.
Add saffron thread in it. and boiled it.
off the flame, and take out pieces on strainer.
Let it cool.
Delicious  saffron Petha is ready to serve.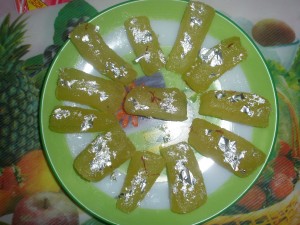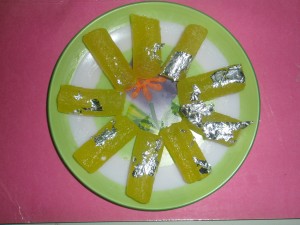 Decorate with some more saffron thread.

saffron Petha (ash gourd) sweets by Nag Ratna Sahu is licensed under a Creative Commons Attribution-NonCommercial-ShareAlike 4.0 International License.