Ingredients:
For karhi:
For vadi:
For seasoning:
Preparation:
grate the ginger with the help of grater.
Beat curd, mix gram flour in a big bowl and blend them thoroughly.
Ensure that there are no lumps in it. Or (you can mash it with the help of sieve)
Add water slowly.
Method:
For making karhi:
Put all mixture in kadhai; add salt, turmeric, Ajawin, fenugreek seed, clove, and grated ginger.
Bring it to boil and stir continuously, so that it does not cuddle.
Simmer for 15-20 minutes and stir occasionally.
For making vadi:
Take another bowl. Put Besan, salt and meetha soda in it.
Make a smooth batter with the help of water.
Take another kadhai, heat oil in it.
Let oil starts to smoke, drop small size of ball from batter in it. (Either helps of your hand or spoon)
Deep fry the ball till light  golden brown. Keep aside.
Repeat this till all batter is finished.
Put these balls into karhi and boil it.
Now karhi- vadi is ready.
For seasoning:
Take a small fry pan.
Put ghee in it, when smoke begins to come, add mustard seed, cumin seed.
Add whole red chili, sputter it for few seconds.
Put off the gas. Add Asafetida and red chili powder.
Spread this seasoning all over the karhi- vadi.
Mouth watering karhi- vadi is ready to serve.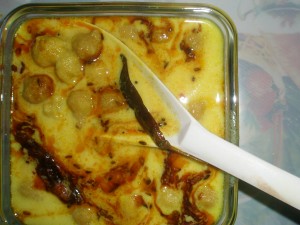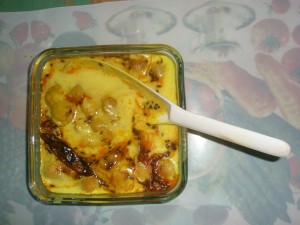 Serve with rice.

Karhi vadi by Nag Ratna Sahu is licensed under a Creative Commons Attribution-NonCommercial-ShareAlike 4.0 International License.