Ingredients:
Preparation:
Wash the Brinjal, and trim the end.
Carefully make slit on one side (longitudinally)
Roast the cumin seed and coriander grains, grind and make powder.
Take a bowl, put besan, chilly powder, turmeric powder, mango powder, salt and roasted 'coriander grains and cumin seed powder'.
Mix all above ingredients properly with the help of 1tablespoon of oil.
Stuff this mixture into the Brinjal. Keep aside.
Cut the potato length wise.
Chop the each tomato into 8 pieces.
Method:
Take a nonstick fry pan.
Put oil in it. Heat oil till smoke begins to come, season with mustard seed and Asafetida powder.
Place the stuffed Brinjal and potato together in the pan.
Cover and cook on low heat around 15 minutes.
Change the side and again cook for 15minutes.
Add chopped tomato, and fry it for other 5 minutes.
Bharwa Baigan  with potato is ready to serve.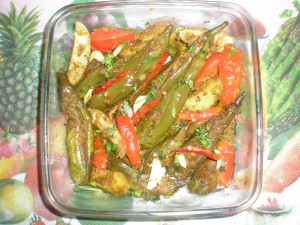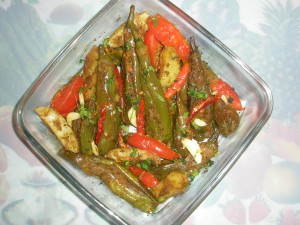 Serve with rice or chapati.

Bharwa Baigan (stuff brinjal) with potato (without onion and garlic) by Nag Ratna Sahu is licensed under a Creative Commons Attribution-NonCommercial-ShareAlike 4.0 International License.