Ingredients:
Ingredients for Masala Potali:
Preparation:
Clean and wash rice. Keep aside in a sieve.
Chop onion longitudinally and soak in milk. Keep aside.
Take a muslin cloth 5 square inch. Put Potali masala ingredient in it and tie. Masala Potali is ready. Keep aside.
Method:
Heat 3 tablespoon of ghee in a fry pan.
Add chopped onion which is soaked in the milk after squeezing extra milk; fry it in high flame till it gets light brown.
Remove it and keep aside.
Heat 2 tablespoon of ghee in cooker with cumin seed and bay leaf. Allow to sputter it.
Add washed rice and fry for 3-5 minutes.
The moment some of rice begins to change color.
Add hot water, masala Potali, salt and sugar.
Place cooker on high flame and bring to full cooking pressure.
Put off the flame.
Allow cooker to cool. Keep aside.
After cooling the cooker, stir lightly the pulao with the help of fork, and add half of the fried onion, cashew nut, and dry grapes.
Serve pulao in a rice plate and decorate with left over fried onion, fried cashew nut, and dry grapes.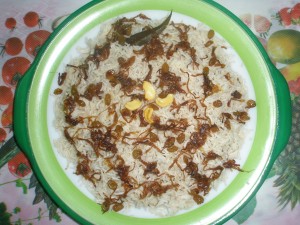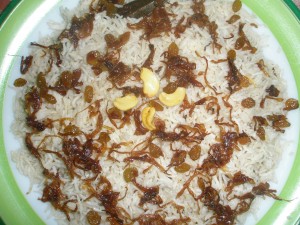 Mouth watering aromatic  pulao is ready to serve.