Ingredients:
Preparation:
Wash and peel off the lotus stem
Cut the lotus stem into 4 to 5 inch long pieces.
Put it into salted water bowl.
Chop the onion longitudinally
Chop coriander leaves and green chilly.
Method:
Wash chana dal properly with water.
Put the lotus stem into cooker with 1 cup of water, one teaspoon of salt, chana dal, Garlic, Ginger, Red chilly, Whole cinnamon and cardamom
Place cooker on high flame, and bring to full cooking pressure.
Reduce the heat on low flame and cook it about 10-15 minutes.
Open the lid by depressurizing, and allow extra water to evaporate.
Take all material out from the cooker and grind it.
Now, kabab dough is ready.
For making kabab:
Take a fry pan, pour oil in it.
When smoke starts coming out, deep fry the onion Julian.
Take out dough in a big bowl; add chopped coriander & green chilly, fried onion and khus-khus.
Mix all ingredients.
Shape it in small kabab (in different shape as per your choice), place cashew nut in each kabab'
Heat the oil in a kadhai and deep fry the kabab till it turns golden brown in color from all sides.
Serve hot with green chutney and til (sesame seed) chutney.
Note:
you can shallow fry this on non stick pan.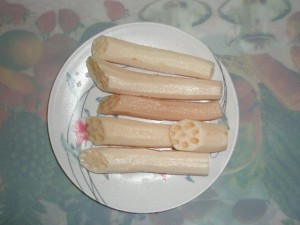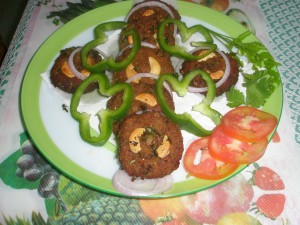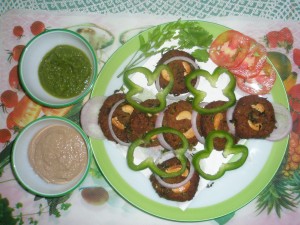 Kamal kakdi (lotus root) kabab by Nag Ratna Sahu is licensed under a Creative Commons Attribution-NonCommercial-ShareAlike 4.0 International License.