Ingredients:
Preparation:
Clean and wash chicken. Soak with vinegar for 5-10 minutes. Wash with water.
Marinate chicken with one teaspoon of salt, half teaspoon turmeric powder, and half teaspoon of garlic paste.
Grind onion and tomato to fine paste.
Chop coriander leaves.
Method:
Take a fry pan. Heat oil on high flame until smoke starts coming.
Lower the flame, put 5-6 chicken pieces and increase the flame to high.
Fry on both sides till dark   golden brown color appears (about 2-4 minutes each side).
Remove the fried chicken pieces in a separate bowl/ plate
Fry remaining pieces in the same way.
Keep aside all fried chicken pieces.
Put 3 tablespoon of oil in a fry pan.
Add cumin seed, clove, and bay leaf, in it. Sputter it for few seconds.
Add onion and tomato paste sauté till light brown.
Add garlic and ginger paste. Stir it.
Add chilly powder, turmeric powder and coriander powder. Mix it well.
Reduce to low heat, and cover the lid. Fry till oil separates from masala (or liquid dries up).
Add 2 cup of water and cover the lid. Slowly add 2 cups of water (as per gravy thickness.)
Boil it for1 minute.
Add fry chicken in it.
Boil it for 3-5 minutes. .
Add Garam masala powder and stir it.
Put off the flame.
Garnish with coriander leaves.
Serve hot with rice or roti.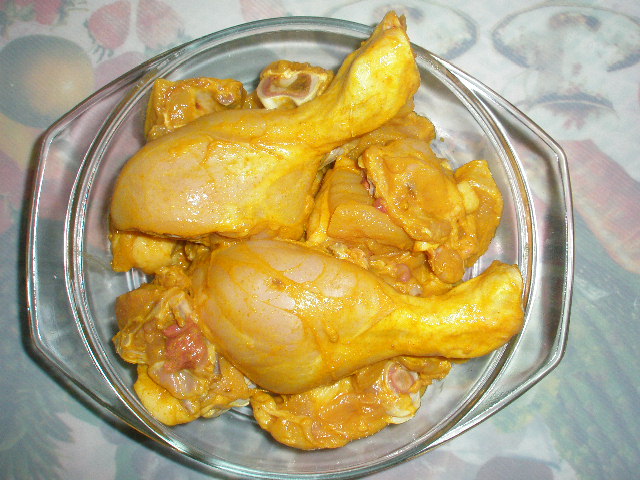 Chicken curry by Nag Ratna Sahu is licensed under a Creative Commons Attribution-NonCommercial-ShareAlike 4.0 International License.