Ingredients:
Preparation:
Soak Chhole (Kabuli chana/White gram) overnight.
Take a pan and Dry roast whole coriander,
Make dry masala with roasted coriander, cinnamon, black cardamom, black pepper, cloves and cumin seed by grinding all ingredients together. Keep aside.
Grind one tomato. Keep aside.
Grind one onion. Keep aside.
Chop one onion longitudinally.
Chop 2 tomatoes.
Slit green chilies.
Slice 1 onion and 1 tomato. (For decoration)
Method:
Boil soaked Kabuli Chana and chana dal with salt, 1teaspoon of ginger paste and water in a pressure cooker on high flame.
Bring to full cooking pressure, reduce to low flame and cook for 30 minutes.
Allow cooker to cool and open.
Take fry pan heat oil in it. When it smokes, put 1 teaspoon cumin seeds, garlic flacks and bay leaf.
Add chopped onion and fry till golden brown. (About 5 minutes)
Add ground onion in it and fry (about 5 minutes).
Add chopped tomato and ginger paste in it. Stir it and fry (keep it stirring otherwise it may burn)
Add grounded tomato and fry it, till oil separates from the masala.
Take a bowl put chilly powder, coriander powder, turmeric powder and salt in it, add one tablespoon of water and mix it well, it will become paste.
Add this paste in the fried masala and stir it.
Add silted green chilly in it. Stir it for 2 minutes.
Add Kasuri methi powder (make powder with the help of palm to crush the dry methi leaves) Lower the flame and fry it about another 2-3 minutes.
Add grounded powder masala and stir it for 2 minutes.
Add boiled Kabuli Chana in it and add water to your requirement (whether you like the gravy thick or watery) lower the flame (about 5-10).
Add 2 tablespoon of coriander leaves.
 Put off the flame.
Now,Chhole is ready to serve.
Garnish with onion tomato rings and coriander leaves.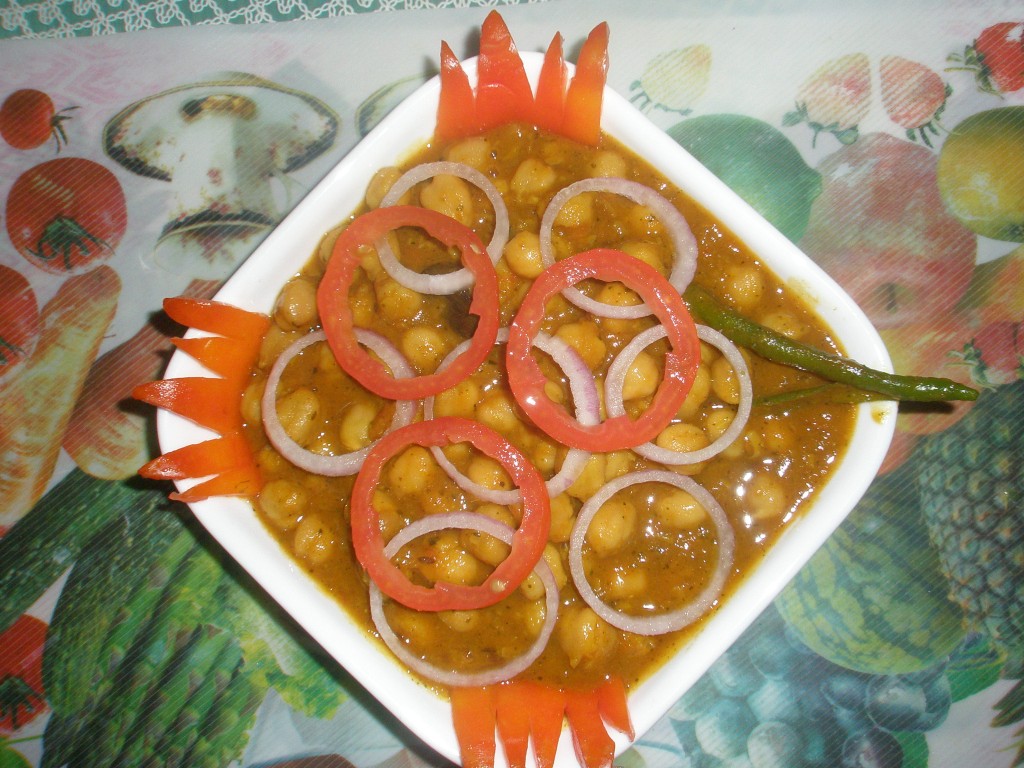 Serve with bhature or poori or pulao.

Chhole (chana masala) by Nag Ratna Sahu is licensed under a Creative Commons Attribution-NonCommercial-ShareAlike 4.0 International License.